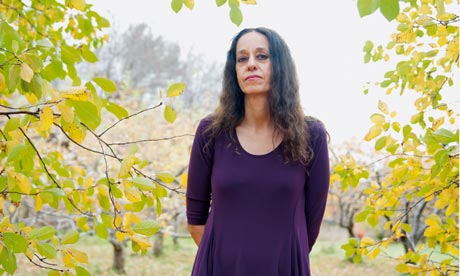 (Image: Guardian.co.uk)
Christine Benvenuto: 'Looking back, I can say Tom was a wonderful husband, father, friend. Or I can say Tom was a fabrication. A fake, who didn't want to be with me, he wanted to be me.' Photograph: Webb Chappell for the Guardian
'I'm thinking constantly about my gender." That's what my husband said one June night, seconds after making love. As post-coital murmurs go, this one was a knockout. Sex, among other things, would never be the same.
"I can't stop thinking about it," he said. "I keep feeling like I'm the wrong gender, a lot, all the time, constantly."
I don't remember how I responded. I know that I stayed surprisingly calm, for me. I heard the urgency in his voice and tried to be supportive, as I would often fail to be in the many conversations that would follow.
"I just want to talk," he assured me. "I'm not going to do anything." By which he meant, it went without saying, anything to his appearance. I was stunned. Our marriage, our family and everything that up until that moment had constituted our story was over. That much I understood at once.
Tom and I met and fell in love at college. After graduation we had various jobs. I wrote, we travelled. We got married, had a child, then a second and a third. The Tom I knew was sharp, funny and irreverent. He didn't come across as feminine. His signals were heterosexual and male. He initiated our intimate relationship and responded to me in the ways I expected. I can still see his look of stark sexual appreciation when he spotted me walking towards him on a date. When he told me once, early on in our relationship, that he hated himself and had sometimes wished he was a girl, I assumed it was psychological – a rejection of self. Tom had a difficult upbringing, so for me it was a given that what he meant was that at his lowest moments he had wished to be something he knew he was not.
Tom told me a few years later, early in our marriage, that he was struggling with these feelings again. I still thought he was investing gender with a power to resolve his childhood problems. But this time it hit me that he had at least contemplated cross-dressing. This understanding was so disturbing, it literally made me nauseous and dizzy. For me, there was no wiggle room: I couldn't engage in an intimate relationship with a man who dressed in women's clothes. Not even occasionally. Not even in secret.
Given the strength of my reaction, it may sound strange that I thought I could continue in the relationship – in hindsight, it does to me – but Tom had put aside these feelings. That's what I believed. I didn't think he had suppressed them; I thought he had let them go.
Full Story
http://www.guardian.co.uk/society/2012/ ... sex-change