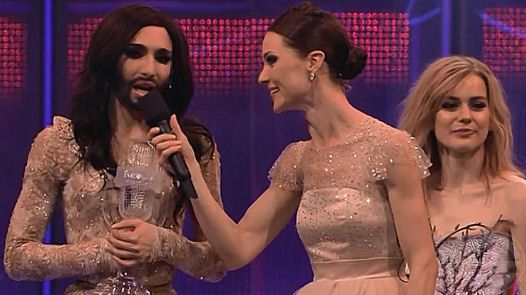 bbc
Congrats to Conchita Wurst - I was going to bet on her too!
Still NM long odds as she was a favorite.
Nevertheless we have been here before with Dana International in 98.
I watched Dana win with her song 'Diva'. I recorded that footage for our archive as I recorded this.
It was in the UK that year too! Some forget that!
It may even have bolstered the likes of Hayley in Coronation Street and even the fledgling pressure groups towards our goals, I was there. It took bloody years after that to make progress.
Now we are almost back to square one. Hayley is gone replaced by Hayley Mark 2 in Hollyoaks in the shape of cisgirl 'Blessing Chambers'. Me moaning and shouting may help but the fact this happened at all is beyond me in 2014. And Trans are increasingly oppressed once more all over including the UK.
In a recent episode of Doctors the script was just embarrassing it was almost like it was 25 years ago! In fact it was better then!
And isn't it ironic that Eurovision is broadcast by what appears to be a sycophantic BBC who will not even hire a transsexual for a drama or anything else for that matter, yet drools all over Conchita for her 'currency'.
When I coined the term 'Trans-currency' I knew I was really on to something and it is proving itself to be a term ahead of its time.
http://blog.transgenderzone.com/?p=1043
"Douze Points!" Across Europe.
The song ' Rise like a phoenix' was great. Very James Bond.
But what is interesting is the fear that those speaking to her or about her may make a mistake and offend her. They are terrified to say something that may suggest they are transphobic yet stand by and watch it happen day in and day on on their channels as a whole.
The only people who can speak about this are us really!
But so many transpeople wonder if Conchita is exploiting trans-currency herself. There is an increase in the 'transsexual elite' (transgender women who have genital surgery and hormones) who see many gay men adopting trans identities when they have nothing of the sort. Almost like a suit to wear to work be that sex or singing. Many 'elite TS' say when they (meaning Conchita) walk out of their surgery minus their bits and been on hormones then call them.
As until then talk is cheap, as are the dresses. Many transpeople are angry that the middle ground is now being hijacked by people almost using their trans identity as fashion or a get out of jail free card. Some have questioned Chelsea Manning with the same logic - she suddenly is trans when she is looking at 80 years inside.
I am not personally suggesting this just what the 'vibe' is out there.
Are they right to say this? Are many transgender people today just Gay men in disguise? If Conchita was not a singer and had to work say in an estate agents would this be her look?
I have heard many speak of the body dysmorphism and that people with gender dysphoria suffer (and it is almost crippling for many) even looking at her face! To put it simply they cannot tolerate this look. So for some even looking at her is 'triggering' as they wonder how she can even consider this unless it is a gimmick? Would a 'genuine transwoman' do this?
As being noticed goes it was pretty successful if this is the case. It was just as successful in side-shows on Coney Island in the 30s. The freakshow had a beared lady after all so there is something very startling about it.
Although of course many have later suggested that gynaecomastic men were many of the bearded ladies. The trick being the cleavage rather than the beard.
This is quite a serious issue as if this is genuinely a new dawn how come we have this?
I mean we have Conchita doing the designer stubble but what about UK television doing this see link...
viewtopic.php?f=16&t=4199
Were it not for the fact I gather this data most would not realise that its something that is used for comedy by the most loved double-act on television - Ant and Dec.
itv
However we also know this can be cruel to those who are suffering like this girl (in the link above).
itv
Will Conchita help or Hinder this girl?
When I was young I knew some kids who's mother had taken some medications during pregnancy that led to them being bald. Noone took any notice of this until Kojak was on the telly. And I remember the older kids suddenly calling them this. Kojak was kinda cool. so it worked, will all the hirsute women tomorrow not shave and be proud as a result of this?
I can pretty much say no.
Hypocrisy!
On the other hand should we not be totally accepting and open to everyone on the spectrum? Are we not at risk of infighting and almost becoming as bad as those who oppress us as a community?
Conchita wants to wear a beard and a dress big deal? Tonight on Britain's Got Talent three Rylan Clark Look-a-likes who had high heels on (men's ones) brought their camp dance from Paris and it went down well. Good luck to them. Men should be able to wear heels! And a dress if they want. Trouble is most wear it because it gives them the ability to earn with it. And this is where fun becomes function! And it is a short leap into transEXPLOITATION!
We know trans-currency is valuable, it sadly is also spent very quickly exploited weekly by the press, Conchita's press was stratospheric. But will they bore of her equally as fast?
Even Graham Norton who was all over her claiming her as a Gay Icon (rather than a trans one) he himself mocked her on his show on last week. Yet when one of the Eurovision Judges made the same joke about her facial hair and he tutted.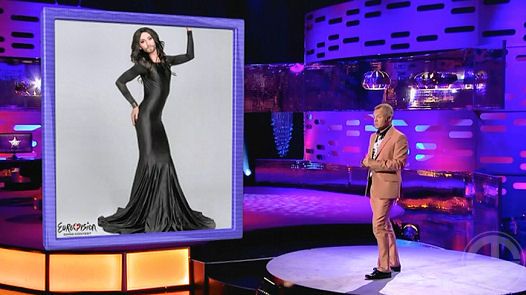 bbc
bbc
Joking about her beard.
Eurovision is camp as Christmas historically we have had drag queens dressed as air hostesses, Transsexual women (Dana) and hirsute Austrian 'Queens' (Conchita is being called Queen of Austria now).
And when (Conchita's own) Austria's voting panel came on air we saw this to the hilarity of the audience.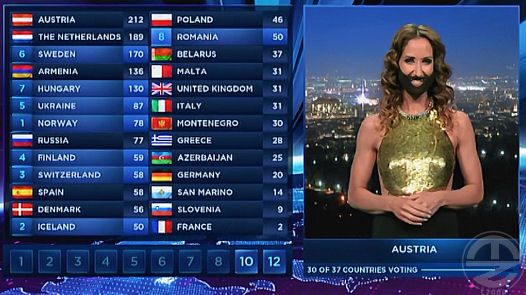 bbc
A show of support or just a cheap laugh?
Is this wrong after all she is a ciswoman with a beard? What is the problem?
And why so funny?
It is like almost being a clown with a good voice. As we can see who takes her seriously?
If the result is little or nothing in a world that is increasingly closing in on GLBTIQ from Bruni stoning us to death (recent law), to the Russian gangs hunting GLBTIQ down in the streets. It increases the trauma of the viewer to hate us that little bit more then is it a good idea?
I suppose we have to ask ourselves why did she win? Is it guilt or is is just like some Christmas bauble to cheer them up for a month? Or is she just a proxy for a good song that anyone could have sung?
However we know how a room looks when we take the decorations down.
Miserable and empty.
But for now the Champagne is flowing and she has her moment - enjoy but now the work begins
It will be curious to see how long this continues. I hope indefinitely.
Watch this space...