Skype Support and Discussion Group Show Notes 14th Oct 2013
Skype Support and Discussion Group Show Notes 14th Oct 2013
Group Show Notes
SHOW TITLE
: How do I know I am Transgender?
October 14 2013
Hosts: Ice Maiden (Sam Johnson), Janett Scott, Rebecca Williams, and Rona Rees.
Contributors: Jo, Simone, Tarra, cisintersex, GoldenLion, Guests, Nessa, SarahG, Sarah Jane and Unicorn.
Topics: Pink list 2013. What does it feel like to be transgender? How do I know I am transgender? Am I transgender? And more.
Links
The Sunday Independent Pink List 2013.
Join us Every Week at
http://media.transgenderzone.com/
and press the Watch Live Button!
Show Notes for this episode in full.
http://media.transgenderzone.com/?p=3005
---
[VIDEO]
Transgender Zone VLOG Episode #23 Oct 14th, 2013 - Am I transgender? How do I know if I am transgender?
http://youtu.be/yJNxq691tHQ
One of the most informative and busy nights we have had. We had a full chat room the names list was off the page! So that's good to see.
Of course the topics were something everyone could participate in rather than just 'the pundits'.
This week we had a short part where we had a look at this weeks PINK LIST that was recently published and went through the trans activists commenting as we went - don't worry we were polite
Then the Main Topic!
We are beginning to do a series of videos that attempt to answer
THE BIG QUESTIONS!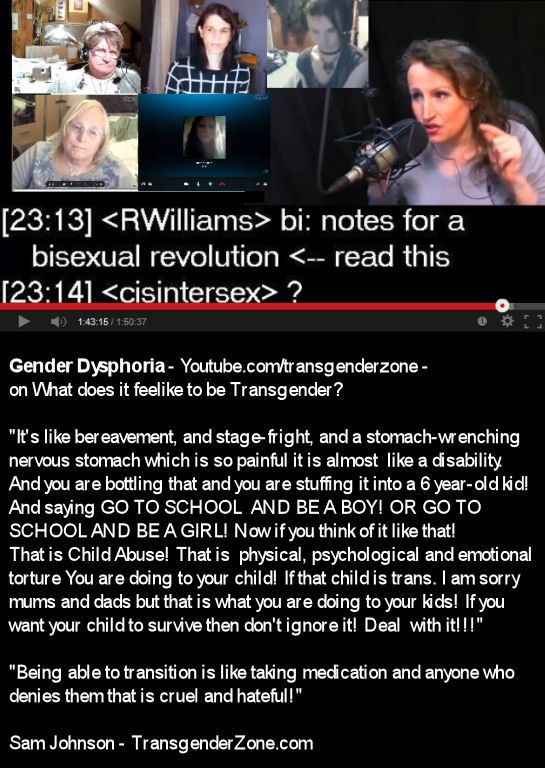 These are the most commonly asked question in Agony we have seen over the many years When running The Beaumont Society and the various guises and incarnations of Transgender Zone. had 4 other forums before this and this one has 30,000 posts already! In later shows we will take the journey and debate transition (both medical and non-medical), passing privilege (what is it and why does it matter and what are the pitfalls), Courtesy Stigma (how society can patronise transpeople) and abuse and what to do about it. Surgery and recovery, what does being post-op 'feel like'? And more... Next week we will be looking at non-medical first time out and the euphoria and danger, where to go, the fun and the stress of this. What not to do and personal safety issues! Because these are topics we can all add to you are very welcome to join us in the chat whilst you watch the show and participate live and share in this debate. Make sure you have your say!
The Topic was - Am I transgender? How do I know I am transgender?
This broadcast maybe a useful tool for non-transpeople to attempt to understand what it actually FEELS LIKE to be trans! And they maybe shocked by what they hear!
Chat Room was packed tonight
Thanks for all your contributions many can be seen flashed up in the video.
Topics
The Pink List 2013
Am I transgender? How do I know I am transgender?
Watch or subscribe to this show at
http://www.youtube.com/transgenderzone
.
Join Us Live when we record the show and take part or join the Chat Room:
http://media.transgenderzone.com/?page_id=44
and press BIG WATCH LIVE button!
For additional show notes, visit the media page for this episode.
http://media.transgenderzone.com/
The TransgenderZone Vlog is in association with The Beaumont Society.
http://www.beaumontsociety.org.uk/
Running time: 1:50:00
Links
http://www.independent.co.uk/news/peopl ... 76183.html
KEYWORDS
Transgender, Transsexual, Support, United Kingdom, Diagnosis, Pink List, UK, Cross-dressing, Crossdresser, Gender Dysphoria, Body Dysmorphism, Mental Trauma, Mental Health.