Google+ for an expansion to our group
The tzone Skype Group currently uses skype and we are happy with that, however this has a finite limit.
Currently the most we can handle on video and remaining private is 8, after this one of the accounts would have to return to audio one accounts as more increase to bring in another caller so pc 8 would lose video both ways and have audio with up to 3 people.
However, we can then stream this video to a password protected service where people on Skype audio can watch the video - we would not stream audio to that viewer and the pass can only be picked up in the group, as you need to be in the actual group to watch the stream and hear the audio it offers great privacy.
But as more increase the video we can stream would diminish as there would be less people on video for us to capture and edit and share.
That said there is another option you may want to consider having on standby - all you need is a google account and then click google+ then click hangouts - you will be asked to install the plugin that handles A/V and then thats it.
So
It is called Google+ sign up for a google account then click the google plus icon on the Google homepage.
Once this is done there is an option called Google plus hangouts
https://www.google.com/intl/en_uk/+/lea ... l#hangouts
https://plus.google.com/hangouts/
Here is a screen shot this is them working with it on twit.tv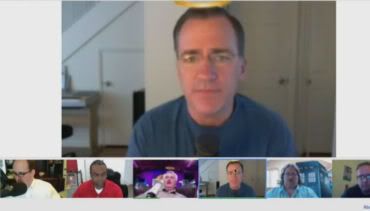 This means we can effectively have a subgroup with video feeding them from our skype and telephone output and they would be invited to take part as friends and we have another strand of video.
It may or may not be a good idea but as you can see it is something we certainly need to consider.
It does not replace or even come close to the quality of skype as it is multiple accounts and videos etc rather than one but it is another way to connect - you may also have this already and rather than use skype you may like us to connect to you via this? If you want to test it was can assign 20 mins on a Monday to trying this out.
Remember to have up to 9 people on video like this with Skype is a premium account and tzone always tries to work on free and open source tech as many trans isolated may not have the funds for premium accounts. Google can supply something similar for free.
Of course I have no idea what the demands on the connections will be and it maybe that out skype and stream system may have to suffice.
If you are interested in calling the skype friends support group on audio only you can do, but we would still send you video should you want it to make you part of it