Holyoaks
23/10
e4/Channel 4
KHAN! KHAN! (you will get the joke later).
So it is the day after the night before. All is well in the land of Hollyoaks, the birds are singing, and even Trevor's guilt at exploding Dennis' missus has been resolved by offering Dennis a job a his accountant... Well it is common knowledge you give people who have vendettas against you access to your company account - what could possibly go wrong?
Here's Johnny
Meanwhile it transpires that Dennis' dad is in actual fact a consultant at the same hospital where Blessing is attending her gender clinic. The famous Gender Clinic in Chester we have all heard about
Of course the problem here is he will see her and get involved somehow?
She describes it to Dennis as her "Gender Confirmation Surgery" referral is hopefully today.
Blessing attends her appointment all excited that today will be her referral day, you know after she got the blood poisoning the last time for cutting her arms in toilets with broken toilet floor bottles.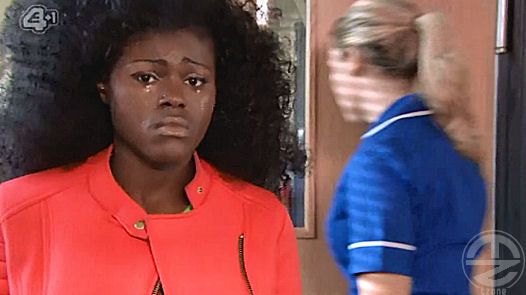 e4
She comes out of the appointment with tears in her eyes - it has not gone well. No dice.
She sits down in the corridor after narrowly averting two other locals in the village, and a male nurse spots she is distressed.
e4
Would you like a glass of water? Blessing tells him to leave her alone and storms out.
Later, she is in a coffee bar next to the hospital and who should walk in but that same nurse. Hello he said, you dropped this.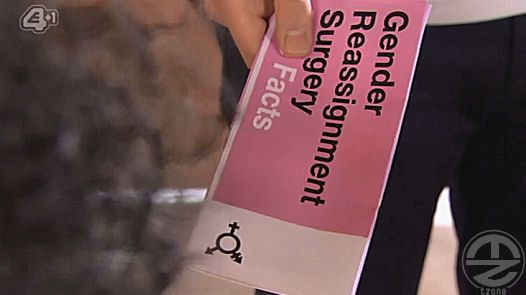 e4
It is a pamphlet with "GENDER REASSIGNMENT SURGERY" on the front... Font 'Helvetica 95 Black' type size hmmm about 300?
LOL. Like that's a popular leaflet, nothing more discreet than that! EH? Eh?
Although a bit embarrassing the leaflet at least makes sense.
Now instant impressions of this guy can only be three things
1. He is a genuine do-gooder! He knows a great surgeon and it will all be fine!
2.
He
is the worst sex-change surgeon from hell see CSI etc (in my comment below).
3. He is looking for vulnerable trans*women to use as sex workers and grooming her away to some dodgy place.
viewtopic.php?f=16&t=3056
http://en.wikipedia.org/wiki/Kathoey
viewtopic.php?f=16&t=4135
Lets flip the coin now... I go with Worst Motel Room Surgeon from Hell! And he is a failed medical student, that storyline has been done see below (my comments).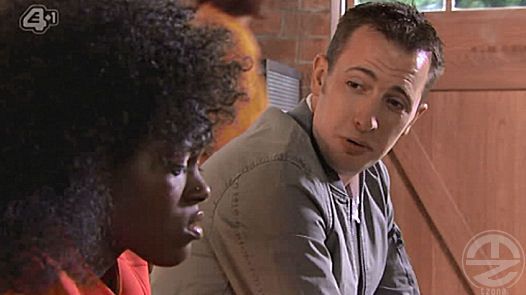 e4
She explains that she has been refused again, and the nurse says he 'knows' a doctor who can do this for her. He writes down the telephone number on a scrap of paper, like some back ally crack dealer, "call me if you change your mind."
Later she returns to the 'village' and sees Dennis who is behaving rather furtively as he is trying to find something to stitch-up Trevor. He gives her a quick hug and says, we can't afford for you to go privately, but Dad has invited us for a drink here later.
That makes sense as they are supposed to be skint!
Later, they are at the dining table, and Blessing explains to her potential father-in-law that she is awaiting surgery. He is clearly upset by this news and takes Dennis to the bar. He says, the following:
Father to Dennis - "You cannot be serious about this?"
Dennis - "I'm deadly serious!"
Father - "But Dennis think of the sacrifices you'll have to make, the abuse you are going to suffer!
(Blessing across the bar overhears and picks up her bag to leave).
Father - "Life is hardly going to be a bed of roses!"
Dennis - "I don't think you are in any position to judge me!"
e4
Father - "People will judge! This relationship is DOOMED! You are a hot-blooded heterosexual! And she...is a man! You want my advice? Run for the hills!"
[
All a bit melodramatic...."For the Hills!" "KHAN!" "KHAN!" Star Trek overacting gag that one!, Eds
]
(CUT TO BLESSING CRYING IN TOILET LOOKING LONGINGLY AT THE TELEPHONE NUMBER).
e4
So there you go! the answer to the NHS problems is
0770090099
and ask for Tim!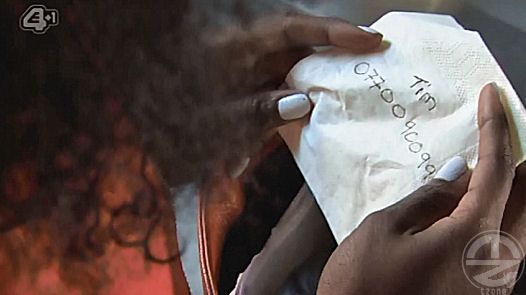 e4
Seriously though, I have struggled to buy into this character from day one simply because no matter how much she weeps she is not a trans*woman she is a cisgender girl. In the same way that if she as a woman of colour was being played by a great white actress blacked-up! And that actress said, "Oh it is OK to do this because I have spoken to some black people about what it feels like to suffer racism." No one would buy into that today other than see it as comical and embarrassing. I see this as a bit of a laugh tbh.
However, if you read the comments below, there is a more serious side to all this and the show maybe taking liberties that could have wide reaching consequences! So many shows have people advising them, but do they listen and if so was that advice any good?
You decide.
COMMENTS (IMPORTANT!)
She sure does cry a lot - flipping eck!
News Flash! Onion shortage in Chester!
Comment
- DODGEY SURGEONS - Now, this is a bit of a worry, as it feels like they are going down the 'Worst Sex Change Surgeon in the World' Documentary,
http://www.docmasters.tv/threads/channe ... 2007.2718/
coupled with an episode of CSI where a unlicensed person was operating on transgender people in the USA. See my review from back then
viewtopic.php?f=16&t=3392
However, in the show shown above they did at least hire a load of transgender people for the episode!
Couple this with the recent Hotel Butt injections of mattress-grade silicon that kills many women annually. See
http://www.dailymail.co.uk/news/article ... lence.html
It is enough for the unimaginative writers to put fear into young trans*people to make sure they go to the NHS. I hope this is not what will happen and maybe Dennis' dad will save her at the last minute in some bedsit somewhere with this wannabee nurse washing their hands? But This storyline worries me a little now. Why cannot she just wait and until then get on with her life. She has become a 'TRANSSEXUAL' who is perchance a human. She is not a person who happens to be 'transsexual'... - Oh btw the 'happens to be' is something I tend to say, if you read it else where you know where they got it from
It is a shame they are so blinkered with having a trans character that they cannot find anything to do with her other than this cliche'. This lazy trawling of news stories for ideas which are often US based is unhelpful. Whatever happened to being trans is a celebration for a change?
Comment
- GRS OR GCS? - Gender Confirmation Surgery is actually another one of those words that has been thrown into the pot. And must have been advised by 'AllAboutTrans' I guess? However, simply standing back and rereading that descriptor they have not thought this through. It to me is incorrect, Most trans I know have known since birth (or their earliest recollection) they were male or female irregardless of their body's outward appearance. Surgery does not 'confirm' their gender, they already know they are male or female, and many opt not to have surgery, so are they 'unconfirmed?' I have battled with this argument for the best part of 20 years with activists and the best title, without damaging the existing preferred label and still used by academically, and by the NHS, is GRS. Gender Reassignment Surgery (is no better than GCS but it is already well-established) for now at least is still used world wide, most people know what that means in medicine it is still used to refer people. However, I suggest a slight tweak a long time ago and first came up with the term "Genital reassignment" (or 'remodeling' but that sounds infantile) Surgery.
As the only thing that is being altered in this instance are the genitals, and FFS for Facial Feminisation Surgery etc. It takes the focus away from the person, and their brain, and psychology, and identity, and just says, "oh yeah they are having GRS." This does not 'Other' the trans*people who choose not to have surgery - and many do choose not to have it - not least because of the cost. More often it is ill health that cruelly stops them having such invasive surgery! Anyways that's my two-penneth. And most importantly of all it retains the letters "GRS" for the academics? The biggest problem using terms like Gender Confirmation offered here by their advisors is this is a teen soap and trans kids (and families) will adopt the label and later realise they have made a bed of nails to lie on, as it suggests they must have surgery to confirm themselves (Transsexual Elitist argument). My advice is stick with the professional terms in this instance, if the goal of Channel 4 is to educate, even if it is not quite what some trans* like to hear - I complained over 10 years ago to the then HBIGDA (now WPATH) about the term "Disorder" being used in the DSM and by WPATH, "Gender Identity Disorder." it took 8 years after that for them to decide to change it to Incongruence? The reason disorder was incorrect in my mind was it suggested those who did not have this dysphoria were 'ordered' and that is 'othering' and dangerous - What I am trying to say is it takes a long time to change labels even if you think you are right, So try and avoid making them up at least keep that a a person self-description. As the existing terms are the terms you will have to speak to your GP with! Unless it is formally agreed to change them world-wide and 'most people' know what GRS is just use the letter rather than the full words, it is a bit cavalier for Hollyoaks to not really look into this and go with whoever advised them. For further advice please visit
http://www.wpath.org/
Comment
- DELAYS - This is actually the most realistic part of all this the constant delays and waiting about IS soul destroying!
Especially today when gender services are simply over-subscribed and underfunded. However they are rarely for the reasons Blessing's are.