Hollyoaks
21/08
E4
Blessing's Mum
OK yesterday she was at death's door with septicemia. Today she is home in perfect health. Left Hospital and back jumping for joy.
She immediately noticed the Kitchen drawers have no sharp objects in them and gets angry with Dennis.
Dennis - I am sorry but I have never had to deal with anything like this before and just want to make sure you will be OK.
e4
Blessing - I am fine Dennis - NO THANKS TO YOU! (sarcastically).
Dennis - What does that mean?
Blessing - If you had not gone blabbing to the neighbours (of her mum's old address) my mum wouldn't even be here would she?
Dennis - I was trying to 'elp.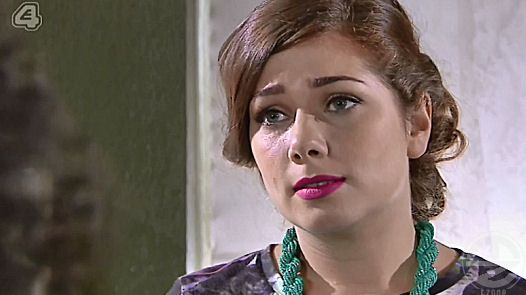 e4
Maxine - Blessing he means well you know. And he does have a point
['He does have a point when talking about sharps? Freudian slip - Proofread!? IM Eds.]
you did have a day from hell!
Blessing - It's no biggie, my mum said she didn't want to have anything more to do with me. Believe me the feeling is completely mutual.
(BELL RINGS) It's Blessing's mum!
[Comment - Now at last I feel this actress has brought in some real oomph to the proceedings this actress Petula Delaney (Jo Martin) is very good and what a CV!
http://en.wikipedia.org/wiki/Jo_Martin
, a strong and powerful, and most importantly believable performance! congrats to casting her on this! She has rescued this plot in the nick of time!]
Petula (Blessing's Mum) - I want to speak to my son!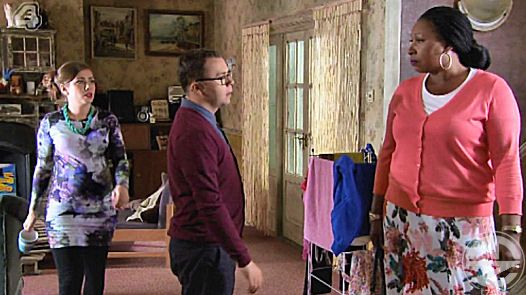 e4
Maxine - You mean your daughter.
Petula - Don't start all this nonsense again! I have a son! And I want to talk to him.
Dennis - Right, Blessing is a beautiful woman, I am not having you upsetting her, she has been through enough!
Petula - Haven't we all?!
Maxine - Dennis, I think you should tell Blessing her mum's here. Drink?
Dennis goes upstairs to find Blessing.
Petula - (looks around like the house is a disgrace) - I'll pass thanks!
Maxine - I know this must be really difficult for you.
Petula - Difficult?! I have just found out my son's mentally ill!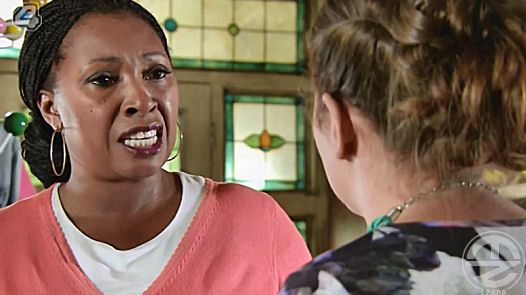 e4
Maxine - Blessing is not mentally ill!
Petula - (WHO IS A BRILLIANTLY INTIMIDATING MATRIARCH HERE!) - Oh really?! So why is he slashing up his arms?!
e4
Maxine - Because 'she(!)' is really unhappy!
e4
Petula - And dressing up in women's clothes is gonna help that is it?
e4
Maxine - You'll understand more once you've spoken to her.
Dennis comes down and we have this clearly intimidating moment -
e4
Dennis - She doesn't want to see yah! I can't say I blame her.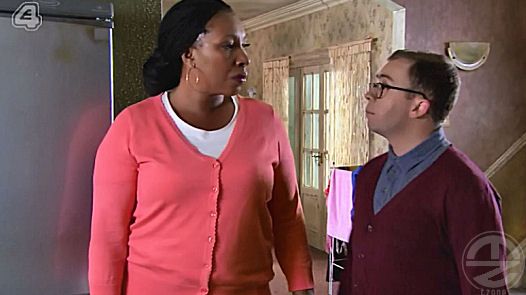 e4
Petula - At least I tried.
e4
Maxine - Wait! (Pregnant Pause) ... I go and see if I can change her mind.
Dennis - What you doing?
e4
Maxine - They need to sort this out Dennis! ... And they are not going to do that if they are not speaking..Are they?!
(Blessing sheepishly comes down the stairs)
e4
Blessing - Just say what you have to then go!
Petula - I have no intention of saying anything until you change out of those ridiculous clothes!
Blessing - (Sighs) - See, told you it was a waste of time!
Petula - I can't believe you are standing there in a dress - like it is normal! If it wasn't so disgusting it would be comical!
Maxine - Trapped in the wrong body your whole life? See I don't see the funny side of that!
Dennis - Can't you see how much you're hurting her?
Petula - Would you stop saying 'her'! The person standing in front of me is my son! Tyson!
Maxine - Tyson ... doesn't exist anymore.
[
Transition for many does not mean the non-existence of ho they were anymore than childhood no longer exists if one becomes and adult - it is a progressive issue. Many including myself have not changed at all. Just had a bit of 'work' done
So this, 'Your son has died' is unnecessary fear mongering, 'your son was always a girl but you just couldn't see it' maybe a better route. IM Eds
This next line actually made me chuckle as the mother looks around as if she is in some asylum!].
Petula - This is madness! You are all as bad as each other!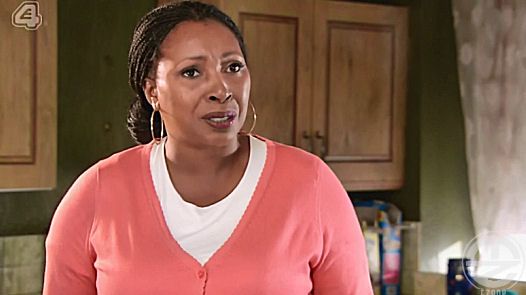 e4
Then in a finger click Petula turns sinister - great performance!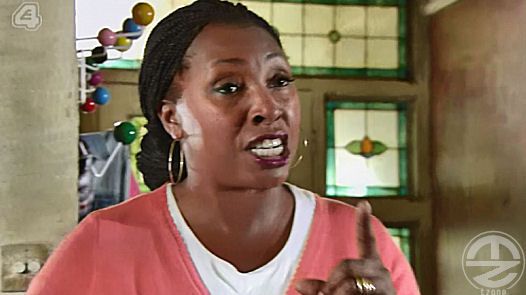 e4
Petula - Now if you don't get up them stairs, and change into some proper clothes, I'll drag you up there myself!
Blessing cowers slightly in fear.
Maxine - (Who has recently been abused by her fiance') - No you won't! Have you any idea how hard this is on Blessing? To finally be the person she really is, only to have her own mother call her disgusting.
Petula - It is! (Disgusting) And (pointing to Dennis) so is he! (for being with 'Tyson' dressed as a woman)
Maxine - Nah! You know what she is? ...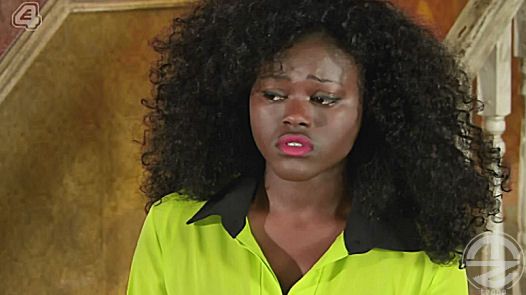 e4
... She is the bravest woman I am lucky enough to ever have met! I have spent the last year trying to be somebody I wasn't! Keeping secrets and being scared to tell people what was going on and how I really felt, and believe me, living your life like that, wears you down, it makes it hard to fight back to being the person you really are. I only had that for 12 months, but Blessing had it her whole life, God only knows how she feels. I saw how hurt you were when Dennis said she wouldn't see yah - well here she is! The least you can do is talk to her! C'mon Dennis these two are not going anywhere until they fix it!
Later...
Petula to Blessing (NOW ALONE) - We lost our minds when you disappeared! Not to mention most of our money trying to find yah! Did you know at one point, the police found a body?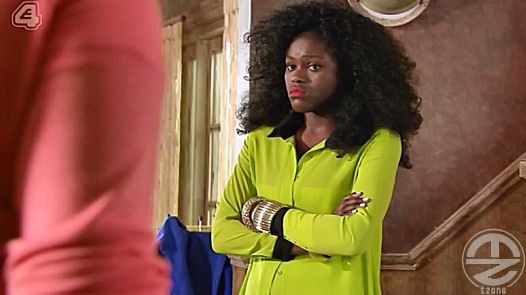 e4
Blessing - Wot?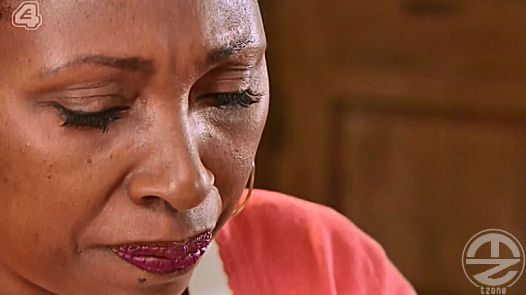 e4
Petula - Your dad had to go and identify it. I can't tell you what that done to him. It nearly destroyed us!
Blessing - Sorry.
Petula - Then you walk back into my life and expect me to be happy that you are a transvestite?
Blessing - I am not a transvestite, I am a transsexual!
[
This is always a problem - as it creates a Transsexual 'elite' as in Transsexuals are serious about this and transvestites are not, and are more weird, I would have avoided this line! After all what does it matter? The abuse is the same and many in early transition are abused. They are rarely asked 'if they are TS or not' before hand IM, Ed
s]
Petula - Same difference?
Blessing - There is no point is there? You are never gonna get it.
Petula - Get why my son wants to be my daughter?... No I won't!
Blessing Did you ever wonder why I went off the rails like I did? Get into all that trouble? It was cos I was so Angry!
Petula - Every teenage boy is angry.
Blessing - Not for the reason I was.
[
Not every trans teenager misbehaves - I know plenty of trans*people who have never been arrested or been in trouble in their lives. IM, Eds
]
Petula - What about all those girls you went out with?
Blessing - What girls?
Petula - Those that lived in the flats? Her dad worked in a supermarket? What was her name? Maria?
e4
Blessing - I never went out with Maria.
Petula - But you were always together.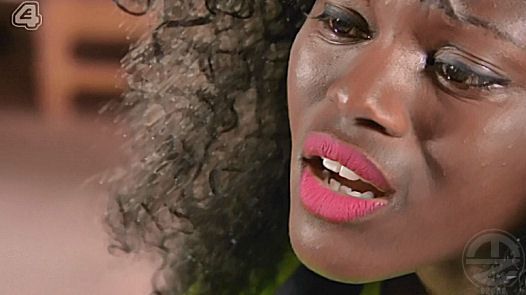 e4
Blessing - Because I wanted to be her! The girl who knew exactly who she was and what she wanted out of life - the girl I should have been... I know this is hard on you mum, but this is the most happy and content I have ever been!
["Cos I wanted to be her..."
My best friend as a child was Mandy (but that's another story
)That was probably the best line so far in the whole series so far - totally on-board with that! IM. Eds
]
Petula - (SLIGHT SNARL) So why are you cutting yourself?!
[
Fair comment, to be explored. IM, Eds
]
Blessing - Please believe me, I didn't mean to cause you and dad any heartache, that's the last thing I wanted to do...
e4
... But life is too short to go back to being someone I'm not. I won't do it, not for you, not for anyone!
Petula - So what happens now?
Blessing - Down to you isn't it!
e4
(Petula picks up her bag and slowly walks to the door she holds her hand out to Blessing, they both weep and embrace - Bridges built!) .
(Later waiting for a cab)
e4
Blessing - Thanks for understanding!
Petula - I wouldn't go that far! But I am trying.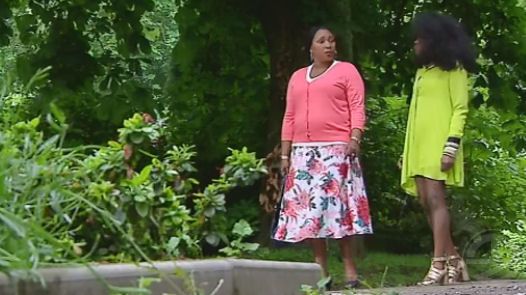 e4
Blessing - I was thinking. I might come and see you next week?
Petula - I am not sure that's such a good idea?
Blessing - Why?
Petula - Well your dad has got a lot on his plate at the moment. What with work and everything else.
Blessing - You are still ashamed of me aren't you?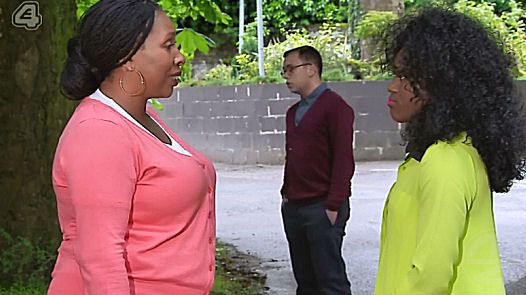 e4
Petula - No.
Blessing - You are. Aren't you?
(Taxi revs engine).
e4
Dennis comes over - Taxi's here!
Dennis to Blessing - You alright?
Blessing - Never felt better!
(Petula climbs into the cab and leaves).
(Later back at the house Blessing and Dennis are sitting together on the sofa).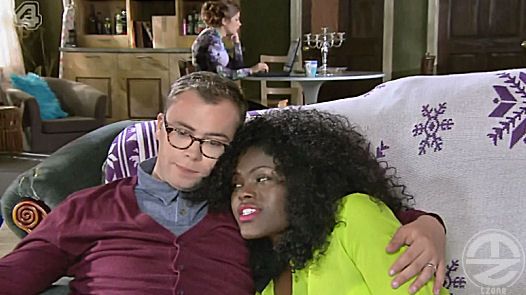 e4
Blessing to Dennis - You're amazing you know? For standing by me through all this.
Dennis - I'm not going anywhere alright? Now you know you said you were ... You were going to stop cutting yourself? You meant it didn't yah?
Blessing - Course I did!
Dennis - Cos if you keep doing it, they are never gonna let you have 'the operation'.
['the operation' has become something like Voldemort or 'The Island!' In that it is this something that is said but not really said. IM. Eds].
Blessing - I know that.
e4
Dennis - And if you ever feel like that again, y... you know you can talk to me. And if you don't want to talk to me.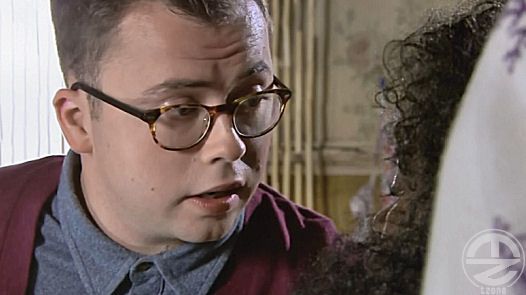 e4
Please talk to somebody else?
Blessing - Its over. I don't need to do it anymore I've got you now.
Dennis - That's it (cuddles) Come here.
Later...
(Dennis knocks the bathroom door).
Dennis - Tea'll be ready in five!
Blessing - Thanks!
Dennis - Don't thank me yet love, I misread the instructions on the box, instead of microwave for 5 minutes, I did it for 15! So I hope you like your spaghetti crunchy?!
Blessing - I am sure it will be fine (in a heightened pant),
e4
[This almost sexual orgasmic face and sexual frisson cutting her arms could trigger people to try it! IM. Eds]
(As she is high on endorphins as she cuts and blood splatters in the basin).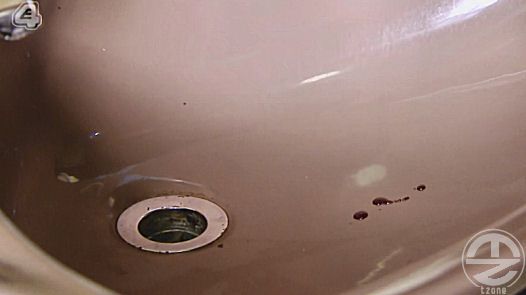 e4
[ENDS]
Phew!!!
I need a week off too!
Comment
There is a good reason why we had to wait 2 weeks for all this to be filmed and this was why - it was almost a play in itself! But definitely duologue.
You know if you play sport against a really good team you tend to play better?
This happens before our very eyes tonight. The Dennis and Blessing characters are left wanting in this plot so far.
But tonight this was carried well by Maxine (played by Nikki Sanderson) and Petula (Jobbing actress Jo Martin), I think they have raised the bar a little here. And it is like trying to keep up with a marathon runner when you just don't have it in you.
The last time I saw something similar was when John Hurt was acting with Matt Smith in Doctor Who. You just get the feeling they are a little in awe. And improve their own performance. With what can become a mini tour de force!
Jo was very subtle, like simmering disgust. Even when she 'accepted' the situation there was a tangible holding back.
Great to watch. I think she can only have a positive influence on the cast, and I have little doubt they will learn a thing or too from her here. No 'smell the fart acting' tonight! ( Joey from 'Friends' joke about soap actors tips and tricks).
So although the pace of Blessing's recovery was a tad silly. And again this has turned from a transgender storyline into self-harm issue, it was a pretty good episode! Credit where credit is due. The problem is Mum has gone home again. And Blessing is in the bathroom bleeding and cutting her arms once more.
This to me is suddenly more about self-harm. Which is a very important issue in itself. It needn't have been bolted onto an already complex transgender storyline. Attaching it to trans issues is a mistake I feel.
Many people do self-harm. But it is not something all trans*people do. Again, any parent watching this may be under the assumption that because their child
does not
self-harm then they are unlikely to be trans then. "Mum I am trans!" "Don't be silly they cut their arms! You don't!" This could in fact create self-harm, as they might cut to
prove
they are trans - if you see what I mean?
'Hollyoaks' is not a documentary, it is entertainment. It has real continuity problems - usually the pace at which things happen in a medical setting. But Blessing's Mum is great! But then again she is perfectly cast!
I don't normally score individual episodes, but I felt a rare 5 stars from me for this was well deserved! Worth watching here is the link!
5/5 TZ Stars - Excellent!
http://www.channel4.com/programmes/hollyoaks/4od