Hollyoaks
18/07/14
e4
Blessing's suspicions and maybe jealousy?! Only 8months till sex? Yeah right!
Blessing enters the shop where Dennis works.
Dennis is looking at flights on his laptop. When he sees Blessing he panics and slams it shut.
Dennis - "Hi Yah! I swear there are people in sweat shops laughing at the amount of hours I put in!"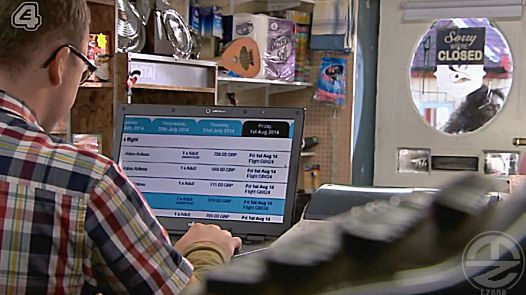 e4
Blessing - "Dennis!"
Dennis - "Yeah?"
Blessing - "Are you frustrated that all we do is kiss?"
Dennis - "No! No I love kissing you!"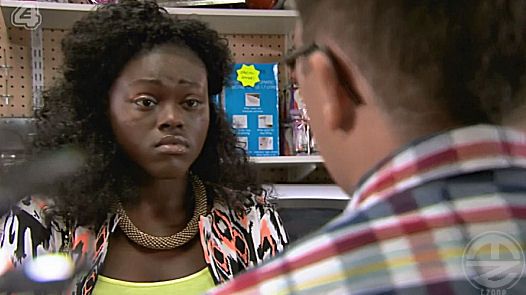 e4
Blessing (LOOKING SOLEMN) - "Its just that, this morning it felt like that you could not get away quick enough!"
"Dennis - Um...OK. OK. Um. You are the most beautiful person in any room ever. But, I'm finding the fact you're ...still...'INTACT' ...
[Note the cupping of balls hand gesture and facial expression.
IM]
e4
... a bit unsettling. Waow, can you believe I rehearsed this?! Um...What...What I mean... is, I wanna, ut, uh, 'be' with yah, right, but, I know that's not possible until the operation!"
[EDITOR'S NOTE - And about 3 (for some 6 is wise!) months after it at least Dennis - so If they get that wrong it will turn this into a farce! IM].
Dennis - "So right now, just feels weird. (POINTS) I am an awful person aren't I?"
Blessing - "So you are not leaving me for another woman?"
Dennis - "Of course not! Of course I am not going to leave you, why, why would you say that?!"
Blessing - "Because, I don't believe anyone will wait 7 months for me."
Dennis - (JOKING) - "I am not going to lie to you love, I do get a lot of offers!"
Blessing - (SMILES) - Giggles.
Dennis - "I wouldn't swap you for anyone!"
Blessing - "Good, then trust me! It'll be worth it!"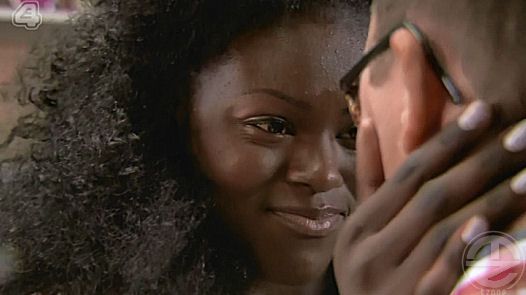 e4
They kiss.
He gets a message saying - "Thank U 4 2day x."
Comment
OK 2 Major issues with this script.
1. Dennis arranging surgery for a third party - if this is indeed the case.
2. This in 7 months we can have full sex!
Let's start with issue 1 -
The flights can be of course one of two things, either he is arranging Blessing's surgery in Thailand? Or he is planning an escape route for Maxine. The 'surprising her with Thailand' would not work as they have waiting lists too! Plus the surgeon would likely need to liaise with Blessing's consultants and neither would speak to a third party (Dennis) about their patient - confidentiality - he is not even next of kin. So if it is Thailand this is a fudge! At this stage she would be better off waiting in the UK - if this is the case. But maybe they want to do a Holiday episode? I hope this is just a holiday, but I fear this is actually for her surgery.
As ITV's 'This Morning' showed a clip in their Soap Round-up of Blessing in a hospital Gown! So it looks like her surgery is not far off! We will keep an eye on all this.
Issue 2 -
The idea that Blessing will walk out of the hospital and straight into Dennis bedroom and have penetrative sex is absurd! Firstly even young healthy patients need a few months to heal sufficiently not least for infection risk and damage occurring. Many a 'post-op' transwoman has suffered because 'they couldn't wait'. In some cases horrifically with full prolapse of the neo-vagina. The truth is she will not feel like sex for some time. I would say a minimum of 3 months but sensibly and for long term health of the surgery site. 6 at least by then she can know it will not be damaging and scar tissue etc will be less of an issue. There are trans girls returning after a couple of months with 'granulation' so this is plain stupid misinformation and also dangerous. As it may put undue pressure onto couples where one has had surgery to have sex sooner than is safe to do so! This also applies to trans men with phalloplasty of course!
Time is required - she has waited this long, another few months will not make any difference.
But I fear she will be out 2 weeks and be swinging from the chandeliers!
And that's just plain silly.
So Dennis, even if she had her surgery in the next 6 weeks, you will still have to wait 7 months
This also feels more about Dennis wanting to get his rocks off with some proxy inflatable doll than Blessing's need for surgery.
This is a serious problem and is beginning to feel it has been ill advised - whoever is advising them either has not had surgery, or is reading fictional accounts, or is a lesbian (external pleasure is possible but it takes a while for the clitoris to settle down (infection risks still remain). Friction is the last thing she would want too soon on a surgery area, Dennis with a bed full of blood is about right if that happens. Even if you cut you finger you have a band-aid on it and it is sore for a couple of weeks! Would you want to spin plates with it or play music on the rims of wine glasses
So this is a minor example by comparison. Now make that 100 times worse and inside. And then someone is going to rub up and down against the wound area for 10 mins! - I just hope she takes the Morphine bag home with her that's all I can say
Maybe they will read this and tweak the outcome - if they don't then this will not go down well with people who know (no pun intended!).
After all there are other ways to have sex that would be more than satisfying for Dennis than kissing.
Type 'Tr*nny' into google images Dennis - there is a whole world that has sex with girls with a penis.
It also does bother me a little that his view of a woman is someone without a penis. That's a very old fashioned view these days! Women have willies - get over it! Next stage of evolution due!