Hollyoaks
02/07
e4
Blessing goes Boy mode!
WARNING SOME OF THIS CONTENT MAYBE TRIGGERING TO PEOPLE WHO SELF-HARM!
Dennis hears some noises downstairs and goes down to investigate.
e4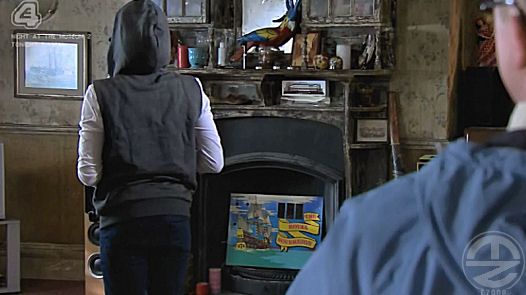 e4
He grabs an inflatable dinosaur instead of the tennis racket at first to defend himself for some light humour before the realisation that the hooded yoof is Blessing.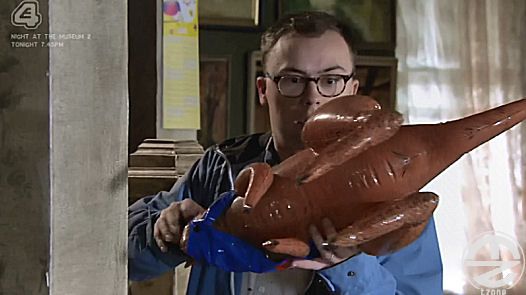 e4
Dennis - (IN A HIGH PITCHED PANIC VOICE) "STOP RIGHT THERE!" "Put the stuff down and step away from it, I have a loaded weapon here, well I have got news for you buddy you have messed with the wrong house!!!"
e4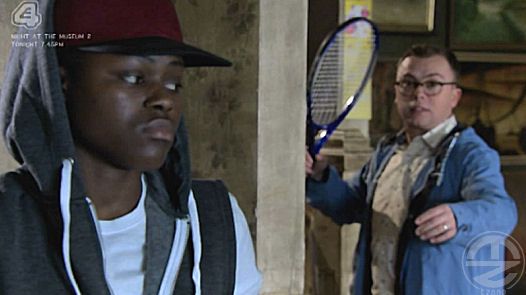 e4
The Hoodie turns around...
e4
Dennis - "Blessing?!"
Later...
Blessing is packing to leave.
Dennis - "Would you please stop this?"
Blessing - "What is the point in trying anymore?!" "I'll never be able to afford the surgery!"
e4
Dennis - "What about the fundraiser?! We raised nearly ÂŁ300 quid!"
Blessing - "I know...n...well...I'm grateful. Really I am. But it's not enough it's is not nearly enough. And I cannot face waiting on the NHS list! With everyone thinking I'm a freak!"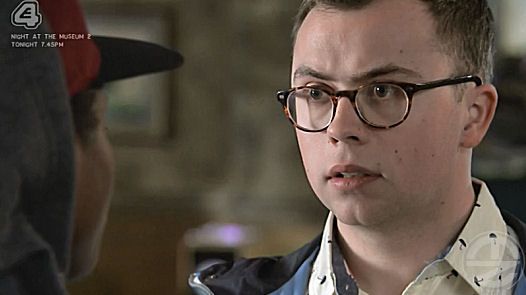 e4
Dennis - "No one thinks that!"
Blessing - "Frankie [The woman who pulled her skirt off see above] does. She made her feelings pretty clear."
Dennis - "She's the freak! Have you seen some of the gear she knocks about in?
e4
Blessing - "She's the only one who has the guts to say what everybody else is thinking! What you are really thinking! Deep Down." (SHE HANDS HIM A BOX OF HER OLD POSSESSIONS) "There take them for the Emporium, someone might want to use them."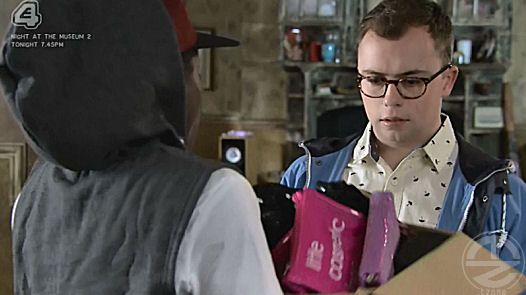 e4
[Aww a little pink make-up box called Little Cosmetic - I could cry! IM
I see props dept have a heart of gold in that show kudos to them they are unrecognised a lot of the time in TV]
[This clearing away of the real you is called 'Purging' and is very common particularly with cross-dressers who can have a love-hate relationship with their femme self - it is cyclical].
Dennis - "Blessing wait!"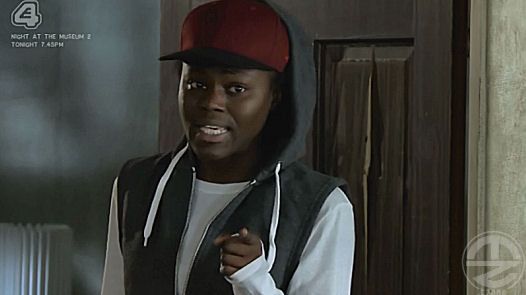 e4
Blessing - (POINTING ANGRILY) "THAT is not my name!" "Blessing's gone!"
Later...
For reasons of character identity and development and as at this moment 'he' insists Blessing is not who he is any longer I will report as such.
Tyson (MALE NAME) is looking at himself in the mirror and drops it and then picks up a shard and is about to continue the self harm Blessing carried out last night. But he is interrupted by non other than Frankie who abused Blessing last night at the fund raiser.
e4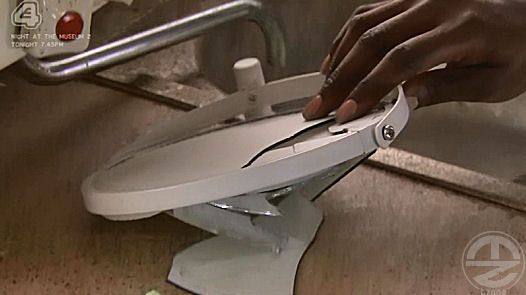 e4
e4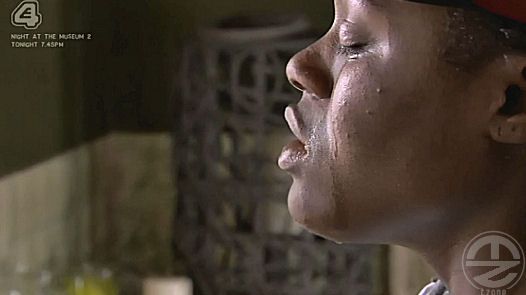 e4
Frankie - I just had Dennis in the pub giving me the third degree about what happened last night in the pub.
e4
Tyson - I didn't send him!
e4
Frankie - "Well it was just a bit of fun..you know?""I mean you're a big...Gi...Um..."
Tyson looks confused...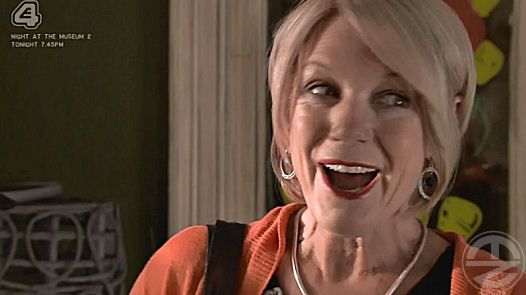 e4
Frankie - "Well you are all grown up now eh? You can take a bit of bantar?!
Tyson - "Yeah Frankie I can handle your stupid bantar! Now can you leave please?!"
Frankie approaches her...
Frankie - "I am not completely clueless you know, I mean my son, Craig, he thought he was gay and now he is going out with a woman!"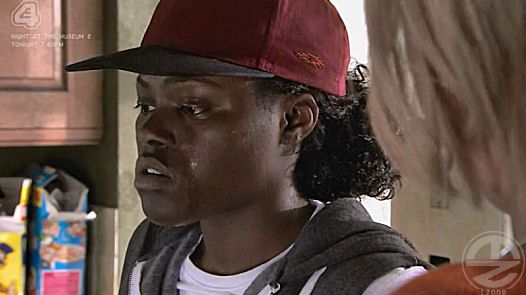 e4
Tyson - "I'm not gay Frankie!"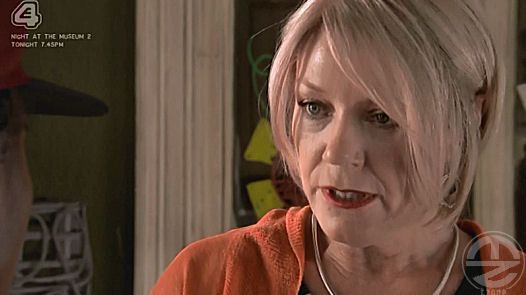 e4
Frankie - Non,no,no,no,no, I am just saying, its very easy to rush into these,...sexuality things... you know, just because you have a notion."
Tyson - "This has nothing to do with sexuality!"
Frankie - And Ether, you know... Well, she thinks she's a... Well I mean. she's had one girlfriend but it was more of a schoolgirl crush thing, you know.If she came to me tomorrow and said she'd got a thing about Russell Crowe, I wouldn't be surprised."
Tyson - "Get out."
Frankie - "Right, then, I'll be off. I can see you've made your choice."
Tyson - "Choice? You... You think I have a choice?! I don't have a choice at all. I am trying to do something - anything - to stop bigoted people like you with your cheap little jokes and your harmless 'banter'..."
Frankie - "Hang on a minute..."
Tyson - "Just get out, before I CHOOSE to do something I regret."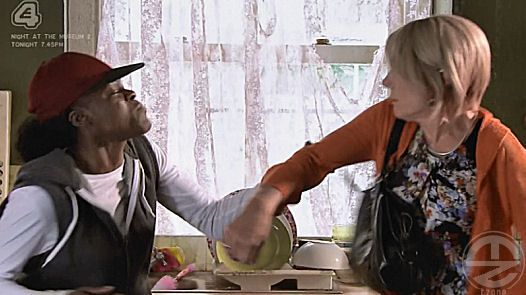 e4
A little struggle ensues at this point Frankie grabs Tyson's arm and reveals the wounds.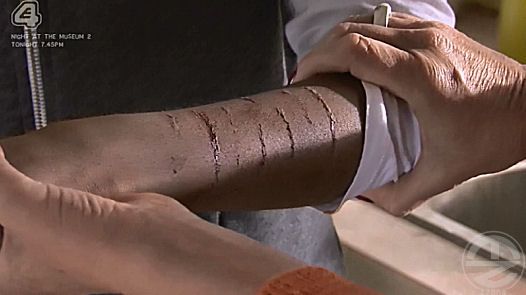 e4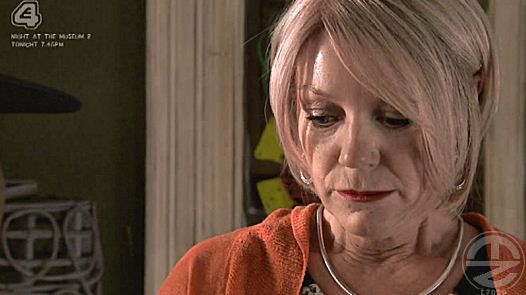 e4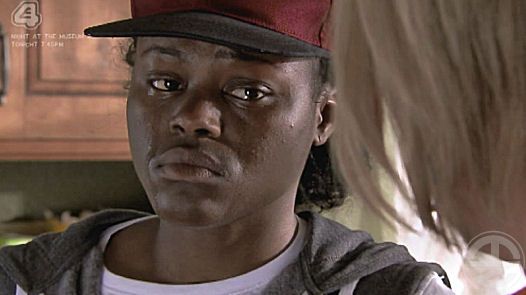 e4
Frankie looks in horror - "Blessing what have you done to yourself!"
Later...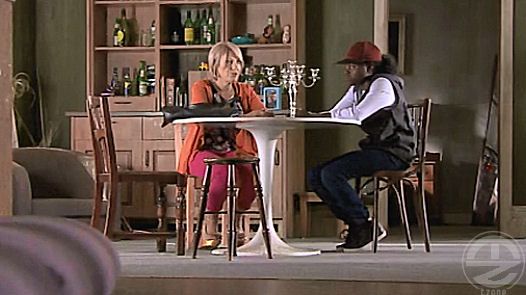 e4
They are sitting at the kitchen table with coffee...
Frankie - "My Esther hurt herself, none of us realised until it was too late."
Tyson - "I don't need help I can handle it."
Frankie - "Not now you don't, but when a person's on the edge... It only takes a little thing to push them over. Do your mum and dad know what you've been doing?"
Tyson - "It has nothing to do with them."
Frankie - "Well, I think they'd like to know if you were...having trouble."
Tyson - "I haven't seen them in ages and... They don't even know me."
Frankie - "All right. What about Dennis?"
Tyson - "I've given that little brain of his enough to deal with already."
Frankie - "Dennis is a good boy, you know.You should have seen him today. He was, er...strident."
Tyson - "Was he carrying a tennis racket?"
(SMILES)
e4
Frankie - "No but he obviously cares about you."
Tyson - "I just thought... If I came somewhere new...I might feel better. But nothing makes it better."
Frankie - "You can't fight pain with pain. Believe me, I know."
Tyson - "You're not just a prejudiced old witch after all, are you?"
Frankie - "Well, I'll take "prejudiced" and "witch, but less of the "old", eh? Listen, I've got to get back to the pub. Come with me? We'll see if Dennis is still there, baying for my blood."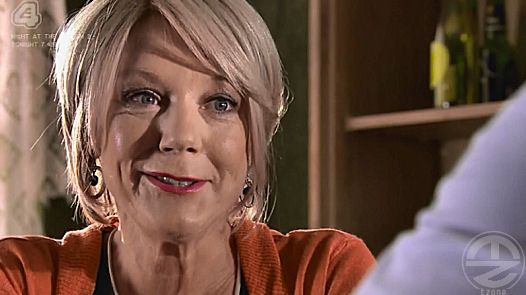 e4
Tyson - "Thank you but, er, I think I know what I've got to do."
(FRANKIE LEAVES AND TOUCHES TYSON GENTLY ON THE BACK AS SHE GOES)
Later...
Frankie goes into Dennis' shop 'The Emporium' and although Dennis is ready to have a go a Frankie she has a go at him and tells him to get home to his girl that needs him!
Dennis to Frankie - "Hang on, love. I'm the one that's meant to be mad at you!"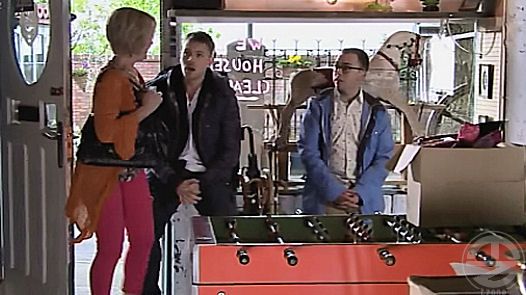 e4
Frankie - (SPEAKS TO BOTH MEN WHO HAVE GF) "There are two sweet, loving girls out there, and they are hurting." "And what are you two doing, eh? Sitting around like a couple of lemons whilst they still need you. Stop gawping at me and get out there and get your girls!"
e4
Meanwhile back at Home Tyson is calling home for the first time...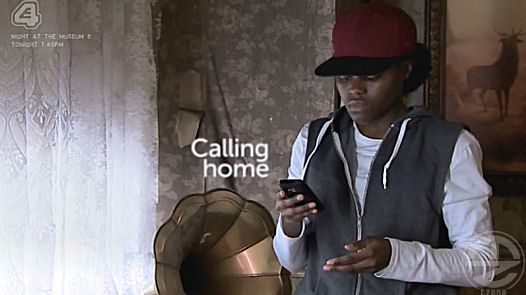 e4
Mother - "Delaney residence." "Hello?"
Tyson is silent for a while...
e4
Mother has an instinct... "Tyson?" "Tyson darling, is that you?"
Tyson - "Yeah." "It's me. It's Tyson.
Mother - "Where are you?""Talk to me.""Are you OK?"
e4
Tyson - "Mum..." "I'm sorry. I'm coming home."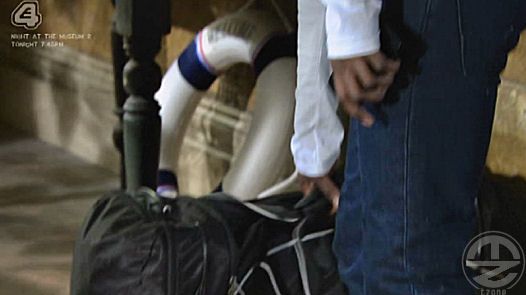 e4
He hangs up walks across the room takes one last look at the flat...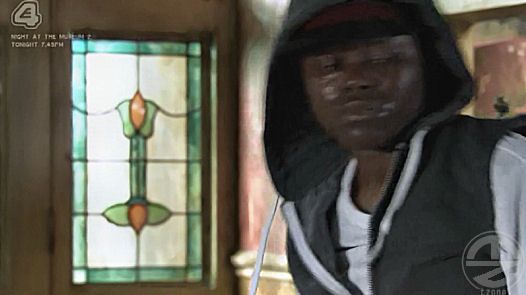 e4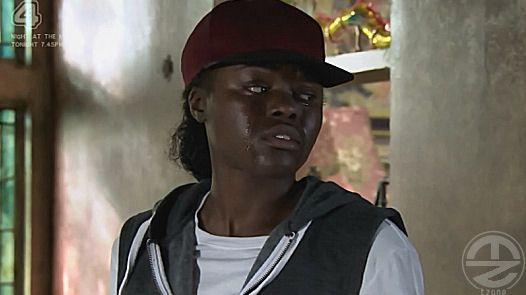 e4
... puts up his hoodie, walks with a male swagga' grabs his holdall and walks out the door leaving a note for Dennis.
e4
e4
Comment
Firstly FEW! and secondly FEW FEW - This intense dialogue is killing me - Thanks Hollyoaks that's a Transcripting nightmare - I should be working for them
OK intense stuff and a Purge session. The desire to flit or switcheroo back to the gender society can best deal with is common place. In this instance it is a little more complicated as the actress does look like a transitioning transman. She is a ciswoman. But she clearly if this were true looks, sounds and behaves like a girl, her voice is feminine and she would now likely have to bind her breasts. The Boy mode even with a swagga... Just looks like Blessing in a hoodie
But this is not what is happening in the Soap this is a pre surgical transwoman who has been humiliated and the only safety bolt hole for now seems to be mum.
I find the whole mother hearing her son for the first time since he went missing moving. I thought that was very well played. I spoke a long time ago to the then 'National Missing Person's Helpline' and raised the issue that many that go missing may well be trans. 10 years ago they had not considered it. But this episode shows this is more than a realstic consideration. So I did 'like' that addon.
The self-harm is a common misconception, although it does happen. It also is not something I have encountered that much. The self-harm of performing this constant act or pretending to be the gender you were assigned at birth is pain enough for many. So the whole arm cutting could be a red herring for families to be looking out for, if they do not have tram-lines up their arms does not indicate they are not trans. If you see what I mean.
This was also used in their last trans storyline where transitioning transman Jason Costello (played by Victoria Atkin) did the same see image below. Again this is something that might have been best to avoid.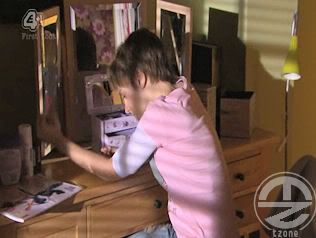 e4
Read the whole of the Jason Costello Storyline right here on Transgender Zone
viewtopic.php?f=48&t=434&start=30#p10471
On the whole, I do still think that Jason Costello was written a bit better, it was more realsitic and had some humour amongst the angst. Blessing is crying non-stop, Dennis seems to be just lost. And there seems to be a convoluted effort to try and constantly humiliate Blessing. The fact is being trans is also about the frustration and red tape, as much as cat calls. We saw a glimpse of that with the hospital, but it was brushed over too much. In the Jason Costello version he went to a clinic and they did an OB (Outside Broadcast) for it. Tyson is now off to see his mum. This, I assume, is where we go next. Or is that it? Family dynamics are a dream come true for soap scripts, as we have already been introduced to his mum then I suspect that is not the last we have seen of her. Unless Dennis catches the train on time?
Again Blessing is identifying as Tyson atm so please no complaints I am aware of this issue obviously!
Interesting episode.