DAY 18
KELLIE EVICTED!!!
Summary - James is saved?!
Must be 'Strictly Come Dancing' Fans cos who else would save someone who was so disliked inside and outside - I have never heard the crown boo louder!
Stephanie was evicted and sadly so was KELLIE!
She left the house with good grace and night and day to the person who went in. The best 18 days of therapy she could possibly receive has not only made her wealthy, but showed that people over 60 that are transsexual (she identified with that term) do exist! This to me is a great message. As so many must be grieving for their lost youth, and probably think they are 'past it' and over the hill (too late to transition and cannot be who they should be) and Kellie proves it is NEVER to late to find happiness in yourself! Kellie has shown that is nonsense! You do not have to be 22 and a 'trans sex kitten' to be a happy person!
OK So the final Day for Kellie will be shown tomorrow night. Tonight was about the eviction and Yesterday's highlights, so you are not quite off the hook yet
So I will keep it brief. A lot happened tonight, so worth watching the shows in full, the links are provided! But this is a Blog - and NOT the show itslef as they would sue me
- but I will do my best!
Voice Over - Day 18...
(Image: Channel 5/Endemol).
Audley, Lauren, Kellie and Dee (L to R Pictured) are talking about two housemates who said this is for their careers. Dee said, Edele and Steph are only there for career profile.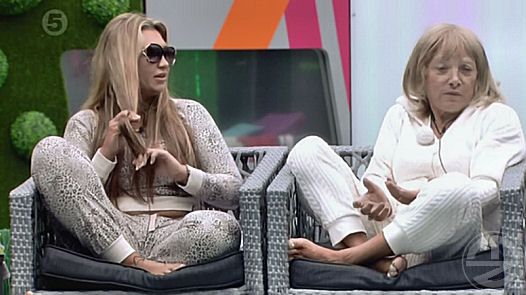 (Image: Channel 5/Endemol).
Kellie - I have to be careful what I say because I am fed up with people keep saying I want to go out.
Dee says that Kellie did say it, but Kellie laughed and said well this is war now , me against him (James). Dee laughs and shakes her head.
FEEDBACK SURVEY TASK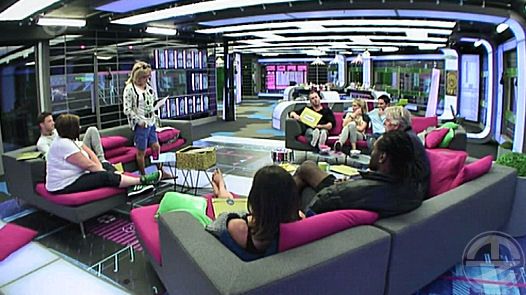 (Image: Channel 5/Endemol).
Then they show yesterday's task which was a Feedback Survey Task' that allowed the housemates to offer feedback on the others.
The feedback was read out by the person it was about, and it was up to the person who wrote it to stand up and be identified or not.
Kellie of course wrote about James and James about Kellie.
In this, I actually think Kellie came out better. Jame really was not only condescending(!), AND HOW! But objectionable. I am truly amazed how anyone would vote for him to stay in that show. Staggering! If he wins 'Celebrity Big Brother' it will probably be the last time I watch it. Because it will send the message out that bullies and arrogance is the way to get ahead - twitter is full of people with
Narcissistic Personality Disorder
as it is. We do not need any more thank you
Bad message to send. So hopefully the British Public will get it right next week - they usually do!
James about Kellie - "Kellie is selfish, rude, going for the sympathy vote, the only way this person can improve is to leave the house..."
(Image: Channel 5/Endemol).
Kellie - "James is entitled to his own opinion."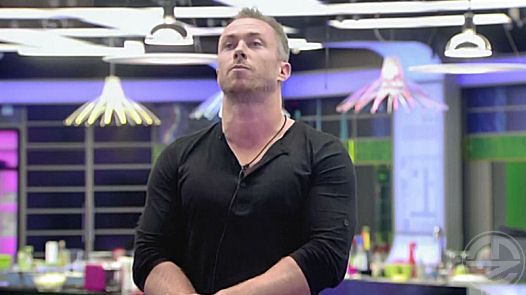 James stands and his stance and arrogance reminds me of some dictator - see for yourself...
Separated at Birth James above and Mussolini
https://resourcesforhistoryteachers.wik ... ni.mug.jpg
James - "It is not just my opinion! I am just voicing it!"
Kellie - (CALMLY) - "Well thank you James."
(Image: Channel 5/Endemol).
James - (ARROGANTLY) - "You're welcome!"
(Image: Channel 5/Endemol).
Kellie - "Thank heavens we will not have to meet when we leave the house."
(Image: Channel 5/Endemol).
James - "Definitely that won't happen."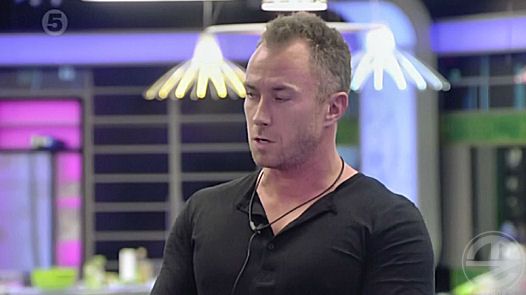 (Image: Channel 5/Endemol).
Kellie - "There is no love between us."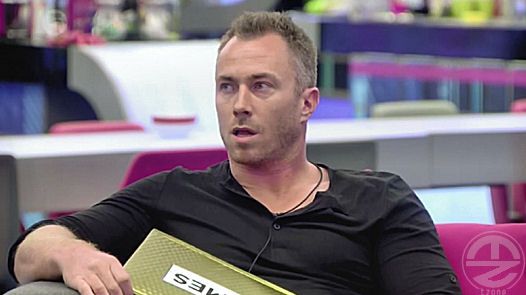 Audley gave James some Feedback along the lines of, "James Belittles people for his own entertainment, which is a sign of low self-esteem. He wants to be the center of conversation by being rude. Tut. Tut."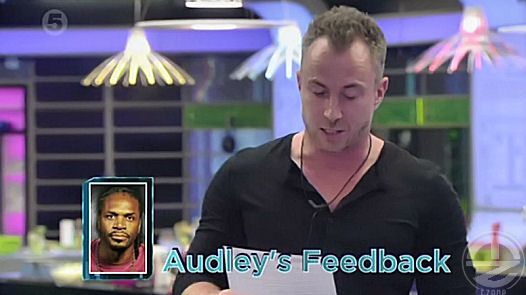 Dee - "When you are ready Big Man," to Audley (meaning time to stand up and be counted and face James).
Audley stands and they all applaud.
Audley to James - "When you have humour at somebody else's expense that is a bad character trait."
James - "It has never been malicious!"
[
Passive-Aggressive is malicious, it can sometimes be worse than physical violence. Eds
].
James tried to put a brave face on it but you can see he didn't like it.
He then read Kellie's Feedback form about him.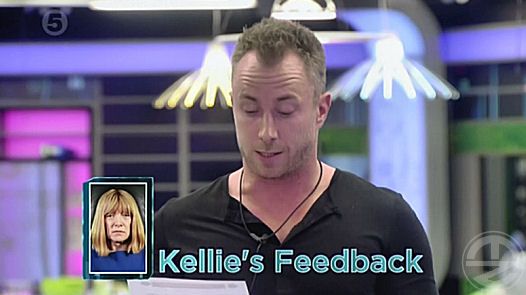 (Image: Channel 5/Endemol).
James reading out loud - "James I think you need to be more yourself and not try to be 'one of the boys' (meaning a jack the lad or tough guy for US readers), maybe try not to give out an image of a hard man who does not care what others think about you. Because we all deep down care about what other's think, Now you can't always be Mr Right and leader of the pack. There are some strong personalities here in the house."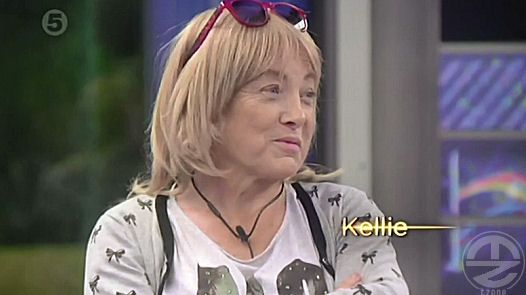 (Image: Channel 5/Endemol).
[
I think that is a very fair assessment of James tbh! Eds
]
Kellie stood up and owned up to this - "I do think underneath it there is sort of a lost kid who would like to be liked, but because he is not liked he is Mr nasty to everybody. So we all dislike him."
James - "And there is only two people in here who dislike me Kellie?"
Later George said, "James is condescending(!)" in the Diary Room and he has already bullied Gary - James is deluded if he thinks only 2 dislike him, the others are just keeping quiet in his presence for some peace.
James - (TO KELLIE) - "I think there are a lot more in here who dislike you! I didn't come in here to make friends. Maybe you did? That you need people to accept you for who you are trying to be."
[
Trying to be? This is Transphobic BS! She is not 'Trying' to be anything she has always been female trying to be male for people like James is the problem! He wouldn't say Audley is trying to be black would he? QED, Eds
].
James continues... "I have friends on the outside! Which maybe you don't have! And I have a family who cares about me! For me they're still gonna be there for me when I get out! For me if I leave here with friends! ITS A BONUS!!! THIS IS A GAME!!! THIS IS SOMETHING YOU DON'T UNDERSTAND!!!"
Kellie - "I am learning a lot about myself, and I am learning a lot about human beings and you know what? I would hate to like someone like you."
[Of course what James forgets is Kellie has a family who loves her and beautiful daughters. Eds].
James - "AWWW THATS GOOD! YOU CAN SIT DOWN NOW KELLIE!!!"
Kellie stays standing just for the hell of it
Dunno for how long as it faded to black LOL! And back to Emma with raised eyebrows!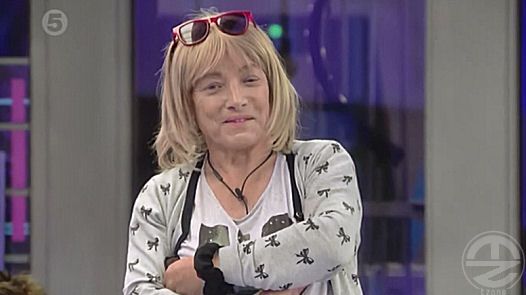 (Image: Channel 5/Endemol).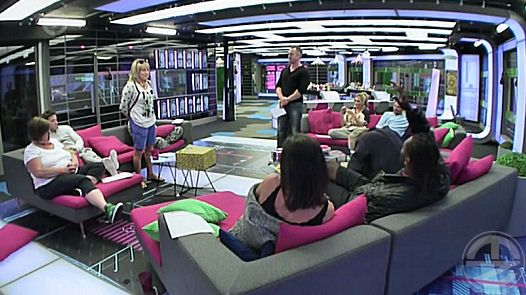 (Image: Channel 5/Endemol).
Crissy Rock after the show in BBOTS did the same for a Joke with Rylan when he said you can sit down and she stayed standing and said, "I AM DOING A KELLIE SO THERE!"
Good for her! And she didn't rise to his comments - shows personal growth. Whereas he has not grown at all he was doing this on the first night!
Later...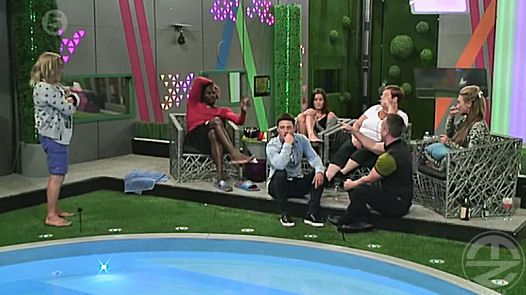 (Image: Channel 5/Endemol).
Audley says that James was a coward for criticising Lauren and then not standing up and saying it was him which left her upset.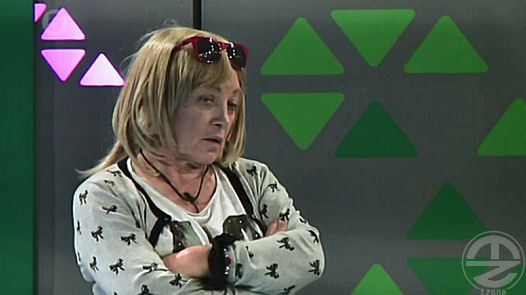 (Image: Channel 5/Endemol).
Kellie was more annoyed by this. And Audley just called him spineless.
James simply said that this was Audley, "trying to be more interesting now..."
(Image: Channel 5/Endemol).
Then James says to Audley - "Unlike you I am quite an intelligent person!!!"
(Image: Channel 5/Endemol).
You could hear Kellie take a sharp intake of breath and sigh in amazement at such a rude comment - but she stayed out of it.
Audley - "James you had a chance to stand up and instead were 'Brutal' about Lauren."
THEN DOUBLE EVICTION (LIVE PRESENT DAY)EVICTION OF STEPHANIE
(Image: Channel 5/Endemol).
EVICTION OF KELLIE MALONEY
Emma Willis - "It is time to talk to the house... The housemate with the fewest votes...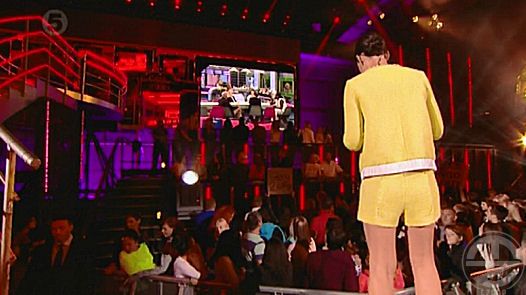 (Image: Channel 5/Endemol).
... and 5th to be evicted is (WAIT 10 SECONDS LOL) ...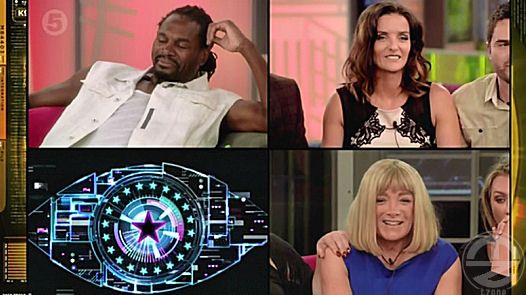 (Image: Channel 5/Endemol).
(AUDIANCE CHANTS, KELLIE!, KELLIE!, KELLIE!).
Emma - "Kellie!!! Kellie you have lost your place in the Clebrity Big Brother House - you have 30 seconds to say your goodbyes."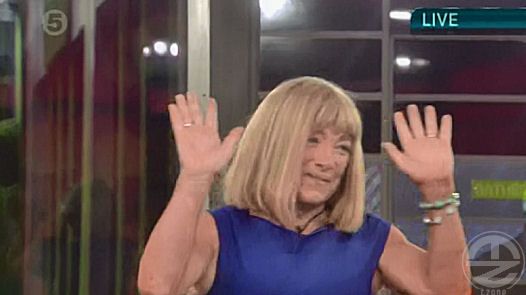 (Image: Channel 5/Endemol).
Kellie holds her hands up as if to say - BUSTED!
She hugs everyone and shakes hands with James... In her interview that followed she
said they had kinda made up a bit?
DOOR COUNTS DOWN TO AN EXCITED AUDIENCE BAYING FOR BLOOD! "10, 9 , 8 , 7, 6, 5, 4, 3, 2, 1!!!"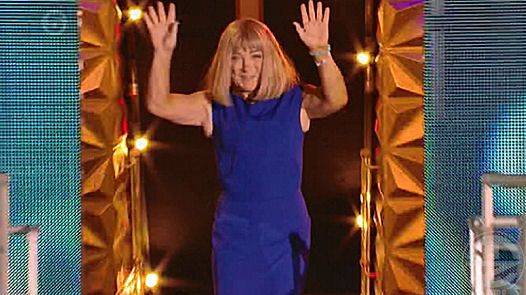 (Image: Channel 5/Endemol).
Sirens scream - crowd screams doors open, smoke is fired!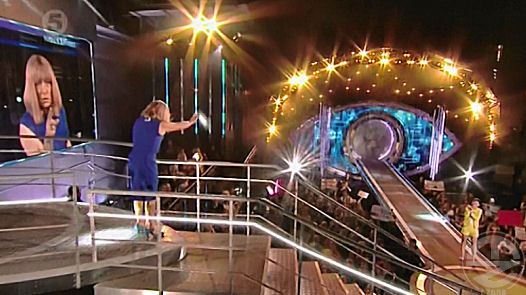 (Image: Channel 5/Endemol).
She then does something unusual, and not since Pete falling down the stairs after winning have I seen something like this. She kneels down and worships the crowd!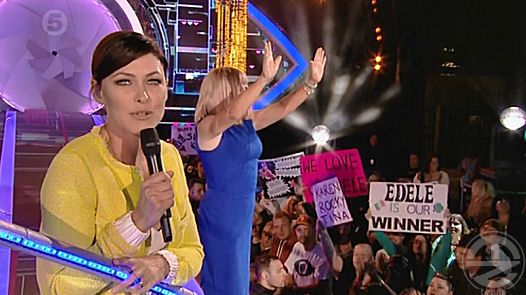 [PS KELLIE'S DAUGHTER HAS SOLD HER STORY TO OK MAGAZINE TODAY IF YOU WANNA READ IT].
INTERVIEW
Emma - I am joined by our latest evictee KELLIE!!!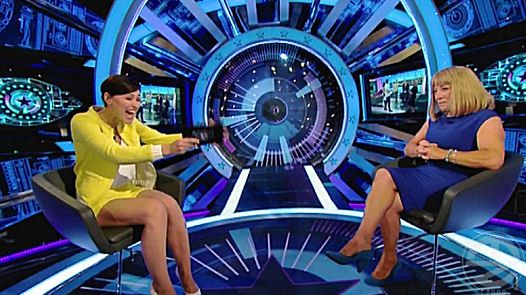 (Image: Channel 5/Endemol).
Kellie's full interview is below in the link. but to summarise.
She explained that she cannot even remember going in she was blank. That she had grown from the experience and learned a lot about herself. That James she felt has demons of his own from childhood bullying about being a dancer and she can understand that.
Kellie - "I hope the British public have learnt a lot about the transgender issue and they will accept me and respect me when I go out into the public and respect other transsexual people."
(Image: Channel 5/Endemol).
Serious on Trans issues - Kellie
Emma - "I think you have done a lot for that! I really, really do! It was an extremely brave thing for you to do going into the house at all!"
(Image: Channel 5/Endemol).
Kellie - "Dee and Lauren have been fantastic and it has helped me with my journey. I have buried a lot of frank, not all of him. As showed with Frenchy and Leslie."
[We did notice, Eds
].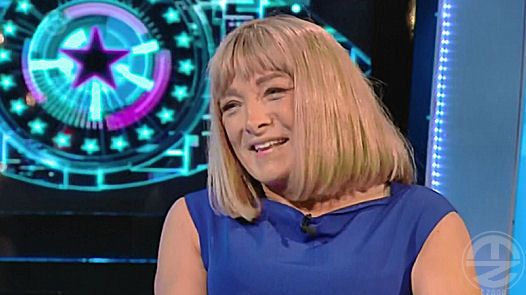 (Image: Channel 5/Endemol).
Kellie - "I grew in confidence and they helped me through it! For 2 years I have led a very provate life, and only had my family and dogs to talk to!"
Emma - "James divided opinion."
[
That's putting it mildly and diplomatically Emma, Eds
]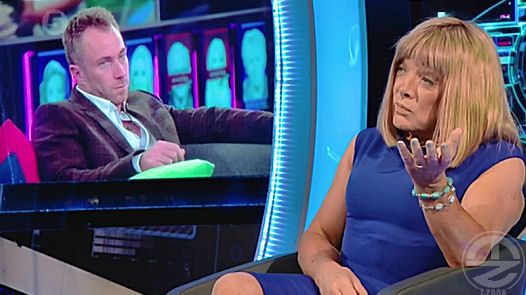 (Image: Channel 5/Endemol).
Kellie - "I said to him today in the 'Counselling Task' (We will see that tomorrow) that there is a lot of Frank Maloney in you! Because of my gender issues I was fighting all the time trying to be the King pin! And he admitted being a dancer he was called a lot of names and before the last eviction he came up to me and gave me a cuddle. He has upset a lot of people and James is just James. He is 36/37 and he is trying to behave like a teenager. He's got to grow up."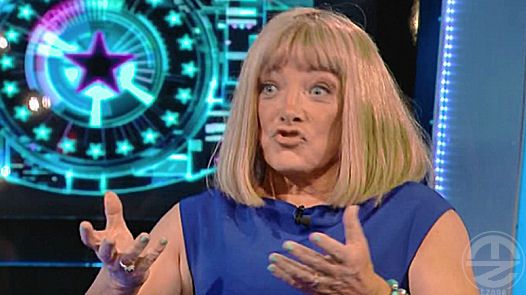 (Image: Channel 5/Endemol).
[Still don't like him. Eds]
Emma - "We've all got to grow up!"
Kellie - (LAUGHING) - "Well I am going the other way the Hormones are working wonders!"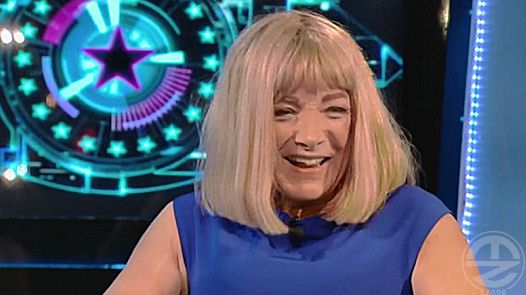 (Image: Channel 5/Endemol).
Emma talks about the Survey task (FEEDBACK). yesterday.
Kellie says, "James is a bully, and especially using her gender against her. You've got to be man or woman enough (LAUGHS TO AUDIENCE) to be counted."
She then is shown her 'Best Bits' Highlight Reel from her time in the house.
(Image: Channel 5/Endemol).
(Image: Channel 5/Endemol).
Emma - "Thank you Kellie - go and see your friends and family" - points to audience. Kellie gets emotional and she gives her a BIG HUG.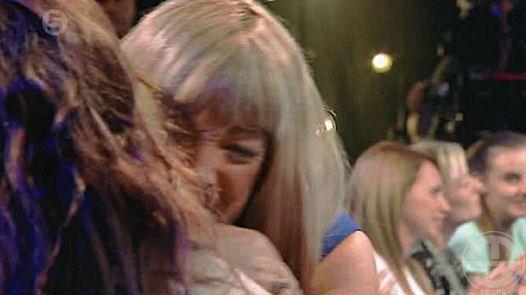 (Image: Channel 5/Endemol).
Home at last!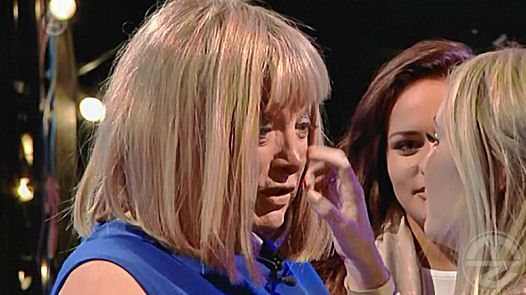 (Image: Channel 5/Endemol).
Her daughter embraces her and wipes the hair away from her eyes!
Lovely!
Next Kellie appears on Bit on the Side so it is not over yet!
Watch now here!
http://www.channel5.com/shows/celebrity ... eptember-4
Big Brother's Bit on the Side
(Image: Channel 5/Endemol).
Kellie was well supported and I particularly liked Crissy Rock who agreed with me over James and also was a Kellie Fan! So I loved her #OBVS #LUVCRISSYROCK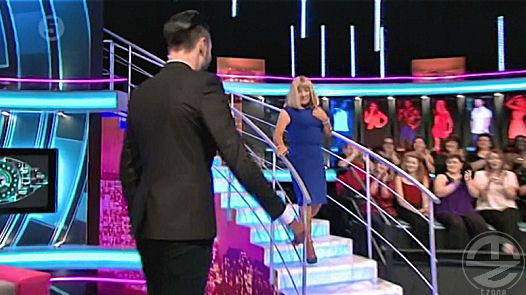 Kellie - It has only been 19 Days but I feel I have come out a person and not a transsexual.
(GETS A ROUND OF APPLAUSE)
(Image: Channel 5/Endemol).
Kellie later reiterated about the moment she made up with Audley as I did too in this very blog. She stated that if she had not dealt with that and stopped saying 'transphobia they would never have made up - she likened it to the racism Audley suffered as a youngster and he understood that as we saw.
(Image: Channel 5/Endemol).
Watch now here!
http://www.channel5.com/shows/celebrity ... ode-16-233