Man Down
18/10
Channel 4
Sitcom about a frustrated teacher written by and starring Greg Davies. Dan has lost his trousers and is in danger of losing his girlfriend. He hates his job, his dad is out to get him, his friends can't help him and there's a tailor on the war path.
TRANSCRIPT
So whats happened tonight on Channel 4? Well here is the transcript.
Greg Davies has worn the wrong underpants.
The tailor earlier said, "he doesn't like perverts!"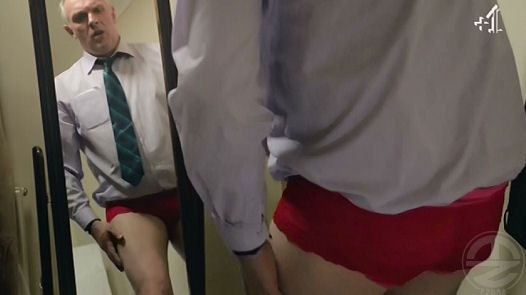 Channel4
Greg gets changed, the curtain opens.
Tailor - "Oh My Good God!"
Greg - "No! Seriously!"
Tailor - "I should have known!"
Greg - "Oh no!"
Tailor - "A nonce!" (nonce is UK Slang for paedophile.)
Greg - "They're my mum's!"
Tailor - "I'll bet their your mum's! You STINKING TRANNY!"
He holds up the scissors and approaches him aggressively...
Tailor - "Lock the shop Jason!"
Channel4
The Tailor gets large cutting scissors (to castrate obviously),
Channel4
We then see him attack Greg and beat him up.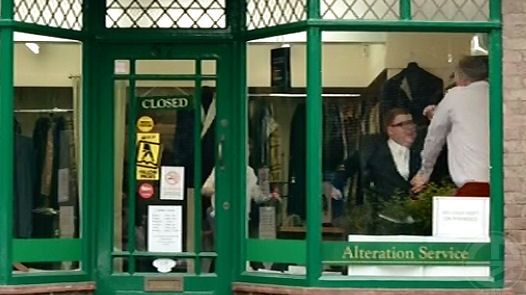 Channel4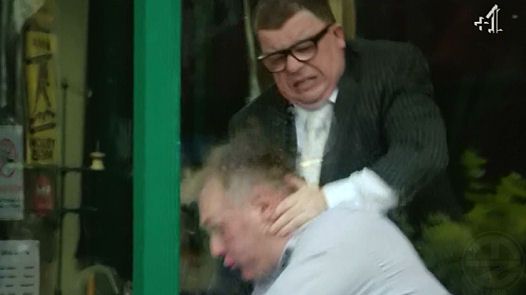 Channel4
Anyone remember April the transwoman being beaten up and smashed through a plate-glass window in the IT Crowd that was another Channel 4 episode too. Reminded me a bit of that. So likely had an influence.
Comment
This really is rock bottom for Channel 4
All the work put into educating these numbskulls, all the proud boasts of media activists and their meetings with various executives with 'All About Trans', all the effort and work put in by Trans Media Watch and this is what we get! I suggest waiting till I can prove their claims before people get carried away with the successes.
This is a
brand new
sitcom starring Greg Davies.
----
For those that may not know Greg here he is in Jan 2011 on BBC's Fast and Loose:
Fast and Loose
BBC2
28/01
Greg Davis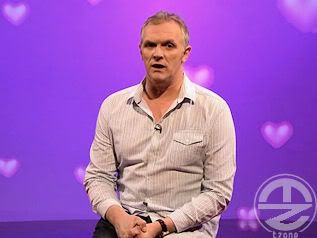 "I like boys and girls."
Aggressively - "WHAT ARE YOU!"
----
It beggars belief and something is broken in activism if this is the result of all these meetings. Truly I am at a loss! People keep saying, "we will speak to them" How many years do Channel 4 need to fix this? They ARE NOT LISTENING! So perhaps another route is now necessary. Channel 4 have the cheek to promote their work with the trans community to show they are getting results, they even have their logo emblazoned on documents they have agreed to.
http://www.allabouttrans.org.uk/
Look at their Logo at the bottom of this page! I mean seriously? It's shameless!
The problem Channel 4 has is me, because were it not for our data here on Transgender Zone half of this would be missed. And people would believe the nonsense that they are making progress.
It worries me a little as many of the proud boasts in this months 'Pink List' have foundations in the results that are supposedly being delivered by television media. I think 'wish list' maybe a better description. Hold off the awards until the results are in. After all we can all try and put it right. but that's not success.
How do we fix this, I am but one person, full-time working at this and curating what has become the national transgender television media archive (and data), I name and shame. I think there seems to be a fear of upsetting Channel 4 if you tell them straight - they have failed! I do not want a career with them personally so do not care, but many who negotiate with them do want to get work with them - or hope to. Maybe they would get more respect from them if they stood up to them. Its a risk and you may end up "never working in this town again!" But I think this is the level we need to be active at. Not all smiles and agreements.
I say it again and again, they have taken us all for chumps. I said it 3 years ago with the MOU and I am saying it again tonight.
Stay tuned, you never know you luck might be cannibalism and ritual sacrifice of trans next eh?
'
The Wicker Tran
' anyone?
0/5 TZ Stars - Terrible!!!
---