Family Guy
"Quagmire's Dad"
S 08 E18
Quagmire's war hero father is in town and his son can't wait to introduce
him to his friends. Little does the town of Quahog know that Quagmire Snr is
about to have a sex change operation.
Sun, 18/07, 21.58 - 22:22 BBC3
Obviously i wouldn't be doing my job well if i had missed this and tbh it was very embarrassing. It also accounts for the information ignorance that exists about transsexuality. The flaws and errors in the script were just beyond comprehension.
Was it offensive?
On balance yes, not because Family Guy is usually offensive, rather youd have to verbally read the text out as if you were giving say a speech, often cartoons allow things to be said that would never be allowed in any other medium, its like a cartoon puppy saying the n*word aww thats so cute hes a racist puppy. No he is a cartoon drawn by a person and scripted and acted by people who have used racist terminology by the back door.
Family Guy is one of those shows where it has some really good one liners and life observations. The episode where Meg is now FTM Male in the future is funny, because its possible she could turn out like that. And she mentions, ok i am going to have a shave , my beard etc and the family says -
"yes you're a guy now we get it!"
The episode where Brian is caught dressing up a Lois was ok until stewie threw up - it was ok until then and thats a lazy get out. The projectile vomiting also made an appearance in the new spin off series called "The Cleveland Show" now being broadcast on E4. In one episode a friend of the family sleeps with Cleavland's father and it turns out she is 'tucking' and has been for years. Result is projectile vomiting for ages outside in the street.
Again the Projectile Vomiting (probably where Little Britain got it from) appeared in yesterday's show.
This is predictable now and as a result has lost its original impact, it is possible to make fun but still keep it fresh. Perfect example is the FG episode where Quagmire is in the bar when New Yorker's come to see the leaves in the autumn. He approaches a girl at the bar, and realises shes a tv.
"Hey, oh transvestite back off"
"hey wait a minute, pre op or post op?"
"Pre op"
"oh transvestite back off"
this is quite clever as it showed he was prepared to still 'have a go' (demonstrating a level of tolerance) being the sex pest he is to everyone and that's a clever observation.
But what about yesterday?
Well (Spoiler alert)
Quagmire's dad is a camp war hero, the guys think he is gay but Quagmire cannot see it as he adores him so much.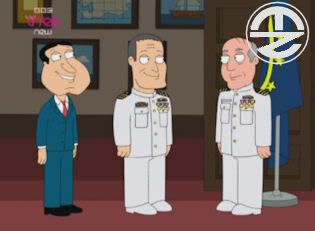 (Image: bbc/fox/fuzzy door).
Then he reveals he is going to have a 'sex change' to the guys they then say oh that's worse than gay - be gay!
This is the first let down - they hate gays or gay mannerisms - but they tolerated and enjoyed Brian's gay cousin getting married even though Lois was intolerant to begin with they were fine. So this is out of sync with the pattern of the show. They should be tolerant of homosexuality, shouldn't they? This episode they are not and hate it and as a result hate the transsexual even more to the point of objectification.
The old terms hit the ground running he she 'it' "what the hell do we call you?".
He says i am having the op tomorrow - just like that, putting the fear into the ignorant that it is this easy. She comes out as a square chinned siren.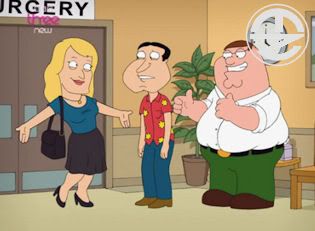 (Image: bbc/fox/fuzzy door).
She has dinner with peter and his family and the abuse is let rip, graphic and uncomfortable to hear, anyone watching this will be horrified as although it is verging on the truth the way it was presented was in the terminology of the football terrace, playing right into the hands of those bigots who already think they know all there is to know.
It gets worse...
Brian who is away at a seminar doesn't realise this has taken place and stops off at the local Marriott Hotel for a drink on the way home and bumps into the now radiant Ida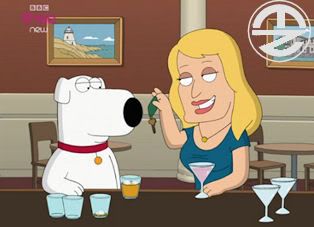 (Image: bbc/fox/fuzzy door).
and they hit it off - he is so happy he has met his soul mate he says. Then he hears the truth ...
He projectile vomits for about 2 minutes constantly.
(Image: bbc/fox/fuzzy door).
Length of vomit does help a little as its so absurd you begin to chuckle as the time it is happening kinda numbs the pain of what he is doing it for.
But then he stops and you think oh dear.
The show ends with quagmire defending her honour by basically seriously assaulting Brian within an inch of his life
(Image: bbc/fox/fuzzy door).
and he shouts out the door bruised and battered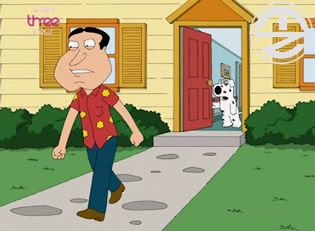 (Image: bbc/fox/fuzzy door).
- "yeah well i f*ck your dad!"
I kinda feel equally as battered - it is archived of course.
OK so how do we examine this?
Good points

Stewie was kind and generous with his comments at some points and funny too,
"how does she look?" "Not half bad"..."they turn you penis inside out? hmmm
not a bad option to have in your back pocket"..."oh i wonder if i could push
mine inside, oh its gone oh...oh its back!"
Honour defended by son
Brian loved her until he found out - showing how ridiculous it all is when people have transpanic.
Bad points
Labels
abusive terminology
Stewie -"It has to be an absolute train-wreck down there a casserole of nonsense"
Pedophile reference by Brian - quoting Megan's Law, "We are supposed to be told when 'one of them' moves into the neighbourhood." After he finds out of course.
offense
objectification
shame
humiliation
transpanic leading to violence
absurdly short go in come out surgery time which will lead to the ignorant assuming it is that easy and thus may worry families with trans children
Projectile vomiting follows sexual intercourse with a transperson. Brian is shown in the show with a scrubbing brush shaking with disgust try to clean her filth off him, almost normalising this behaviour.
As you can see the balance is way off a few nice things are not enough to warrant this level of offense. Also as this is not a regular character in the show there is no development time to normalise her and allow her to get her own back later on (in say the same way as 'the chicken' does when they have their regular ridiculously long fights). Its a throw away character they have feasted on and now is a husk and a corpse to be discarded, in the same way moving wallpaper was there was almost little rebuttal. However unlike moving wallpaper at least she was loved she was defended at some points and it is FAMILY GUY! after all.
But nevertheless, there is a hysteria that surrounds this episode is clearly reflected in the minds of the writers who are grown intelligent men (for the most part) and if they are thinking like this what hope is there as they are some of Hollywoods best?!
Worth watching for the subject matter
1 out of five and thats just because they did think a little but it's a shame they didn't work a little harder on the scripts.