The demise of Hayley continues.
Occasional abdominal pain interrupt her daily living.
It was Roy's Birthday this week and she had a 'do' at the Rovers (where else apart from the Bistro?) and Hayley sings Karaoke with Sean and Fizz - they sing the 'Three Degrees' song, "#when will I see you...Again...!"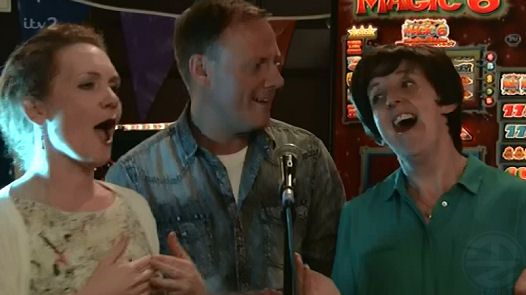 itv
Hayley is having nightmares about being trapped back in her old gender role of 'Harold' and decides to call her son to make things right before she dies.
itv
Earlier she spoke with Fizz about her dreams, and she mentions Amsterdam, when Fizz asks about why there are tulips on her charm bracelet.
"Or Roy bought it for me its a souvenir of when he traveled to Holland to find me - where she had her surgery..."
I remember that episode well... Here is a shot from it.
http://library.transgenderzone.com/?page_id=2487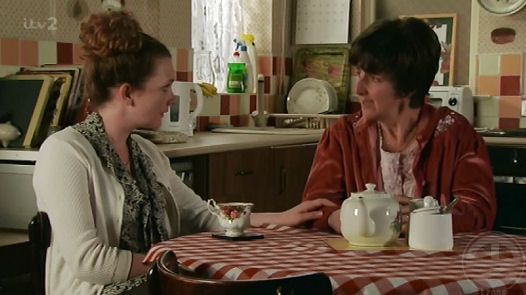 itv
"I have a son - Christian..."
Until today thats probably the last time I saw them kiss on the lips (but even then its like two 6 year-olds having a peck). Yet the other characters are 'at it' all the time. Even the bed scene with Roy and Hayley (yes we get to see the bedroom set no doubt built for her to die in later) we see them sat bolt upright and she tests Roy on the Highway Code, she wants him to learn to drive. Just reminded me of 'Morecombe and Wise' in bed together or 'Stan and Olly'.
DEATH SET?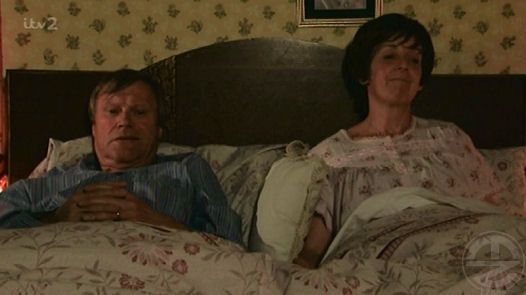 itv
SPOT THE DIFFERENCE?
http://morecambe-and-wise.20m.com/ERICERNIEBED.jpg
IMAGE LAUREL AND HARDY
http://lordheath.com/web_images/they_go ... n_bed_.jpg
She is and has always been SO OLD, excited buying slippers...
In a world where trans girls increasingly look like this
http://www.pinterest.com/scubastian/ama ... cd-beauty/
, I just think she should maybe have parted the show in 2003 really.
I can honestly say I have been in the unusual position of observing trans-life day in and day out for decades and I have never met anyone like Hayley. For obvious reasons. Something has always been missing from her portrayal and thats depth. You cannot recall feelings and emotions you do not have or do not understand, and although actors are paid to 'pretend' you cannot do the impossible. Black me up as much as you like but I will never know the pain of 70s racism. I can pretend, but it would just be ridiculous.
Even Lauren Harries is unusual maybe even as much as the Hayley Character (but in a different way) but unlike Lauren where there is 'truth' in her core identity, I am struggling a bit to feel emotional about the scribblings of a non-trans writer who is clawing about trying to find something trans to help end it all - flashing back to being Harold? And I do not care if they 'phone a friend' who may or may not be trans for pointers - it is not the same.
Seriously, not all transgender people feel so badly about who they were, many trans see the person pre-transition as the exact same person they have always been except with hormones and surgery and female (or male accoutrements and paraphernalia) HATING the old them is seen by many as just absurd as that poor sod is the person who had to carry the misery, and maybe deserves some respect rather than abuse? Maybe they were the hero carrying the new you across the battle ground to safety?
This is why the writers made a wrong turn, as the person to make peace with is not her son, it is herself!
But we shall see how it pans out.
I make no secret of the fact I am transsexual and My own mother died of Pancreatic Cancer before my very eyes, I nursed her to her last breath (the very same disease Hayley is dying from). So for me A DOUBLE WHAMMY!!!
I could not be better placed than this to observe this issue and report on it.
A transsexual dying of Pancreatic Cancer - I doubt anyone is better placed than I, to critique this.
Nevertheless, it has been clear to me for at least the last decade that Hayley should have been played by a transwoman from day one. But society would not and still does not tolerate such things.
So the idea that Coronation St has made progress in the area is nonsense, as they themselves never employed a transperson other than background material during some episodes 18 months ago with Marcia (who was axed and abused daily by critics scroll back through this thread to read more on Marcia).
Hayley is a dying character (literally!), a 'bio female' actress, who has made a very nice living playing a transsexual for 15 years. The last mention of her being trans was once with Roy's Mother 2 years ago, and then with Mary in the Camper earlier this year when she thought she was having an affair with Roy.
And thats what in 3 years?
Whilst I understand that 'normality' is sought by many transwomen especially, truth is, Hayley is very odd in that street, and always has been. People speak of Role-Models. Who seriously would want to be Hayley? What young trans woman 18 is looking at Hayley and thinking, "YES, YES PLEASE!!!" The fact Hayley is in reality Julie, a mother (has given birth) just further impacts on the distance here. Most actors who have personal knowledge of an issue can bring something extra to the table, a Black actor can deal with a racist storyline far better than say a white guy blacked-up doing the same thing.
The sad thing is I have been saying this for years, and it has taken that long for people like Candis Cayne or the wonderful role of Sophia in 'Orange is the New Black'
viewtopic.php?f=16&t=3901
to be valued and encouraged to step forward and what a difference it makes to a story, authentic, believable, and fascinating.
Now, today when we put the two dramas side-by-side we can see just how absurd non-transpeople playing trans roles now look. I know in time this will become as ridiculous as blacking-up and Browning-up in time. But we still are not there yet.
WHY NOT? If there is one thing I will press for it is transpeople in UK Dramas even if my fingers bleed and my voice gets hoarse arguing for it!
Will I shed a tear for Hayley - not really. I see it as clearing the decks. Julie did her best and it was just a job...and maybe thats the problem? I think Julie is a kind person, but maybe in some other role? Let's wait and see what the future holds for her?
With a transperson it is their life! With an actor its something they do until their next job, otherwise the next role for Julie would be another transsexual, and thats not going to happen is it?
I will keep you posted until 'the end'.