Coronation Street Omnibus
26/10/13
ITV2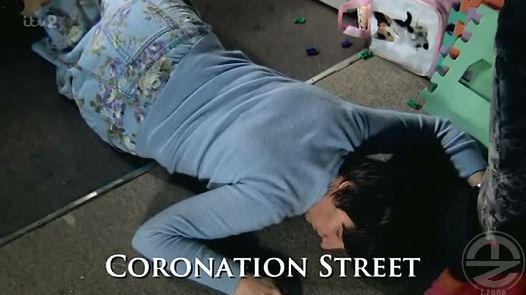 Hayley is staying at Fizz's house after last weeks but-up with Roy over not agreeing to her ending her own life when the time is 'right'. And collapses alone in the house.
itv
She comes round then feints again.
This is believable with Pancreatic Cancer having witnessed this myself.
In this instance she had an infection. And 'responded well to antibiotics[ - well its not Christmas yet! Can't have her pegging out just yet.
She is then punctuated through the rest of the show with short hospital visits.
itv
Roy is relieved she is recovering and wants to make the point that she could have chosen now to 'do it' yet still has more time with him!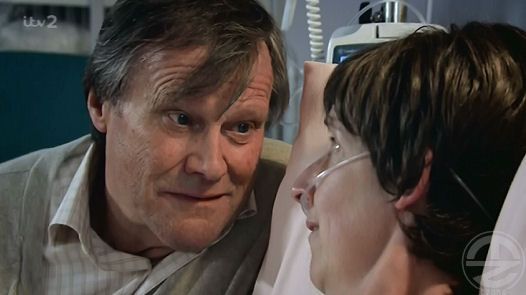 itv
Roy's expression changes when she says she still wants this 'exit' strategy.
itv
Fizz turns up and bursts into tears...Hayley remarks, "that it should be Fizz consoling her not the other way around." Again this is actually very common, where the person dying is supporting those facing the loss, despite the person losing their life itself.
Comment
OK episode, realistic, and a bit more believable than earlier episodes, that just seem a bit daft or far-fetched. The truth for many is this is a miserable time, painful, and the helplessness is important to demonstrate.
She is a transwoman who is dying, not a dying of being trans. I think whilst that is important. It is also important that there is a little nod to her transpast and I feel they are trying to lever that in with 'flashback' fears in her last breaths.
That said despite all this, again this week Coronation Street mock transpeople - seriously what is wrong with these writers? it demonstrates that they have learned nothing from the Hayley character or Marcia (CD) for that matter.
Last week I reported on the 'Tranny' comment in the bar.
This week they are mocking Cross-dressers!
Here is how it panned out...
Tina the barmaid is trying to get even with Tracy Barlow and hides a pair of knickers in her boyfriend's (Rob) car. They realise that this is not an affair and so the Boyfriend goes to the garage where the car had been opend and this been planted to have it out with Tyrone the mechanic.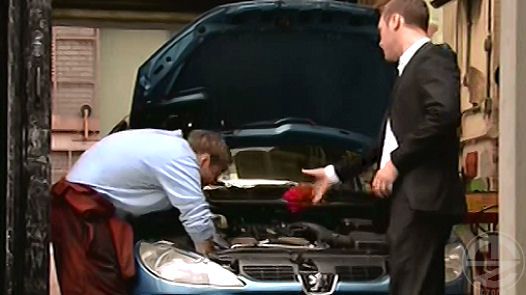 itv
Throws the red knickers (good colour for cameras to pick up
) into the engine bay.
BF (Rob) - Whose are them...?
Ty - Laughing - Huh? Well they are not mine!
itv
BF - They are not mine and they are not Tracy's, But miraculously they ended up in my motor!
Ty - If you think I have been getting up to all sorts in the back of your car mate!
BF - Will you stop calling me mate I am not your mate! Not by a long chalk!
itv
BF - See aggressive face above - you a cross-dresser or summit?!!!
Ty - Aggressively back - WHAT?!
itv
Ty - Do I look like a cross-dresser?!
BF - Well the quiet ones are always the worst Tyrone!
Ty - Look Rob I don't know how they got into the back of ye car, but I can tell you now it 's nothing to do with me OK?!
itv
BF - Well I do believe you.
Ty - GOOD! - (Looks exasperated)... CROSS-DRESER?!!! Huh!
Comment
And this is the result of all their hard work with the trans community over 15 years, 'Tranny' last week, anger at cross-dressing this week. Next week maybe a torch-lit procession to burn down Hayley's gaff maybe?
I just shows that nobody has learned anything! And the viewers can now forget all about Hayley and return to transphobia once more with ITV's sanction. It is such a shame that this is happening in tandem with Hayley as it is undoing any serious issues raised by her plot-line.
Get angry viewers there is a cross-dressing tranny over there and they are into red knickers (obviously). Well that's what the last 2 weeks have taught us!