OMG! with Peaches Geldof
A review based on the first episode and the teaser for the others to come.
At first glance this is a very standardised format.
In fact it is almost the exact same show hosted by
http://www.bbc.co.uk/lilyallen/
lily allen .
But it is about 'secrets' and these are so secret that everybody already seems to know about them.
This week we were introduced to a vampire. A sickly sweet Paris Hilton's love child.
Her attempts to sound like a 10 yearold seemed to be more of a story than the fact she sticks fake teeth in her mouth and bites her boyfriend - if he did not end up on life support as a result of his bites then clearly this is a non-story. Where is the secret here her boyfriend clearly knows?
The show opens with a teaser of what is to come.
It flashes up text panels explaining to the viewer exactly what these words mean - um like er um what they used to call a dictionary.
furries - obsessed with becoming an animal.
wannabe - this episode will feature 'one who craves fame at any cost' - perhaps this would be better if Peaches herself was sat in the guests chair - i mean that's the story we all wanna hear, not some fake baked ex big brother contestant (or similar) saying what they will do to be famous - news just in - boring! What about getting good at something and becoming famous as a result of that? The girl shown says she wants to have her baby's birth being filmed - stop press! - a baby being filmed being born? - it's all been done and live and online. If you know where to look there is hard core pregnancy porn for goodness sake and most of the audience has access to it at a mouse click. You gotta do better than this surely?
And now to the part we have all been waiting for.
"I'll be looking at lives that have been kept behind closed doors," says peaches.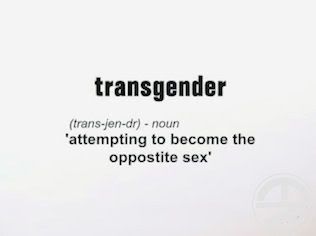 TRANSGENDER (trans-jen-dr) - noun
'attempting to become the oppostite sex'
(yeah that's really how they spelt it 'oppostite' humm quick google check -
Did you mean: opposite
LOL
'Attempting' to be the opposite sex? - hmmm. Someone dropped the ball here somewhere - no pun intended.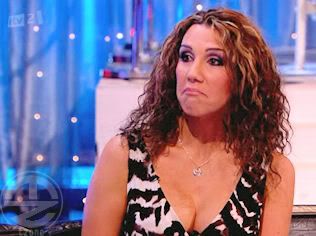 "I did tell John everything but i have one secret." Says the transwoman.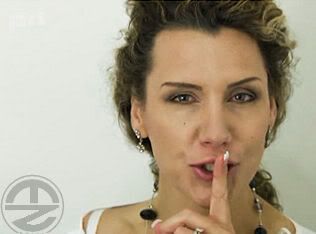 This is either a crock of lies - in that he already knows - if so her show may meet the same fate dished out by a transperson (who in that show was not trans) that took the BBC series of 'Vanessa' off the air - due to lack of research. But in this case John doesn't know and will be told on national television?
This is one of a few things. Like Springer, she is either telling him like this because she is 'safer' there in a tv show with 'witnesses' as what can he do? Or if she is dumped then her being on telly will bring along another suitor as this is better than Facebook for publicity or even a dating agency. But this is a very dangerous practice, a person was murdered on the Jerry Springer Show, just because a fan was gay. The risk of transpanic here is massive many a 'violent after show party' took place off the back of Springer's similar revelations. if it is true John does not know then this could be seriously foolish. And also rather cruel.
"I was born as a man!" - I think perhaps as a biologically male baby would be better.
Peaches attempting to juice up the stories, "So there is quite a story!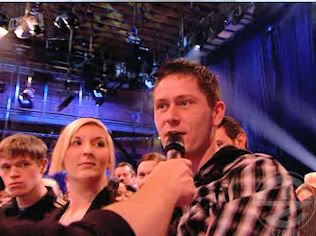 "Cut to guy in the audience - "That's a bit strange - a bit odd!" Says one man. Dunno what planet he is from but has he never seen television before? You cannot move for crossdressing and transsexuals atm.
The transgender person has always had the same formatted 'reveal' - they wander out onto stage and there are then 'cut aways' to the audience reaction. "Camera 2 let me get some audience disgust and surprise."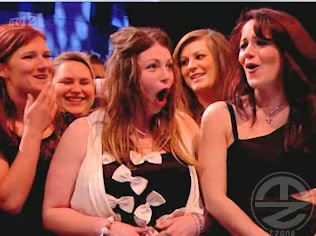 What are the chances of capturing a moment like this on camera so beautifully framed - sorry call me a cynic but this looks set up.
As for the Audience (the men are wondering if they'd 'do her' and the women are wondering if she is prettier than them) then there will be the overall dehuminising of the person by looking at her body in closeup, breasts, crotch, legs, the sexism that has upset so many lately on Sky is projected onto the less hostile world of the 'transwoman' who lets face it is looked upon as of less value by the broadcasters and this show already proves that by the transphobic word used in this episode about vampires. Unlike dressing up as a vampire for foreplay fun being trans is a very serious condition.
Then to follow, there are 'cougars' - women in their 40s who fancy boys in their 20s - again the words are loaded - BOYS in their 20s? - sorry they are
MEN
in their 20s and they can be 29 and still be in their 20s. And cougars in their 40s? Ask Babs Windsor or Joan Collins about that. So ageist as well.
In future shows there are gamblers, players, gamers, superfans, and ghosthunters to make up the deadwood of a show who's centerpiece is the transgender storyline, lets face it. As everything else is common knowledge especially with the group target audience this is aimed at.
But lets look at the 'shock revelation i was born biologically male'.
Um i have about 10 episodes of Jerry Springer and Rikki Lake and others here with the exact same 'reveal' and that was when it was new and fresh - and lets face it is dangerous. There are numerous clips from our archives here of transwomen in the exact same routine. This is really old now. I thought this show was supposed to be cutting edge?
Here is Rikki Lake doing the exact same thing 10 years ago
In a month where comedians have been making jokes about this very subject (see the media months) is it becoming just a little bit dull. If anything the exposure here is more about getting some photographic work and perhaps a little contrived. I guess only the beautiful need apply?
"She then says we all need a good gay best friend - so i borrowed Chris Moyles' Aled," Yeah the same Chris who did the infamous 'Tranny Rachel' and his use of the term Gay led to protest marches saying Sack Chris Moyles, Aled lets face it was an afterthought bolt on so he cannot be accused of being homophobic. Well he is on the show - whoopie!
There is a TV psychologist Emma Kenny - I think anyone who is happy to tell this person anything live on national television 'needs their head seeing to' that's for sure! I will be curous about how she comes across in this lioness's den.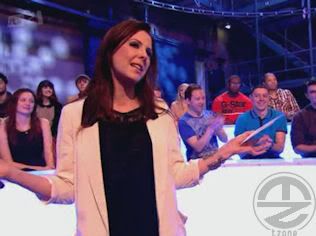 She is shown making statements like "Living your life in front of a computer screen - get outside into the real world" (obviously about gamers). What Emma(?) go out into a world of knife attacks, gadget robbery (mugging), unemployment who is paying for our real world escapades? You? Perhaps they could lean against your wall Emma and pee in your doorway, and younger people into ever increasing traffic. Her remark is met with the whooping audience who themselves have got out for the evening into the real world she mentions that off a tv show LOL how ridiculous and ironic is that - that set in a tv studio is probably the most unreal scripted world in London, and the fact she is telling people to turn off their screens - perhaps whilst she is on - does little for ratings. Same old, same old repetitive commentary said countless times on similar shows since television was invented [It will make you go blind you know as they all check their FB and twitter, IM].
We then see a clip of her looking at the transgirl's anatomy.
"You are 100% woman!"
A trans woman can feel 100% woman within herself - but let's face it we all feel like we are, and that's not anything or anyone. It's just us. For someone else to decide who you are or if you 'fit' is part of social problems the world over. And the need to be validated in this way by someone who is unqualified really to decide anything in this regard is just unpleasant and judgmental even if it is nice to hear it for those that conform to social norms. I mean she could have said - it looks like a lawnmower accident down there, i have clips of trans saying this about themselves - but that's another story.
What a psychologist is going to to determine fumbling about under a sheet on a TV show, leaves me feeling a little bit concerned if anything. I suppose we will have to see the full episode. But that said when we compare this to the plastic surgery live series hosted by Vanessa Feltz on Channel 5 (a few years ago) where we actually saw SRS live and another post op trans woman having her labia prettified, this version however is very dull in comparison and a bit infantile - and perhaps a little rushed due to their budget and time constraints..
Peaches Interviews some special guests - celebrities sitting on the bed in the studio. This is quite sweet as it is definitely a homage to Paula Yates (her late mum) who did the same thing for many years on her tv shows (like the tube and The Big Breakfast). For younger people they need to google her. Now this is more the direction I like, a bit like, 'look at me mum' - i liked that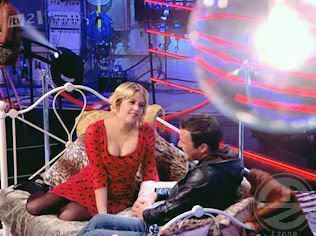 But that's where it ends.
Peaches drops the clanger of all clangers and uses the T word on the very first episode and it is repeated a number of times to hook people in.
"I DO LOOK LIKE A TRANNY!"
Whilst dressed in the worse vampire outfit in the store - Get the transphobic comment out of the way early as it may not go down well on the trans episode eh?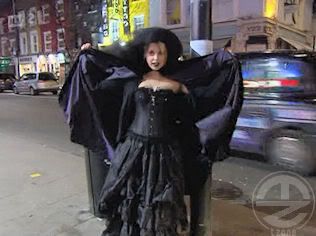 The one she chose was layers of material and classically cut and she liked that - who wouldn't? Oh transpeople yeah sorry I forgot duh! And this didn't make her feel like a tranny at all. Hmmmm and so what she is saying is trannies are low rent tarts basically, and again the drag, sex trade and transgender people are blurred by someone who is supposed to be sensitive to this!
FAIL!
In the desperation of television to deliver something new - strange they didn't invite a trans man on really, oh yeah that's not as sexualised - they simply have dredged up what is already out there and been done far better, and then thrown in a controversial host. There seems to be some familiar faces used as 'gotos' in the questions section. But maybe they are her pals she has invited.
It is an ITV studios production at least Bob's (her dad) TenAlps didnt pay for it
but I could be wrong.
In the wake of the successful South Bank Show Jonathan Levi (exec producer) has been appointed head of ITV Studios' arts and popular culture division. And this appears to be his oeuvre.
Good Luck Jon
You'll need it!