So here we go again!
What is broadcast in the UK reflects on you as a transperson. Every month it is a case of spot the positives. Almost all television featuring anything remotely associated with transpeople is negative, comical or are negative stereotypes. So if we do not list them they go unchallenged as evidence is needed to effect change! Or even give awards.
It is a thankless and time-consuming task - as you can imagine especially when a trans character is introduced ... Nevertheless rest assured someone is watching even if you can't.
High Points
Lib Dem Conference Trans* speeches (Aired by BBC).
Blunt Talk
Boy Meets Girl
Low points
Celebrity Juice and Jerry Springer and some of 'Boy Meets Girl' sadly!
=========================================
(The Whole Month)
'I am Cait'
Series 1
E!
Caitlyn Jenner's Realty show continued this month.
Ending in a showdown with Caitlyn's Ex-Wife and Kadashian Momager Kris.
Sadly I feel Kris who has now lost her second husband. Is grieving and Caitlyn was rather cold and simply did not understand this. The episode finale had Cailyn and her transgender entourage Candis Cayne et al all dressed in white around the pool whilst they bused in Boy George (what no Elton?) to sing at her renaming ceremony. I had to giggle a bit at this.
It just all felt a bit new age and cornball. But I am a miserable cynic.
They seemed to enjoy it - definitely worth watching - see who you agree with?
---
Blunt Talk
September
Starz cable network
Also this month was the under the radar 'Blunt Talk'. Patrick Stewart shows how to act and why Seth MacFarlane (of 'Family Guy' and 'Ted' Fame) has more or less grabbed him for 'American Dad' (As Bullock) and now produces this. Blunt Talk is about a hardline English interviewer in the US, with a past, and is deeply flawed and a bit of a lush. However, some episodes feature the rising star that is Trace Lysette (Google her).
This is a stellar cast and needs to be aired on a UK network.
---
Lorraine
02/09
itv1
Ross King's Hollywood report focuses on Eddie Redmayne photos of him dressed a Lili Elbe.
"Look at this photograph for a transformation!"

Comment
In the trailer there is a line, "This surgery has never been attempted before!"
Which is nonsense and we have an audience leaving a cinema that will assume this all began with Lili - it didn't.
Many transgender people till this day do not seek surgery to 'become a man or woman' they are already that. This I fear may re-instill the notion that you cannot be a woman unless you have a vagina, and you cannot be a man without a penis - which is absurd!
Any cisgender male who has lost their penis in an accident will not suddenly begin wearing make-up and high heels. They will be a man without a penis.
I will be interested in how they have adapted the book about her. But the book was of its time and of course written by the middle classes. I know for a fact that Berlin surgeons had already operated before Lili and goodness if we are going to be pedantic, evan Roman surgeons (BC) were operating!
I am always saying avoid saying 'first' as the moment it leaves your lips, a tonne of evidence will descend to make you look foolish. Lili had surgery - thats what happened. And not very successful surgery at that.
I think a movie about Roberta Cowell, would have been far more relevant, and interesting, Especially as her surgeon Gillies was a master plastic surgeon who had honed his skills in the second world war reconstructing men seriously disfigured by burns, and trans*men should also be thankful to him has he developed the tube pedical - but that is another story. I am sure Eddie will do his best and probably get an Oscar - trans*stuff always gets nominated (TransAmerica, Dallas Buyers Club, my goodness even 'Some Like it Hot' was cross-dressing).
---
This Morning
02/09
itv1
Our Best Daytime programme in the
www.TransgenderTelevisionAwards.com
hosted by Phillip Schofield and Holly Willoughby chat to Kellie Maloney and Paris Lees about the new Eddie Redmayne movie where he plays Transgender woman Lili Elbe. I think there were some differences of opinion here. Kellie believes that a big name will reach more people and educate them about transgender issues. Where as Paris held her cards closer to her chest, and was leaning more towards a transgender actor playing the part as it is now the time.
Comment
I think that this issue will always be there, the fear that a movie will not be made without a 'Big Name', so logically a transgender person will unlikely ever be cast to play a transgender character in a big budget Hollywood movie, as this argument will always be brought forward. It will only be when it is culturally inappropriate for a cisgender person to pretend to be trans* now known as 'Transface' (in the same way that 'blacking up' would not be taken seriously in a movie say about Barack Obama) that this will FORCE the changes and encourage more transgender actors to come forward. AT this time the breadcrumbs available are not enough for trans*actors to risk stereotyping themselves. Those that do come forward may burn out very quickly. And become old news
---
Jerry Springer
03/09
Pick
Entitled 'Transtastic Confessions' we have this line from a melange of abuse.
"It doesn't matter if you are a man or a woman OR a tranny!"
This suggests, that transgender people are not men or women but some 'other' community on the peripherals of society. Classic 'Othering' and objectification. Aside from the usual violence this creates.
---
Lorraine
03/09
itv1
Lorraine interview actress and cast member of 'Boy Meets Girl' (Transgender Series on BBC Two) about her role as mother of Judy's (played by Rebecca Root) Love interest Leo.
"What I love about Boy Meets Girl is it is not banging a drum (for transgender issues...)". "It will gently educating for people who have no experience, or no understanding of the trans* community, we had a screening in Newcastle where it was set and the trans*community was in floods of tears and that is what I love about it!"
Comment
The jury is out if the tears will be of despair or happiness, as for banging a drum, I have never seen so many transphobic references in a drama since 'Moving Wallpaper'. Hiring a transgender actress as some 'hall pass' so you can say and do what you like is no protection. If we stop and just forget Rebecca Root is trans and swap her for a cisgender actress a lot of what is being said would doubtless result in complaints to OFCOM. No other character has been constantly discussing their genitals, no other character has been objectified. No other character has violently assaulted a stranger (in the bowling ally). Rebecca Root is a passable and attractive woman. Much of what takes place makes no sense and feels like a throwback about 30 years. It creates scenarios that are completely alien to a lot of transgender people. Some scenes are unnecessarily fabricated to just be transphobic. Leo in the car showroom for example. Boy Meets Girl will be fully Reviewed when the series is complete. But Denise this is banging a drum, sadly that drum is 40 years old. As for Denise Welch, well search this site for her name and you will see how she never let up about her ex-husband Tim Healey as transvestite
Lesley in Benidorm (Also search for Benidorm!), and Boy Meets Girl's cast is like 'Benidorm Lite', in other words, something for the Benidorm cast to do in the off season. I never thought I would say it but Benidorm is better written, better funded, better located, and the transphobia around Tim Healy is actually miniscule compared to this BBC offering. Few! And it is not 'Ground Brealing either - Bethany Black and Russell T Davies beat you all to it - sorry! And thats not taking into account all the other trans*actors and actresses working all over the place from theatre to Shows streamed on Netflix, Amazon Prime and Cable - but that is another story dating back years. It is only ground breaking for a late to the party BBC that missed the boat by a decades or more. That said The BBC have had numerous transgender characters in comedies dating back many many years. The only variable here is casting Rebecca Root. And she was performing long before this opportunity offered itself. The could have just put her in casualty or Eastenders - it would have been more modern, sensible and quicker. Boy Meets Girl would have been ideal in 1998. It would have been perfect. But a lot has happened since then and the world has moved on. See ('Orange is the New Black', 'Sense8', 'Banana' and 'Dirty Sexy Money' to name but 4). like 'Banana' with Bethany Black who was center-stage, and carried the whole episode, Rebecca just seems to be within a river of other well-known actors, whose egos and ability, seems to undermine her role rather than reinforce it. The ratings halved in one week after the first episode. Something is amiss. And it is not the fault of Rebecca. However as they are already filming a second series - does it matter if noone watches it?
---
Hairspray (2007)
03/09
Film4
(2007) Comedy musical. In 1960s USA, a Baltimore teen (Nikki Blonsky) confronts racism when she tries to integrate a racially segregated TV dance show. With John Travolta and Queen Latifah. [AD,S]
Comment
This is a bit naff full stop, but I still prefer the version with Divine and Ricki Lake (before her weight-loss) made many years before. Try to see it.Divine was a grotesque (in the nicest possible way) parent and stole the show! Travolta by contrast, was a soppy copy!
---
Boy Meets Girl
BBC TWO
03/09
1/6. Comedy series. Leo is having a bad day, but things start to look up when he falls into conversation with a beguiling older woman on a night out. Contains adult humour. Also in HD. [AD,S]
Comment
The long awaited appearance of a transgender woman in a transgender role on the BBC. It was OK and there was a buzz about it leading to some good first episode ratings 1.78 million sadly this halved after the first episode as the novelty seemed to quickly wear off for the general public dropping even further to number 23 out of 30 for BBC Two. I suspect the viewers who have stuck with it may well be fans of Benidorm, Denise Welch and of course trans*viewers happy to take any trans* related programming from the bbc. This is in contrast with the comedy directly before Boy Meets Girl entitled 'Cradle to Grave' about growing up in the 70s penned by Danny Baker. This hovered around 2.5 to 3 million and this was aired directly before Boy Meets Girl. So one can only glean that 1.5 million people change the channel the moment that finished and BMG begins. Which is very telling. That said Cradle to Grave is funny and accurate. Sadly it is a lot funnier than BMG. Again this will be reviewed in full when the series is over. It is unfair to judge mid series. For now just skimming over the stats and the general opinion of the series. Leo's mother cannot spot she is trans* yet strangers at the bar can and Judy happily goes into details about her genitals with them. The nonchalant reaction of Leo to Judy stating she was born with a penis seemed restrained script-wise. Fantastical. It would be a perfect world if this was the case. Maybe they are trying to underplay the issue. But it remains a complication for any couple. so I think this encounter should have been written slightly differently to not patronise the general public who probably thought the same. Not even a raised eyebrow suggests he either did not hear, did not understand, or was frightened to react. Not that he was not bothered. As we discover later in the art gallery and 'date night', his naivety in all things trans* demonstrates that he had no idea what this meant. So this was a bit of an oxymoron.
---
Jerry Springer
04/09
Pick
Entitled Past Guests: 'Called Out and Cold Cocked'
Audience mock a man who wears a dress with transphobic labels?
Moving on...
---
The Jeremy Kyle Show
04/09
ITV1
'My sister wants to become my Brother'
Jeremy Kyle deals with more dilemmas, fiery confrontations and topical issues all in front of a studio audience.
Comment
Trans man Kay (not sure if it was Kai as subtitles and show said Kay) talks about his life and experiences supported well by the show, Jeremy and family and friends. Kay was quite the wit too - audiance loved him.
Very nice!
---
Secrets of Sex- Aravani Girl
04/09
Community
Documentary. Two teenagers dream of becoming ladyboys. Loved as performers but hated as homosexuals, their stories echo the conflicts of India's gender culture.
Comment
Regulars to this log will note this is constantly repeated and that it is time for something new.
That is all I can say.
---
Unsafe Sex in the City
05/09
Really
Series about life at the Manchester Centre for Sexual Health. Pre-op transsexual Jasmine hopes her sexploits don't jeopardise her life-changing operation.
Comment
I know Jasmine and Jenny so all I can say is, a caveat to appearing in documentaries as they circle and circle and are repeated for years, which maybe long after you have moved on with your life, this can come back to haunt you. The show at times did show Jasmine in a rather unsavoury way. This is how they edit. An important message all the same. safe sex!
---
Secrets of Sex- Aravani Girl
05/09
Community
Repeated (See above).
---
Boy Meets Girl
05/09
BBC TWO
Repeat (see above)
---
Embarrassing Bodies
07/09
More 4
Dr Pixie meets a man with a posterior problem that began with a tiny hair and ended up as a gaping hole. And Dr Christian helps Dawn, a male-to-female transsexual, reconstruct her body. [S]
Comment
Interesting with a quick appearance from Jenny Anne Bishop at the end. This was more than a trans issue it was a mobility and prosthetic leg issue with someone who happened to be trans*. They even gave her a Hollywood smile with dental implants - What's not to like :}
---
Jerry Springer
08/09
Pick
Entitled 'That Groupie is a guy'.
A guitar player in a band is being hit on by a band member but then she tells him she is trans and he dumps her on the spot.
"Why didn't you tell me?"
"Because I was afraid you would hurt me!"
He then attempts to assault her.
---
Jerry Springer
09/09
Pick
Entitled 'Starved for Sex'
Trans*woman comes out and is abused - the usual.
---
The Wright Stuff
10/09
Channel 5
Lizzie Roper (wo plays Judy's cisgender sister in Boy Meet's Girl) is their special guest.
Comment
Matthew was a gentleman as always... Lizzie remarks, "It is properly funny..."
I didn't laugh until the Brother of Leo said something about him an a hairbrush in a later episode.
Lizzie then makes the mistake of stating that a transgender woman in a transgender role has never been done before on British Television. Well Dirty Sexy Money was on British Television made many years ago. If she means in Britain? Well Nadia Almada acted in teen soap 'Hollyoaks' in 2005... but if
we are talking about something similar then again 'Banana' has beaten them to it for this year by many months. So this again is misinformation supplied by activists who should ask us. We have the archives we can pinpoint all this issues. Luckily we can rectify these inaccuracies. Stop saying 'firsts'. It is something that kinda annoys me. As 99% of the time I can dismantle the statements. She then goes onto say that, "the award was for a story that was positive and where trans*people are the butt of the joke." In this first series, Judy is still the butt of the joke, as every transphobic situation or comment, or threatening behaviour has been
projected onto her. Even Laverne Cox in Orange is the new black gets some downtime. And Lizzie is wrong to say this as if we take past efforts from the BBC like 'Different for Girls' or even 'Hunting Venus' or even films like TransAmerica (2005) that featured transgender supporting cast or 'Just like a Woman' (1992) that did feature transgender supporting cast, even when Andrew Hall appeared as Marc/Marcia in Coronation Street there were transgender actors playing opposite him when he went out and it was very positive. And of course she is forgeting Hayley Patterson/cropper in Coronation Street, even she has overlooked those storylines. Was she the butt of jokes all the time? The only variable here is a transactress and the all the rest is old news.
Full Boy Meets Girl Review will be published at the end of the series.
---
Jerry Srpinger
10/09
Pick
This featured a transman yet Jerry continually misgendered him and called him a lesbian.
---
Lorraine
14/09
itv1
This was quite interesting. Ross King caught up with Eddie Redmayne at the Toronto Film Festival and asked him about what it felt like to play Lili. He responded that he felt vulnerable and felt the 'gaze' of those around him. And it was quite uncomfortable. He added, "yet this was in a safe place.""I cannot imagine what it is like to do this and face danger as so many transgender people do.
Still Eddie will never know that cos he ain't trans. But will probably get an Oscar and move on to the next role - they always do! [Groan]. A trans*person cannot 'move on' that's the point. Also cisgender script writers do not help as that is not the word of the transgender person and so easily can become transphobia by proxy (See:
http://library.transgenderzone.com/?page_id=3000
).
---
Jerry Springer
15/09
Pick
Outrageous talk show.
Comment
Man tells GF that he loves a trans*woman. Only problem is he is saying it on Jerry Springer which allows for considerable transphobic words to be used unchallenged...
---
Lorraine
21/09
itv1
Morning magazine show.
Comment
Ross King reports on the US Emmys. Where Jeffrey Tambor won one for his role in 'Transparent'. If only he were trans I would give a damn.
---
Who's Doing the Dishes
18/09
ITV1+1
Brian McFadden presents the dining challenge show in which contestants are invited to dinner at a mystery celebrity's house and must guess who their host is. Today, transgender boxing promoter Kellie Maloney takes to the kitchen to throw her first dinner party as a woman. Can her four diners guess who is cooking tonight or will they go the whole seven rounds and need to take Brian's Bonus to bag their final win?
Comment
It is these little jobs here and there that often remind us that you do not have to be on some big show to keep appearing in the public consciousness. This is like a guess who...Come Dine with me with a 'celebrity' host and a 'celebrity' presenter...
---
Alan Carr- Chatty Man
18/09
Channel 4
Alan Carr hosts his own light-hearted chat show. Alan is joined by Hollywood stars Drew Barrymore and Toni Collette who talk about their new movie Miss You Already. Keith Lemon drops in to chat about the new series of Celebrity Juice, and Will Young talks about his latest album.
Comment
This annoyed me a bit tbh. Will Young has been creating selfies on his various social networks of himself wearing skirts and dresses. In the spirit of what Eddie Izzard once called 'Total Clothing Rights' for men. In other words why cannot they wear a dress? Many cultures do. Especially within tribes, and even the Arab's Thobe is a big white dress (of sorts).
However, Alan Carr, mocked the idea from the outset, and then arranged for him and serial nuissance (in transgender terms) Keith Lemon (Leigh Francis) to access the 'This Morning' TV studio (upstairs in the same Television Center in London. So they could create a mock TM Fashion show.
They clear just wanted to destroy the concept., With innuendo and laughter. Here is a still from that. Alan then described a man in a dress like this as a 'preditory homosexual'. Well as he is a gay man thats not something I can challenge him about. However, the fact this was used about a man in a frock does concern me. As for the whole concept raised by Will - it was just laughed out of the studio as Alan treats this sort of thing as a big joke and always has. In other words, if you are an early transitioning trans woman who lacks confidence in those first steps in public 'en femme' because you are scared people will laugh at you...
This is where many are getting it from.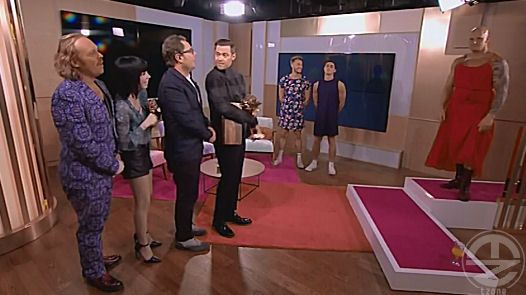 itv
---
Secrets of Sex - Normal
14/09
Community
Documentary presenting the real life stories of male, female and transgender migrants working in the sex industry in Albania, Italy and the UK.
Comment
More Repeats
---
Secrets of Sex - Normal
19/09
Community
Documentary presenting the real life stories of male, female and transgender migrants working in the sex industry in Albania, Italy and the UK.
Comment
Sex industry - this is all they have...
More Repeats
---
Outrageous Fortune
16/09
CBS Drama
Drama comedy about a family of crooks who try to go on the straight and narrow. Van lands a job driving a shemale hooker - and learns that Nicky is 'her' boss.
Comment
This was classic crude transphobic nonsense. Whilst in principle, it likely takes place in the world. When set in a comedy drama like this its pace requires an unnatural level of situations to keep the viewer interested. As a result, it quickly become crude and unsophisticated. I had never seen this before, so for that alone and an addition to the archive it was worth watching. But for anything other than a laugh at the expense of the transgender community and sex workers it failed.
---
Boy Meets Girl
17/09
BBC TWO
(Repeated on the 19/09)
3/6. Comedy series. After viewing some provocative photographs at an art gallery, Leo quizzes Judy about what exactly was involved when she transitioned. Contains adult humour. Also in HD. [AD,S]
Comment
This was just awful! We have this 'convenient' agender type exhibition they attend - well Trans*people cannot get enough of those exhibitions where men have breasts on them eh?. Leo faints when Judy tells him about her op - I have never heard of this happening in 20 years of activity! She describes her op as pulling a sleeve of a jacket inside out! They then go bowling where, Judy - who is actually a very passable and attractive woman, is read from some distance as a transgender woman. We then get a plethora of abuse and transphobia and "freak". Rather than walk away. Judy assaults one of the men with actual bodily harm. As this would likely be on CCTV. She would be see as unstable and arrested and charged for this crime. Not
something the trans*community need when they are already judged as a danger to the public by some. This feeds into that and justifies their stance. She says she was a boxer, which also plays into the Kellie Maloney stories. But I doubt even Kellie would have resorted to this. Plus the stole the boling shoes in their escape. When given the shoes they of course made her feet enourmous.As a footnote in regard to the attack on a member of the public. If a person breaks their nose they would be guilty of Section 20 if they had not specifically wanted to cause the damage, i.e. the broken nose. which carries up to 5 years imprisonment! As Judy clearly wanted to inflict damage, then she may well be looking at a custodoal sentance for this.
So this was a big mistake! The argument, It is only a comedy drama, would only hold water if it had been on for a few years and maybe into series three or something. So not an ideal exhibition. It also shows Judy to be rather 'macho' and Leo to be weak. This amplifies, her 'masculine behaviour'. And the public's view that trans*women are basically blokes underneath.
---
Celebrity Big Brother's Bit on the side
17/09
Channel 5
They do Drag night with the audience in honour of RuPaul's Drag Race Host Michelle Visage - nuff said.
--
Live Liberal Democrats 2015
21/09 at 9.21am (UK)
BBC Parliament
Live coverage of proceedings at the Liberal Democrat annual conference in Bournemouth, including policy motion on a Transgender and Intersex Health Charter, report on Parliamentary parties, policy motion on urgent action on air quality and health, a speech by Scottish Liberal Democrat leader Willie Rennie MSP, policy motion on securing a global treaty on climate change and a speech by former Liberal Democrat leader Nick Clegg MP.
(Repeated at 5pm and the 22/09 at 00.57am)
Comment
This was actually very enjoyable serious trans* telly for once, as it is a diversion from the usual nonsense we see on television.
This was important debate, speeches and opinions with a number of familiar faces - which @transgenderzone tweeted thanks to see @transgenderzone for who they are. And why not tweet them your support too
.
---
Secret Lives of Women
22/09
Community
Transsexuals: Meet Cristina Juanes. Cristina has a secret - she used to be a man. She details her journey and how her life is changing both physically and emotionally.
Comment
This is very interesting and one of the few offering by Community Channel that draws you in especially as it is an older Airport worker in the USA later in life transitioning. However, it is repeated all the time. And one must ask if the person who transitioned may not even realise this will haunt her what seems to be forever as some medical oddity? Community does really need some new content, but as the logs show we will be reporting on this again and again and again...in the future.
---
Celebrity Juice - ThrowBack
26/09
itv2
Keith Lemon hosts a special anniversary edition of the comedy panel show, bringing back some of the most memorable games from the show's seven year history. Holly Willoughby and Gino D'Acampo lead the teams as Keith welcomes guests including Hollywood actor Verne Troyer and EastEnders star Dean Gaffney.
Comment
Celebrity Chef and part time host (Whilst Fearne Cotton is is on maternity leave) Gino D'ACampo cross-dresses as Fearne - gets a big laugh. Of course the joke is Fearne was born male and this is something Keith Lemon (AKA Leigh Francis) just cannot let go of. He has historically all the way back to his Bo' Selecta Days and 'A Bears Tale' had something against transgender people. By that I mean, it is never humour with the community, it is like him projectile vomiting all over it. He has been doing this for 10 years. And it is obvious from his success with this character. That no one is ing to challenge it. They simply need him too much on their channel. Even if today he invited on a transgender person, I doubt he would be able to avoid 'the obvious'.
Although to date he has only ever invited one person on and that was Lauren Harries after Celebrity Big Brother. And that was just for a moment to laugh at - not as a panel member.
---
Boy Meets Girl
24/09
BBC TWO
4/6. Comedy series. Judy and Leo plan to spend their first night together, but Leo discovers evidence of Judy's former life. Contains some strong language. Also in HD. [AD,S]
Comment
Leo spots a photo of Judy in her past gender role. And then gets cold feet about their relationship. I think that this is out of sync and would more likley have happened on the first date. Whilst it is more 'shocking' to see the 'old her'. I just found that Judy was simply too confident in her old gender-role to be so blase' with discussing it, whilst Leo clearly looked uncomfortable. The time it took for the penny to drop was like pulling teeth! The idea was good in principle. But the execution was a bit of a mess really. Most trans*people I know tend to move on from the impostor they felt themselves to be. That said, trans*people are probably the best actors in the world - after all they pretended to be another gender for what can be decades! SO it is strange how casting agents cannot seem to find any!
---
Benidorm
25/09
ITV4
Noreen checks in - with her daughter. Les/Lesley is getting on Mateo's nerves. The Garveys decide to visit a water park. Donald and Jacqueline decide to help Madge.
Comment
Mateo the barman tries to get Leslie sacked for 'cross-dressing'.
---
CSI - Viva Las Vegas
2/09
5 USA
The Case of the Cross-Dressing Carp: Crime drama series. The CSI team works to solve the death of a transgender teenager. (S8 Ep 4) [AD,S]
Comment
It is no spoiler as this is repeated all the time - the teen has breasts because the water supply has oestrogen in it. That said many men have gynaecomastia - so these detectives are a bit thick tbh.
---
Jerry Springer
28/09
Pick
Hookers and Hook-Ups: Outrageous talk show hosted by the legendary Jerry Springer.
Comment
Not a bad one for once a trans*woman tells her BF that she is trans* and the BF then says, "Well I know, that's why I am with you..." She seemed shocked that he knew. But they kissed and there were positive cheers (for once) rather than the zest for blood we usually see.
The only thing that I think they had not thought about was, as she was passable. How did he know. And this meant she was 'Read' and this is what shocked her I think, not that somone might actually like her - either that or it was just an excuse fabricated to get onto the telly
.
---
Benidorm
28/09
ITV4
Mateo prepares for his first water aerobics class - but then Donald takes a funny turn. The Garveys are approached by a gangster who says they have inherited Mel's debt.
Comment
More repeats of transvestite Leslie (Played by Tim Healey who at the time was married to Denis 'Boy Meets Girl' Welch), Also stars Judy's (Boy Meets Girl (Rebecca Root) Mother (Janine Duvitski) in the same episodes.Not a big fan... As too many transphobic slurs for laughs projected onto Leslie for my taste.
---
Lorraine
29/09
ITV1
For one week only, viewers join presenter Lorraine Kelly in the studio each morning instead of watching the show at home in their living rooms.
The second of this week's special shows is on the theme of survival.
Comment
Lorraine invited a special studio audience to celebrate various communities, groups and disabilities by chatting around them with some invited special guests. Kinda like an awesome coffee morning! But in the studio. AND on camera live!
So what you might ask? Well Army Officer Hannah Winterbourne was invited and was prodly sat there in her uniform. Not mu
---
Don't have nightmares - Especially Zombie ones lol
- see you next time with more of the same I guess?