So here we go again!
What is broadcast in the UK reflects on you as a transperson. Every month it is a case of spot the positives. Almost all television featuring anything remotely associated with transpeople is negative, comical or are negative stereotypes. So if we do not list them they go unchallenged as evidence is needed to effect change! Or even give awards.
It is a thankless and time-consuming task - as you can imagine especially when a trans character is introduced ... Nevertheless rest assured someone is watching even if you can't.
High Points
Our Gender Swap Wedding
Low points
Jerry Springer
and
Celebrity Juice
=========================================
Lorraine
01/04
ITV1
Fiona Phillips presents a topical mix of entertainment, discussion and showbiz glamour, as well as the latest fashion, food and celebrity gossip. DCI Banks star Andrea Lowe talks about the latest series of the crime drama, and Buffy star Anthony Head chats about starring in age-gap sitcom You, Us and Them.
Comment
Ross King - they repeat the part where Ross King in LA does his little stand-up routine for a segment on Hollywood entertainment. He makes a transgender gag. Shame really. As it is always the last refuge of the weak comic. Stick to presenting Ross!
---
Not Going Out
03/04
Dave
Transsexual Gag
Comment
Now on Dave but the BBC likely take a payment for this still so just saying.
Full Review
viewtopic.php?t=3730
----
Carry On Jack
03/04
ITV3
Classic comedy starring Kenneth Williams and Bernard Cribbins, 1963. Look out for seafaring high jinks with the Carry On team as they board a ship bound for the Spanish coast [AD,S]
Comment
Crossdressing farce, When Bernard Cribbens' character who is a midshipman has his identity stolen by a local tavern girl. And pretends to be him. The twist being he is pressganged onto the ship in her nightie...
Well known comedy of course the line, by Kenneth Williams, "Why is he dressed like that?!" To which his second in command says, "I dunno but they are a strange lot in Plymouth..."
I am a Janner myself so I think he might be onto something
Harmless, and in actual fact, many of Nelson's Navy were probably Transgender Men (by today's definition). It is on the record at Admiralty House. Some even reaching quite high ranks and never discovered to much later.
---
Would I lie to You
03/04
Dave
Host - The last time a woman decieved me that well (to a laughing Kellie Hopin) sp she had Big Hands and an Adam's Apple..."
Well thia is half-way there but no cigar as it is stiill leanig to the abuse of those who do not pass as women... This sort of thing can be very distressing for people who have body dysmorphism as whilst they sit there in tears they have their f-image reinforced by this sort of thing for humour - no need for it or to sday it. Being a woman is not a deceit in actual fact the lie is the pre transition phase - time to understand that and all will be well! It is not ricket science!
---
American Dad!
03/04
BBC THREE
8/18. The Unbrave One: When Stan has a fight and Steve doesn't back him up, Stan dubs Steve a coward. Contains adult humour. Also in HD. [S]
Comment
The ending see the trans hooker from a previous episode - the sad thing is they have to give her a really deep voice and in the previous episode they joked that they should use a gun to shoot his hooker's penis off!
So another positive eh? (That is me being facietious btw).
---
Bad Education
04/04
BBC THREE
5/6. Football Match: Abbey Grove take on the local public school in the biggest football match of the year. Unfortunately, Alfie has to step in as coach. Contains adult humour. Also in HD. [AD,S]
Comment
Isn't it funny, I thought I'd watch this purly by chance and what episode was it I happened upon the infamous BBC three Tranny Gag!
So much for the BBCs Bad Education - they continue to broadcast this un perturbed - #hopeless!
Rather than re do this I will simply copy and paste from the other times they have shown it - the irony is if she had too much fak tan on would Jack Whitehall happily say oh have you come as a n-Word?
Nope! So why these double standards BBC? You have no idea what you are doing.
And tokenistic gestures like hiring an odd transperson here or there and lets face it it is to check your diversity card or to cash in oin the novelty, the reality is this.
---
Louis Theroux: Transgender Kids
05/04
BBC TWO
Documentary. Louis travels to San Francisco where medical professionals are helping children with gender dysphoria transition from boy to girl or girl to boy.
Comment
Rather than comment directly here it is easier for your to watch our Video Log Broadcast as this was top of the agenda.
http://media.transgenderzone.com/?p=4465
---
CSI: Crime Scene Investigation
07/14
5 USA
The Case of the Cross-Dressing Carp: Crime drama series. The CSI team works to solve the death of a transgender teenager. (S8 Ep 4) [AD,S]
Spoiler
---
The Wright Stuff
04/07
Channel 5
Matthew Wright hosts the topical debate show alongside this week's panelists Shazia Mirza and Andrez Harriott. Today's guest is Laura Jackson.
Comment
Bernice who has already appeared in the audience when they covered Kellie Maloney with Paris Lees last year, now has an occasional seat as a regular in the studio Audience. So thats very nice. And she is very bubbly.
---
This Morning
08/04
itv
Young Trans Man Leo Wadell appears on This Morning to talk about transgender Kids and a parent of a Transgender girl also takes part.
More
viewtopic.php?f=16&t=4713
Comment
The only down-side if there was one was that another parent had to have a wig and her back to camera in silhouette to be on the show, and this is understandable but felt sinister and ashamed, or it suggests if people recognise her he life will be ruined by all this transgender stuff. Not an ideal message to be sending out in 2015.
---
American Dad!
09/04
BBC THREE
11/18. Old Stan in the Mountain: When Stan is rude, an old man casts a hex upon him to make him old. To lift the hex, Stan has to climb Mount Kilimanjaro. Contains adult humour. Also in HD. [S]
Comment
Penis and GRS surgery removal gag...
---
Carry On Girls
11/04
Farcical comedy starring Sid James and Joan Sims, 1973. The town council of a seaside resort are persuaded to hold a beauty contest - with chaotic results [AD,S]
Comment
Bernard Breslaw as one of the contestants was stretching it a bit for laughs. But they if he were trans* we would all be applauding. Of it's time and when women were 'burning their bras' in the real world 'off-set' this was actually one of their more popular comedies as it appealed to the nay sayers of beauty contestants and women being paraded like 'meat' etc. Still have them so that didn't work!
---
Gogglebox
11/04
4Seven
Britain's favourite opinionated TV viewers on: Eurovision's Greatest Hits, Collectaholics, Mad Men, Louis Theroux: Transgender Kids, Skyfall and the Leaders' Debate. (S5 Ep8/12) [S]
Comment
They comment on Louis Theroux's documentary about Transgender Children, and I found it to be rather weak and dismissive. I am a bit disappointed really as the Gay Men joked that if this had been 'available' when he was a kid he would probably have had it done? Like if you are trans you are trans right now so go get your hormones? This is very poor and give the impression it is a choice - it ain't, any more than him being gay is. This is annoying as they live in Brighton and yet another reason why GLB/T does not belong together.
That said, we have a woman watching say, the following: "
I don't mind them changing sex once they've grown up, I just object to them doing it before they've grown up
."
Seriously who the hell do you think you are? Who cares what you think? No one is changing sex, they are already the gender they are, they simply express it externally, sorry about that. They simply have puberty withheld - thats it! The most annoying thing is, what if I said I do not mind you being a woman.... It is absolutely ridiculous. They then showed a clip of the Black trans man, and they all were shocked. The reason is trans*men masculinise better as their voices break and they pass better. And one reason transfemale kids need puberty withheld is so they can have that same freedom in life and not become some sideshow freak later in life that this same channel happily mocks ('8 out of 10 Cats' TV Show and 'Alan Carr hatty Man'). Plus it costs a fortune to try and reverse brow ridges, voice training and so on, and it is never as good as not getting them to begin with. And why this is happening. The men did get it a lot easier in the show, some of the male viewers were even impressed by their penis. It is just a shame they don't afford the same opinion to everyone else. There is such a long ways to go I doubt it will ever be solved.
Just a frustrating programme of ignorance and objectification from Channel 4.
But hey they are a straw poll of 'normal' British People so get your crash helmets as most viewers not in this position are probably worse!
---
CSI - New York
14/04
5 USA
The Lying Game: The team investigate the murder of a transgender showgirl, but find the case complicated by the sheer number of suspects. (S3 Ep 14) [S]
Comment
Not bad despite the hackneyed title (the crying game?).
And apart from a transgender woman being murdered (AGAIN) and a 'ShowGirl' (What else? Transgender Lawer Perhaps? Nah!). Not bad apart from all that [GROAN].
---
Transamerica (2005)
17/04
Film4
Comedy drama. Pre-operative transsexual Bree receives a phone call from an imprisoned 17-year-old-son who does not know she is becoming a woman. Her therapist insists she deal with this relationship before her final operation is approved, which leads to a road trip across America.
Comment
Not bad, shame the lead was not played by a transwoman (like Candis Cayne), but they needed a 'Deperate Housewives' Star to get this to the big time and this low budget road-movie made it all the way to Best Supporting Actress Nomination at the Oscars! So they did something righgt. Some transgender cameos in the middle. But just left me feeling it lacked authenticity - sorry.
---
Jerry Springer
13/04
Pick
Bisexual Bombshells: Outrageous talk show hosted by the legendary Jerry Springer.
Comment
Butch trans woman ends up in a punch up with a girl they used... GMS!
---
Lorraine
15/04
ITV1
Lorraine Kelly presents the morning show with a topical mix of entertainment, discussion and showbiz glamour, as well as the latest fashion, food and celebrity gossip. Cold Feet star Fay Ripley chats about her new comedy series The Delivery Man, and Celebrity Big Brother star and RuPaul's Drag Race judge Michelle Visage talks about her time in the Big Brother house and the upcoming RuPaul's Drag Race UK live tour.
Comment
Michelle Visage (of Celebrity Big Brother) is still trying to get her and RuPaul's 'Drag Race' commissioned in the UK.
My advice - don't! It is just too often transphobic. It also is run by a man who himself uses transphobic slurs for entertainment when he is so out of touch now. This is fine in the 1980s but nothing more than Jerry Springer with wigs today.
---
Our Gender Swap Wedding
16/04
Pick
Documentary shedding light on the lives of Louis and Jamie, one of the only transgender couples in the UK. Here, they discuss the various obstacles they've faced. [S]
Comment
Loved it! 5 Stars
More...Full Review!
viewtopic.php?f=16&t=4719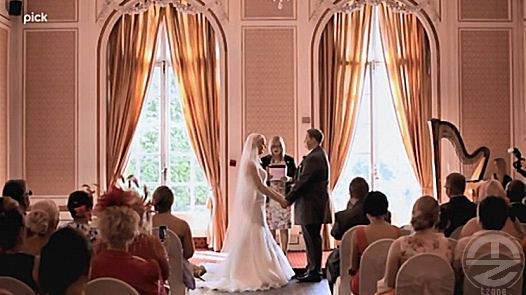 Pick
---
The Wright Stuff
17/04
Channel 5
Matthew Wright hosts the topical debate show with this week's panelists Annabel Giles and Anthony Horowitz. Today's guest is Paris Lee.[SIC]
comment
Full Review
viewtopic.php?f=16&t=4718
---
UK Border Force
Pick
18/04
Observational documentary series. Officers stop a Nigerian with a forged passport who insists he is 15 years old. A transgendered woman suffering from terminal cancer and with just $10 to her name finds out if she qualifies to get into the country. A criminal is caught in Calais.
Comment
Repeated ad infinitum! A cautionary tale for anyone signing a television release form! You will always be being repeated maybe long after you are gone if this story is anything to go by. If not then outted every month instead! Wonder what happened to her and if her treatment for cancer (and gender) went well or not?
Left me wanting...
---
Celebrity Juice
18/04
ITV2
Keith Lemon presents the outrageous comedy panel show. Radio 1 DJ Fearne Cotton and stand-in captain Gino D'Acampo welcome TV presenter and Radio DJ Vernon Kay, Jackass daredevil and star of The Jump Steve-O, comedian Chris Ramsey and TOWIE star Jessica Wright to their teams.
Comment
This really is rock bottom!
Leigh Francis who plays this character Keith Lemon, has a game half-way through the show, where he invites children on and suggests they are famous people who have all been shrunk down.
Tom Cruise Kanye West etc. One is Fearne Cotton and of course in connection with his ongoing transphobia by proxy that Fern is trans* (she isn't it is laughing at transgender issues via her) see:
http://library.transgenderzone.com/?page_id=3000
He names a young boy as Fearne Cotton (a female presenter he pretends is trans for laughs) - audience laughs.
Then they begin the game of holding juice boxes. The boy turns to Keith and says:
"
Excuse me I am a Gender Crisis!
"
To which the audience is howling with laughter...
This is the Pits Leigh! And you should be ashamed of yourself. Trans* in childhood is utterly traumatic and desperately painful, It is not in the slightest bit funny for sufferers. And laughing or inciting this kind of mockery is seriously abusive. And way beyond a joke. Objectifying trans* kids?...
This really did happen!
I despair and Holly Willoughby's Husband Produces it. This is unbelievable really!
itv
---
Our Gender Swap Wedding
22/04
Pick
(REPEAT)
Documentary shedding light on the lives of Louis and Jamie, one of the only transgender couples in the UK. Here, they discuss the various obstacles they've faced. [S]
Comment
viewtopic.php?f=16&t=4719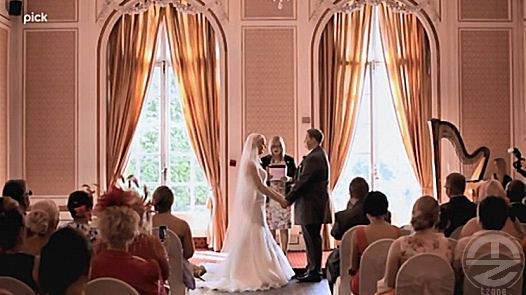 Pick
---
Jerry Springer
20/04
Pick
Too Hot To Handle: Outrageous talk show hosted by the legendary Jerry Springer.
Comment
Man discovers girl was DMAB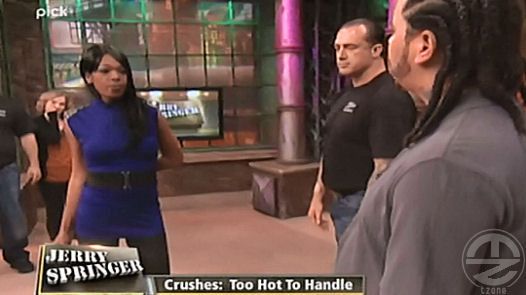 Pick
Man hits trans*woman in face.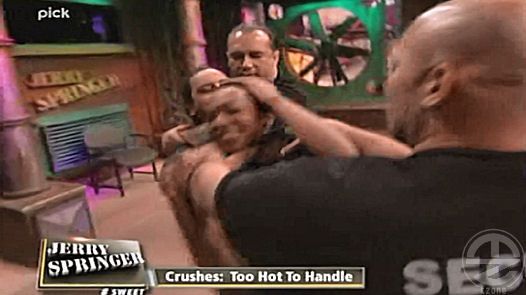 Pick
Man then attempts to strangle trans*woman live on national television! To the applause of the audience.
Jerry Springer sides with man and says to trans*woman, "you are a man".
What more can I say?! Welcome to the 21st Century!
---
On the Buses
20/04
itv3
The Kids' Outing: Sitcom about a two-man bus crew. Stan and Jack are assigned to take a school party on an outing. [S]
Comment
Butler cross-dresses to entertain the kids. Inspector Blake says the following:
"It's Butler!"
"Have you gawn raving mad have yah?!"
"Well I always knew he was a bit peculiar, but he has gone kinky as well now!"
"It's mixing with all these (female) clippies, isn't it?!!!
"Oh don't be daft I am doing it for a bit of fun!"
"A bit of fun? I should try telling that to the magistrate if I were you!"
"He just did it to entertain the kids didn't he!"
"Who do you think you are? The Busman's Danny La Rue or something?!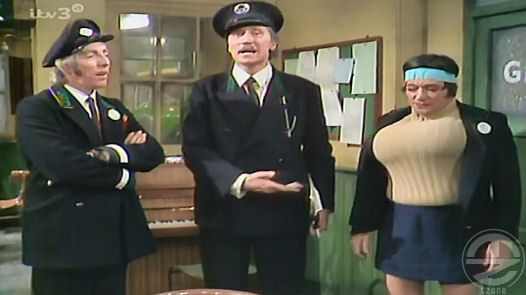 itv3
Comment
Kinky, Magistrates, Peculiar, they had an excuse for it in the 1960s but what is the excuse today?
We can say that this is of it's time, but when Celebrity Juice and Jerry Springer are far worse in 2015 we have to seriously worry!
These were 'innocent times' by comparison.
---
Gay & Under Attack-Extreme Russia. 2/3.
21/04
BBC THREE
Reggie Yates finds out what life is like for young people in what has been described as the hardest place in Europe to be gay. Contains some strong language. [S,SL]
Comment
"Homophobia is Beautiful!"
This was a major party leader in Russia - nuff said!
Of course GLB/T was mentioned yet I saw very few T... Maybe it is because unlike being a gay man or lesbian that unless entrapped, it is hard to tell in the street what someone's sexuality is, transgender people are far more at risk as they were their identity like a red rag to a bull. Red being appropriate here!
But you know, maybe they were wise to stay away?
---
Jerry Springer
22/04
Pick
Secret Sex Confessions: Outrageous talk show hosted by the legendary Jerry Springer.
Comment
Pick
I was born male...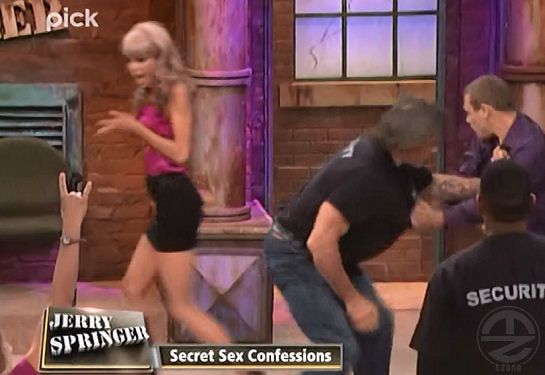 Pick
Assault to jeers and fist pumps of the audience (see pictured).
Followed by a Trans* Man who get the same treatment, however unlike the 'men in dresses' (the audience see) the transman is allowed to thump the girl back! Cos he is a girl! (according to them).
---
Star Trek - The Next Generation
24/04
CBS Action
The new U.S.S. Enterprise and its crew boldly go where no one has gone before. Unbeknownst to Picard and the Federation, Data creates a new artificial life form, his daughter.
Comment
Data allows his offspring to choose gender and appearance! Nice! She chooses hot female - of course! Not that much has changed it seems!
---
Empire (Pilot)
28/04
e4
Drama series following the life of a former street thug turned powerhouse music industry mogul. Lucious Lyon, a talented artist and CEO of Empire Entertainment, is diagnosed with a debilitating illness and realises that he must choose one of his three sons to become the heir to his successful music kingdom.
Comment
It is a pretty good program and obviously this is a black production (like 'Fresh Prince' or 'Desmonds'), this is refreshing in itself.
However, one of the threads going through the drama is the ex-wife of this now successful music mogul has left prison and wants to manage her gay son, who the father has forced to remain in the closet because he is homophobic.
To demonstrate the son is gay as a 7 year old they show this in flashback as the now straight looking and straight behaving good looking masculine gay man sings at the piano.
Child wears heels.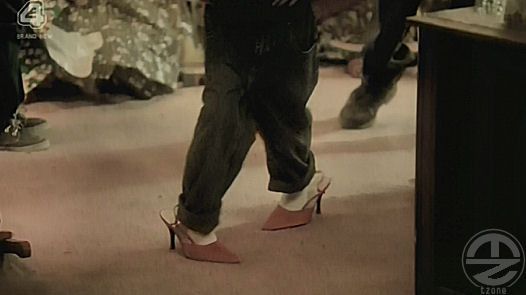 e4
Child is attacked by father.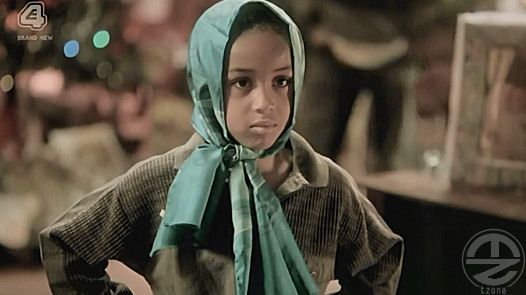 e4
Child is put in dustbin by father.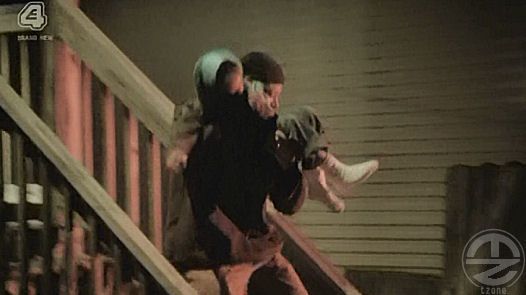 e4
Mother rescues child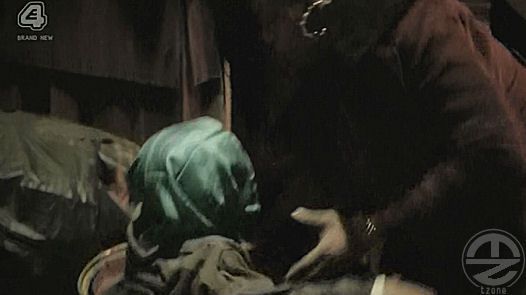 e4
This is the outcome of this child today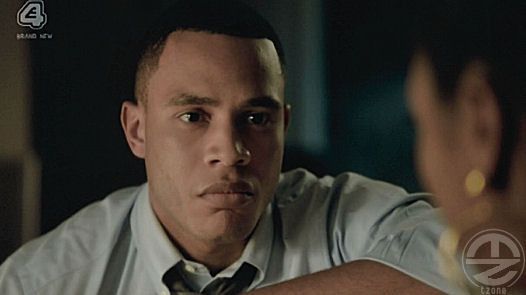 e4
What is the problem with this?
Well, first of all by this very episode it shows that children who play like this do not necessarily grow up to be trans. But to demonstrate a child is gay the producers are unlikely to have the boy kissing boys. Despite this being sensitively done in 'Ma Vie En Rose' (
http://www.imdb.com/title/tt0119590/
) so it can be done without upsetting the world. So the producers have opted for the good old stand by, cross-dressing, after all all trans are gay (they ain't! btw) and this adds an element of annoyance to me. The reaction of the father to having a son who at this stage is not 'gay' but wears a scarf and heels is to assault the child and put him in the dustbin. Later the so called doting mother describes him as a f*ggot! The cliched Gay bar where he plays has an atypical camp audience last seen in 'Friends' where Chandler met his trans*father in Vegas!
This show is a bit of a mess in this regard. But as for all the rest very good. But stay away from things like this. Unless you are going to see it through to say a Transgender son or daughter at least, who is empowered and successful or similar.
---
Family Guy
29/04
BBC THREE
Stu and Stewie's Excellent Adventure: Animated comedy. Stewie finds out that his life in the future is miserable so he decides to go back in time and change events. Contains adult humour. [S]
Comment
In the future to quote Stu (Grown-Up).
"Oh Meg had a sex-change and is now a man called Ron!"
They make practically nothing of a trans*man in this epoisode yet give an entire episode and more including projectile vomiting over Quagmire's Dad who is a trans*woman.
---
Hollyoaks
30/04
Channel 4
Porsche's world crumbles when she realises the past is about to catch up with her. Dylan hatches a plan of revenge. John Paul struggles to reconcile himself to the new lodger. Kim resorts to extreme measures to get closer to her target.
Comment
And so begins the Transgender storyline this time of Dylan. More on that here Full Review:
I will be doing a screengrab and TLDR each week on a summary of this storyline in the Hollyoaks section of the media thread.
viewtopic.php?f=48&t=4743
channel4
---
The One Show
30/04
BBC ONE
If it's got Britain talking then it will get talked about on The One Show. Presented by Matt Baker and Alex Jones. Also in HD. [S]
Comment
Trans*woman reads an unrelated passage from a book. Just 'normal' and part of the crowd of cisgirls and I like that.
---
Celebrity Juice
30/01
itv2
Comment
More transgender suggestive humour. That Co-Presenter Fearne Cotton is a man and this allows for Transphobia by Proxy see (TBP):
http://library.transgenderzone.com/?page_id=3000
---
Don't have nightmares - Especially Zombie ones lol
- see you next time with more of the same I guess?