From the
So here we go again!
What is broadcast in the UK reflects on you as a trans*person. Every month it is a case of spot the positives. Almost all television featuring anything remotely associated with trans*people is negative, comical or are negative stereotypes. So if we do not list them they go unchallenged as evidence is needed to effect change! Or even give awards.
It is a thankless and time-consuming task - as you can imagine especially when a trans character is introduced ... Nevertheless rest assured someone is watching even if you can't.
High Points
The Big Questions with Jane Fae
Low points
Jerry Springer
and
Celebrity Juice
=========================================
New- I Survived a Zombie Apocalypse
03/01
BBC THREE
3/8. Reality gameshow. Survivors of a zombie outbreak shelter in a shopping centre. Some of the group head out for supplies. Contains strong language and disturbing scenes. Also in HD. [S]
Comment
Trans Woman Leah kicks off after another 'Survivor' is caught by the zombies (make up your own jokes - being caught by the Zombies is what a protection cup is for).
Silly and daft idea, and about as scary as kiss-chase in the playground when you were 7!
Full review
viewtopic.php?t=4665
---
Jerry Springer
02/03
Pick
Gut-wrenching Secrets: Outrageous talk show hosted by the legendary Jerry Springer.
Comment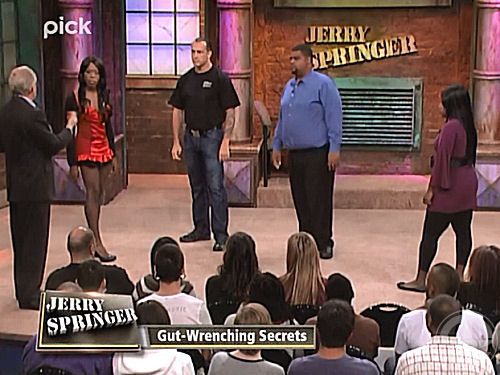 Pick
OK so in this instance we have the gentleman here falling for a girl on-line - he finds out she is trans* but is cool about that. However he does not want to take it any further. The partner gets involved etc... Doesn't really go anywhere, but this month is the month of cut away videos. Something they shoot separately to further cause resentment or antagonise the 'unsuspecting' guests.
More on that later in the month regarding a toilet that was obviously suggested by the crew of the show.
Anyways back to this episode...
Here we see them play what can only be an edited together clip set chosen by an editor of the show to show the trans*person in a grotesque a way as possible, people watching in the audiance were barfing into their hands at such juicy images as this.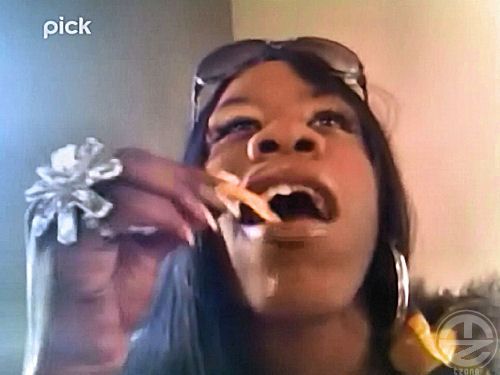 Pick
Audience is heard to be jeering and shouting "OH NO!!!
Then she wanders on wearing? Well something that results in further humiliation from all concerned and laughter from the audience.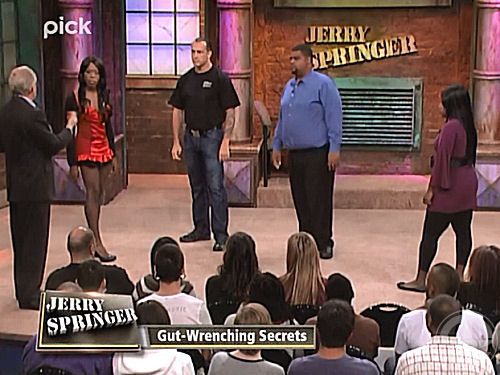 Pick
You see people can wear what they like... But transgender people suffer indignity in public even smartly dressed, this just plays right into their hands and she became nothing short of a laughing stock. Other transgender women in the UK are not exempt from this either. They really could do with a second opinion from a trusted friend before they walk out on stage as to trust the Springer staff is pointless. Notice Jerry is always in a suit and dignified - note to self this is how you make millions!
Before people say Lady Gaga yeah but she has a talent that she dresses and even she has some style albeit quirky. I question the mental health of some guests, many are deluded and some are clearly violent thugs.
The 'freak-show' format lives on - for now - it has been around for 1000s of years, "pay to see the..." fill in your own blank. This is a circus and they are the stars for 15minutes. I just wonder what happens to them all when the 'rush' is over?
---
Uncle
03/03
BBC Three
3/6. Sitcom. Andy is wrecked with the flu, but when Errol alerts him to a lucrative song contest, it's off to the recording studio. Contains adult humour and strong language. Also in HD. [AD,S]
Comment
Transgender regular Character appears again in this second series - the BBC could try an be a bit more inventive. Not all trans*people are Rocky Horror Parodies. Disappointing. Not a trans*actor either. They could have called Andrew O'Neill (
Pharmacist Baffler
) who could have done it better and more authentically. But hey jobs for the boys n all that eh? It really comes to something when I could cast better than the BBC!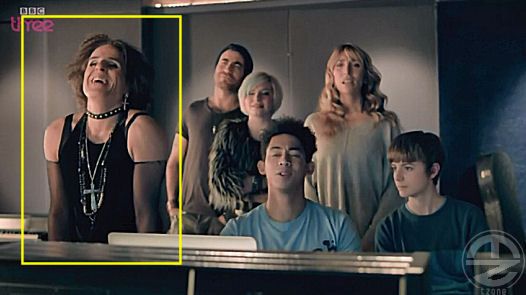 bbc
---
Jerry Springer
03/03
Pick
Jerry Spinger - Outrageous US show.
Comment
The woman assigned female at Birth attacks (pictured) the transgender woman first. This is allowed by the security. She then makes a transphobic comment (this is the same as a racist one) and states "You are not even a woman!"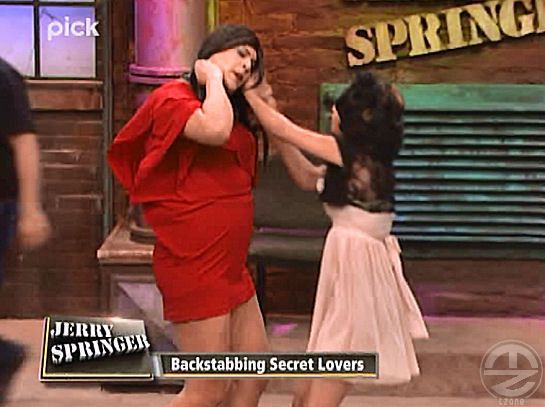 Pick
Then the transgender woman attempts to defend herself. and is stopped with the scowels of the security.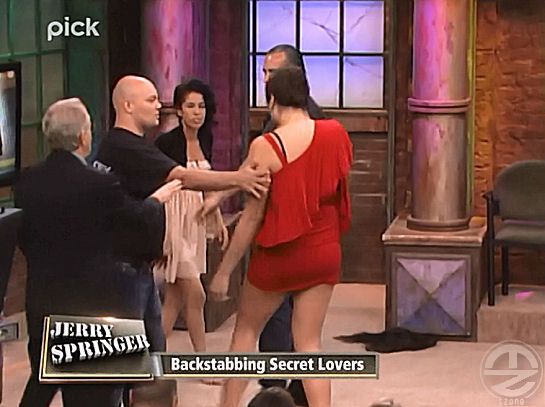 Pick
Jerry then says,
"Hey you can't be doing that to a woman, you're a man!"
The argument here is if she was designated female at birth this would have been permitted. So they are making a value judgment about what 'being a woman is'. Nevertheless when there are trans*women of a smaller stature to the male assailants they are not given the same protection as some many reports here show, as trans*women are ritually assaulted by larger 'straight' men to the applause of the audience. And finally when two cisgender women fight and one is bigger than the other again nobody steps in.
Seriously Jerry wtf! This show and Jerry have a responsibility to the viewing public here and need to redress this hate-crime.
And we wonder why there are so many murders in the USA of transgender women.
see
http://tdor.info/
---
Star Trek: Enterprise
'Cogenitor'
04/03
Pick
Prequel series to Star Trek, set aboard Starfleet's first interstellar ship. While studying a star which has gone supernova, the crew meet a race with three sexes.
Comment
Interesting intersex story.
---
I Survived a Zombie Apocalypse
05/03
BBC THREE
3/8. Reality gameshow. Survivors of a zombie outbreak shelter in a shopping centre. Some of the group head out for supplies. Contains strong language and disturbing scenes. Also in HD. [S]
Comment
Silly Daft available on BBC iPlayer - but features a transgender woman called Leah click here for more
viewtopic.php?f=16&t=4665
---
Jerry Springer
06/03
Pick
Outrageous talk show.
Comment
Here we have a woman who has had genital surgery, so all done and dusted and looking for love. Meets a guy, but states on the programme that she has not told him because she fears his reaction. He then attacks her to the cheers of the crowd.
She states, that "This is why I didn't want to tell you as I knew how you would react, I have had friends who were jumped (attacked)..." And as these images demonstrate - she was right!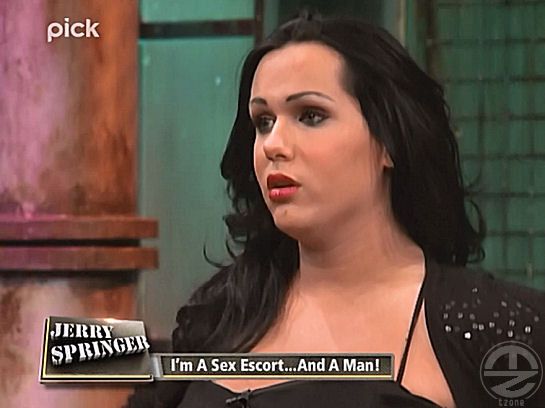 Pick
Worried about his reaction.
"Look at me, I am a woman, I just can't give birth, but in every other way I am a woman and you already have kids and you said you didn't want any more, we would have been perfect."
Pick
Petite - Transwoman is about to be assaulted to laughter and cheers.
Jerry jumps in but you should have told him you are a man...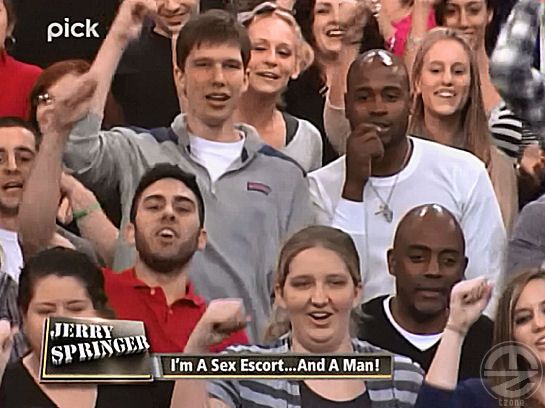 Pick
Pick
WHACK!!!
Later removes his shirt and comes back for more!
Pick
I genuinely fear for the future... If she is not 'good enough' then what the hell are trans people supposed to do? Out themselves every time someone looks at them? Maybe wear a little pin triangle sewn to their clothing and have an arm tattoo so people will recognise them? Bar-code transpeople? Um an id implant so men can scan their women? This sort of thing has happened before! And it didn't end well.
All this comes down to what IS a man or a woman? Apart from her chromosome signature and ovaries (many cisgender women have them removed) she is as female as anyone else in that room but she is till a man! And now we have transgender people in the UK stating they are men yet presenting and passing as female. This is confusing the heck out of society, as they might ask what the heck do you want?!!!
This then brings in the whole entrapping people through ability to pass, if a trans*woman does not look or sound like a woman this is less of an issue. So the danger is to those women that pass. Yet that is the goal for many trans*women - to pass... But maybe we should embrace something else? As looking, sounding and behaving and feeling like a woman is not enough for a trans*woman as she states she is a man?
This can only be for fame, shock value or to create a buzz around them to earn more money being well a sideshow attraction for the want of a better word. People no longer queue up with the coin at Coney Island to see the 'freak Show' they pay for it in the ad break or with their TV licence (no puns).
The view being trans is fine as long as you are not involving anybody else in it unless they already know. Cisgender men and women are not as candid with their private information on a first date...
"Hi my name is Ben and I did 18 months for TWOC, beat my kid and am infertile, what would you like to order?"
Nope they find that out about 6 months down the line!
---
New - I Survived a Zombie Apocalypse
08/03
BBC THREE
Another episode of the above.
---
Mr Bean's Holiday
07/07
ITV2 +1
Comedy sequel. The disaster-prone Englishman wins a holiday to Cannes, but on his travels he unwittingly separates a young boy from his film director father. Mr Bean and the boy head for the south of France to attend the famous film festival and find the father, but their journey is full of misadventures.
Comment
Monsieur Hulotcalled and want's his act back.
http://en.wikipedia.org/wiki/Monsieur_Hulot's_Holiday
Rowen cross-dresses for laughs towards the end of the film.
---
Live at the Apollo
07/03
BBC THREE
1/6. Live at the Apollo returns for a new series from the world-famous venue, as Eddie Izzard introduces Trevor Noah and Josh Widdicombe. Contains adult humour. Also in HD. [S]
Comment
Last time I checked Eddie still identifies as trans*.
---
Secrets of Sex- Aravani Girl
07/03
Community
Documentary. Two teenagers dream of becoming ladyboys. Loved as performers but hated as homosexuals, their stories echo the conflicts of India's gender culture.
Comment
Not bad but it is repeated all the time - Community has like 3 programmes about transgender people and just loop them and loop them for what seems years - very odd!
Buy some new content!
I have like 10 TB of transgender programming in our archives and they as a TV channel have 3 - makes no sense.
There is a fear of course that poverty puses gay men into drag for cash and this is not transgender. As it is a financial issue rather than a sense of being.
Plus its descriptions over sell SEX and LADYBOYS! when they arEe not Thai.
It should read
Title - Arvani Girls - A transgender subculture. (or similar).
Subject - Documentary. Two teenagers dream of becoming transgender performers. Loved as performers but hated as homosexuals, their stories echo the conflicts of India's gender culture.
Call me!
But then nobody would watch it eh? #TransCurrency
---
The Gayest Show Ever
08/03
Community
Magazine show. Controversial director Bruce LaBruce tells us how his hardcore pornography takes aim at consumerism and we continue our look at the female-to-male transsexual community.
Comment
Repeated again and again... Not all trans are gay - get over it.
---
JAG
09/03
CBS Drama
Legal drama series about a navy lawyer who travels around the world investigating military cases. Harm defends a seaman who was wrongly convicted of murdering a transvestite hooker 22 years earlier, and Mac strives to prosecute an officer for bigamy.
Comment
Repeat and the show opens with her being stabbed and lying on the ground dead.
So not ideal!
---
Man with the Mohican
09/03
BBC Radio 4
Documentary in which David Morrissey reveals how the Liverpool-based theatre director, DJ and transvestite performance artist Roger Hill inspires actors, musicians and playwrights.
Comment
This was actually interesting in a 'left-field' kinda way. It really makes a change sometimes to be surprised!
However, many listeners will have reservations about how the term tr*nny was adopted for publicity in particular the 'Tr*nny Hotel' - Give me strength. Which to me at the time was an objectifiers charter almost agreeing to this hate-crime label to be used - it was not 'reclaimed' that day and until it is toxic and seen as such by the wider public first it will never be reclaimed, as the term has to become persona non grata, then it maybe able to be reclaimed - but that is another story.
http://www.sevenstreets.com/changing-ro ... liverpool/
Transgender currency at play.
He organised TH here is a quote from that time:
"Tranny is a pejorative word, and everyone will have a different life experience of it," Turrell-Watts says. "When I started doing drag, yes, I was offended by it. Now you've got the Tranny Shack club and the International Tranny Guide, Facebook groups. It has been reclaimed, but I don't think it's been done consciously."
Hill adds: "I cheerfully and proudly call myself a tranny.
My view is to the contrary. He will discover this is not the case. The irony is 'Tranny Shack' (mentioned above) has bowed to pressure to rename to 'T-Shack' now. I hate to say I told you so
. But I saw this 15 years ago. Everyone has finally begun to see the light. But still a long way to go.
Nevertheless, this might be interesting to some - here is the link.
http://www.bbc.co.uk/programmes/b054pp6c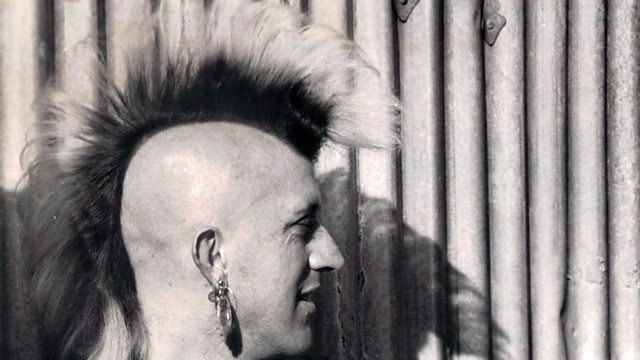 BBC
---
Jerry Springer
10/03
Pick
Mom Attack!: Outrageous talk show hosted by the legendary Jerry Springer.
Comment
Transgender woman is mocked and jeered and told "She doesn't even sound like a woman!" that, "she was born a man and will always be a man!"
---
The Big Questions
10/03
BBC One
Nicky Campbell presents the moral, ethical and religious discussion series live from New College in Leicester. Has Britain become hostile to blokes? Do British Muslims have a problem with apostates? Do we discriminate against stay-at-home mothers?
Comment
Transgender Journalist and parent Jane Fae appears in this episode and she did a great job. There was no 'novelty Trans Factor' she made cogent arguments and even garnered the support of feminists and mothers in the audience.
I have known Jane for sometime and also watched her documentary entitled "My Dad Is a Woman" (ITV1_2012_03_01) about her family a few years back (in our archives).
She is also a prolific writer on transgender issues see the recent stories here
http://www.gaystarnews.com/article/argo ... auds180215
http://www.gaystarnews.com/article/gene ... -probe2602
Both these recent stories are what I describe as 'proper reporter style journalism' and not about her, rather she tackles interesting subjects, and accurately and professionally reports them. As the saying goes if you are bigger than the story get another reporter!
Great work Jane!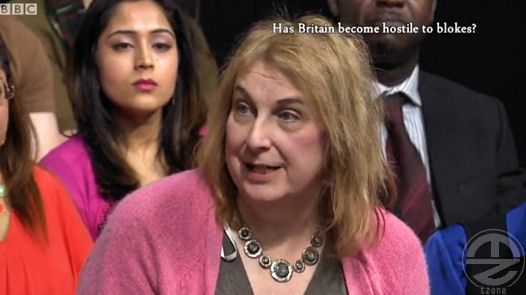 BBC
Watch now (while you can).
http://www.bbc.co.uk/programmes/b05n1lww
First shown: 10am 15 Mar 2015
Duration 60 mins
---
Jerry Springer
11/03
Pick
Betrayals on Tape: Outrageous talk show hosted by the legendary Jerry Springer.
Comment
OK so a trans*woman is about to make two major faux pas and looks like a hateful individual. Sorry but this does not help. Toilet terror and legal disputes and violence surrounding the use of 'facilities' is quite a big issue, especially in the USA. To embrace and it is likely to have been a suggestion to make her a bit more of a 'shock intro' we have her saying the following:
"My secret it I use the same one as you!"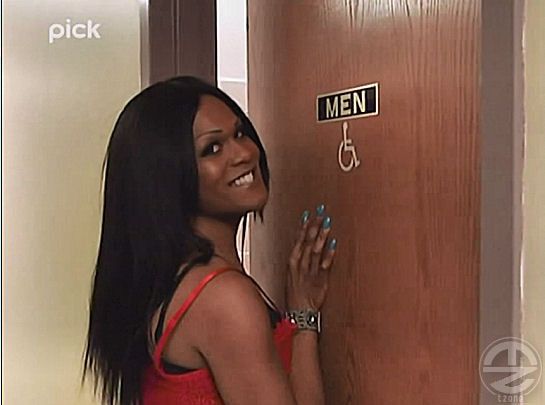 pick
Audience jeers in horror...
Later we have this...
She stands there and tells a guy that she, "used him", and knew what she was doing,
"I didn't even want you sweetie, I just wanted your money for things like my hair..."
She then lashes out...
Pick
This is everything that is wrong...
Actually this man was probably a nice guy, but she was baiting him and baiting him, vicious cruel, and one of the rare times I do not stand with the trans*person on this show. This plays right into the hands of all the nay sayers. And can quite rightly (in this instance) point, shake their heads and say, "There!I told you so!" If there was a bad 'guy' here it was her! In some shows there is a positive outcome, in others the trans woman is genuinely scared and timid, and it is just bordering on hate-crime. But this, wow(!), he would need the patience of a saint to have walked away. The only snag here is the moment he found out, he knew she was 'fair game', as did the show, and allows this violence to take place. But in this instance she was more violent and vicious. I still do not see what he did wrong? He was the victim here. He was abused by her emotionally.
Like every community, no matter how oppressed they are, there are 'wong uns'' in it. I feel she is one of those people that do us no favours whatsoever. And her reasons for behaving the way she does are no doubt complex. But it is a shame. As if we don't have enough to worry about!
---
Underage and Gay
11/03
Channel 4
Documentary following five gay, bisexual and transgender teenagers as they redefine their sexuality while dealing with the day-to-day challenges of teenage life. The programme combines intimate interviews with stories of homophobic bullying, first loves, first dates and family feuds, and reveals the pressures young people face in an age of social media abuse and internet trolls.
Comment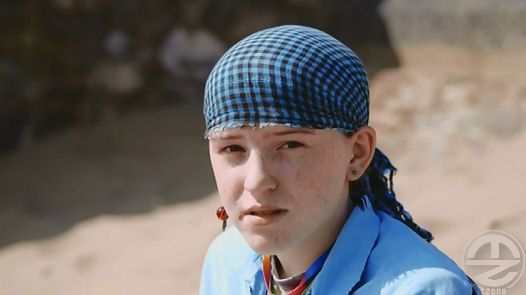 Channel 4
FULL REVIEW
viewtopic.php?f=16&t=4691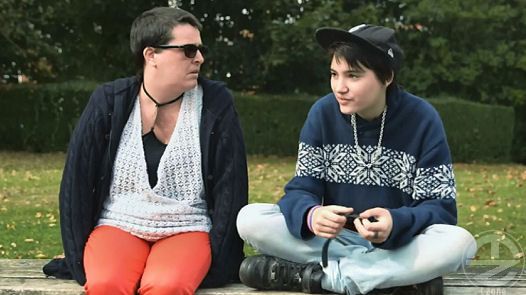 Channel 4
---
On the Buses
13/03
ITV3
The Poster: Sitcom about a bus driver and his conductor pal. The company mounts an advertising campaign to attract more passengers. [S]
Comment
Stan needs to tart himself up a bit to compete with the other body builders. And looks into a girdle and cosmetics to look slimmer and healthier.
This is at least 'of its time', I mean, most of the cast are now dead. So hardly worth complaining about, rather it is a snapshot to demonstrate the likes of 'Celebrity Juice' broadcast today, and Keith Lemon, have not moved on at all from this. The irony is Limp-Wristed gay jokes, racist and sexism they did back then are now something we rarely see in this context, so why are transgender people still abused for their birth condition? Another example of how television is locked in a transphobic time-warp, here is an example.
TRANSCRIPT (apt!)
Mother to Stan her son - "You are not turning funny are you?
(Inspector Blake laughs).
Mother - "Here you are not gonna go like your Uncle Herbert are you? We don't want another one of them in the family!"
Stan - "Nah Mum!"
Mother - (Loudly in Shop) "I'll never forget that Christmas when he borrowed my Nightdress!"
(Laughter)
Stan - "Alright Mum c'mon worried people are overhearing."
itv
Later at Home
Mum to Jack (Stans Mate and Bus Conductor) - "Here I've just been reading what it says on this face pack (Stan is going to apply), it says it contains Hormones!"
Stan - "What's she saying Olive?"
Olive to Stan - "I dunno something about Hormones? What's Hormones Mum?!!!"
Mum - "Oh! Hormones? They can make bodily changes!"
Stan - "What sort of Changes?!!!"
Mum - "Well you can go all feminine!"
(Audience Screams with laughter).
Stan (PANICS) - "That's it! I am not having that stuck... I am not going to go all funny!"
Jack (arrives with the bowl of Face Pack Mixture which looks like Whipped Cream), "Don't worry (Stan) it is an old wives tale!"
itv
Mum - Oh I don't know? I don't want my son to turn into one of those men you read about in the Sunday Papers! They work in 'Night Clubs!' And pretend to be women, They take Hormones! And they develop! You know...(cups her breasts to laughter), you can SEE IT!"
Jack - "Don't talk daft, there can't be enough hormones in one little pack to do that!"
Mum - "Well I don't know, Stan's uncle Herbert [AGAIN!] had trouble with his hormones..."
Stan - "Did he?"
Mum - "Well that's what the magistrates said."
Jack, well they wouldn't sell this stuff if they thought it'd be harmful."
Mum - "Well I don't wanna lose a son and gain another daughter!"
(More Laughter)
Stan - "That's right I don't mind being in the Busman's Competition, but I don't want to be in Miss World."
(More Laughter).
itv
What is interesting about this is purely as a bench mark to see how far we have come as a community, and by all account we have not moved at all! IMDB Entry for this episode is 1973
http://www.imdb.com/title/tt0665483/?ref_=ttep_ep4
Yet 42 years later on the same ITV we get this below!
Here is Keith Lemon next week mocking Thomas Beattie.
See further down this page for
Celebrity Juice
21/03
ITV2
Hmmm...
Full Review
viewtopic.php?t=4699#.VS5-nJPMiUE
---
Gogglebox
13/03
Channel 4
Television Comedy Review Series by members of the public.
Comment
Jeremy Clarkson made the news and they all commented on him.
One of the couples said this:
"They should replace him with a Transgender, Black Person who can't drive. who votes Green!"
They laugh.
The only comment I would say here is that, some like her (Below) might say that is how Laverne Cox was cast. Black minorities who have other minority issues are 'box checkers' in television terms, and it always concerns me when people speak in this way. The suggestion that the more you can pile on the minority issues the more value you become, can result in the opposite effect, as then people will say, "Well you only got the job because..." "Not because you are talented." I know this is a passing comment on how you could really P*ss off a Top Gear male audience. But why should this be funny? It is perfectly reasonable for a Black Transgender person who is concerned about the Environment to be a brilliant driver or journalist. It is the assumption they are not or it would be somehow ridiculous, if this were to happen. that I have a problem with in actual fact. In a strange sort of way this is actually damaging rather than supportive. It 'Others' Transgender people as a ludicrous option for the BBC. (See:
http://www.ncbi.nlm.nih.gov/pubmed/15090288
)
So what is at first glance a passing comedy statement speaks volumes about how the world views transgender people and their value to society.
If you think this is incorrect I will simply reword her comment to this:
"They should replace him with an Ex Formula 1 Racing driver, who is a petrol head."
Not funny and almost logical...
Being Trans is what is funny...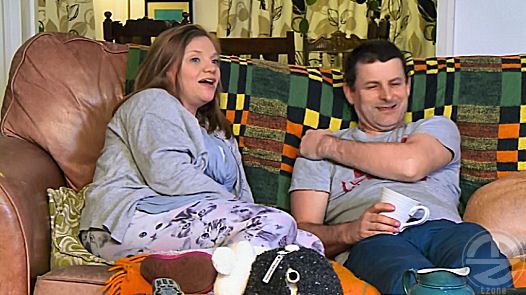 Channel 4
---
Secrets of Sex - Normal
14/03_
Community
Documentary presenting the real life stories of male, female and transgender migrants working in the sex industry in Albania, Italy and the UK.
Comment
Repeat, Repeat, Repeat Sex, Sex, Sex - Transgender are on more than Jerry Springer!
---
Five Children and It
15/03
Film4
(2004) Family fantasy. Five siblings are sent to the seaside for safety during World War I, where they have many adventures after meeting a magical creature (voiced by Eddie Izzard). [S]
Comment
Eddie Izzard still identifies as trans* so it gets on the list
And a sweet little story too worth watching - ideal for kids! Eddie does have a warm fun voice for children's films such as 'Cars' and even a dueling Mouse in the 'Lion the Witch and the Wardrobe's Prince Caspian'.
---
New - I Survived a Zombie Apocalypse
15/03
BBC THREE
5/8. Reality gameshow. Survivors of a zombie outbreak shelter in a shopping centre. Some of the group head out for supplies. Contains strong language and disturbing scenes. Also in HD. [S]
Comment
She ain't got eaten yet so... I will keep you posted
Zombie Av
Silly Daft available on BBC iPlayer - but features a transgender woman called Leah click here for more
viewtopic.php?f=16&t=4665
---
Star Trek - The Next Generation
17/03
CBS Action
The new U.S.S. Enterprise and its crew boldly go where no man has gone before. A shape-shifter keeps her ability a secret while stealing Wesley's heart on a trip aboard the Enterprise.
Comment
It is interesting (and I have said this before) the similarities and reactions of Wesley when he finds out the girl he has fallen in love with is not quite who she says she is. Yet all is well in the end...
Still it is a transgender story all but in name!
---
Jerry Springer
20/03
Pick
Baby, I Blacked Out: Outrageous talk show hosted by the legendary Jerry Springer.
Comment
OK so man cheats on woman man discovers the girl is transsexual [SIC]. Man then takes his infidelity out on said transgender woman. Jerry describes trans*woman as a man, man describes transwoman as a man. Laughter as this brute of a man, needs two security guards to protect the transgender woman and he hits her so hard she is knocked to the ground. He then continually makes threats and abuses her throughout. Taking no responsibility for his own actions whatsoever, his anger is misplaced, had she not be transgender would she have beaten her then? No! Well not on camera that's for sure, yet she is small in stature compared to him, she gave no retaliation back whatsoever. And he as you can see, no longer sees her as anything other than male.
This really is the pits and demonstrates just how easy it is to be killed as a transgender person. Had the security not been there, what would have happened? Would the audience continue to scream 'Jerry!' 'Jerry!' as he beat her to death on the carpet? One can only wonder. This is not entertainment when it is at this level, it is not handbags a dawn slapping. this is a heavy man trying to hit a slightly built woman as hard as he can!
Terrifying!
Pick
"I made a mistake!"
Pick
"I thought you were feeling me [enjoying my company]".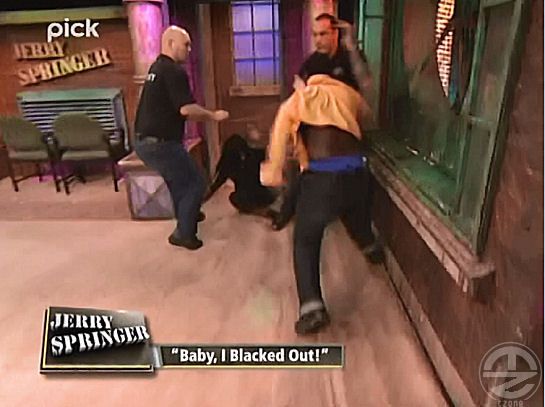 Pick
"You are gonna feel me alright!!! (WHACK!!!)
Second Security guard runs over to save her. (not in the first shot you notice) As this was serious aggression and not the 'play acting' we sometimes see.
---
Jerry Springer
20/03
Pick
I Don't Care You're Pregnant: Outrageous talk show hosted by the legendary Jerry Springer.
Comment
The title is misleading as it was another story in the show, however this was one of the rare wins for Jerry!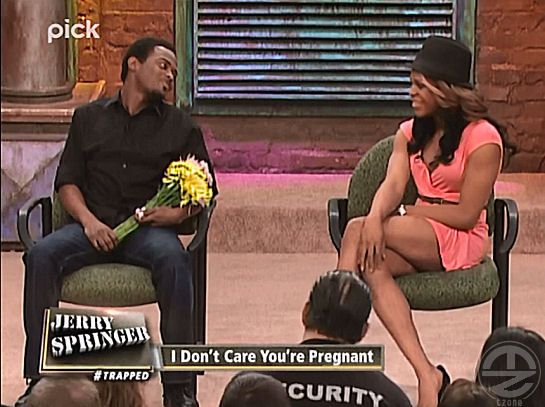 Pick
Laverne Cox Look-alike and her partner, she says she is transgender, he says well I already knew that, the audience gasps as thats unusual!
Pick
"I already knew that and I am cool with that!"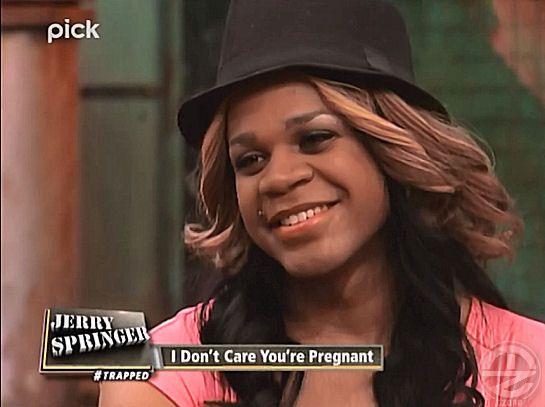 Pick
"Will you please take these flowers?"
"Yes!" - Just look how happy she is AT LAST JERRY! Look how radiantly happy she is - WONDERFUL!!!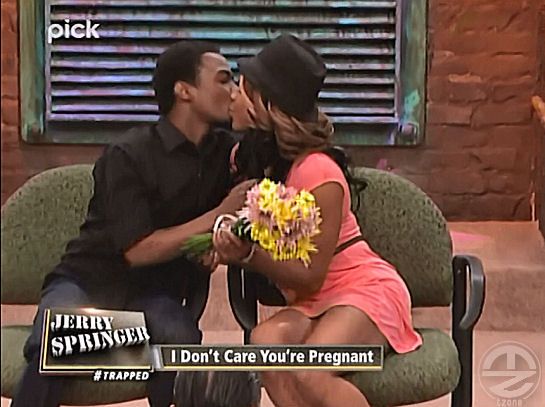 pick
They then embrace. And the audience for once all go Awwwwww as in thats so cute!!! Rather than ARGGGGHHHH EWWWW!!! JERRY! JERRY! JERRY! JERRY! But she was young and pretty so that helps ... I guess?
RESULT!
But sadly it won't last!
---
The Papers -
20/03/2015
Duration 15 mins
BBC News
Paris Lees helps review the papers on the Late BBC News 24.
Comment
Bit late, short and tucked away but worth doing.
Watch Now
http://www.bbc.co.uk/iplayer/episode/b0 ... s-20032015
---
Uncle
21/03
BBC THREE
6/6. Sitcom. Andy receives a surprise cheque in the mail. Now all he needs to do is cash it and pay his landlord in the next three hours. Contains very strong language. Also in HD. [AD,S]
Comment
Club owner and general occasional (previously reported in this site) sinister figure is non-trans playing transgender woman.
Don't have a problem with the concept but I am sure the character could have been cast with a transperson!
#Lazy!
bbc
---
New - I Survived a Zombie Apocalypse
03/22
BBC THREE
6/8. Reality gameshow. The group come face to face with the abomination - a ferocious and deadly freak zombie. Contains some strong language and disturbing scenes. Also in HD. [S]
Comment
Silly but features a transgender contestant - but also featured a disabled person, an athlete with one leg, and an older woman. Ethnic Minorities and a gay man, so a bit of a 'Box-Checker' this one.
The BBC may have reached their diversity quota in one go for BBC Three
.
All undone and forgotten about with one Jeremy Clarkson Punch.
---
She's the Man
22/03
ITV2
Modern adaptation of William Shakespeare's gender-swap comedy, Twelfth Night. When her school decides to drop the girl's team, football mad Viola disguises herself as her twin brother Sebastian and enrols at his all-male prep school in a bid to prove that she can keep up with the boys. However when she finds herself falling for her handsome roommate, Duke, she runs the risk of exposing her secret and ruining the team's chance to win an upcoming grudge match against her former school.
Comment
Interesting as it does go some way to examining Transgender Male issues. Although she is cross-dressing. Many of the challenges she faces are those faced by trans*men, and for that alone worth watching. Less cliched (ironically considering its a rip of Shakespeare!) than the usual transgender woman in a similar role.
OK but nothing special.
---
The Rocky Horror Picture Show
22/03
Film4
(1975) Raunchy rock musical. A transvestite scientist (Tim Curry) aims to create a perfect man. Can two stranded teens (Barry Bostwick and Susan Sarandon) avoid his clutches? Sexual scenes. [S]
Comment
Richard O'Brien's Pension plan does another tour. 'Of its time', and not a bad tune 'Time Warp', it historically allowed people to cross-dress' to attend the screenings (70s/80s), so has some historical social value.
Today all of that is gone and replaced with cisgender people doing stage performances of it and laughing about wearing stockings and suspenders on chat shows after taking part, adding to the absurdity of what being a cross-dresser is. It has lost all of that gloss and become a very old fashioned and dated film that people may watch once.
We need something new and new, musical, that does not make transgender people look like deviants.
This serves no value to the Channel 4 diversity and their minority public broadcasting quota.
---
Celebrity Juice
21/03
ITV2
Keith Lemon returns to present the thirteenth series of the outrageous comedy panel show. TV presenter Holly Willoughby returns as team captain following baby number three, along with fellow presenter and Radio 1 DJ Fearne Cotton. Former stand-in captain - cheeky TV chef Gino D'Acampo - returns in his new role as regular panellist as Keith welcomes even more star guests, tonight including comedian Jimmy Carr and TV presenters Caroline Flack and Joey Essex.
Comment
One of the First jokes of the first episode was a transphobic one.
Keith Lemon mocks Fearne Cotton for being Pregnant and then says,
"That is the second time you have beat science!"
Jimmy Carr who is a regular Channel 4 comic that abuses transgender women as a rule for laughs (Ladyboys, shemales, Thai gags etc...) Laughs out louds, Audiance laughs.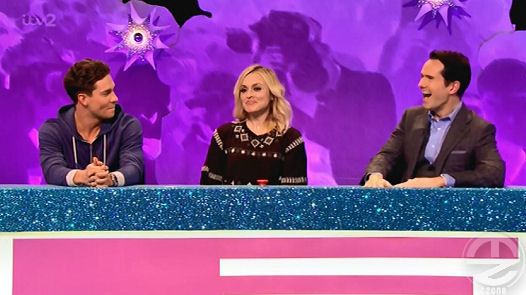 itv
"We have done her first photoshoot! Look! They then flash up a photo of Transgender man and activist Thomas Beatie."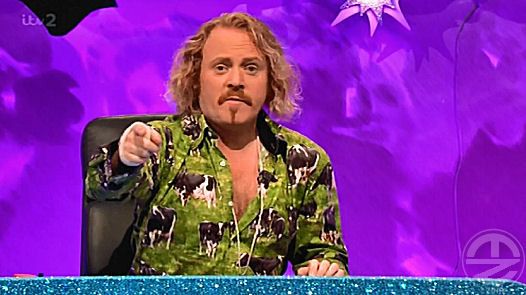 itv
Transphobia is excited as they all laugh at Thomas for basically existing.
This is absolutely outrageous. Firstly unlike Fearne who is paid to take the joke about being transsexual (she isn't btw) - this is a running gag and TBP
http://library.transgenderzone.com/?page_id=3000
and often reported here, search for Celebrity Juice, it is truly horrific.
FULL REVIEW
viewtopic.php?f=16&t=4699
---
Burn After Reading
21/03
ITV1
Comedy drama. A former CIA agent decides to write his memoirs, but his wife copies his work onto a disc which is accidentally left at a health club. Two unscrupulous employees of the club discover the information and decide to exploit it for their own ends, but little do they realise the extent of the complex and highly dangerous situation they are entering.
Comment
Well this is the only comment as it is a bit hidden in the film...
[TRANSCRIPT]
Woman - "Yeah, I don't wann look like Boris Karlof!"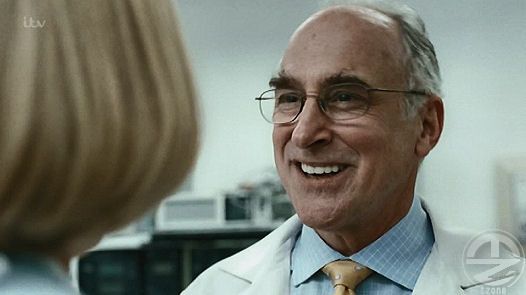 Surgeron - "HA! HA! So you don't wanna sex change then!"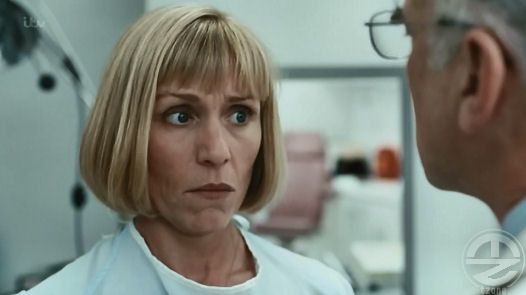 Woman - "HA! HA! Oh no! I am ALL WOMAN!!!"
[ENDS]
Now if I was being picky - me? Being Picky? NEVAH! Well this is a medical setting (SCENE) and the Doctor uses the term 'SEX-CHANGE!' which is bad form. Also they objectify and 'other' transgender women by equating Boris Karlof (the original Frankenstein's Monster) as the outcome of having GRS. And the final nail in the coffin (Boris also Played Dracula I think - Pun get it nails in coffins? NM!) is that she says, "No I am all woman!!!" Now this suggests transgender women are something other than all women?
So hiddin in a fleeting moment is a very damaging piece of dialogue that simply adds to the whole. People may think, "well, this is nothing..." But the hate and abuse transgender people suffer is in this almost subliminal commentary in plain view. It is the sum of the parts all these mentions asides, comments, jokes, gags, one-liners. TheY erode the transgender being into nothing short of scum to be mocked and ridiculed as freaks (see Jerry Springer) above. And many transgender people are complicit In It. I feel many take part in this not always by choice but more by "Stockholm Syndrome". As to be on television as trans you must comply to their view of what you are.
You see, there is no hiding place... Everyone objectifies transgender people as ugly or the bogeyman.
---
Lorraine
25/03
ITV1
Lorraine Kelly presents a topical mix of entertainment, discussion and showbiz glamour, as well as the latest fashion, food and celebrity gossip. Hollyoaks star Alexandra Fletcher chats about her latest plot-line.
Comment
Stephanie Hirst lands a presenting Job with Lorraine and it was great full review here!
viewtopic.php?t=4703
---
She's the Man
28/03
ITV2
Modern adaptation of William Shakespeare's gender-swap comedy, Twelfth Night. When her school decides to drop the girl's team, football mad Viola disguises herself as her twin brother Sebastian and enrols at his all-male prep school in a bid to prove that she can keep up with the boys. However when she finds herself falling for her handsome roommate, Duke, she runs the risk of exposing her secret and ruining the team's chance to win an upcoming grudge match against her former school.
Comment
Repeat from earlier in the month. Interesting view of how a woman pretending to be a male has. Although this is not the same as being a man pretending to be a woman as many Trans*men have to endure. It does give and offer some insights as to some of the problems faced. The only critique here is she has to be 'HOT' so the boy falls for her. But what if she was taller, broader, and more butch to begin with. It would work better but the 'pay off/Money Shot at the end would not work. So this is truly a cross-dressing pretending to be a man comedy and nothing more. So have to bite my lip.
---
Don't have nightmares - Especially Zombie ones lol
- see you next time with more of the same I guess?