So here we go again!
What is broadcast in the UK reflects on you as a transperson. Every month it is a case of spot the positives. Almost all television featuring anything remotely associated with transpeople is negative, comical or are negative stereotypes. So if we do not list them they go unchallenged as evidence is needed to effect change! Or even give awards.
It is a thankless and time-consuming task - as you can imagine especially when a trans character is introduced ... Nevertheless rest assured someone is watching even if you can't.
High Points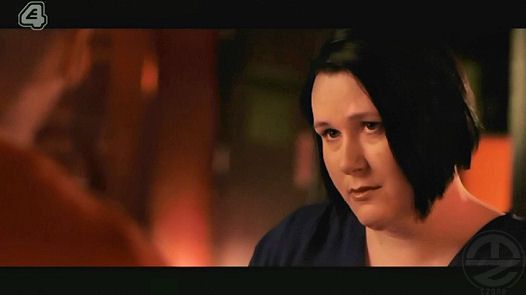 e4
Banana - Bethany Black
Low points
Pick
Jerry Springer
=========================================
Benidorm
03/02_
ITV4+1
Solana Group CEO Crystal Hennessy-Vass sweeps into the resort and takes Joyce out to lunch to announce that the staff budget is being cut by half - and Joyce is being replaced.
Comment
More of the same - with the simple angle of, "doesn't Lesley the transvestite look silly or ugly or an embarrassment etc..."
---
Ladyboys
'Ladyboy Surgery'
06/02
Pick
Following on from the acclaimed documentary exploring the world of Thailand's ladyboys, this thought-provoking series offers further insight into a sector of Thai society that makes up one per cent of the country's population. Find out exactly what it takes to make a man into a woman. Cameras follow two patients as they embark on sex change [SIC] procedures.
Comment
For once the term Ladyboys is used in context and factually correct. A very good programme and worth watching although as regulars to these logs will attest to - this series is repeated A LOT! Also follows Westerners visiting Thailand for their gender clinics and surgery.
---
Jerry Springer
04/02
Pick
"Transsexual Takedown"
Transpeople invited on and basically beaten up for a jeering audience!
And we wonder why so many transpeople lose their lives in the USA, maybe it is because of the objectification of them on shows like this? Jerry does not make humans behave like this, but adding a magnifying glass and a jeering audience baying for blood does not help calm the situation! Jerry is no different to the Milgram Experiment and he and his producers is telling them to "pull the lever and flip the switch" - one had a bloody nose last week.
See:
http://en.wikipedia.org/wiki/Milgram_experiment
---
The Matrix
06/02
ITV2
Fast-paced sci-fi thriller in which a lone computer hacker attempts to discover the meaning of 'The Matrix'. When he makes contact with a group claiming to know the answer, he falls into a nightmare of alternate realities and malevolent mind-control. The film draws on Japanese manga comic books and cyberpunk literature, and makes use of a radical special-effects technique that seems to alter time perception.
Keanu Reeves/Laurence Fishburne/Carrie-Anne Moss/Hugo Weaving/Joe Pantoliano/Gloria Foster/Matt Doran/Ada Nicodemou/Julian Arahanga/Anthony Parker;Lana Wachowski/Larry Wachowski/Andy Wachowski;;
Comment
Nice they have altered the IMDB to Lana originally known as the 'Wachowski Brothers' now simply known as 'The Wachowskis' as one transitioned to a more female presentation a few years back. Well the 'Wachowski brothers and sister' doesn't have the same ring to it does it? Maybe the Wachowski Siblings?
Anyways, cool film worth watching, and now by all accounts a classic! Made by the hand of a transgender person - so a clear cut classic then! If only the original viewers knew it!
So we see the hand of a transgender person in 'The Matrix' and probably why it makes sense to some
. Especially when you consider the plot-line that this is not a reality, your body is not really true, and so on.
Sound familiar?
---
Monty Python's Meaning of Life
07/02
ITV4
Madcap comedy starring Graham Chapman and John Cleese, 1983. The Python team revert to their famous sketch format in this irreverent look at all the stages of human life [AD,S]
Comment
"Silly, now we are just being silly!" Such infamous quotes as, "F*CK OFF I'M FULL!" amongst other were spawned for a generation of teenage geeks who watched this band regularly cross-dress for laughs.
Of its time, and not their best work. 'Life of Brian' was - but then again everybody knows that!
If you don't agree you are a "Very Naughty Boy!"
---
Secrets of Sex - Aravani Girl
07/02
Community
Documentary. Two teenagers dream of becoming ladyboys. Loved as performers but hated as homosexuals, their stories echo the conflicts of India's gender culture.
Comment
Interesting but repeated all the time - note to Community Channel - get some new content!
Followed by
Secrets of Sex - Normal
07/02
Community
Documentary presenting the real life stories of male, female and transgender migrants working in the sex industry in Albania, Italy and the UK.
Comment
More repeats, like 'Groundhog Day'. And when these programmes suggest all trans are fit for is sex work(?), it is questionable. What about following around a transgender Helicopter pilot or teacher or something?
Lazy 'trans-currency'.
And now the initial impact has worn off and left just an ugly stain.
---
Top Gear
09/02
BBC TWO
Motoring magazine. Jeremy Clarkson, Richard Hammond and James May attempt to improve and enhance the ambulance. F1 driver Daniel Ricciardo is the star in the Reasonably Priced Car. Also in HD. [S] (Edited with DVREdit)
CommentFULL REVIEW
viewtopic.php?f=16&t=4672
Hammond lifts the blanket and screams, the (female) manikin has a penis.
Hammond - "There's a thing! It's got a!!!"
CLARKSON - "LADYBOY!!!!"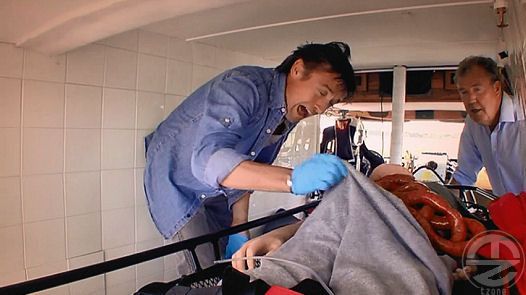 bbc
This is topical in light of recent Clarkson faux pas!
---
The Gayest Show Ever
09/02
Community
Magazine show. Controversial director Bruce LaBruce tells us how his hardcore pornography takes aim at consumerism and we continue our look at the female-to-male transsexual community.
Comment
More repeats - I dunno who pays the bills for this crowd but they could buy a DSLR and try and find some new content. This is actually really bad! Feels like a 6th Formers Vanity Project. And not all FTM males are Gay - so makes no sense whatsoever! And it is not funny either.
---
Benidorm
21/02
ITV4+1
Joyce tries to relax by the pool, but her morning is ruined when Janey reinstates Jason. Clive is swindled out of 5,000 euros. Tiger cannot take his eyes off Annie Redmond.
Comment
All over for another year (apart fro the repeats). Tim Healey walking around with his legs bowed. This is a caricature-based trans person, in that the more stupid he looks and behaves the better, he just as well turn to the trans community and tell it to, "f*ck off you all look ridiculous - this is how we think you look!". As this is how it feels. Never liked the character. A stereotype that is there for no other reason than to mock transgender people by proxy. Other wise the transperson could be Joan Collins and own the Hotel. The few sensitive moments with the character's son are lost in all the humiliation sadly. Better luck next year!
Note to Writer's Parent and Tim Healy - "MUST DO BETTER!"
---
CSI - Crime Scene Investigation
11/02
5 USA
The Case of the Cross-Dressing Carp: Crime drama series. The CSI team works to solve the death of a transgender teenager (4/24). [AD,S]
Comment
Repeated often...
Not what you first think...
---
Jerry Springer
12_02
Pick
Hook Ups and Hotheads: Outrageous talk show hosted by the legendary Jerry Springer.
Comment
In this episode a transwoman comes out to a male who has fallen for her.
She like many are asked, "why do you do it here on TV?", and many state, "that they are and always have identified as women, they transition and some have surgery."
They are in a bar and a man chats them up, and they behave as any other woman does (who is not lesbian of course) in that they are taken in by the flattery and excitement. Then they realise that this is more than a one-night stand after all, why would any woman tell a stranger their life story just to have a quickie with someone they may never see again. In this instance they met as she worked in a restaurant. Now, she is basically saying,
"Jerry I do not know what to do, we have fallen for each other and I and terrified to tell him!"
So that's justification enough as other trans* guests state as soon as they tell partners they invariably turn violent (OR WORSE) and they say, "if we were not here with security I would probably be attacked!"
However, there was one positive portrayal in an episode I will show later in this log that the trans*women, even though they baited him, still wanted to be with them (yes them) although I wonder if that was just a promotion for the club they worked at.
Nevertheless in this instance I will show you a screenshot of the moment this man was told about her trans* past as some now identify as women and not transgender women. And later will show a few other episodes from this month alone that resulted in uncomfortable viewing, and there are already more clips set-up for next month! as I am writing this in March.
Jerry, also states that transwomen are 'men', and the show seems to think as such they are more or less fair game to be attacked by 'other men' as if any man attacked what he must see as a 'real woman' he steps in - well it just doesn't happen, the women attack the women. But when a trans woman defends herself say from a jealous girlfriend they are prevented from retaliation because to quote Jerry Springer, "Hey you can't be hitting a woman, you're a man..."
This justification of public violence toward trans*women, and it being almost sanctioned by the state - is in part why this continues. It is not Jerry's fault - that would be ludicrous. But he doesn't help when he sees trans*women as men! Some of who are more feminine and fragile than the 'real women' he worries about!
You know Jerry attacks on men by women is on the increase and now reported more occurances as a result, many men live in fear of domestic violence and hush it up so as to not look weak around their male friends. To be seen as encouraging this with sound effects like Boxing Ring Bells and jeering audience members only adds to the frenetic activity. Adrenalin is high and they do nothing to calm this. And how many then 'get even' once they leave the safety of the stage all fired up?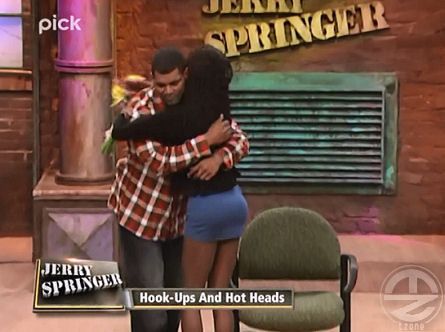 Pick
Embraces her and sings her a song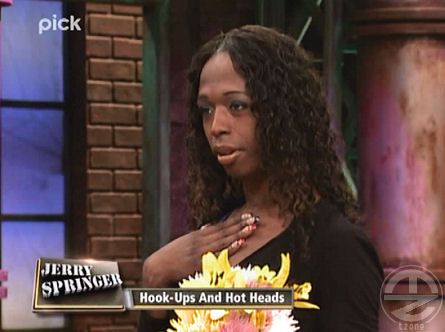 Pick
He boasts he has a relationship atm as she feeds and houses him (sounds like an animal - apt!)
Pick
She tells he the news.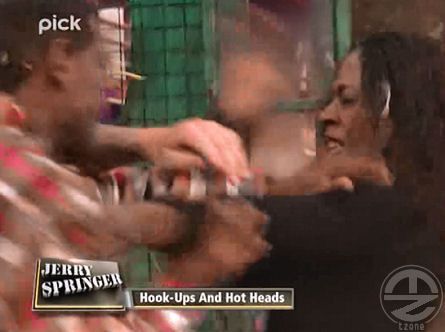 Pick
He attacks her!
Pick
The crowd cheers for blood!
In a controlled environment (I use the term loosely) This results in the man describing the trans*woman as 'IT' and 'THING' once he knew, and attempting to beat her on camera, I think these women are justified in their actions as the evidence is there - right there.
I just wish it was better and more safely managed and sent out a better message than his hackneyed 'Final Thought'.
---
Banana
12/02
E4
A transgender woman plays a Transgender Woman - A MUST READ REVIEW!!!
FULL REVIEW
viewtopic.php?t=4646
---
Jerry Springer
13/02
Pick
Same problem as above.
See images
All loved up, then wants to attack her.
This demonstrates the terror for any trans*woman (in particular) in social situations and dating, having to despite maybe even having a female birth certificate as in the UK, all these males once they know are ready to attack!
The title at the bottom lower-third says it all "Gay Affairs!"
tThe male here then says, "you are not a woman," and attacks her. She fortunately is prepared to give as good as she gets, but he started by hitting her.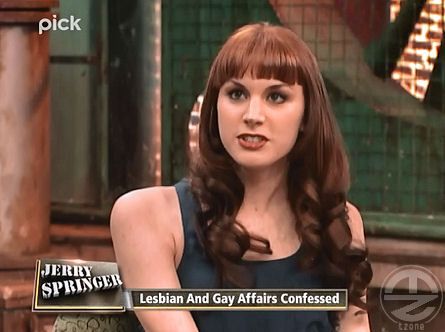 Pick
A young and very attractive woman.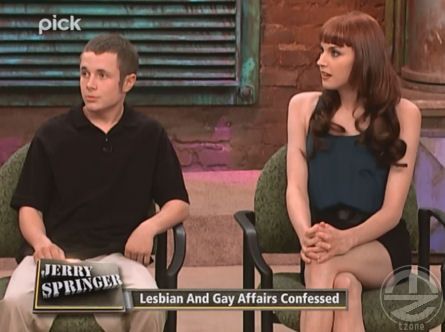 Pick
He is very happy with everything - then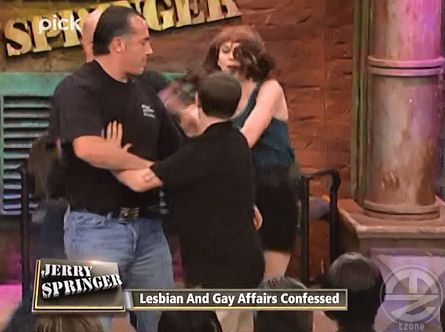 Pick
WHACK!
---
Ladyboys
13/02
Pick
Ladyboys Doing It For Themselves: Following on from the acclaimed documentary exploring the world of Thailand's ladyboys, this thought-provoking series offers further insight into a sector of Thai society that makes up one per cent of the country's population. This final episode soars into the skies with PC Air, the world's first airline to hire ladyboy stewardesses. We also catch up with Nok, who has a life-changing decision to make.
Comment
Context-specific and correct - nothing wrong with it.
---
Botched
15/02
ITVBe
Silicone Valley: Reality series. A transgender pop star gets her pixie ears fixed for a music video shoot and a model with eye bags goes under the knife.
Comment
Transgender woman who has lost count of the amount of surgeries she has had and wants more.
This is fine and no doubt entertaining to non-trans viewers, but this is what is considered to be 'transgender' by the vast majority of people, and in part why transgender people suffer such prejudice. As transgender people are not stereotypes - so why do they all keep hiring them for shows?
She is a performer, she says she is popular in the UK? But US-Based and 'sings' (her big hit in the gay community was ""'The People's Tr*nny""" well she says so so it must be true, nuff said!) but, trans* aside she is a cartoon character. We rarely get transgender people on television these days, and when they do turn up, they are either being beaten on 'Jerry Springer', or look and behave like this, or are having surgeries on medical shows, or having nervous breakdowns on call-in programs, or being prompted to talk about their past life in the male role (trans*women get it most).
All of this results in the transgender community being seen as unstable, odd, outsiders, or kinky, who have no place other than in sex work or on display in some 'freak-show' capacity. I find it all kinda depressing. I just wish that television could include transgender people in mainstream programming rather than make programmes ABOUT transgender people. For example, why cannot one of the Doctors on 'Embarrassing Bodies' be Dr Richard Curtis (A UK Trans* Identified Man who specialises in the care of transgender people) for example, why are trans* always the patients? After all Marcie Bowers MD is yet another trans*woman, and a top surgeon.
Here are 2 photos - you decide...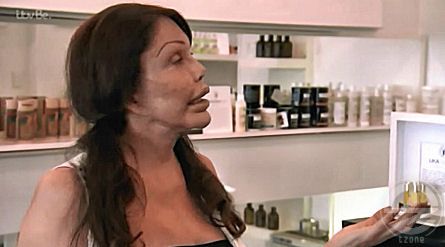 Prepping for surgery (before)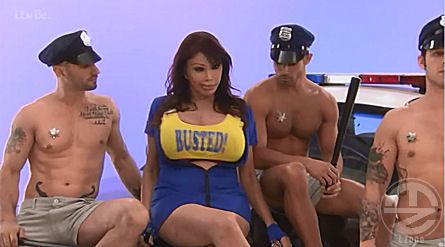 She sings a song (difficult to know what) it included lots of oohs and ahhs and breast shaking.
Then again, if she was a chartered accountant she would not need the publicity and pay for it herself - so a Catch 22!
Next!
---
Ladyboy Training 1
18/02
Television X
18-year-old sex addict Holly Harlow is a gorgeous ladyboy and Keisha Kane makes sure she shows her the ropes as she enters a house where sex is always on the menu.
Comment
This is in the public listings and should be a URL web address to their site where the schedule could be hosted. As the saying goes the cast can self describe how they want but if this was said and overheard in the street by a transgender person who does NOT identify by these terms it could lead to arrest. If the performer here is not a Thia Native woman then it is disingenuous.
---
I survived the Zombie Apocalypse
22/02/15
BBC Three
Transgender contestant takes part.
But sadly the 'Male was on Sale for the BBC and just seemed like coercion. After all who wants a trans*person without their male/female back story?
FULL REVIEW
viewtopic.php?f=16&t=4665&p=42513#p42513
---
Sex - A Horizon Guide
18/02
BBC FOUR
Professor Alice Roberts looks through 45 years of Horizon archive to see how science came to understand sex. Contains some sexual content and upsetting scenes. [S]
Comment
Fantastic and closely examined the progress of the Brain autopsy research that demonstrated brains can be male or female despite the outward appearance or gender dictated by the state. I remember this when it was first reported in the 90s.
In other words yes transgender people can and do have female (and male) brains.
So it is not 'nurture' or being 'kinky', transwomen are women - get over it! Science has really helped here and must be applauded. They also took a look at a trans*man transitioning and the effects of testoserone on his brain. Quite Brilliant and right up my street!
5 star no-brainer! I like FACTS! Defo one for the archive
---
Jerry Springer
19/02
Pick
Outrageous talk show hosted by the legendary Jerry Springer.
Comment
This was a bit of a mixed bag compared to his usual say you are trans and get assaulted format. But even this has issues.
Pick
Two trans woman (possibly Thai) march on wiggling and pouting and then walk up onto the gantry and release a banner that says "WE ARE MEN!" to a supposed lover - he met them at a club.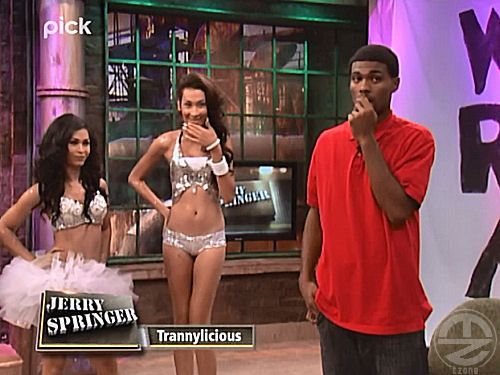 Pick
Now Chances are, they were advertised as trans performers or pole dancers as part of the sell. Trans-currency is big business and I can't imagine they would be brought in for any other reason in this way and displayed like this. I could be wrong but this felt like a publicity stunt rather than a shock news effort.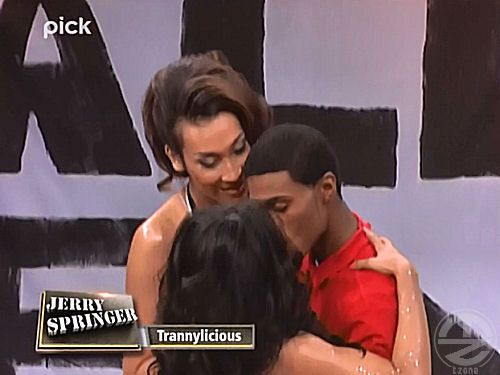 Pick
He then pretends to be surprised and says, "Well Jerry I am still gonna stick with them" to the jeers of the audience. Probably the manager of the bar.
Now what is wrong with this? It is a positive for once? Well there even now still a few issues.
*Transgender people - as pole dancers/sex workers?
*Transgender people agreeing to the - 'WE ARE MEN' to be displayed to America reinforcing the impossible struggle to be taken seriously as the women many trans*people see themselves to be, and plays into the transphobia so many suffer in the US.
*Transgender Elite - You have to look and have the primary constitution of a fragile petite woman, Thai girls are lucky in this way, but it then creates a distance (or benchmarking) to the true face of transgender problems. Passable women who go shopping do not get as much abuse as those that look very masculine. This again plays into the men being 'entrapped' by these 'imposters'. I suspect if you asked those women alone if they identified as men they would unlikely agree, unless they are drag queens. So why agree to it in this way unless it is coercion? I mean what are the chances they brought that banner with them? Or the production team supplied it?!
You see there is more to these things than meets the eye, and the trans struggle takes one step backwards every time this happens. After all, If Jerry says, "you are a man," and the trans* participants themselves say they are men, and not women (remember this also recently happened with Leah in I survived the Zombie Apocalypse and that was on the BBC she said and I quote, "I am a man!" To sell her trans* currency, I would be very surprised if she actually thinks of herself as a man so why did she say it? It is a way to be noticed among the melee of wannabees) to get some advantage then I am sad to say it rarely works. You need something else (a talent or a skill beyond beauty as that fade and aging takes care of your here today and gone tomorrow youth cultural significance) otherwise you are as quickly as you arrived are forgotten.
---
Coronation Street Omnibus
21/02
ITV2
Callum puts David to the test. Can Owen justify his actions? Todd has plans for Jason.
Comment
Interesting moment of dialogue here and a rare comical win comment that touches on transgender issues without being offensive. Here is the dialogue and I think you will smile also
(A delivery is made)
Delivery Man - "Hello Mr Alahan?"
itv1
Woman - "Do I look like I could be Mr Alahan?!"
Delivery Man - "I done a course - we are told not to judge."
Woman - "Eh?"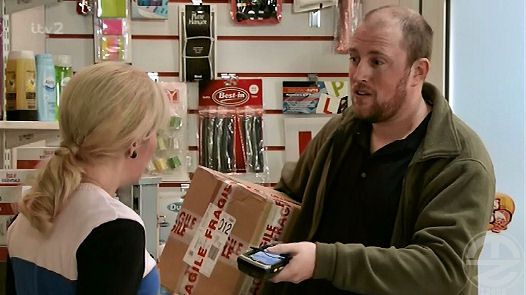 itv1
Delivery Man - "I just need a signature."
FUNNY! See it is possible! And in this case no transgender person needed to be present either for a rebuttal.
---
Jerry Springer
23/02
Pick
Past Guest Throwdown, Part 1: Outrageous talk show hosted by the legendary Jerry Springer.
Comment
In this episode a past guest wants to get even.
Here we see a trans*woman from a past show, being misgendered, called a nasty 'a*s' tr*nny, that, "she was a dude" and so on, and he attacks her, whereby she is forced to the ground at least twice, infact it got so bad that the rare to see 3 security men had to intervene.
Pick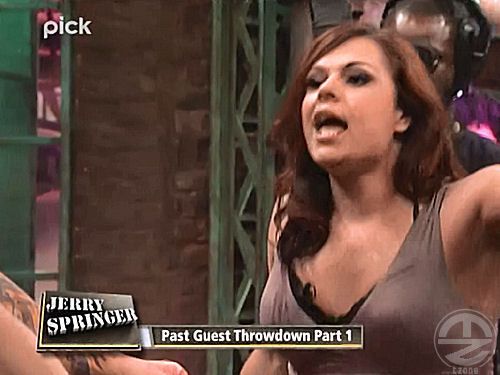 Pick
Defending herself -
"I ain't afraid of you, I ain't afraid of no man!"
Male -
"That's because you are one!"
Would Jerry tolerate her being racist to him at that level? Not a chance!
Transphobia and manipulating trans-currency constantly for profit - Jerry is the ringmaster of cashing in on it.
In part 2 (yup there is a part two of this double-bill).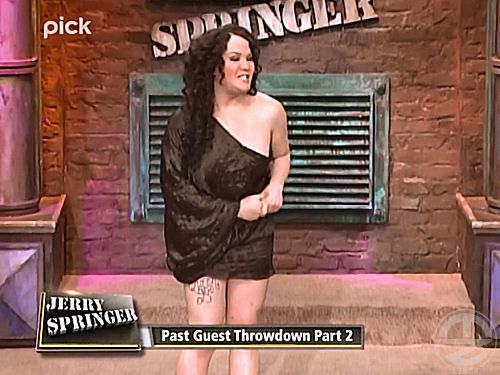 Pick
A random transgender woman (or maybe not?) wanders out and states, "Jerry, Tr*nnies are the best part of your show!" Then Blows the audience a kiss. To the boos, mock vomiting and jeers of the audience.
Later
The audience mock the transgender woman in what is the 21st Century Village Stocks, (from part one who was attacked) and even describe the less attractive cisgender women as transsexuals to which they take great and considerable offence - why would that be I wonder?
All in all a nightmare!
---
Ladyboy Training 2
25/02
Television X
Having passed her audition, tasty 18+ girl Holly gets it on with Keisha Kane and the handsome Paolo, who swings more ways than a Robbie Williams party album!
Comment
Not Thai national in sight... So misused term (trans or not) and to many, transphobic. Plus get it off the public listings this should not be found there. Just put a web link.
---
Don't have nightmares - Especially Zombie ones lol
- see you next time with more of the same I guess?