So here we go again!
What is broadcast in the UK reflects on you as a transperson. Every month it is a case of spot the positives. Almost all television featuring anything remotely associated with transpeople is negative, comical or are negative stereotypes. So if we do not list them they go unchallenged as evidence is needed to effect change! Or even give awards.
It is a thankless and time-consuming task - as you can imagine especially when a trans character is introduced ... Nevertheless rest assured someone is watching even if you can't.
High Points
Intersexed Dalek!
Low points
Jerry Springer
=========================================
---
The Boy in the Dress
01/01
BBC ONE
One-off family comedy. Dennis is an ordinary boy but he feels different. He creates a whole new persona and puts it to the ultimate test - can a boy wear a dress? Also in HD. [AD,S]
Comment
Basically another repeat of the Christmas airing.
I have copied and pasted the last review from December rather the repeat and rewrite it all again.
xxx
---
The Big Fat Anniversary Quiz
02/01
Channel 4
One of the guests question 'asks' what gender was a Dalek from Doctor. It responded that they were intersex.
Comment
I knew it!
Channel 4
---
Mrs Brown's Boys Christmas Special
010115
BBC ONE
2/2. Mammy's Gamble: Determined to help son Dermot set up a new business, Agnes must face old rival Hillary Nicholson in the poker final. Contains some strong language. Also in HD. [AD,S]
Comment
Repeat of the transphobic storyline with behaviour likley to emulated by the ignorant. From sex-changes to checking the genitals of trans*character(supposedly) to the hilarity of the audience. BBC made a big mistake here. In 20 years will look back in despair as they do now with the phobic nonsense of the 70s. Being abusive and then saying "But I would stlill love him!" is like kicking someone in the face and saying, "sorry I love you really!" - I think they call that domestic violence? When you get onto trans*gags you are struggling! Try it with Islam - they would be terrified! That is the thing the writers use trans*gags because it is a place they know they will get away with it - doesn't make it right though BBC!
---
Benidorm
02/01
ITV1
Does Madge have a stalker? Tiger is robbed by his mate. Donald and Jacqueline are celebrating their 25th wedding anniversary with a week's wife swap. The staff are up in arms.
Comment
More Transvestite Les action. Not as transphobic language-wise this season. Somebody has been listening maybe?
---
Eddie Izzard - Force Majeure - Live
03/01
Dave
Stand-up from surreal comedian Eddie Izzard, recorded on his 2013/14 tour.
Comment
I have seen this when it was first released. I really do like Eddie Izzard and his take on the world. But this was not him at his best - shame really! Great John Steed (Avengers) Entrance though!
---
Ladyboy Training 5
05/01
Television X
Stunning 18+ girlie boy Holly joins forces with the amazing Keisha Kane to take on lucky stud Damien in a session that has to be seen to be believed.
Comment
Public listings - and 'girlie boy' Do they identify as boys? I doubt it! If they are not Thai natives then Ladyboy is offensive too.
---
Secrets of Sex: Aravani Girl
03/01
COMMUNITY
Documentary. Two teenagers dream of becoming ladyboys. Loved as performers but hated as homosexuals, their stories echo the conflicts of India's gender culture.
Comment
Constantly repeated - trans*poverty this is a constant as previously reported I have see similar docus in the 80s and 90s - I have them here! So if nothing changes then one must ask the question is this Production company exploitation? Its easy to film this sort of thing. This in itself feels cheap. Maybe making a documentary about lets say the transgender police officers in the UK is more trouble than it is worth for a man and cam? But a good idea if you are a producer!
---
Jerry Springer
06/01
Pick
Secret Sex Confessions: Outrageous talk show hosted by the legendary Jerry Springer.
He Sweet-Talked Me: Outrageous talk show hosted by the legendary Jerry Springer.
Comment
Both featured beautiful Transgender women being assaulted for entertainment. But it is OK for this show as they are really men and now fair game despite looking and appearing more fragile than the cis women who are protected better!
Pick
I was born male...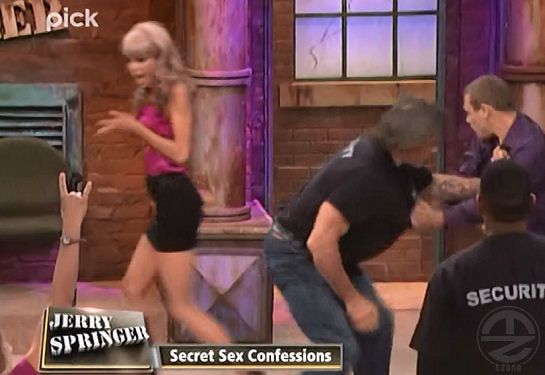 Pick
Assault to jeers and fist pumps of the audience (see pictured).
She likes this man, she is a woman, identifies as a woman, enjoys being girly and IS a woman, she explains that what she is to Jerry. But none of this is worth anything, and her ex here is clearly will use his fists if the situation is unworkable. Instead why doesn't he Jerry and the audience stand-up and shout foul and, "you are a thug Beating up a woman?!" No! Jerry and the audience despite her looking more female than just about anyone else there is still not satisfied. A sad indication of why 'The Transgender Day of Remembrance' (TDOR) grows longer every year! A man (or woman) comfortable with the person they are with, and with their own sexuality and gender, should take no notice of this. How refreshing would it have been had he said, "I don't, care you are beautiful and I love you!" Instead he stands-up and tries to beat her live on stage - FFS! What a world eh? An Ringmaster Jerry just laughs!
Disgrace!
Some may ask why they go on then? Well perhaps it is because of this reaction there are at least witnesses to this abuse should it become GBH! Something the men are clearly capable of as they are doing this live on television(!) so goodness knows what they would do in a room somewhere if told, she may well have become another hate-crime murder statistic! So every cloud eh? [GROAN]. BTW Trans men also do not come out well but that is for next month.
---
Ladyboys
'The Men Who Love Ladyboys'
08/01
Pick
Following on from the acclaimed documentary exploring the world of Thailand's ladyboys, this thought-provoking series offers further insight into a sector of Thai society that makes up one per cent of the country's population.
Comment
For once in context. Terminology correct for the trans*women who use this term in Thailand. Well made, worth watching. But it is getting a bit long-in-the-tooth by now! If you have not seen it I think you will find it OK viewing!
---
Benidorm
09/01
ITV1
An attorney tells the Garveys that a multimillion inheritance is Madge's for the taking. Kenneth takes advantage of a psychic customer and holds a seance to contact his mum.
Comment
The show returns for a new series and Les/Lesly the transvestite played by Tim Healy for laughs is still there. So far no transphobic hate terms but the night is young. Great idea had they hired say a transwoman to be the boss. Maybe one day!
---
Big Brother's Bit on the Side
12/01
Channel 5
A round-up of Celebrity Big Brother-related news and debate, with special guests, exclusive footage and behind-the-scenes treats.
Comment
Kellie Maloney appears on this after-show for a discussion about the daily happenings. Now looking well after her hideous medical ordeals following FFS she experienced recently.
Channel 5/ Endemol
---
The Chronicles of Narnia - Prince Caspian
13/01
BBC THREE
Children's fantasy sequel starring Liam Neeson and Eddie Izzard. The four siblings return to Narnia, only to discover that an evil king now reigns over the land. Also in HD. [2008] [AD,S]
Comment
Eddie Izzard does the voice of the brave Mouse!
---
Family Guy
18/01
BBC THREE
Stu and Stewie's Excellent Adventure: Animated comedy. Stewie finds out that his life in the future is miserable so he decides to go back in time and change events. Contains adult humour. [S]
Comment
Turns out Meg has transitioned to Ron a trans*man in the future - less transphobic. Probably because it is a step-up socially in a patriarchal society.
---
Family Guy
Stu and Stewies Excellent Adventure
BBC Three
10/03
This is a good example of how they focus all the comedy of sexist MTF transgender topics and rarely approach FTM jokes (which is good for FTMs of course).
One of the rare gags about an FTM and if anything is blase' about it, the other being peter being proud to have become a man in a hospital - another gag.
Deep Voice "Knock! Knock!"
Ron enters the room
Mother Lois - "Oh hi Ron!"
Young Stewie - "Who is that fellow he looks strangely familiar?"
Older Stewie (it's the future him remember) - "It's meg she had a sex change right after college."
Young Stewie - "Waow! She went to college?!"
Ron - "I can't stay too late! I gotta go shop for a razor you know for my face where I grow my beard!
Peter (the father) - Ok Ron we get it you're a guy!!!
Can you imagine this working the other way around?
Example
Woman's Voice "Knock! Knock!"
Rachel enters the room
Mother Lois - "Oh hi Rachel !"
Young Stewie - "Who is that girl looks strangely familiar?"
Older Stewie "It's Chris he had a sex change right after college."
Young Stewie - "Waow! he went to college?!"
Ron - "I can't stay too late! I gotta go shop for makeup for my face!
Peter (the father) - Ok Rachel we get it you're a girl now!!!
See how harmless that becomes? Plus the college joke still works.
When the humour is flipped and you imagine it like that just shows the effort involved and the way comedy across the board seems to be manipulated with some malice to abuse transwomen.
---
Star Trek
'All Our Yesterdays'
18/01
CBS Action
Kirk spends the last hours of a doomed planet in a library with an extraordinary database, which strips 50 centuries of Vulcan civilisation from Mr Spock.
(See Past Entry)
Comment
Kirk has his body swapped for a female and then spends the rest of the show mincing about the ship. Ironically more so than the woman he swapped with? uh? O_O
---
Lorraine
19/01
ITV1
Morning show with a topical mix of entertainment, discussion and showbiz glamour, as well as the latest fashion, food and celebrity gossip. Fearne Cotton chats about her new role as ambassador for Tesco Mum of the Year, Lynda Baron talks about the new series of Still Open All Hours, and Ray Quinn reveals all about his music plans and the new skill he learned for Get Your Act Together.
Comment
Lorraine reports on the headline from the newspapers about the Officer in the British Army who has transitioned. (Later below she does in fact interview her).
----
This Morning - Our award-Winning show see
http://www.TransgenderTelevisionAwards.com
19/01/15
Blake - is a happy 17-year-old transgender Man
itv1
"I'm happy that my daughter is a boy!"
(Image Source: itv).
Sharon Kerwin always dreamt of having a little girl to make her family complete. And her dream came true when her daughter Rebecca was born. But at the age of 10 years old, Rebecca dropped the bombshell to her mother that she no longer wanted to be a girl but wanted to be a boy.
Wanting to do what would make her child happiest, Sharon made the life-changing decision to lose her little girl and let Rebecca live as a boy. Rebecca - now Blake - is a happy 17-year-old transgender who is grateful for the decision his mother made all those years ago.
Blake and Sharon join us today to discuss the hurdles they have had to overcome and the importance of being accepted for who you are.
Watch the Video
http://www.itv.com/thismorning/hot-topi ... r-is-a-boy
Comment
GREAT!
5/5 TZ Stars - Excellent!
---
Benidorm
09/01
ITV1
An attorney tells the Garveys that a multi-million inheritance is Madge's for the taking. Kenneth takes advantage of a psychic customer and holds a seance to contact his mum.
Comment
What's to say that has not already been said here ad infinitum! 'Transvestite chracter' Les/Lesley played by Tim Healy is continually told she looks like a 'bag of sh*te' for laughs. Bout time they wrote some new material or slung the character for an actual trans*woman? That would be ground-breaking. Benidorm is just actually an old boys network. A clique of familiar faces who are not doing anything between Pantos... You... There I said it! A trans* person has got no chance! Even Joan Collins has turned up - work must be a bit thin on the ground... [Ouch!]. Let us guess the script for next week shall we? Tim Healey is told his character (and him) looks like sh*t for laughs and he sings a song dressed like an Oaf on stage that sounds awful? Bet I am right!
---
Botched
20/01
ITVBe+1
Vagina Bomb!: Reality series. A transgender star asks doctors to fix her botched breasts, nose and vagina. Meanwhile, Paul tackles a deviated septum.
Comment
Being a US show we never got to see the labiaplasty. That said as a trans porn star who quite frankly looked amazing already? WellI found it difficult to be sympathetic. Take a beautiful rose and spray it with gold paint and this is kinda what we have here.
I am sure this show could have found someone far more needy who was trans that they could have changed their life - someone who has been bullied or looked very masculine. But no get a trans pornstar in and make her breasts a bit smaller - give me strength!
Private parts have been blurred #OBS
This was taken before! "I am so ugly!"
itvbe
itvbe
Jeeze Louise get a grip woman! Try 5mins in my body and see how you get on!
---
Benidorm
20/01
ITV4+1
Joyce becomes suspicious when Blow and Go appears extremely busy. Tiger hides the news that Auntie Terri is about to join them at The Solana. The Oracle and his mum arrive back.
Comment
Now this is interesting as 'The Oracle' (Geoff Maltby) a character played by Johnny Vegas, dated (one time) Les/Lesley Marshall played by Tim Healy. See our archives. However, they never seem to even mention that - it would be a huge issue I'd of thought as Vegas was freaked out by Lesley. Still it is a fantasy with pretend transpeople so what do I know? Or they dated again. After all this is a comedy! Not reality!!!!=
---
Lorraine
21/01
ITV1
Morning show with a topical mix of entertainment, discussion and showbiz glamour, as well as the latest fashion, food and celebrity gossip. Former Corrie star Julie Hesmondhalgh talks about her role in new drama Cucumber, and comedian Dave Spikey chats about his part in the forthcoming live Phoenix Nights shows.
Comment
Julie Hesmondhalgh still talking about Hayley ((Transsexual Character she played in the Uk's longest running Soap (10 years)) in Coronation St) - leave it it just ain't worth it. I think she is grieving more than Roy
How does that work?
---
Lorraine
22/01
ITV 1
Morning show with a topical mix of entertainment, discussion and showbiz glamour, as well as the latest fashion, food and celebrity gossip. Mr Selfridge star Amy Beth Hayes chats about the latest series of the period drama.
Comment
Well I can say now that Lorraine won our 'Special Award for Excellence' (and how!) and you can read more about that here:
http://www.transgendertelevisionawards.com
However, in this episode she interviewed the lovely Hannah Winterbourne, an Army officer in the British Army.
More on that here: Full Review:
viewtopic.php?t=4600
itv
---
Benidorm
27/01
ITV4+1
Promising to find an antidote for the mystery injections he gave Joyce, Kenneth heads off to seek advice from his old friend Mr Wu, and Liam receives a surprise visit from his mum.
Comment
Not sure about this episode as although Les' ex wife humiliated Lesley suggesting she was a freak... More or less and should not be allowed near their son. And was offered a cash settlement to ship the son home with the ex's new husband who has a 'business' Lesley tore up the cheque and the son preferred to be with his 'dad'.
So bitter-sweet - probably the most realistic storyline amongst all the stupid transphobic stuff I have seen. A smatter of applause from me here... Maybe the message is getting through slowly?
---
New Botched Up Bodies
29/01
Channel 5 +1
Documentary series featuring people undergoing corrective treatment for surgery that went disastrously wrong. After being diagnosed with an ear infection, Alison's nose collapsed following surgery and now she wants it reshaped and her breathing issues sorted. A hair-thickening procedure left Graham with more than 50 scars on his head and a charity worker was left with a golf-ball sized internal cavity after surgery on her forehead went pear-shaped.
Comment
Regulars to these logs will instantly recognise perennial surgery 'fan' Adele, the trans*woman who was on Embarrassing Bodies having her bottom and hair implants covering her Facial Feminisation Scars. Then appeared on This Morning to talk about the show, then on this show where she had her FFS done again...
Cos the first one did not seal the sinus properly when they shaved of her brow ridges. That said, they did a pretty good job in Thailand as she looks very feminine (compared to her 'before photos). But they probably went a bit too far. The result although flattering she was unhappy with. So in this show they repaired that weakness in her forehead.
She is a prime example of if you want some expensive surgery done call a TV show. I am on the phone now
, I suspect this is not the last we have seen of her. My only concern with all this is there must be others who are worse off, she is very beautiful, passable and this could have been fixed on the NHS? Assuming it was as serious as she suggests.
There are trans*people so body dysmorphic they can't even have any form of quality of life - they should be top of the agenda I think. As she has been on another channel (4) already on a similar show - this to me seemed odd.
That said Channel 5 did a great job and treated her with the utmost respect and dignity so no complaints really other than there must be someone else who needs their help - surely?
Adele looking younger and prettier via UK television surgery programmes (over 5 years) - Jealous? Me? Just a little
Adel
- 26/08 Channel 4 'Embarrassing Bodies' -
viewtopic.php?t=3921
Embarrassing Bodies 12/03 Channel 4 -
viewtopic.php?t=2928
Adel
- This Morning 02/03/12 - Photo Promoting Embarrassing Bodies above.
Adel
- Last week Channel 5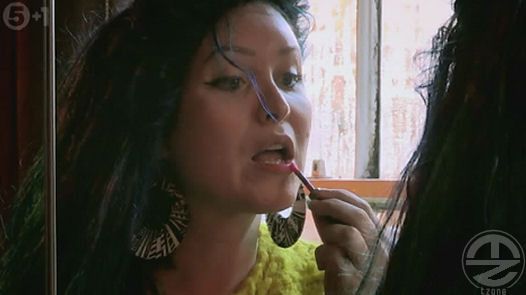 Good luck to her! A prime example of how to get what you want gratis!
---
Transamerica
29/01
Channel 4
Comedy drama. Pre-operative transsexual Bree receives a phone call from an imprisoned 17-year-old-son who does not know she is becoming a woman. Her therapist insists she deal with this relationship before her final operation is approved, which leads to a road trip across America.
Comment
Made in 2004 and released on 2005, it is an interesting view of a transgender woman. I have seen this countless times and reviewed it 9 years ago. Suffice it to say, they did a pretty good job, especially hiring 'genuine' trans* people for the support group cameos in the middle of the film - especially trans*men who are often overlooked in television.
That said, they needed a big name to make any impact and the Desperate Housewives Star Felicity Huffman was that person, it skyrocketed the independent small budget B movie to an Oscar nomination! Nuff said! However, that same film being made today (Dallas Buyers Club) played exactly the same trick and it won the non-transactor an Academy Award. This has to stop now! Film-makers like Pedro Almodovar have made countless films that IMO exploite trans-currency, and milking this trick to get awards or get noticed - chuck a trans character in and get an award KABOOM! It is now time to have actual transgender people in these movies not people 'tranning-up'!
So again of it's time. But enough now!
---
Keith Lemon - The Film
31/01
ITV2
Adult comedy film about fictional British TV personality Keith Lemon, who decides to follow his dream of becoming a successful entrepreneur. Featuring cameos from David Hasselhoff, Kelly Brook, Verne Troyer and Billy Ocean.
Comment
This Movie almost made it without transphobic comments then in the final few moments of the film Keith leaves the room with the Television on with 'This Morning's' Phillip Schofield reading Leigh Francis' Script with an intersex gag which goes thus...
Phillip - "First, just a few weeks ago we met a lady with two vaginas, today as part of our 'sex week' we meet a man with a penis and one vagina - Weird Paul! Thank you very much for coming in!"
Suggesting a fictional person who is interesex is 'Weird' is objectification and 'othering'. But without the 'WEIRD' there is no gag. Why bother putting the joke in at all? He could have hired Lauren Harries or Pete Burns to make a joke and still got a laugh. But as usual the trans or in this case intersex person is absent from the gag. This is common in his other programme 'Celebrity Juice' where Leigh (Keith Lemon) often makes hateful transphobic gags and there is never a transgender person present for a rebuttal. If you don't hire a trans*person then don't mock them - simple!
A shame but Phillip and This Morning gladly have improved a lot since 2011 (when it was filmed). Shame Leight Francis (Keith) is still struggling to stop being transphobic - he wrote this script to be fair to the cast - he will learn.
But this is a conflict of interests for the presenters of 'This Morning' as they should actually refuse to be part of these things, Holly has a problem because her husband Dan produces 'Celebrity Juice' and she is a panel captain, then they have to go in on a Monday Morning (for their 'Day Job') and perhaps deal with a transgender person? This is something I feel they need to take a close look at or ensure Keith avoids transphobia altogether. Keith uses a utilitarian behaviour to 'get away' with what he does. In a way it is like, "if you don't join in with the abuse you are a spoil sport!"
Take a look at 'The Milgram Experiment' and you will see why... The people around him, obey him, in exactly the same way, despite it conflicting with their onwn social rules.
http://en.wikipedia.org/wiki/Milgram_experiment
Nevertheless 'This Morning' has come on leaps and bounds and should not be judged by a what now is a 4 year-old punch-line. Last year they were top of their game for the Transgender Community and for that were rewarded accordingly. So don't let this sour that. But this was broadcast and I had to comment. As you may have seen it and be confused as to why we gave this same man an award - hope that settles the issue.
itv2
---
Star Trek - Enterprise
30/01
Pick
Two Days and Two Nights - Prequel series to Star Trek, set aboard Starfleet's first interstellar ship. Archer, Trip and Reed all have mysterious encounters with women who may not be all they appear. Hoshi has trouble with a new language.
Comment
The infamous episode where the two male officers are duped by shape-shifting aliens that pretend to be 'hot' human females then shape-shift back to male aliens to rob them.
This has an underlying transpanic feel about it, like men pretending to be women to rob them? I hear that a lot from programs about Thailand... Doesn't sit right and could have been written differently.
---
The Rocky Horror Picture Show
31/01
Channel 4
The definitive cult movie about two naive sweethearts who stumble upon a party full of alien revellers.
Comment
Richard O'Brien's pension pot is topped up once more. Trans-currency feast here - what more is there to say apart from if you want to see how trans*issues can make you rich look no further! Good song (Time Warp).
Seriously of it's time. And now I guess a 'classic'
positives
- well? It allowed transpeople to go 'dressed' to movie theatres 30 years ago without too much aggro. And Richard O'Brien seems to think and I quote, "he is in a male protoplasmic package (his words) but would like 't*ts though!" (his words GaytimeTV 1995 I have it on file). So he plays the trans*card when challenged - I don't buy it. If it didn't make any money probably wouldn't care. But then again The producer of 'The Black and White Minstrel Show' probably thought the same way about his baby. "It is harmless fun!" What is your gripe?!
It is a comedy - and it 'allows' mocking of transgender issues with non-trans actors all over the world. Now. if Richard stated that no one could produce his musical ever again unless they cast the lead with a transgender actor. I will take it all back!
Channel 4 trying to 'do something for transgender people - not good enough! Forget it!
---
Don't have nightmares - see you next time with more of the same I guess?
There is better news In February already if you cant wait read our reviews in the Media Section here!
viewforum.php?f=16
C U next time eh?!