From the 'Boy in a Dress', to Brendan O' Carrol as 'Mrs Brown' what did this critic think of this month in Television? The one saving grace came from Andrew on Radio 4 - more on that later.
So here we go again!
What is broadcast in the UK reflects on you as a transperson. Every month it is a case of spot the positives. Almost all television featuring anything remotely associated with transpeople is negative, comical or are negative stereotypes. So if we do not list them they go unchallenged as evidence is needed to effect change! Or even give awards.
It is a thankless and time-consuming task - as you can imagine especially when a trans character is introduced ... Nevertheless rest assured someone is watching even if you can't.
High Points
Andrew O'Neill - 'Pharmacist Baffler' - No question about this, Andrew is going to be big!
Low points
Where to begin? Just about the whole of Christmas I think! Read it and weep! Almost every programme relied on some form of transphobia or at least transphobia by proxy see here for what that means:
http://library.transgenderzone.com/?page_id=3000
but for the most part it was laughing at 'men in dresses'.
=========================================
HOLLYOAKS
WEEKDAYS - THE FULL BLOG!
Hollyoaks is now done with the trans character 'Blessing Chambers'. Read what I thought about it all in my summary.
viewtopic.php?f=48&t=4273
=========================================
So let's begin.
---
The Simpsons
Flaming Moe
01/12/14
Channel 4
Smithers tries to earn respect from Mr Burns by turning Moe's Tavern into a gay bar [not all trans are gay btw, just sayin', Eds], a successful change which forces Moe to keep his 'straightness' a secret. Skinner needs Bart's help after he falls for the school's new music teacher.
Channel 4
"I am going to knock you inside out!"
Transgender woman - "The doctor already did!"
Comment
Just the usual transgender stereotyping that Channel 4 serve up.
This is no different to the Jimmy Carr and Jonathan Ross gags about 'My Transsexual Summer' when they spoke about 'Knock throughs' and it being a 'real mess down there' etc...
In any case this makes absolutely no sense whatsoever, as if she is a trans*woman who has had a vaginoplasty then the outside tissue would be 'in' medically speaking. Not inside out - so they didn't even get that right. Nevertheless that if said would still be unacceptable as a joke. Because being trans is not a joke it is an often life-crippling situation and body dysmorphism (or hatred of one's outward appearance and genitals) is an issue that does lead to suicide. And here are 'The Simpsons' and Channel 4 serving it up once again!
---
Most Shocking TV Moments
01/12
Channel 5
Brand new countdown show looking at some of TV's most shocking moments from Tom Cruise jumping on Oprah's sofa to the drunken chat show antics of Oliver Reed and Will Young taking on Simon Cowell. [S]
Comment
Unlike most programmes who mock in the t*person's absense (Yes I am talking to you BBC, Channel 4 and Celebrity Juice!) Channel 5 actually ask Lauren Harries about her life in the public eye.
Are you watching Channel 4? That is how you do it! Transgender people can take a joke as long as they have a rebuttal and there is no finer way than that than hiring a transperson to be in on the gag - say on a panel show? Just find a trans comic like Andrew O'Neil and have them joke along with the issue. Do not mock from afar as that is simply bullying. In this Lauren had plenty to say about this and that is fine - her life - her story and her fee
Channel 5
Luv the hat - Lady Gaga copied her fashion sense I think
And it certainly gets you noticed! Job done!
---
Secret Lives of Women
02/12
Community
Transsexuals: Meet Cristina Juanes. Cristina has a secret - she used to be a man. She details her journey and how her life is changing both physically and emotionally.
Comment
She was assigned male at birth. 'Used to be a man' does not sit right these days. 'Forced to be a man by the state(!), maybe a better way to say it!
Again a repeat, but this was probably one of their best programmes on file. It follows a transioning trans woman through facial feminisation a makeover and surgery - she is over 50 and what a brilliant example of how you can still live your life!
A great programme that I first saw a few years back, but it has lost none of its impact! In a Kellie Maloney older transitional story world this is very positive
Congrats to the Community Channel for this one!
But it it is showing its age a little.
---
Jerry Springer
03/12
Pick
Backstabbing Secret Lovers: Outrageous talk show hosted by the legendary Jerry Springer.
Comment
Transgender secrets mocks and belittled for entertainment, Trans*woman punched in the face to the laughter of the audience by a male partner - odd Jerry didn't stop him, maybe it is because he sees them as both men so it's OK? you
Will
see what I am referring to in a later episode of this show and why this is a contradiction in his view of transgender women no matter how well they pass - they are men to him - what else is there to say?
The acceptable face of hate-crime!
---
Family Guy
04/12
BBC THREE
3/21. Quagmire's Quagmire: US animated series. Quagmire begins dating a sexually insatiable woman who then kidnaps him. Contains adult humour. Also in HD. [S]
'Quagmire's Dad' Now transitioned to female returns for an episode looking for Quagmire.
Peter - "Hello Mr Mrs Quagmire?!"
Voiced by a male VO 'camping' it up a bit...
That said it was not too bad for Family Guy!
Image BBC
---
This Morning
05/12
ITV1
Trans Man appears on 'This Morning'
Full Review and Video Clip Click here!
viewtopic.php?f=16&t=4566
itv
---
Jerry Springer
05/12
Pick
I'm a Sex Escort... And a Man!: Outrageous talk show hosted by the legendary Jerry Springer.
Comment
This really was Jerry at his worse. When a cisgender woman assigned female at birth attacks a transwoman, and when the transwoman attempts to defend herself Jerry said the line that for me finally closed the matter on him!
Jerry Springer to the Transwoman - "Hey, Hey! You're a man you can't be pushing her!"
And there it is! In that moment we finally see him for what he really is... This was filmed recently btw!
---
Ladyboy Training 1
08/12
Television X
18-year-old sex addict Holly Harlow is a gorgeous ladyboy and Keisha Kane makes sure she shows her the ropes as she enters a house where sex is always on the menu.
Comment
Shame it is in the family listings. And the 'performer' is not a Thai national. 'LB' makes no sense else.
---
The Wright Stuff
08/12
Channel 5
Mathew invites on ex Celebrity Big Brother Housemate Audley Harrison. Its relevance to this log is that they spoke very well of Kellie Maloney and Matthew remarked on their moving make-up scene which you can see here:
viewtopic.php?f=16&t=4436&start=10#p41007
Definitely worth watching again albeit in my blog form.
---
The Gayest Show Ever
09/12
Community
Magazine show. Controversial director Bruce LaBruce tells us how his hardcore pornography takes aim at consumerism and we continue our look at the female-to-male transsexual community.
Comment
Gaytime TV in the UK parted at a timely moment it was the late 90s and Rhona Cameron had probably exhausted the format by then. Gay people have now moved on and this show drags the GLBT community back to a ghetto mentality kicking and screaming. It is very old fashioned US-based views and just a bit embarrassing tbh! Plus not all trans are gay - just sayin'
It just feels like a media or drama graduate's vanity project and probably time to stop airing this nonsense.
---
Becomming Myself - Gender Identity
12/12
Radio 4
Trans Men
Becoming Myself: Gender Identity Episode 1 of 2
A revealing series which goes inside the Charing Cross Gender Identity Clinic in Hammersmith, London - the largest and oldest in the world - to explore the condition of gender dysphoria - a sense of distress caused by a disjunction between biological sex and gender identity.
With growing mainstream discussion prompted by high-profile transgender people like boxing promoter Frank Maloney, WikiLeaks source Chelsea Manning and model Andrej Pejic, gender dysphoria is fast becoming more visible. Indeed there has been a steady rise in the numbers of referrals to Gender Identity Clinics across the country and patient numbers at Charing Cross have doubled in the last five years.
This series follows a group of transgender patients pursuing treatment for gender dysphoria in order to 'become themselves'. In the first programme we meet Freddie, Mitchell and Blade, who were raised female and are seeking treatment as trans men. The second programme centres on trans women Bethany, Emma and Tanya, who are making the opposite journey.
We also hear from the psychiatrists, endocrinologists and surgeons as they meet and assess the patients on a day-to-day basis. Their treatment decisions have the potential to transform the lives of their patients, but these irrevocable changes are not made lightly.
Narrator: Adjoa Andoh
Produced by Melissa FitzGerald
A Blakeway production for BBC Radio 4.
LISTEN NOW
http://www.bbc.co.uk/programmes/b04tlqzt
Comment
This is a factual programme only damaged by the ludicrous listing above - Oldest in the world? This is untrue Magnus Hirschfeld beat them to it by about 80 years!
Who then worked with Benjamin who literally wrote the book on the 'Transsexual Phenomenon' he didn't operate from his bedroom! He had a clinic
Spurious nonsense. But then again nobody asked me
I remember handing this information to their lead in 1997 he was only a clinical associate then. History has a habit of being rewritten I am afraid.
---
Treasure Island
14/12
Pick
First part of the adaptation of Robert Louis Stevenson's high octane adventure, following the story of Jim Hawkins as he discovers Flint's treasure map. With the help of family friend Dr Livesey and Squire Trelawney, Jim climbs onboard the Hispaniola and sets sail for the promised loot alongside Captain Smollett and Long John Silver, who recruits some of Flint's men and prepares to lead a mutiny to get his hands on the gold.
Comment
A repeat of last year's drama. An Eddie Izzard Tour de Force as he shaves his head and takes on Long John Silver. But NOT ''AN OH AR' JIM LAD'' in site. Worth watching!
---
Ladyboy Training 2
15/12
Television X
Having passed her audition, tasty 18+ girl Holly gets it on with Keisha Kane and the handsome Paolo, who swings more ways than a Robbie Williams party album!
Comment
Apart from the Ladyboy part as there are no Kathoey here just performers 'role-playing' so using the term is borderline racist too?
This is actually quite an interesting angle on this term as 'Ladyboy' only applies to Thai Transgender women who use it to translate for sex tourists and entertainment. The term does not export or make any sense beyond that sphere. Also the term 'shemale' often used is factually incorrect as well. The terms are only used for sex tourists or ignorant men looking for sex. But Pornographers could at least respect their 'talent' and use the correct terminology. Why is this even being mentioned, because this is in the general family listings even if the channel is scrambled. Only a URL to their website should appear here really.
---
Andrew O'Neill - Pharmacist Baffler
16/12
BBC Radio 4
Series of stand-up shows presented by comedian Andrew O'Neil. 1/2. Andrew discusses gender identity from a transvestite's point of view and talks about his experiences growing up.
"My presentation doesn't really work on Radio... The most unfeminine thing about me is my voice - no make that my penis!"
Comment
HOORAY!!!!! AT LAST!!!! I personally contacted (RARE) Andrew to congratulate and even favourited the tweet.
https://twitter.com/TransgenderZone/sta ... 5975239680
A more crude Eddie Izzard best describes Andrew. Some good comedy in this set and worth keeping an eye out for him and her. Funny, and tells some transgender home truths that even the toughest campaigner will chuckle at. The comedy comes from a good place and a place well trodden. This is SO different to the usual cr*p that trans are exploited for - namely the whole of this log!
Refreshing! Andrew is going to be big!
http://www.bbc.co.uk/mediacentre/progin ... ew-o-neill
This is all the BBC has so don't let Andrew leave the building! That's all I can say! Plus nobody can take the credit for this talent than Andrew who has honed this skill-set (and comedy is a skill) over some time. Just in case any trans are thinking about it
Andrew, my advice is beware of those ready to vacumm you of every last shred of trans-currency you have got as that train is already on its way! And don't change!
---
Brian Pern - A Life in Rock
16/12
BBC TWO
2/3. Spoof documentary following ageing rocker Brian Pern. Brian plans to stage his entire unreleased solo album live from the peak of Mount Kilimanjaro. Contains strong language. Also in HD. [AD,S]
Presenter - "No I am not Bob Harris after 'the operation' I am Anne Nightingale."
Comment
Definitely no Spinal Tap - just an excuse to bus in a bunch of rock has-beens to pretend to have known this lead character.
But again with the transgender gags - exhausting!
---
The British Comedy Awards 2014
17/12
Channel 4
Jonathan Ross hosts The British Comedy Awards 2014 it marks 25 years of celebrating the best and brightest in British comedy. Nominees include Matt Berry, Harry Enfield, Katherine Parkinson and Graham Norton, and shows including The Wrong Mans, Would I Lie To You? and Monty Python Live (Mostly) compete for gongs in this special anniversary year.
Comment
Jonathan Ross and a room full of transphobes all pat each other on the back.
I say this because we have probably got transphobic comments from almost all of those present, most that won awards are in or logs.
The King of comedy - Jack Whitehall? Search this site...
Brendan O'Carroll (Mrs Brown's Boys) Got the special Writers Award?
Presented By Jonathan Ross who is also featured in our hall of shame here and there. It just goes on and on... Bored with the lot of em' However in amongst all this comedy cr*p this season there was one ray of sunshine and on Radio 4 above in the shape of Andrew O'Neil lets hope that this person gets nominated one day - the next Eddie Izzard I think! And BBC and Channel 4 Comedy Panel Shows could use Andrew! But maybe they fear the fact thay can't be transphopbic then? After all another person at the awards, Alan (I can mock transpeople because I am Gay) Carr was strangely polite the week he met Eddie Izzard, yet the following week he used 'Tranny' for laughs almost immediately. We record everything! Not to Eddie's face thought? Strange that! We need more trans comics to stop this happening!
---
Becoming Myself - Gender Identity
19/12
BBC Radio 4
Series exploring gender dysphoria. Narrated by Adjoa Andoh. 2/2. Trans Women: Bethany, Emma and Tanya, who were raised male, seek treatment as 'trans women'.
Trans Women
Becoming Myself: Gender Identity Episode 2 of 2
A revealing series which goes inside the Charing Cross Gender Identity Clinic in Hammersmith, London - the largest and oldest in the world - to explore the condition of gender dysphoria - a sense of distress caused by a disjunction between biological sex and gender identity.
With growing mainstream discussion prompted by high-profile transgender people like boxing promoter Frank Maloney, WikiLeaks source Chelsea Manning and model Andrej Pejic, gender dysphoria is fast becoming more visible. Indeed there has been a steady rise in the numbers of referrals to Gender Identity Clinics across the country and patient numbers at Charing Cross have doubled in the last five years.
This series follows a group of transgender patients pursuing treatment for gender dysphoria in order to 'become themselves'. In the first programme we meet Freddie, Mitchell and Blade, who were raised female and are seeking treatment as trans men. The second programme centres on trans women Bethany, Emma and Tanya, who are making the opposite journey.
We also hear from the psychiatrists, endocrinologists and surgeons as they meet and assess the patients on a day-to-day basis. Their treatment decisions have the potential to transform the lives of their patients, but these irrevocable changes are not made lightly.
Narrator: Adjoa Andoh
Produced by Melissa FitzGerald
A Blakeway production for BBC Radio 4.
Listen Now!
http://www.bbc.co.uk/programmes/b04v5pg6
Comment
Part 2 from above - same opinions.
---
Secrets of Sex - Aravani Girl
20/12
Community
Documentary. Two teenagers dream of becoming ladyboys. Loved as performers but hated as homosexuals, their stories echo the conflicts of India's gender culture.
Comment
Poverty and dreams - this makes more sense and is often a route to escape poverty - sadly not all make it to the bright lights and end up as sex workers sending money home.
This has been done so many times - I have better documentaries made about this very issue from the 90s! Get some new material! Or try a new angle?
---
Men in Black 3
21/12
Channel 4
Men in Black is a well known film about aliens living on planet Earth. The MiB are based on the reports in the 1950's and 60s and Project Blue Book that stated men in black suits often arrived to calm the populus after UFO sightings.
"Hey how you doin'?"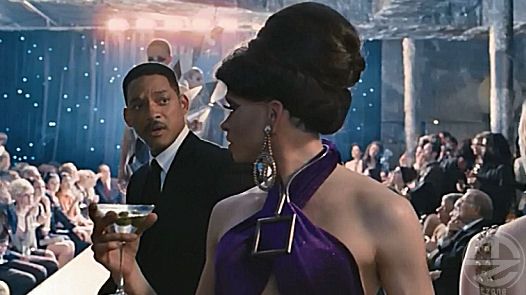 Channel 4
"Just chillin'"
Comment
But the horrified look on his face is less horrified when seeing aliens?!
A man who is so rarely shocked by Aliens is horrified when a trans*woman with a deep voice speaks to him!
Give me strength!
It is these tiny elements in many, many programmes that subliminally affect the public's view of transpeople. Like all day long a little whisper in the ear saying, "TRANS ARE BAD!" Then an hour later, "TRANS ARE WEIRD!" Then TRANS ARE FUNNY! and s,o on it is this incessant 'tweeting' that brainwashes the public - seriously, look at this logs now and the past ones where little bits are being said all the time! Rarely positive!
Kick a dog everyday and one day it will bite back! The owner then shakes his head and says? What got into him?
Like DUH!!!
---
Treasure Island
21/12
Pick
Eddie Izzard plays his best Long John Silver - and not an "OH-AR JIMLAD" in sight!
Good work by Izzard here!!!
---
The Apprentice
21/12
BBC ONE
14/14. The Final and You're Hired: The two finalists must launch their businesses with the help of some former candidates. The winner is decided and then interviewed by Dara O Briain. Also in HD. [S]
Comment
Not serious but a problem nonetheless.
The after show show where they interview along with some celebrity guests the winner, the runner up (no puns) wanted to manufacture ladies tights. However when it came to asking what Romash Raganathan (Comic) thought about her ideas he immediately went down the mocking cross-dressing as opposed to seriously considering the idea.
Here is the Transcript.
BBC
Romesh - "I feel I am being excluded here, and this is one of the only things that has stopped me embracing my cross-dressing side, has been the fact I have been unable to find tights that will match my shade.
BBC
(LAUGHTER)
I think I am [the colour] 'Amelia', and that is probably a name I am going to take at the weekends!"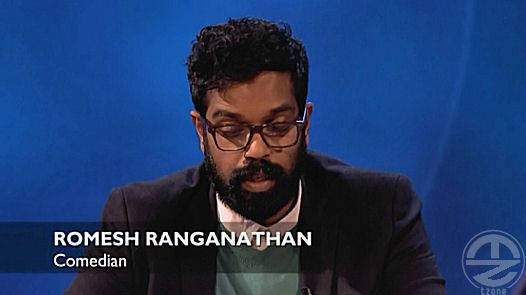 BBC
(More laughter)
Comment
Fortunately Mr Ben 'Moving Wallpaper' Miller (part of one of the most transphobic television shows ever made see 20th March 2009
http://en.wikipedia.org/wiki/Moving_Wallpaper
) pictured, did not go 'there', but the whole laughing at trans*people 'at the weekends' is now a bit long in the tooth. If Romesh was a cross-dresser and sat there seriously in a frock like Grayson Perry, this actually would not have been said. Ironically only cisgender men tend to mock trans*people in this way. It is a rather sly way to get a laugh. I wonder if a white comic sat next to hm had made a 'blacking-up' at the weekends gag, and was racist it would be OK and get a laugh? Small steps, but this 'weekends' gag has got to go now. It is mocking a minority group - that is what it is exactly! And he should know better!
---
Ladyboy Training 3
22/12
Television X
Damien has no idea that stunning ladyboy Holly has a secret weapon in her love arsenal. But he's up for anything, especially when Keisha Kane joins in the porno fun.
Comment
Publically viewable family listings - should be a URL to the porn site - being scrambled does not prevent this objectifying text.
---
The Chronicles of Narnia - Prince Caspian
22/12
BBC ONE
The second installment of The Chronicles of Narnia, based on the classic children's novels by CS Lewis. Peter, Susan, Edmund and Lucy return to Narnia a year after they left, only to find hundreds of years have passed in the magical land and the rightful heir to the throne, Prince Caspian, is being overthrown.
Comment
Eddie Izzard does his best Eddie Izzard voice to play the sword-fencing mouse - cute! Eddie Izzard is kinda everywhere this Noel!
---
Andrew O'Neill - Pharmacist Baffler
23/12
BBC Radio 4
Episode 2
2/2 Comedian Andrew O'Neill delves into sexual identity and homophobia; why?
FIRST BROADCAST: 23 Dec 2014
Comment
Excellent - one to watch! We need a trans person to go onto comedy shows like 'Mock the Week' and Andrew I think is that person!
Excellent shows culminating is!
A VERY RARE FROM ME!
5/5 TZ Stars - Excellent!
Listen to both shows now here!
http://www.bbc.co.uk/programmes/b04vsqcy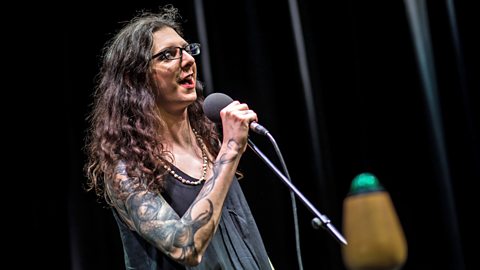 (Image Source: BBC Radio 4)
---
Family Guy
23/12
BBC THREE
7/22. Lethal Weapons: Animated comedy. Bonnie convinces Lois to join her tae-jitsu class. Quahog is invaded by New York 'leafers' looking at the pretty autumn leaves. Contains adult humour. [S]
Comment
Man approaches woman woman turns around deep voice.
Man - "Transvestite back off! Wait a minute pre-op or post op?"
Transwoman - "Pre..."
Man - "Transvestite back off!"
---
Ice Age 3 - Dawn of the Dinosaurs
23/12
Film4
(2009) Animated adventure. Manny the mammoth and Diego the sabre-toothed tiger must traverse an underground world ruled by dinosaurs to save Sid the sloth from an angry Tyrannosaur. [S]
Comment
Simon Pegg voices a character that makes a castration gag. But they script it to be more than that as it is worded to be come a 'sex-change' gag. Yup even in a kid's film - then again 'Ace Ventura Pet Detective' was a Kids film and the most disgusting transphic ending in just about any film I can think of!
Pegg - "Turn a T-Rex into a T-rachel [With this sharpened clam shell I am holding]."
---
Cars 2
23/12
BBC ONE
Animated sequel. Four-time Piston Cup champion Lightning McQueen is hoping for a quiet off season, but when his best friend Mater rings a television phone-in and shoots his mouth off, Lightning finds himself agreeing to travel to Japan to compete in the World Grand Prix against the dashing racing car Francesco Bernoulli. Mater and the team travel too, and soon Mater is in trouble of his own, as an international spy!
Comment
Eddie Izzard voices the Race organiser.
---
The Royle Family Christmas Special
23/12
BBC ONE
Barbara's Old Ring: It is Christmas at the Royles', and Barbara has gone overboard with the presents. Meanwhile, Dave reveals his Dragons' Den idea. Contains adult humour. Also in HD. [AD,S]
Comment
Well it has been a year and the BBC rebroadcast what is offensive television once again. I will simply copy and paste what I said last time...
But what was wrong well this! When they arrange a date with a transwoman this is her address!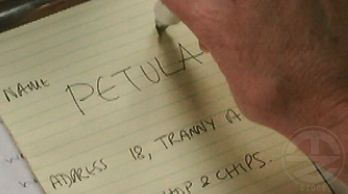 bbc
Yup this actually happened - AGAIN!!! How hard is it for the BBC edit this out? But what do the BBC care?
FULL REVIEW!
viewtopic.php?f=16&t=3439
---
8 Out of 10 Cats Christmas Special
23/12
Channel 4
Jimmy Carr hosts a festive edition of the comedy quiz show. Team captains Sean Lock and Jon Richardson are joined by special guests Jonathan Ross, Freddie Flintoff, Ricky Wilson and Roisin Conaty, and there's also an appearance from The X Factor's Stevi Ritchie.
Transcript
Sean Lock (on Christmas) - "Men dressed as women - women dressed as men, it is like Elton John's Bathroom!"
Comment
Elton John is Gay, not all trans* are gay. But the viewing public will again be reinforced with the idea that cross-dressing is a 'gay thing'. IT AIN'T! Panto is just exploitative of trans-currency.
This is what we thought of Pantomime
http://media.transgenderzone.com/?p=3200
Sean lock has made some very transphobic comments over the years - this is probably "Sean 'lite'!" By that I mean this is a good day
---
St. Trinian's
24/12
Film4
(2007) Anarchic comedy. Talulah Riley stars as the new girl at a boarding school where the rowdy pupils rule the roost. Also starring Gemma Arterton, Rupert Everett and Russell Brand. [S]
Comment
A pretty pointless remake of the original films, of course, the headmistress is played by a cross-dressed male, in this case Rupert Everett, but historically the far better actor Alastair Sim played this role, they don't do a half bad job of making Rupert look like a posh woman. But it is just more of the same "lets laugh at a cross-dressed man" BS. Even if he is not meant to be one in this film.
Another reason to get adolescents in stockings and suspenders to titillate men - aren't the prisons already full of the media types in the UK for this type of thing? In this film they did try to make it more about being a young cool schoolgirl by busing in a pop band and having actresses like Paloma Faith, and Russel Brand playing the George Cole 'Flash Harry' character, but it just was pointless. And more cross-dressing for laughs.
What about one day - just saying,,, what about cross-dressing being taken seriously?
---
Gogglebox
24/12
Channel 4
Compilation of the best moments from the television review comedy series in 2014. The programme revisits the funniest comments from the loveable Leon and June, 'posh couple' Steph and Dom, hairdressers Christopher and Stephen, and Brixton's own Sandy and Sandra.
"Is it a man or a woman?"
Channel 4
"It's a man!" [ITS?]
"It depends on how they perceive themselves."
"No it doesn't have they got genitalia or not?!"
[...]
"Disturbing!"
Comment
Imagine for a moment they were talking about skin colour. This would not have been broadcast they would have been sacked from the show or worse! Even if it was said. Look at what happened to Jeremy Clarkson's "eenie-meenie catch an 'n-word' by the toe". He mumbled it and it was not even broadcast yet he had to publicly apologise. Yet here we have Channel 4 happily airing these comments. It makes no odds that they were balanced by the other 'Googleboxers' this was said and published by the channel.
This is the 'Best Moments'? (so a repeat they could have edited!) I would hate to see the worst. Anyways nothing like some transphobia to cheer up Christmas Eve Courtesy of Channel 4 eh? You see it matters not a jot if Conchita Wurst was a drag act or gender-variant. The moment the man here said "genitalia or not" and "Disturbing", and thats the only defining male or female characteristic is the genitals it becomes transphopbic - sorry Channel 4 you have broken your pledge again see MOU
http://www.transmediawatch.org/Document ... anding.pdf
Channel 4 Agreed to "Eliminating transphobia in the media.""Ending the provision of misinformation about transgender issues in the media.""Increasing positive, well-informed representations of transgender people in the media." The argument they have is Conchita is not transgender but rather he is a drag act. Sadly this is semantics the public will see a 'man in a dress' and hear these negative comments, and use them on the next 'man in a dress' they see. And that may well be in Tescos! Rather than on stage in a showBar.
Googlebox also mocked Lady Colin Campbell (Intersex) as well see earlier log entries.
---
The Simpsons_Channel 4
'Tis the Fifteenth Season'
25/12
Channel 4
After getting into trouble, Homer vows to be good, and is soon vying with Ned Flanders.
TRANSCRIPT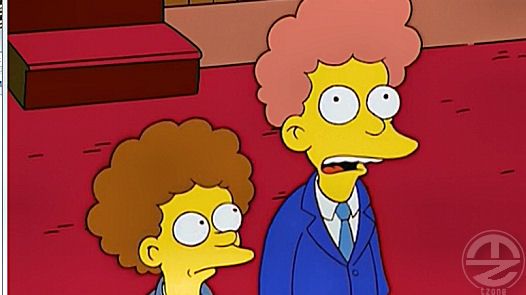 Channel 4
Todd - "I am jealous of girls because they get to wear dresses!"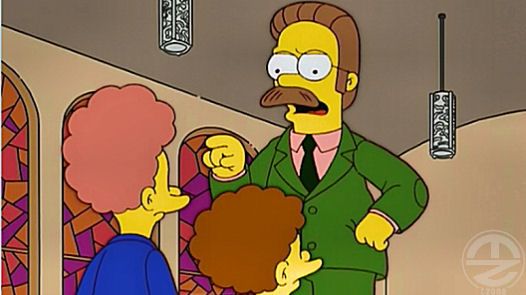 Channel 4
Ned - "One problem at a time Todd!"
Comment
Problem? Angry Face? This is a message sent to Gender-Variant children that their openness will meet with anger. Well done Channel 4 have Lovely Christmas!
---
Michael McIntyre's Very Christmassy Christmas Show.
25/12
BBC ONE
Christmas comedy entertainment special hosted by stand-up comedian Michael McIntyre. Contains adult humour. Also in HD. [S]
Comment
Brendan O'Carroll comes on as Mrs Brown - jeez this got old quick! Get rid of this act I think the audience here are not the same audience he gets at his theatres. As he really struggled to get laughs. I think they are all browned-out EWWWW! But that is exactly what I mean.
On the whole this show relied on Jamie Oliver cooking and to be honest was probably the worst thing I have seen in this format. The best laugh ironically came from a chortle an audience member had. Micheal leaped on her and referred to her intoxicating "UH UH HUH" laugh all evening. I think I'd rather have watched her for the entire duration. What a flipping joke. 'Morcambe and Wise Christmas Specials' - they are both turning in their graves to think this is what has replaced them! Oh Dear BBC what have you done?!
---
Carry On Girls
26/12
ITV3
Farcical comedy starring Sid James and Joan Sims, 1973. The town council of a seaside resort are persuaded to hold a beauty contest - with chaotic results [AD,S]
Comment
Of its time - Bernard Bresslaw dresses up as a woman to enter a beauty contest.
Nuff said!
---
Tired yet
I am - just imagine watching them all and then reporting it like screaming down a well!
---
The Boy in the Dress
26/12
BBC ONE
One-off family comedy. Dennis is an ordinary boy but he feels different. He creates a whole new persona and puts it to the ultimate test - can a boy wear a dress? Also in HD. [AD,S]
bbc
Comment
OK This is probably the biggest one of the season and I will comment on this in two ways.
DRAG + BEND IT LIKE BECKHAM
1. There is nothing wrong with the whole 'Total Clothing Rights' espoused by Eddie Izzard. Under this logic it was literally a boy in a dress - and why not? A BOY wearing a dress and playing football, then complaining when the school rules didn't agree. But isn't that the whole point? I wonder if their shins survived without the correct sportswear? This all was somehow associated with his mother leaving? An excuse to give David Walliams a job as a camp football referee and of course cash in as the writer of this. The boy wants to wear the dress so his female friend and very tolerant fashion designing gf (how convenient) plops a wig on him and pretends he is a French student, this works as the actor has not yet hit puberty and thus may go someway to proving the point and value of puberty blockers for trans*kids eh? Then he is found out everybody laughs at him. But as he is good at football they make allowances for him and all dress-up together in the match - like the FA would agree to this. The problem here is female footballers wear the same sports outfits as the men so makes no sense whatsoever. Well there have been cases where a school'boy' has been in the press wanting to wear the female uniform to school and 'his' mates all turned up the same to protest, but it usually ends there once the local paper has their photo. So this has happened and will no doubt happen again. This was just 'Bend it Like Beckham' and Walliams just swapped the Asian girl for Drag. Playing football to the band Queen and remember their cross-dressing Song and infamous music video "I want to Break Free"? Just kinda nailed the whole point if this.
TRANSGENDER-CURRENCY
2. This crosses into transgender territory and towards younger people, all trans were young once, it gives the impression this is something you might do and stop doing, at the end he is no longer in the dress, even though now he can wear it. The Headmaster turns out to be a cross-dresser and is seen riding a bike around and clearly designed to be comical. It is like something from 'the 'League of Gentlemen' and not a trans*actor. The whole story stinks of 'Bend it like Beckham'
http://www.imdb.com/title/tt0286499/
just swap one minority playing football for another. Take away the football element and all you have is a kid at school being laughed at for wearing a frock (BRILLIANT? NOT!). I personally felt it was like a drag show for Kids or 'Little Britain Lite' if you will. This makes perfect sense when you think about who the author is, namely David Walliams. And the Bicycling Cross-dresser is probably Emily 'I'm a LAADYYY' Walliams' 'bad 'Little Britain' crossdresser'. Pointless and disappointing - if the boy had been wearing a nice party dress at the very end it might have made more sense but they do not want to scare the parents eh? After all he is a 'normal boy' really?
bbc
Conclusion
A fantasy that really went nowhere. But then again Walliams wrote the book not really understanding trans*issues. His world is one where a dress is about cash or calamity. Very few have profited from 'Trans-currency' to the extent this man has, and continues to do so.
Get rid! Put him and Brendan O' Carrol on a train to somewhere and hire transgender actors BBC - it really is that simple! The first batch might struggle a bit (may even be wooden) but the BEEB has to start somewhere. David should stick to his Roald Dahl style 'Gangster Granny' (Angry Aunty, cr*ppy Cousin, nuisance nephew yeah it really is this level
some suggestions for him) 'n' all that TBIAD really was disappointing. Ironically 'Waterloo Road' (A school Drama) has already done it and they didn't need football either.
Just the BBC using '
transgender-currency
' in child form.
Maybe next year Trans* fetus comedy BBC?
---
Mrs Brown's Boys Christmas Special
25/12 AND AGAIN ON THE 27TH!
BBC ONE
1/2. Mammy's Tickled Pink: Christmas is just around the corner and Agnes already has her tinsel in a twist. Contains adult humour and some strong language. Also in HD. [AD,S]
Comment
It really does not get much worse than this. Brendan O'Caroll somehow has hypnotised the BBC into paying for this incessant garbage over and over again. Why not call it the 'Mrs Brown Channel'? The MBC?
Sadly as is the case with most drag Acts, sooner or later they start to use transgender-currency to get laughs, giving the impression it is OK as he himself is wearing a dress - YES ON STAGE FOR CASH! That is not the same! That is like blacking up and doing racist material! And saying, "It is OK BBC I am blacked-up LOOK!"
So this time we have the farce that Mrs Brown's Gay son (all trans are gay so this make sense - just being flippant) wants to have a face-lift. But the mother thinks (well it is scripted to be misinformation) that he is having GRS. Later, a woman who is her daughter's boss (his daughter is actually his wife in real life) comes in and Agnes mistakes her for her son who she believes has been transformed into a woman - like this in 24hrs.
Now this is a comedy - I use the term loosely - so the idea of a son having surgery and returning so quickly from it and looking so well, does misinform the public that this is a very simple and quick thing to do with a fantastic outcome, whilst laughing their heads off at it. What does anyone do who meets a trans*woman for the first time? Well they check their genitals out of course, it is perfectly acceptable it seems to always grab a transgender person in the crotch to see what they have. I have heard countless sexual assault comments from trans*people on this subject. So let's all laugh at it eh?
This may seem funny, but this happens a lot in bars and clubs in reality. The same gag was used in Crocodile Dundee (the movie click here to see what I mean
viewtopic.php?f=16&t=4130
), and this is very common!
The irony here is Brendan O'Caroll boasts in quite an arrogant way (see British Comedy Awards) about how he is cashing in on the BBC and how the BBC desperately NEED him and his tawdry wares. So ironically this photo is a metaphor for his relationship with the BBC - as he has them by the b*lls! He basically at this time OWNS their evening channel!
So another programme using 'sex-change' terminology and for laughs, and uses trans-currency not only as himself on a regular basis, but now on Christmas day with other cast members. It is usually a sign that you are running out of material and ideas.
What often happens is they do this and then say... "I would love you no matter what you did..." But this is only when they have seriously abused the trans* community first. This is like using a get out of jail free card after saying the N-Word for laughs! Would it work then?
Nitemare!
Transcript (unfortunate pun term)
BBC
MB - "Rory is having a sex-change!"
(Laughter)
"How would they do that?"
MB - "I don't know but they start with cutting off his botox!"
(Laughter)
MB - "Keep that to yourself..."
(OUTLOUD IN THE BAR)
"Hey Rory is having a sex-change!"
"I wonder what it is like to be a man?"
MB - I haven't the faintest idea?
[This is HILARIOUS because he is a man
]
BBC
Later...
Laughterof audiance
"I am just checking [the genitals]!"
Sadly this leads to the objectifying of transgender women is particular, and suggests to a lay audience that unless a trans*woman has a vagina they are not actually women. This comment was made also on Googlebox (Channel 4 see above eariler) by one of the families who openly said that unless a trans*woman has female genitals they are not women. This was actually said on Channel 4's highest rated show! So there are millions who will agree with him. As does this example above by the BBC.
Here is an example of that with an actual trans*woman
viewtopic.php?f=16&t=1375
that uses a similar 'I need to check' you genitals logic.
So don't believe for a moment this is "harmless fun" - cos it is actually fails in a number of areas. The BBC and Channel 4 are publicly funded (by you and me) and both proudly sit at the bottom of this page
http://www.allabouttrans.org.uk/
and are proud to show themselves in selfies with trans*people giving the impression that everything is fine. But there is clearly a serious disconnect when a high percentage of television this Christmas has relied on mocking trans*people and trans issues or non-trans*people cashing in on 'Transgender-currency' or in other words 'exploiting' the trans community for personal gain. This is by far the worst Christmas for transphobia I have seen in 15 years! So whatever advice the BBC are being given by some say are toothless activists who cannot challenge a media they want to work for (and this is the result, this whole log) activism is about taking risks, you cannot be a nodding dog and this is why the media so clearly have failed and continue to fail as it is being challenged with a velvet glove! And the BBC do not care at all - just some tokenistic bits and pieces that are totally unrepresentative of the wider community. The logs here every month are a bloodbath - what more proof do we need?
Cash being donated to trans media groups by the BBC is seen by many as shut up money! In the same way an absent parent sends their child a toy to say sorry. What the child wants is their parent to give a damn and be there! This is the relationship the trans*community currently has with the BBC. "Here is a donation," "here is an executive for a selfie," "here is a tokenistic programme with a transperson in it." "How about I give you a job and you cannot then attack us as we own you!" All this is undone if they allow every other progamme to have transphobic open season.
ROCK BOTTOM! And it will get worse before it gets better.
---
The Pirates! In an Adventure with Scientists.
26/12
BBC ONE
Animated adventure from Aardman, following the fortunes of a hapless pirate who is determined to beat his rivals to win the Pirate of the Year award.
Comment
One of the male crew is a woman in disguise. HAHAHAHAHAHA!
Nothing new here been done by 'Carry on Jack' where a woman posed as Midshipman Albert Poop-Decker because she was in love with him. This lust for the able seaman storyline falls foul of the actual multitude of trans*men who served in Nelson's actual navy and they were not there for this reason, they fought as the men (and some women) they were. But that is another story...
A pointless way to include a woman and be PC. The other women were a female pirate we saw for 5 minutes and a rather nasty Queen Vic. This is always a problem faced scripting these types of 'action' films. 'Pirates of The Caribbean' had the same problem and resulted in a love story and Hot posh girlfriend Keira Knightley as Elizabeth Swann, rather than the usual port hookers. But they really have to work at getting women in these films to make any sense - when the obvious is a more male presentation. But who is gunna pay to see that?
---
The Incredible Adventures of Professor Branestawm.
26/12
BBC One
The Incredible Adventures of Professor Branestawm. Comedy adventure. An eccentric inventor takes on a businessman and councillor who want to bulldoze his workshop to make way for a munitions factory. Also in HD. [AD,S]
Comment
Harry Hill does his best Harry Hill impersonation. Harry who is no stranger to mocking transgender people on his TV Burp series that has thankfully ended. He was really cruel about 'Pregnant Man', Thomas Beatie, and some may remember Harry Hill's past shows where he mocked Miriam in the now infamous tranSEXpolitation series (
http://en.wikipedia.org/wiki/There%27s_ ... out_Miriam
).
In this episode that did show some cultural intelligence by having a Black police officer and a Black council member, yet this was set in a Middle-England village around the 1950s. This is most unlikely. Yet this sensitivity was again crushed by this comment when explaining he had made a mobile phone. When asked by the girl what he was going to use it for he said that:
I am going to give it to the police, "It is so they can call the station when they are out chasing burglars and female impersonators and the like."
Up yours (insult) Harry! If all else fails mock cross-dressers and this was rife all this Christmas! What if he said to arrest black people and Irish. 'No blacks No Irish No Dogs' was written outside many guest houses back then and many were in ghettos that have now become the Asian and black areas of the UK! Trans could locked up at that time btw this reinforced by Hill's comment! However they purposely made sure ethnic minorities were represented. But only Trans*people again get the butt of the joke! And are 'fair game' it seems with no trans*people present. They could have easily done this but didn't. Not valued enough.
This was actually terrible, it was like a poor episode of the Fast Show with what appeared to be some of it's cast. The feeble script stretched out to an inch of it's life with padding (inventions) that almost sent me to sleep. And David Mitchell just played David Mitchell AGAIN! Does he play anyone else? Probably the worst thing I saw!
---
Catfish - The TV Show
26/12
Viva
Reality documentary series following Nev Schulman as he travels America investigating the online profiles of couples who have never met in real life, to establish whether the people are really who they say they are, or whether they are so-called 'catfish'. Rob met Ebony on a dating website four years ago, but he feels that it is time for them to meet in person.
Comment
I have reported on this one before, here we have the rather strange situation where an African American woman has pretended to be trans to a straight male who has told his friends and took a big risk as they may have humiliated him, for being gay... Yet when he finally meets her she is not trans at all?
This is interesting as this is one of those rare times I have seen someone non-trans use being trans to be noticed. It makes me wonder just how many non-trans*women there are out there right now saying they are trans to be more 'special'? It is no longer a fantasy as here it is in reality!
Good show, as the guys who do the investigating are lovely and really care. And are really careful with a the few trans*issues they have faced. Take NOTE BBC! Buy the BBC are looking old!
---
Birds of a Feather
26/12
ITV1
Return of the Essex-based sitcom about sisters Tracey and Sharon and their larger-than-life friend Dorien. Dorien is treating Sharon and Tracey to a Christmas trip to the Canaries, but with Tracey's fear of flying, Sharon's hopes for adventure, and Dorien's eagerness for anything in trousers, will it be plane sailing?
Comment
Because this sitcom stars women but is written by a man, sometimes you can see it very clearly. As the moment the dialogue is spoken by a male, in this instance Tracie's son, we hear this... He is calling old flames for a date...
"That's 6 loved up one moved away and one sex-change!"
SEX CHANGE SEX CHANGE!!! Trans* do not change sex! Trans*people are designated their gender at birth by a doctor who has no idea what the child's brain sex is and it is about brain sex not about genitals. This truly is the dark-ages for trans*people on telly!
What should he have said?
Well he could have said...
"That's 6 loved up one moved away and one now presents as male!" I am sure we could come up with another, but this at least stays within the idea that he knew the person when presenting as female.
It is that simple! But television does not listen to a word any trans activist says! Apart from Channel 3 (for now they listen to me at least).
So another programme using trans currency! Are you keeping count?
---
Secrets of Sex - Normal
27/12
Community
Documentary presenting the real life stories of male, female and transgender migrants working in the sex industry in Albania, Italy and the UK.
Comment
Transgender "Sex workers" repeated again and again - YAWN!
That's all trans are fit for eh?
Doctors? Nurses? Engineers? Politicians? Pilots? Nah don't waste time with them, """Sex Workers!!!""" Are what sells!
[I am being facetious btw!]
---
Harry and Paul's Story of the Twos
27/12
BBC TWO
First shown and reported here on the 25/05/14
Harry Enfield and Paul Whitehouse present their own unique biography of BBC Two as part of the channel's 50th anniversary. They parody around 50 different shows along the way.
Comment
This was quite well done and did have some funny moments that included them parodying Alan Sugar saying "I am better than you!" To his apprentice competitors.
However it was not long before a 'sex-change' gag came along.
They had to raise the issue of Monty Python of course (but in actual Fact Monty Python's Flying Circus was originally a BBC 1 Show so this was factually incorrect!) and in the context of cross-dressing of that time it was appropriate obviously as this was a big part of Python. However, what was unnecessary was this...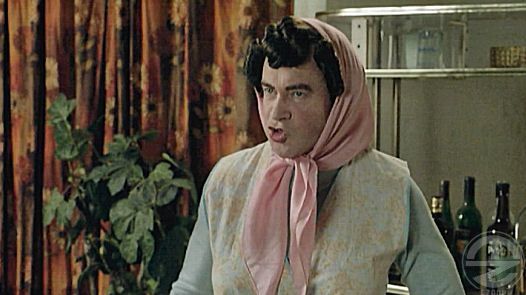 BBC
Talking about Terry Jones - "Had a 'sex-change' and became a man!"
Then the person played by Harry Enfield says the following:
BBC
"They put these testicles where my vagina used to be! And rather a small c*ck!"
Something FTM for a change but nevertheless unfortunate for the BBC.
Why do they do it? And why have they learned nothing from the trans media charities - maybe the were never listening to them in the first placed and have palmed them off? That is closer to the truth I think.
---
Ladyboy Training 4
29/12
Television X
Jeff Ryder is drafted in to have some fun with Keisha and lovely she-male Holly. Totally wild, Holly's out-of-control libido conquers all in an outrageous menage a trois.
Comment
Put it in a link do not publish this in family friendly listings as it objectifies trans*women. She-"MALE" lady"BOY!"? Give me strength. Got nothing against porn or trans*women earning a living from it. But this is adult and offensive (the labels) and needs to be somewhere else.
---
Shrek the Third
29/12
BBC THREE
Animated sequel. Shrek must find the errant heir to Harold's throne or face wearing the crown himself. However, an old enemy has plans of his own. Also in HD. [2007] [AD,S]
Comment
The barmaid is an 'ugly sister' who has the body of a woman and the voice of a man - this is trans* and although Shrek is not someone you are likely to meet in the workplace, nor is captain hook! However it is quite possible people will relate to the trans*character. The problem is that because of the deep voice the character behaves in a masculine way. Why bother? This again returns to British Pantomime and the 'Dame' and the transphobia that is spouted in their scripts annually to the laughter of the masses - one cartoon I drew kinda explains my problem here and it is this I will leave it at that!
http://cartoons.transgenderzone.com/
Panto is a problem as it is so loved, however if they can change as the traditional 'Principle Boy' (played by a female) became a male sopa actor for the most part, then tradition is quite flexible it seems that is until it comes to cross-dressing for laughs and Christopher Biggins' pension plan!
Just sayin' moving on before TLDR Rant ensues
---
Family Guy
29/12
BBC Three
Brian the Bachelor: Animated comedy series. When TV programme The Bachelorette comes to Quahog, they recruit Brian to be a contestant. Meanwhile Chris gets acne. Contains adult humour. [S]
Lois to Chris (their son who is distressed about a spot he has on his face/cheek) - "You are just becoming a man sweetie!"
Peter to Lois - "I remember when I became a man!"
(Cut to Peter in Hospital Bed)
Doctor - "The operation was as success, what are you going to go by now?"
Peter lifts blankets and looks at penis - "Peeeter!"
Comment
Trans*man gag - that's different - I have reported on it before but it is here again sooo....Trouble is it gives the impression to the public that transition and phalloplasty (in this instance) and even name changing is so simple and done in a day and he is clearly a fertile male too. If only they knew eh? It is a cartoon, true, but they do have some educative value in comedy. Just a shame they never seem to do justice to trans*people - and that is across the board not just this show. This is just ATYPICAL BBC fodder. 'Family Guy' is no stranger to this search this site.
---
Lorraine
31/12
ITV1
Topical morning show. I'm a Celebrity contestant Jimmy Bullard looks back at the experience and reveals his plans for 2015. Michelle Heaton explains why 2015 marks a new start.
Comment
Lorraine looks back at her highlights of 2014 on her show. And Kellie Maloney made it into those for transgender people. Just Kellie, but that was great she chose a trans*person as part of her favourite moments on her show - I would have gone with Miranda Ponseby click here to see why - she was Brilliant!
viewtopic.php?f=16&t=4492&p=41198#p41198
---
Five Children and It (2004)
31/12
Channel 4
Family fantasy based on E Nesbit's classic tale. 'It' is a psammead - a sand fairy - found by a family of WWI evacuees and grants them one wish per day, though the spell always ends at sunset.
Comment
Eddie Izzard take the lead with his best 'Sand Fairy' Voice. Which is a bit like his 'Cars 3' Voice and his 'Chonicles of Narnia - Prince Caspian' Voice. Nothing wrong with it as they obviously hired Eddie to sound like Eddie else what's the point?
Good fun!
Starring
Zoe Wanamaker/Eddie Izzard/Kenneth Branagh/Jonathan Bailey/Freddie Highmore/Tara Fitzgerald/Alex Jennings/Alex Pownall/Jessica Claridge;John Stephenson;;
---
Alan Carr's New Year Specstacular
31/12
Channel 4
Funnyman Alan Carr throws a New Year's Eve party to remember. Alan is joined by a host of special guests, including Jonathan Ross, Alesha Dixon, Mark Wright, Caroline Flack and Seann Walsh, while Vicki Michelle, Jimmy Bullard and Jake Quickenden serve drinks at the bar. Live music is from Tulisa and Professor Green.
Comment
Self-indulgent cr*p! Jonathan Ross who to be honest I am sick of the sight of - is there not any new talent out there? Look at the line up seriously? Same old faces. Like some bad Magaluf drunken bar party that you watch through the window - as you cannot be part of it as a spectator. Tulisa? Blimey I had hoped she had gone, she was there trying to revive her career let that rest in peace. Caroline Flack? It really was perhaps the saddest television of the year, add to that a bunch of cross-dressing gags and sketches that seriously? Alan get a new writer. He probably wrote them - it showed. I dunno how this man is even on telly now, but there you go - standards have slipped and we wonder why YouTube and Netflix is so popular? Well this is part of the reason Channel 4! However, on the other side to be fair to the BBC, 'The Graham Norton Show' was class by comparison. Top guests, top actors, funny, and the only drag in his show was Conchita Wurst singing the hit son 'Rise Like a Phoenix!' And brought the house down with the sultry bellows. I mean just compare the two! It is a no-brainer 'The Graham Norton Show' won this by a country mile! Alan I think is just stale! Sorry - you can only mince so much - Larry Grayson and John Inman have done it already.
---
The Graham Norton Show
New Year's Eve Show
Get ready for the bells with a special New Year's edition of the Bafta award-winning talk show, featuring the biggest celebrities, the brightest conversation and the best jokes. Graham is joined by Eurovision winner Conchita Wurst, cycling ace Sir Bradley Wiggins and Hollywood stars Eddie Redmayne, Anna Kendrick and Liam Neeson.
Comment
Top Class no trans*phobia! In fact there has been practically none since I wrote to So Television about one time he said Tranny and it stopped. His guests are the problem sometimes. Anyways tonight he had Conchita Wurst on for the song at the end, and some of the finest actors currently around as guests. Compare this to the dog's dinner that was Channel 4's Alan Carr offering above and we see just how bad Channel 4 have got. Alan is probably on contract and they want to squeeze every last drop out of him, but just remember 15 years ago Graham Norton was in his same slot on Channel 4, and he got out at the right time and defected to the BBC AND NEVER LOOKED BACK! Alan has been playing catch-up ever since. Time for some new blood. How many more years is Alan's travesty going to continue? Thank goodness the BBC delivered and saved New Years Eve that's all I can say! Their Fireworks at Midnight coverage was excellent as always except they need a better Qyadcopter Drone pilot next year for their aerial camera work
That said I was watching
www.twit.tv
24 hour New Year tech telethon but I am a nerd.
- That's online on this magical thing called the internet would anyone have paid to watch Alan Carr (his stand-up gigs are much better crafted and harder work of course) or Graham Norton. That is the trouble with choice.
---
There was more trans-currency being syphoned this year than any other. This last Month of December was relentless as you can see. And I probably missed 50%. So when you hear some activists saying how they are changing television take a little look here - cos it has got worse. Transgender is the last place comedy can go now without being punished. I mean not one Islamic joke apart from Family Guy. No racist jokes. But Trans*phobia - help yourselves eh? Happy New year!
For more on Trans-Currency and what it means click here -
viewtopic.php?f=16&t=3352
---
Don't have nightmares - see you next time with more of the same I guess?
I am literally Knackered!