So here we go again!
What is broadcast in the UK reflects on you as a transperson. Every month it is a case of spot the positives. Almost all television featuring anything remotely associated with transpeople is negative, comical or are negative stereotypes. So if we do 1not list them they go unchallenged as evidence is needed to effect change! Or even give awards.
It is a thankless and time-consuming task - as you can imagine especially when a trans character is introduced ... Nevertheless rest assured someone is watching even if you can't.
High Points
The Square Circle
Low points
Celebrity Juice
=========================================
Celebrity Big Brother 2014
- THE FULL BLOG!
(Channel 5/ Endemol).
Channel 5's 'Celebrity Big Brother' and 'Celebrity Big Brother's Bit on the Side' (the after show discussion about the house and its housemates) returns with the live launch presented by Emma Willis. Recent Transgender sensation Kellie Maloney has gone in.
This is now on every night so please refer to here for the full blog.
Click -
viewtopic.php?f=16&t=4436
=========================================
HOLLYOAKS
Now Finished - THE FULL BLOG!
Hollyoaks trans character 'Blessing Chambers'.
viewtopic.php?f=48&t=4273
=========================================
So let's begin.
---
Lorraine
04/11
itv1
Recently come out Trans Radio DJ Stephanie Hirst (sp) is a guest on Lorraine's show.
Comment
Historically every transperson and their aunty has been on Lorraine and she is always a safe pair of hands in this regard - nothing to say but well done!
---
The Gayest Show Ever
05/11
Community Channel
Magazine Show. We look at the female to male transsexual community.
Comment
I have commented on this last month or the moth before as it is a repeat.
My only concern is that transgender people under the umbrella of a 'Gayest Show Ever is not helpful, especially if they are trans men who like women as they are in effect straight men and not lesbians.
So this can again cause misinformation to be circulated. All trans are not gay. And like any other human on the planet some people are gay and some people are not. Some trans are gay and some trans*people are not. It is Gay licence taking control of a completely separate entity! Without drag, cross-dressing and gay trans the gay community is a pretty boring place these days. As it is now 'normailised', so many gay groups will seek to profit from 'trans-currency' under the guise of working together as trans are still worth something to the media! Supply and demand... This TV Sow (no puns) is exactly that.
---
This Morning
06/11
itv
Ria (sometimes Ryan) on living a bi-gender life
Opening up his wardrobe in the morning, Ryan Wigley has a difficult choice. Faced with rails full of men's shirts and women's frocks, what he wears depends on whether he has woken up feeling male or female. Half the time he feels like his female self, Ria and the other half of the time he feels completely male. Ryan, 22, is bi-gender, a term coined by the transgender community and a condition recognised by psychologists. He joins Amanda and Phillip to explain his story, together with his girlfriend who tells us how she feels.
Comment
Some may say that this is just cross-dressing so what's new? More on that in this months video Log (VLOG)
http://youtu.be/Tv7hSoRTPkU
Watch the clip of the interview on itv player Now!
viewtopic.php?f=16&t=4546
---
The Simpsons
'Stealing First Base'
06/11
Channel 4
Channel 4 broadcast more of the same. They don't seem to understand that the MOU they signed to stop being transphobic actually would include this intro! There are ironically shortened Simpsons Intros where this could be omitted. But what do they care eh?
Just another #transfail to add to the even increasing list.
http://i1149.photobucket.com/albums/o59 ... 1114c4.jpg
Channel 4
Here it comes!
http://i1149.photobucket.com/albums/o59 ... 114c41.jpg
Channel 4
Sex-Changes are funny!!!
Gender Dysporia is a
life crippling trauma
not a drag queen laugh down the pup you can remove at the end of the evening it is beyond these comedy writers wildest imagination, for many cured only by sterilisation. From a child's earliest recollection to know you feel poorly like this and unable to tell anyone because of assholes like this mocking it on children's cartoons - seriously shame on you!
How dare you make light of a condition that results in a high murder rate and third class citizen status - HOW DARE YOU!!!
Channel 4 had the cheek to later this month put on 'It could only happen in the 70s' where they pompously tutted at the homophobia and sexism of that era - a time when they didn't exist of course so are above it - ARE THEY? Well Channel 4 sorry but you are worse because it is 2014! And you are still doing this! And month upon month of the same in our logs! What will it take for you to stop?!
---
Brave New Girls
06/11
4Music
Reality series. Jenna Talackova, Miss Universe Canada's First Transgendered Contestant, moves with her entourage to Toronto to further her acting and modelling career.
And another episode Double Bill
Reality series. Jenna Talackova, Miss Universe Canada's First Transgendered Contestant, moves with her entourage to Toronto to further her acting and modelling career.
Comment
The only failing of this series is the show's desperation to uber femme the trans women as a turn on for the viewer, these women are not representative of the trans community. They pass sound great and are out - that is the antithesis of the true face of our community. The argument is, "Well by being out like this it will encourage more to come out. This is incorrect as they take one look at this unachievable benchmark and look at themselves at 40 in the mirror with 5 Oclock shadow and think what is the point? This is why average/ordinary trans women in the public eye is so important. Beauty is fleeting anyway. We need trans people who are successful regular people (scientists, doctors, nurses, accountants, managers etc) that people can be aspire to be. Not what some say are distant Kim Kardashian wannabees, that one in 10 million may get a chance at being.
Of course these shows also sadly set a beauty benchmark which can lead to depression amongst the community. I have had countless comments suggesting that they will NEVER look like this and even as beautiful as they are they struggle to come close so they'd just as well kill themselves!
All I can say is thank goodness for Kellie Maloney in Celebrity Big Brother this year - as that is a regular transwoman and demonstrated the trauma involved in transition!
Jenna is beautiful - that is a no-brainer. But what else is there? It would make a change to follow a transgender sportsperson or a trans politician or a reality show with a transgender astrophysicist who does not give the producers an erection - why are they all models or sex workers - sexist nonsense really - and part of the reason why we rarely see beauty pageants on British Television - that was a 70s thing...
SETS THE SCENE
As you can see an atypical transgender female (sarcasm) meets by chance another hot transgender female in a rock climbing center - happens all the time eh?!
http://i1149.photobucket.com/albums/o59 ... 144m12.jpg
4music
http://i1149.photobucket.com/albums/o59 ... 144m-1.jpg
4music
Annoying and kinda insulting - this series could have been so much better!
And Jenna's constant repetition that she is a 'role model' to young trans*women... assuming they want to be in beauty pageants - or are pretty - I am sure she is. But if they want to win a Nobel Prize I think we will have to wait a little longer maybe? The problem comes when the child is very masculine and has a face like a bag of spanners and then uses Jenna as an example of what she could be and the parents turn around and say - "Yeah but look at her - SHE WAS MEAN'T TO BE A WOMAN!!! YOU DON'T JUST LOOK AT YAH, YOU LOOK LIKE A MALE" And therein is the problem that television companies will face.
---
UK Border Force
09/11
Pick
Observational documentary series. Officers stop a Nigerian with a forged passport who insists he is 15 years old. A transgendered woman suffering from terminal cancer and with just $10 to her name finds out if she qualifies to get into the country. A criminal is caught in Calais.
Comment
Usual fayre - repeated many times in our logs here over the years. I still wonder what happened to her
---
8 Out of 10 Cats
10/11
Channel 4
Sean Lock - "Yeah just a couple of days off (from myself)."
Jimmy Carr - "Not the full operation, you just want to dress up!"
Roars of laughter - at the concept of GRS....
Yawn(!), nothing new here, move along, Channel 4 have been cordoned off!
---
The Wright Stuff
13/11
Channel 5
Hardeep Singh Kohli raised concerns about eh World Cup (Football) being hosted in Qatar for A friend who is transgender and other gay colleagues who would like to attend.
Comment
Just a comment here but very important! Thanks Hardeep!
---
The Alan Titchmarsh Show
13/11
itv1
Comment
In the last week of his series he invites on serial self mocking cross-dressing for cash 'Hairspray' performer Michael Ball on the show, and of course they then do a what is the correct drag queen name for the person shown.
This sadly is the level by which transgender people are judged in society. And I am not a big fan of people who use trans-currency and leave the frock at the stage-door, when they do 'make it' like Paul O'Grady they soon return to a male suit! You gotta walk the walk full time for ever to really understand the damage this sort of thing does. But hey its cash so enjoy eh?
The old saying take off the frock and do the same act and you realise just how untalented you are! Try it! Drag is often the home of second rate singers and actors (panto) who without the frock would never have a hope of working in theatre. Note to any out of work X-FACTOR artists never fear buy a frock and cash in!
It just makes trans*people a laughing stock and the audience did laugh AT them not with them...
Have a laugh at Drag
Laugh some more
(Images: itv)
Be interesting if this were possible without laughing at cross-dressing... just a thought.
---
The Gayest Show Ever
14/11
Community
Magazine show. Controversial director Bruce LaBruce tells us how his hardcore pornography takes aim at consumerism and we continue our look at the female-to-male transsexual community.
Comment
Deja Vue (Literally) buy some new content - and not all trans are GAY btw! And why does a gay show automatically go for Hardcore Pornography? Talk about making a rod for your own back (there is a pun there somewhere!). ITV's Loose women have been on for years and rarely mention Hard core porn - just saying - stop stereotyping yourselves
---
It was alright in the 70s
15/11
Channel 4
This was Channel 4 trying to grab some X-Factor viewers. It was Channel 4 lording it over the 70s as at that time they didn't exist. However what they seem to forget is they are
STILL
broadcasting this crud as are the BBC and ITV - Now it is dressed in a transphobic skin as opposed to racism or homophobia.
They seem to think they have stopped? News just in, go look at our monthly logs! Read them and weep!
Transgender people are invisible, they are some ugly thing they simply do not seem to recognise in the schedules to this day.
I found it actually upsetting watching a bunch of 'personalities' (I use the term loosely - or as I describe them 'people who are filmed at work'), tutting and raising their eyebrows at just how
bad
it was... yet many of them crop up in our logs who behave in transphobic ways themselves to this day.
The 70s were of that time, ironically in the late 70s transgender people were treated quite well (A Change of Sex Julia Grant's ground-breaking BBC documentary to prove the point) even 'On the Buses' were not as transphobic as Channel 4 are today! But today trans are a laughing stock on almost all channels.
Channel 4 has nothing to be proud of here, you can make all the promises you like, and host all the soirees you like, or donate to all the 'transpositive' charities you like. But if I don't see it on the screen its all either stalling or cruel Machiavellian tactics to get the monkey off your backs.
The solution is to just sort it out once and for all you don't need all these 'meetings' it is fixable in 5 mins! I am an email away. I can tell you exactly what is wrong and how to fix it... I have the data, I have the clips, I have 18 years of experience on the front line. But what better reason than that to avoid me when transgender nodding dogs allow it to continue!
I am so tempted to use the same formatted and voice over the programme and simply swap in all your transphobic television and replace the clips and have the comics raising eyebrows to their own phobic comments - now that would be something that would probably go viral and destroy any ounce of credibility left in these organisations regarding transphobia. That said copyright infringement negates that - that's a shame! Although a new legal ruling states that if the content is clearly satirical in nature and makes you 'laugh' you can use fair use' as many do on youtube.
Comments in the show such as:
"When sexist homophobic dinosaurs ruled the earth"
We can change that today to "When transphobic dinosaurs ruled the earth."
What they forget is placing beautiful transgender women center stage is no different to a Miss World Competition, Selecting sexually attractive teenage trans women to be on television, it is again sexist as they have been chosen purely because they turn on the men selecting them. Choosing more 'representative' transgender people is the way forward - otherwise what is the point? Thank goodness Channel 5 and Endemol managed to shell out enough to get Kellie Maloney into the ' Celebrity Big Brother' House that is all I can say. But then again Channel 5 are always our channel of the year. I will let you know if Channel 4 overtake them! Don't wait up! They truly are deluded into believing they are fine!
Christopher Biggins who has made a good living cross-dressing for cash and misgendering transpeople - yes we have it on file. Were amongst the many tutting viewers.
---
Mrs Brown's Boys
15/11
BBC ONE
Mammy's Ass: Comedy series. As her sons may not be able to make it, Agnes must take action if she wants her family to be together at Christmas. Contains some strong language. Also in HD. [S]
Comment
The illusion she is some old lady is fractured once more when Brendan (AKA Mrs Brown) jokes about his balls.
Get this cr*p off the telly seriously! Men in dresses are funny because of garbage like this! The issue will never be cured until we stop laughing and men and trans assigned male at birth who wear dresses.
---
Hollyoaks
17/11
e4
Usually I don't mention this thread as it is mentioned at the very top but it featured a trans*woman in this instance so a special mention.
See here for full story!
viewtopic.php?f=48&t=4273&p=41830#p41830
e4
---
Toast of London
'The Moose Trap'
17/11
Channel 4
Sitcom. A return to the West End stage in the legendary play 'The Moose Trap' is seriously jeopardised when Toast reveals the killer's identity in a radio interview.
TRANSCRIPT
"What a relief to see a show that is not full of [...] sex-change artists!"
Channel 4
Comment
This is the second series, in the first series we had similar issues here:
viewtopic.php?f=16&t=4017
In this series which is more of the same from Channel 4, people with silly names, the lead Matt Berry and his one dimensional performing style. He is Matt Berry and that's the same as he was in the IT Crowd (another transphobic sitcom), the idea is he offends in a post modern way, that somehow, by being offensive let's say wearing a silly hat, makes it less offensive? Or by overstating the offence to a ludicrous level it makes it somehow less offensive by exposing it as being silly to be offensive.
However, this falls into the same mindset as the 1970's Sitcom 'Till Death do us part' where the character Alf Garnet, played this obnoxious, ridiculous middle-Englander, who was homophobic and racist and sexist - today no-doubt would have been transphobic too. But the idea that he was so absurd in his thinking would somehow demonstrate to the viewing public that this is how pathetic racists and homophobes look, back-fired. And people were said to have shaken his hand and cheered the actor in the street by racists, "NICE ONE ALF! KICK 'EM ALL OUT EH!!!" etc... The actor Warren Mitchel was shocked (he himself was Jewish) and said "they don't seem to get the irony!"
'Toast' is exactly the same, transphobes, homophobes and racists will buy into this and agree. Sensible people (whoever they are) will see it for what it is, but the sensible people are not the problem Channel 4!
This is also an excuse to use transphobic material in the guise of absurdity. It changes nothing! Joking about sex-changes in both series now, Is in breech of your MOU Promise here! Absurd or not!
http://www.transmediawatch.org/Document ... anding.pdf
I quote!
"Avoid gratuitous descriptions, comments and references that subject transgender people to ridicule."
The only offset here would be if the actor himself was say a trans man in reality. If Matt Berry or the other actor was say a transgender man in REAL LIFE and was acting here and this was said, I think it would just scrape by. But in this instance it is yet two white middle-class men joking about sex-changes!
Give it up Channel 4 - you have failed it has been 4 years since you signed that document and have annually failed ever since. Time to start again I think!
A case of the heart was willing but the body wasn't able eh?
Nuff said!
---
Lorraine
18/11
itv1
Paris Lees appears to promote her 40 second cameo in Hollyoaks above - the e4 version above is a 'First Look' earlier version which is broadcast a day earlier. Channel 4 broadcast their version here.
REVIEW
viewtopic.php?f=16&t=4551#p41832
---
This Morning
19/11
ITV1
Presented by Phillip Schofield and Amanda Holden. A look at the day's news headlines.
Comment
Julie Hesmondhalgh was on and, well, talked about Hayley in Coronaton St.... Let it go, (#LET IT GOOOO!!!) it is now done
Leave it Julie (holds her back) it's not worth it!
That said she is doing a play now so good for her.
---
Celebrity Juice
20/11
ITV2
Madcap host Keith Lemon invites broadcaster Janet Street-Porter, entrepreneur and Dragons' Den star Peter Jones and comedian Patrick Kielty to take part in another hilarious round of the topical panel quiz. The guests join team captains Holly Willoughby and Fearne Cotton and regular panellist Rufus Hound for some side-splitting games, japes and surprises.
Comment
Keith suggests women on the show have penises and they laugh.
Of course laughing at women who have penises is 'transphobia by proxy' in this instance as there are women who have penises and are they therefore hilarious Leigh? That is no different to laughing at a black person because they are black as that is something they have been born with and cannot easily change. Sadly the show just do not see it like that. I do!
See -
http://library.transgenderzone.com/?page_id=3000
---
Alan Carr - Chatty Man
21/11
Channel 4
Alan Carr hosts his own light-hearted chat show. His guests are Bette Midler, James Blunt and Keith Lemon. Music is provided by Sam Smith.
Comment
Alan Carr cross-dresses as Kim Kardashian so he can spray Champagne of his back. Has he ever cross-dressed seriously in his life? If not then that's the problem - eh? Cos the difference between the two are one is just exploitative the other is the exploited. If only I could click my fingers and make him trans for a month - he would never do it again! But Karma will hopefully take care of it as he is unlikely to change...
Read this -
http://library.transgenderzone.com/?page_id=3000
it explains what I mean.
---
Secrets of Sex - Normal
22/09
Community
Documentary presenting the real life stories of transgender migrants working in the sex industry in Albania, Italy and the UK.
Comment
Trans = Sex workers, but Community Channel Trans are also doctors, Nurses, social workers, scientists, teachers and Police Officers. So I am sick of this sort of thing tbh!
---
It Was Alright in the 1970s
22/11
Channel 4
Two-part series which revisits the TV decade that taste forgot. With attitudes to feminism, foreigners and family values being somewhat different 40 years ago, this episode explores old-fashioned 'Britishness' on television in the 1970s.
Comment
Again we see in part 2 the raised eyebrows of many a comedian who believes they are above this these days yet practically every one of them I have clips of them in recent years being transphobic ON CHANNEL 4 and THE BBC!
So this programme to me was just bloated hypocrisy! They looked shocked at the Black and White Minstrel Show in this episode (but laugh at Alan Carr above) yet what about people who cross-dress for laughs? Sorry I don't see the difference! As women assigned female at birth are not ridiculed by cross-dressing as they can see 'it is a fella in a frock' and men are not, so exactly who is humiliated by it - tran*people, that's who.
Apart from that there were comments about 'It Ain't Half Hot Mum' - a show I have mentioned a lot over the years. It was set in Burma and had a cross-dressing concert party. The only reason we do not see it on today is because they used the word 'Po*fs' - that's it really. It was the cross-dressing that caused that but homosexuals are homosexuals even when not cross-dressing. Do you see what I am getting at. The abuse was by proxy of cross-dressing and that is still acceptable- that's still fine till this day (see 'Little Britain'). Many of the people bussed in to speak and be 'shocked' by how un-PC British Television was in the 70s have been transphobic quite recently.
So this was just sickening to watch and not because of the 70s but because they are deluding themselves into thinking that this 'problem' has gone away! NEWS JUST IN GUYS - IT AIN'T!
They themselves right now are those Bernard Mannings, You are all those Black and White Minstrels right now - as I write this Pantomimes all over the country will be busing in hasbeens like "Christopher Drag pension plan Biggins" to do their stint as a dame on stage. And most will be transphobic in their acts, cross-dressing itself, if not done for some genuine compulsion is used just to humiliate. Many trans* and gender-variant children will see a cross-dressed person for the first time on stage this Noel and realise their destiny is to be a laughing stock - and many will bury these painful feelings as a result! Congrats!
We spoke about this here check it out!
[youtube]http://www.youtube.com/watch?v=Dal5bL7i6_4&list=UUou0Arkb3eanJgARKZEQFOA[/youtube]
---
The Simpson
'Who Shot Mr Burns'
23/11
Channel 4
Seymore has make-up on by accident as it is dark and the supertintedant chalmers says, "Oh my God!" In horror at a man wearing female make-up.
It is at first glance - minor - but all this plays into the cross-dressing is disgusting and 'wrong' and to be ridiculed.
---
Brave New Girls
25/11
4Music
Reality series. Jenna Talackova, Miss Universe Canada's First Transgendered Contestant, moves with her entourage to Toronto to further her acting and modelling career.
Comment
Double Bill - back again on the loop - so those who missed it first time around can catch it now... It is OK but famous for being trans rather than a talent never quite sits well for me. After all take her genetic luck away and what would she be doing? She would still be trans but that is exactly who television should be looking at - maybe rather than a trans Kim Kardashian perhaps we should be looking for the intelligentsia trans people who make a difference every day from nurses to scientists! Jenna sets impossibly high beauty standards which to be fair makes many transpeople (most of who are incredibly body dysmorphic as it is) jealous or feel like sh*t as they were not genetically as lucky in the looks department. Is this a good thing? Is she a good role-model? She seems to think so - I beg to differ.
---
The Square Circle
25/11
Channel 4
Drama. An unnamed woman, abducted and forced into prostitution, manages to escape her captors.
Channel 4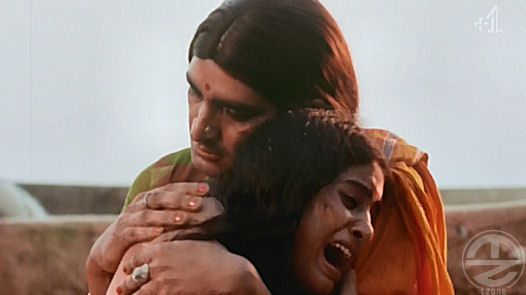 Channel 4
She is helped by an itinerant transvestite actor,
Channel 4
Channel 4
Channel 4
who disguises the girl as a man so they can travel safely as a couple back to her village.
Channel 4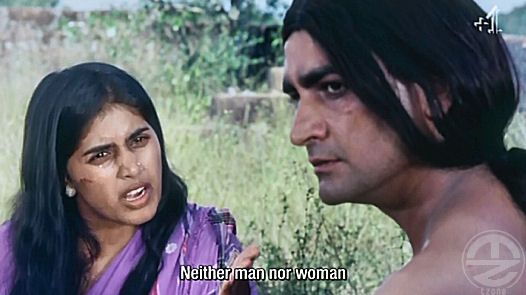 Channel 4
"When you fear nothing ... Life will be beautiful for you..."
Comment
On at 2.20am so a bit of a shame, but was interesting, as it dipped into the Hijra culture a little and was a bit Bollywood. That said it was refreshing to see something different from the usual Breakfast on Pluto/Hedwig/Rocky Horror nonsense we are usually fed. Escaping something in disguise is nothing new, from 'Some Like it Hot' to 'Mulan' it is a common theme.
It is a kinda road trip where a Eunuch and a girl who was gang-raped (yeah it is quite intense) face challenges. It has a very sad ending - which I think was unnecessary. Samuel Goldwyn of MGM had ending rewritten as he knew the audience wanted to feel good leaving the cinema during tough times. I think this was such a film. I won't spoil the ending.
But if you are trans you can probably guess how that went.
Apart from that it really did have some merit in places.
That said it made a change. And Channel 4 no less - it is a beginning I suppose! No doubt.
---
Dog Day Afternoon_
25/11
itv
Heist drama in which a man holds up a Brooklyn bank to raise money for his lover's sex-change operation and becomes the focus of the entire city's attention. Pacino gives a fine performance as the anxiety-ridden bank robber.
Comment
A good film but trans linked with armed robbery - do we really need that?
(The trans actor was not actually trans).
---
This Morning
26/11
ITV1
Presented by Phillip Schofield and Amanda Holden. A look at the day's headlines, and a chat with Breaking Bad's RJ Mitte.
Comment
Kellie Maloney appears and sets the record straight still numb from her facial op that nearly killed her!
WATCH NOW CLICK HERE
viewtopic.php?f=16&t=4560
---
The IT Crowd
'Reynholm vs Reynholm'
26/11
E4
Surreal office sitcom written by Father Ted's Graham Linehan. Douglas finds marriage agrees with him - for all of two weeks. He is then in court, defending himself, with the help of Jen, Roy and Moss.
"We have heard about the Real me! But I think it is time were heard about the real you! Isn't it true that you used to be a man?!!"
(Laughter)
Wife - "No!"
"It isn't true you say?"
Wife - "It is untrue!"
"Who am I thinking of?"
Jen - "I think you mean April the woman you had a fight with?!"
"No further questions my lud'"
Comment
The assumption that any transwoman 'used to be a man' is actually offensive. Even in the episode in question April said, "I used to be a man..." Being designated male at birth by the state is not the same. Very few transwomen identify as such, the projection of social 'norms' forced this charade to endure for the vast majority. Plus 'April' ended up being smashed through a plate glass window to the hilarity of the viewing public (Hate-Crime hilarity), and the actress who played April was not trans either. This is purely to get a laugh out of a transgender situation (Trans-Currency). And this again returned to that episode to make more currency from it.
Hilarious eh?
The one saving grace (if any) was the line by Jen who said "that woman... you had a fight with..."
But it is not enough sorry! Jen, or Moss (considering the amount of transpeople who work in IT) could have been a 'genuine' trans*woman acting the part. But maybe one day eh? Then at least there would be balanced rebuttal in the parts played rather than all this one-sided transphobia...
---
Celebrity Juice
26/11
itv2
Hilarious topical panel show in which irrepressible host Keith Lemon invites more celebrity guests to test their knowledge of the latest showbiz news. Regulars Holly Willoughby, Fearne Cotton and Rufus Hound are joined by Austin Powers star Verne Troyer, Sugababes singer Heidi Range and Heidi's fiance, presenter Dave Berry, to take part in side-splitting trivia challenges and madcap games. Plus there is a regular round featuring twin X Factor stars Jedward.
Comment
Keith takes a photo under the table of Holly and then shows the shot on a big screen where they have super-imposed a pixelated penis between her legs.
The infamous Holly Willouby has a penis episode and the audience crying with laughter and her saying that is the worst thing you could ever do to me! The only group exploited by this are transgender people. As she does not have a penis read this -
http://library.transgenderzone.com/?page_id=3000
it explains what I mean.
---
8 Out of 10 Cats
27/11
Channel 4
Topical comedy panel show. Host Jimmy Carr is joined by team captains Jon Richardson and Sean Lock, with guests Carol Vorderman, Krishnan Guru-Murthy, Rob Beckett and Sara Pascoe.
Girls on Panel - What is wrong with being a girl?
Carol - You are not a girl are you (to Jon).
Jon (after laughter) - I have a penis!
(Laughter)
Sean Lock - WRONG MEETING!!!
Comment
Sean saying wrong meeting obviously suggests a transgender support group... nothing wrong with that except the laughter associated with the idea. Jon not having a penis and a support group for transgender people is hilarious!
Channel 4 at their best.
Just stop laughing at trans* issues it is not rocket science!
---
The Gayest Show Eve
28/11
Community
Magazine show. Controversial director Bruce LaBruce tells us how his hardcore pornography takes aim at consumerism and we continue our look at the female-to-male transsexual community.
Comment
Wot again? Infinite repeats and not all trans are gay - this show is really out of its time. Even The UK scrapped 'Gaytime' TV in the 90s!
---
Celebrity Juice
28/11
itv2
Madcap host Keith Lemon presents the hilarious topical panel show. This week, team captains Holly Willoughby and Fearne Cotton and regular panelist Rufus Hound are joined by Corrie's Ryan Thomas, DJ Sara Cox and musician and reality TV star Preston. Also featuring X Factor twins Jedward in a regular round.
TRANSCRIPT
KL - "Are you a Ladette like wot Nadia was?"
(FLASHES UP A STILL OF NADIA - Laughter?)
KL - "A hermaphrodite?"
(LAUGHTER)
Panel Member - no she is a transsexual.
KL - Wot she's got a TallyWhacker and a Tuppence?!
(Laughter)
Panel Member - No she's just got a new vagina!
(LAUGHTER)
Keith then demonstrates how she had her genital surgery to the hilarity of the audance...
itv
Look at his face here - the zeal! This is nothing new he has been mocking transgender people for as long as I can remember.
ROCK BOTTOM! Repeating this! Nothing has changed!
Later Jokes - Chantelle is a MAN! She hid that well eh Preston...
(More hilarity)
Comment
By far one of the worst episodes of this series ever made!
In this we see them openly humiliate a real trans*person Nadia Almada in her absence, and not happy with that, Leigh Francis (AKA Keith Lemon) then demonstrates GRS for laughs with his hands - to the hilarity of the studio audience. Objectification of the worst kind.
Shame of you itv2 for airing this. And how sad it is is produced by Holly Willoughby's Husband. And she appears on it. This was not an off-the-cuff gag in the moment, this was pre-crafted with stills of Nadia and scripted in. Therefore malice a forethought.
A disgrace!
MORE...
viewtopic.php?f=16&t=4563&p=41904#p41904
---
Secrets of Sex - Normal
29/11
Community
Documentary presenting the real life stories of male, female and transgender migrants working in the sex industry in Albania, Italy and the UK.
Comment
And it is repeated again - trans*sex workers chat...
Trans Industrial chemists maybe? Trans captains of industry maybe? Or sex workers always sex workers!!!
----
Secrets of Sex - Aravani Girl
29/11
Community Channel
Documentary. Two teenagers dream of becoming ladyboys. Loved as performers but hated as homosexuals, their stories echo the conflicts of India's gender culture.
Comment
This was actually OK and an example of how other cultures deal with these issues. But poverty and the bright lights leaves a little pit in the bottom of your stomach.
That said I remember very similar themes in Channel 4 programmes in their infamous RED LIGHT ZONE of 1995. I have the recordings! What it shows is that nothing has changed at all!
---
Community
Ice Age 3 - Dawn of the Dinosaurs
30/11
Channel 4
(2009) Animated adventure. Manny the mammoth and Diego the sabre-toothed tiger must traverse an underground world ruled by dinosaurs to save Sid the sloth from an angry Tyrannosaur. [S]
Comment
Yup even in something as innocuous as a kids cartoon there is a transgender gag!
AKA Ice Age: Dawn of the Dinosaurs (2009) - IMDb
http://www.imdb.com/title/tt1080016/
Buck (Voiced by Simon Pegg no stranger to transphobic terminology search this site!)
"Now let me tell you about the time I used a sharpened clam shell to turn a T-Rex into a T-Rachel!"
So a kids castration gag - funny eh?
---
Don't have nightmares - see you next time with more of the same I guess? Oh and a MERRY CHRSTMAS or HAPPY HOLIDAYS depending on your persuasion...