So here we go again!
What is broadcast in the UK reflects on you as a transperson. Every month it is a case of spot the positives. Almost all television featuring anything remotely associated with transpeople is negative, comical or are negative stereotypes. So if we do not list them they go unchallenged as evidence is needed to effect change! Or even give awards.
It is a thankless and time-consuming task - as you can imagine especially when a trans character is introduced ...say in Hollyoaks as that eats into even more of our time. Nevertheless rest assured someone is watching even if you can't.
High Points
Celebrity Big Brother 2014
The Wright Stuff
Low points
Benidorm
Mrs Brown's Boys
Ross King on Lorraine
=========================================
Celebrity Big Brother 2014
- THE FULL BLOG!
(Channel 5/ Endemol).
Channel 5's 'Celebrity Big Brother' and 'Celebrity Big Brother's Bit on the Side' (the after show discussion about the house and its housemates) returns with the live launch presented by Emma Willis. Recent Transgender sensation Kellie Maloney has gone in.
This is now on every night so please refer to here for the full blog.
Click -
viewtopic.php?f=16&t=4436
=========================================
HOLLYOAKS
WEEKDAYS - THE FULL BLOG!
Hollyoaks is now establishing itself with the controversial trans character 'Blessing Chambers'.
However rather than have every single daily episode listed here I will simply direct you to the main blog thread that includes the daily storyline and photos so you can catch up!
viewtopic.php?f=48&t=4273
So I have deliberately not included this in this Log for practical reasons and length.
=========================================
So let's begin.
---
The Singer Takes it all
01/08
Channel 4
Singing competition where viewers use an app at home and send a singer along a conveyor belt to win or lose the competition.
Comment
Alan demonstrates with a pre-recorded clip of him cross-dressed - Now if he cross-dressed for the actual show every week full-time instead of his male privilege suit then fine. But again its just for a P*ss take - pack it in! Again, a case of Gay Licence. GLB....T?
http://library.transgenderzone.com/?page_id=2976
---
Four in a Bed
4seven
Transman reported as being one of the a Bed and Breakfast owners.
Comment
I can't see it all - been busy with Kellie but happy to hear more if you know more?
---
Catfish - The TV Show
01/08
Viva
Reality documentary series following Nev Schulman as he travels America investigating the online profiles of couples who have never met in real life, to establish whether the people are really who they say they are, or whether they are so-called 'catfish'.
Comment
A good concept this, and look forward to the next series - this is definitely an MTV Hit! And it is so current and relevant! The two guys who present it are really lovely too!
In this episode a girl has been chatting to a man who she has fallen for. When they finally meet it transpires he is an early transitioning young transman. But even though this is a shock she still loves him. He proudly boasts of his first T injection!
GLORIOUS!
Worth watching so set your DVR's and TiVos to 'Series Link' (or Record Series you know what I mean
p)
The reason I like this is it does not start out to use 'Trans-Currency' it allows those that have been hiding, a voice. In another episode a young Black person Designated male at Birth was visited by the crew and posing as a white Model (stolen photos). Although there is shock it is all very 'safe' and managed perfectly by MTV. It is an education but by a fresh new avenue. It is not the classic Trans content. It really is 'the welcome surprise at the end'. That said there are plenty of other couples who are not trans of course who discover things are not quite what they seem!
---
The Rocky Horror Picture Show
03/08
Film4
(1975) Raunchy rock musical. A transvestite scientist (Tim Curry) aims to create a perfect man. Can two stranded teens (Barry Bostwick and Susan Sarandon) avoid his clutches? Sexual scenes. [S]
Comment
Now some see this as a 'classic' that allowed people to cross-dress in public with an 'excuse' back in the day - like a 52 week Halloween. But others see this as a way to continue the ridicule of cross-dressing, it also gives ample opportunity to cisgender people to pretend to be trans on stage for pay. And go onto countless television programmes after the fact laughing and showing what they 'look like in suspenders'. To the jeers and whoops of the audience reinforcing trans as fetish. Almost all who do this are men. After all, a woman in suspenders being laughed at for wearing them to jeers and laughter them makes no sense. And would be offensive and sexist.
The Richard O'Brien pension scheme pays off a little more.
I place this film firmly in the controversial category, and it is 'just there'. The 'Time Warp' is a good tune. Thats it!..Moving on.
---
The Wright Stuff
04/08
Channel 5
Anne Diamond hosts the topical debate show alongside panelists Jeremy Edwards and Saira Khan. Guests today include actor John Partridge.
Comment
A discussion about children's boy dolls not being anatomically correct.
Hey Action Man never had a penis - A role-model if ever there was one
Saira Khan says, to one viewer who's parent just cross-dressed a girl doll rather than buy a boy one she wanted. "Maybe it had a sex-change."
Minor and barely audible as her mic was down a bit. I understand why people use this term - we often 'keyword it' as many look for that if they don't know the actual terminology. But its not really ideal! We need to try to strive to changing this if we can.
---
Benidorm
07/08
ITV1
Mateo prepares for his first water aerobics class - but then Donald takes a funny turn. The Garveys are approached by a gangster who says they have inherited Mel's debt.
Comment
Tim Healey as Les/Leslie is a piss-take as is the writing. This episode went a bit easier on the trans gags. But hey ho. Still joked about 'masculine hands - for more on Benidorm see our original reviews in the top search box!
---
And as if by magic!
Mrs Brown's Boys
09/08
BBC ONE
5/6. Mammy?: Rory and Dino have a bust-up and Mark and Betty announce their departure to Australia. Contains adult humour and some strong language. Also in HD. [S]
Comment
Never liked this cross-dressing series simply because the BBC made it a 'flagship show' that is so anachronistic it deserves to be in the late 70s early 80s where it made sense. The joke all along to quote Brendan O'Carrol from an episode where he turned to the audience and said...
"It's a f*cking man in a dress!" (About himself).
Yes, Yes Brendan, this is exactly what it is!
This is really old fashioned television and time for it to go! The Black and White Minstrels was the most popular show in the 1970s and there was an outcry when it was axed. But it depends on if the BBC have any morals whatsoever or are they spineless.
The BBC have a licence fee that is more expensive than Netflix that does provide content I enjoy. Seriously the BBC is at a crossroads now. They do not need to worry about ratings - they are funded by the state (US!) so wtf? BBC wtf are you doing?
---
QI XL
09/08
BBC TWO
16/16. Kaleidoscope: Quiz show. Stephen Fry looks at a complete kaleidoscope of K-topics with Liza Tarbuck, Susan Calman, Sandi Toksvig and Alan Davies. Also in HD. [S]
Comment
Jokes about Gynaecomastia.
---
Big Brother's Bit On The Psych
09/08
Channel 5
A round-up of Big Brother-related news and debate, with special guests, exclusive footage and behind the scenes treats.
Comment
Rylan Clark excitedly mentions Luke_A will be on the show on Monday... (see later).
---
Lorraine
11/08
ITV1
Morning show with a topical mix of entertainment, discussion and showbiz glamour, as well as featuring the latest fashion, food and celebrity gossip.
Comment
News story breaks about Frank Maloney Maloney coming out as Kellie. This news now dominates the press and media for the remainder of the month!
'The Sun' headline reads, "Frankly I don't give a Dame!"
What if he had cancer? Would they make a joke about that? What is the difference other than the pervy logic that goes along with these sorts of things?
Give me strength!
---
The Wright Stuff
11/08
Channel 5
Matthew Wright hosts the topical debate show.
Comment
Quite a different spin from our Transgender Television Awards Best Presenter of the year. His panel very supportive and sensible about Kellie Maloney even complementing her on how she looked this came from ex- 'The Management' comic Norman Pace (who was currently in West End Buffalo Bill garb, grey beard for the role).
---
This Morning
11/08
ITV1
Comment
They bus in a Kellie-a-like to interview.
This is a shame as she is a great booking in her own right.
I just couldn't help thinking she was used because they couldn't 'afford' the real story.
Full Review of this Story
viewtopic.php?f=16&t=4414
itv
This Morning
11/08
ITV1
This was followed by a call in about hiding 'secrets' from your family.
One caller 'Jack' spoke passionately about being in exactly the same boat as Kellie was and how it is destroying his life!
Heavy stuff but necessary!
---
The Wright Stuff
12/08
Channel 5
Matthew Wright hosts the topical debate show.
Comment
Following Sunday's Mirror Revelations here.
http://www.mirror.co.uk/news/real-life- ... ng-4030910
'The Wright Stuff' have a mini debate with transgender people on the show.
http://i1131.photobucket.com/albums/m54 ... 24d02d.jpg
Full Review
viewtopic.php?f=16&t=4424#p40660
---
Big Brother's Bit On The Side
11/08
Channel 5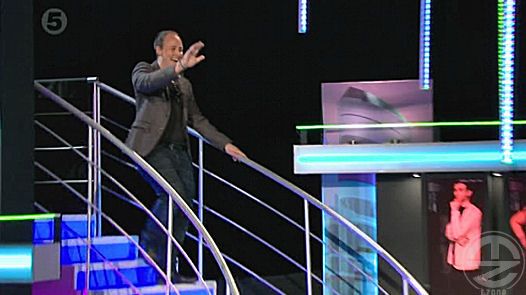 Channel 5
See Full Review
viewtopic.php?f=16&t=4428
---
The IT Crowd
'Smoke and Mirrors'
14/08
E4
Sitcom set in an IT department, written by Father Ted's Graham Linehan and produced by The Office's Ash Atalla. When Jen loses concentration during a board meeting due to a faulty bra, Moss overcomes his fear of ladies' underwear and plots a way out of Reynholm Industries by inventing a flawless bra.
Comment
The whole episode was kinda wrapped around the 'joke' that Roy had lipstick put on him whilst drunk during a stag party. Thats it?
It is kinda topical as Paris Lees mentioned here
viewtopic.php?f=16&t=4424#p40660
that if Matthew went out on the street in lipstick he would be mocked or thumped.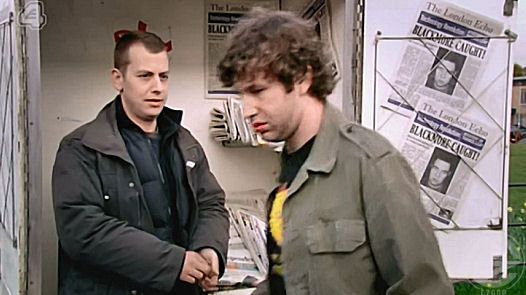 e4
This show was made 21 Sep. 2007 - So not a lot has changed really then?
There is also a scene where he has to go under the table to fix his boss's computer and although he admires his employee having the courage to wear lipstick (which he still does not realise he is wearing btw) he does assume that Roy is trying to have sex with him - all trans are gay? (They ain't but this is the impression it gives). Gay Licence! -
http://library.transgenderzone.com/?page_id=2976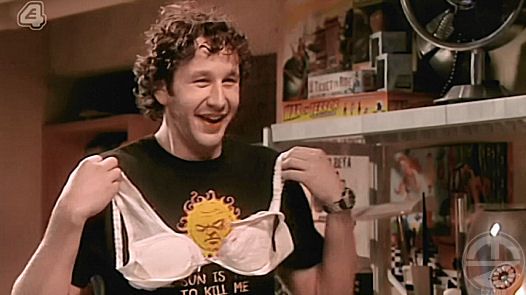 I'm a woman - Hilarious Laughter.
When they don't laugh it will stop!
---
Big Brother's Bit On The Side
14/08
Channel 5
A round-up of Big Brother-related news and debate, with special guests, exclusive footage and behind the scenes treats.
Comment
They do a Lauren Harries as 'Mystic Meg' Predictions sequence.
Lauren gets to 'drift off into a trance and basically 'ham it up a bit'.
It was OK. Usual daft stuff BBBOTS get up to to fill the hour!
Lauren - hmmm one can't help thinking she was also doing a 'When Harry Met Sally' Scene
LOL This was an audition for the 'Playboy Channel' Maybe? Lots of sighing and groaning!
---
Benidorm
14/08
ITV1
A freak storm batters Benidorm and Les/Lesley has to arrange some bingo entertainment with rather unusual prizes. Reformed alcoholic Pauline discovers that her flight has been cancelled and decides that a drink might help ease her frustration. When a handsome stranger from Janice's past arrives at the Solana, she fails to notice that Michael is having his first taste of holiday romance. Meanwhile, poor Natalie is still having man trouble and Donald has some bad news.
Comment
Same old same old - search for 'Benidorm' in our search bar for more.
---
Dog Day Afternoon
15/08
ITV 1
Heist drama telling the true story of a man who holds up a Brooklyn bank to raise money for his lover's sex-change operation and becomes the focus of the entire city's attention.
Comment
Nuff Said!
OK - but take away the GRS and its really not got the legs! Also again trans linked with robbery.
---
The Last Leg
15/08
Channel 4
Adam Hills, Josh Widdicombe and Alex Brooker present the comedy show which takes an offbeat look at significant events from the past seven days. Carrie Fisher guests.
Comment
This Disability comedy flagship show across all networks has to be one of the smartest moves by Channel 4 in a long time.
It can go to places that 'able-bodied' cannot - it is the disability equivilent to a black comment allowing you to laugh at racial differences with him.
It feels safe.
Note to Channel 4 Trans could do the same thing btw! Don't come second in this idea!
Anyways!
They have a section entitled "Is it OK to...." Where people Tweet in opinions and potentially non-PC jokes and comments to check with the three presenters (2 are disabled) if it is OK to say...
This week they invited on the still raunchy Carrie Fisher and read out a comment they were sent.
It reads see photo "...get her on the show she is an inspiration...!"
Carrie replies - "Yes I wonder did he give himself his own name or did the Hurricane-naming people give him that name?!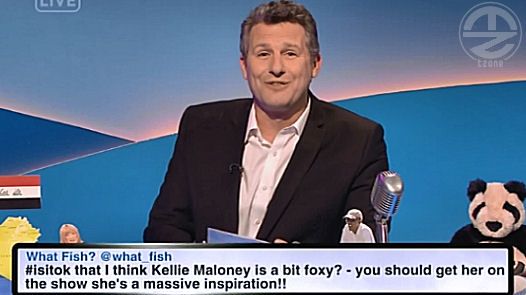 They double over laughing - yet the Hims and He's are non-pc. This is the one example that even this show cannot 'go there' and get away with it.
It needs a separate show. Disability shows cannot go there as they laugh along with this..
I asked the Gov once if Trans was a disability or not. They said It depends if it affects your daily living or not? I think that would be a yes then?
Sorry I love this show but their 'reactions' to this misgendering spoiled it for me. It is like laughing an a wheelchair user on a Transgender comedy show.
---
Salt
16/08
Film4
(2010) Violent action-thriller. A CIA agent (Angelina Jolie) must flee when a Russian defector claims she's a sleeper agent about to commit a terrible act of terrorism. Strong language. [AD,S]
Comment
Angelina dresses as a man to infiltrate the White House - old story!
---
Mrs Brown's Boys
16/08
BBC ONE
6/6. Mammy Swings: Wedding mania descends as the Browns prepare for Rory and Dino's big day. Agnes is excited, until she meets their wedding planner. Contains strong language. Also in HD. [S]
Comment
GROAN - HOW MUCH LONGER MUST WE ENDURE THIS BBC?!!! FFS!
I am not alone in this see -
http://www.independent.co.uk/arts-enter ... 82948.html
But it makes money. And in the end that is ALL THAT COUNTS EH?! F*ck dignity when did that ever matter to the BBC?
---
BBC Radio 1's Stories - Staying Out
17/08
BBC R1X
Paris Lees is a writer and presenter who went to prison as a teenager. She made a success of 'staying out', but wonders why so many return to prison time after time.
Comment
Another airing of this programme.
For a full review of the first time around click here.
see BBC Radio 1's Stories - Staying Out 30/06 BBC Radio 1
viewtopic.php?f=106&t=4375
---
Celebrity Big Brother - Live Launch
18/08
Channel 5
Celebrity Big Brother and Celebrity Big Brother's Bit on the Side (the after show discussion about the house and its housemates) returns with the live launch presented by Emma Willis. Which famous housemates will be revealed? [S]
Comment
Recent Transgender sensation Kellie Maloney has gone in.
This is now on every night please click here for the full blog.
viewtopic.php?f=16&t=4436
---
Star Trek - The Next Generation
18/08
CBS Action
The Offspring: Sci-fi drama series about the crew of the USS Enterprise. Data becomes a proud father when he creates an android using his own neural programming. Picard, however, is apprehensive about Starfleet's reaction to the unauthorised newcomer.
Comment
Commander Data's child is given the choice to be whatever race, humanoid species or gender it wants. She chooses a pretty female human Woman (of course
).
If only we had that eh without having to jump through hoops and prove to someone in an office who doesn't really understand that you have chosen to be something different?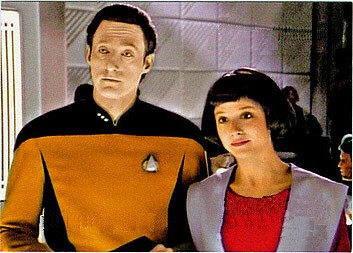 Kinda depressing really. I mean even Data gets it!
---
Lorraine
20/08
ITV1
Morning show with a topical mix of entertainment, discussion and showbiz glamour, as well as featuring the latest fashion, food and celebrity gossip. Writer and comedian Helen Lederer talks about being the voice of Dick Whittington's cat in the new Talking Statues project.
Comment
Sex-Change Soldier Headline mentioned from The Sun. This is the thing with these headlines they allow for them to be repeated in newspaper reviews and on the streets, at work and in people's homes. If challenged they can simply say - "IT SAYS IT HERE! IT WAS NOT ME GUV!"
---
Unsafe Sex in the City
20/08
Really
Series about life at the Manchester Centre for Sexual Health. Pre-op transsexual Jasmine hopes her sexploits don't jeopardise her life-changing operation.
Comment
Jasmine Goode who appeared in Vlog Episode #22 speaks quite candidly about her sex life in this episode.
http://media.transgenderzone.com/?p=2918
---
The Last Leg
22/08
Channel 4
Before I begin I would just like to say I do like this show and feel it is the way Channel 4 should be going. But one size fits all for anyone other than a white-straight-middle-class-non-disabled-person - it is not!
This last couple of weeks have demonstrated this. And a somewhat lack-lustre apology is not really sitting well with me tbh!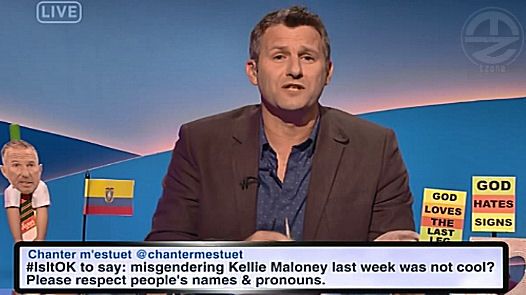 Channel 4
Adam Hills apologisies for Misgendering Kellie Maloney the week before. And was quite serious about it. Then remarked, That he, "didn't want to reduce her dignity, then it turns out she has gone in the Celebrity Big Brother house!" - and got a laugh. A very forced one at that from his co-hosts to try and break the ice. And a round of applause from the studio audience to boot. Not for the apology but for joking that Kellie has sold out her dignity by going into Big Brother? What unlike cross-dressing as a child character Hermione Granger by the hosts at the end of the show you mean?
Channel 4
(Yup that's dignity for yah?)
Not sure if this was sincere or not from Adam Hills?
This show likes to be able to mock disability. But in trans issues they were totally out of their depth and comfort zone (mixing my metaphors JUSTIFIED!)! And it showed!
Trans truly are on their own in this regard! Channel 4 apart from the tokenistic 'My Transsexual Summer' in light of the Memorandum of Understanding a few years back have done practically nothing since (3 years).
By contrast on Channel 5 there were 2 Transwomen on television at this precise moment on the very show they seemed to think was undignified? And on 'the Last Leg' they had Eddie Izzard on once. So a case of Channel 4 a little behind the times maybe? And in NO place to mock the 'other side'!
This show is a comedy show and the self-mock all the time, and make themselves do things in the most undignified ways for our entertainment. So is Kellie? And?... Bet she is getting better paid then Adm Hills though for this. What was it over 1/4 million pounds+ for 3 weeks work?
In any case Adam Hills was not really the problem compared to this same show last week - Carrie Fisher was - (see above!)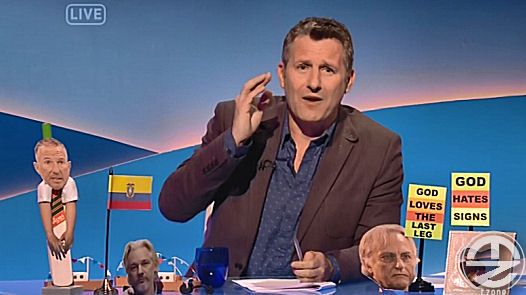 Channel 4
As I predicted when they signed the MOU. This was a publicity stunt. Even Blessing Chambers in Hollyoaks is a cisgender girl pretending to be trans! I mean really! (shakes head
). But any port in a storm eh? It has always been this way.
The problem they have is we have very long memories and very expertly compiled archives. So don't make promises you cannot keep!
As for this show, Adam should have apologised and moved on, not had another dig! That was his mistake here! He just couldn't stomach looking like he had made a faux pas!
---
BBC Radio 1's Stories
Staying Out
23/08
BBC R1X
Repeat of the programme where Paris Lees speaks about being in Prison.
---
New- Family Guy
24/08
BBC THREE
Peter Problems: US animated series. When Peter experiences performance problems in the bedroom, he turns to Quagmire and Joe to get him back on track. Contains adult humour. Also in HD. [S]
Comment
Well the New series of Family Guy is back and they open with a cross-dressing gag!
The doctor dresses as a woman and tattoos slut on his inner thigh to arouse Peter.
bbc
Cross-dressing is funnier and less risky than having a nurse in suspenders I suppose? But trans are a soft target.
After all what are trans gunna do eh?
---
Shelagh Fogarty
26/08
BBC R5L
News from around the UK. Including sport, politics and money news.
Shelagh discusses the issues around Gender Dysphoria. Talks on the conflict in Eastern Ukraine between Vladimir Putin and Petro Poroshenko. Liberal Democrat proposal for compulsory sex education from 7 years old. The UN's health watchdog calls for smoking e-cigarettes in public to be banned.
Comment
Good programme where Gires, Jenny-Anne and Debbie spoke about Gender Reassignment in the wake of Kellie Maloney going into Celebrity Big Brother.
Sadly this is only available at the BBC for a short time on-demand on BBC iPlayer but we have it archived.
More - Full Review
viewtopic.php?f=16&t=4452
---
Just remember transphobia is the accumulation of all this above - it is not any one programme! It is all of them mixed together and vomited onto us with violence and discrimination. I mean even the one soap that has a trans character didn't have the decency to cast a transwoman for it!
That's Channel 4 Born Risky for yah eh?
we must leave you until next time!
Check out the Transgender Television Awards 2013 they are published here!
http://www.TransgenderTelevisionAwards.com
We can only dream of one entry one day!
Ice
viewtopic.php?f=44&t=30
---
Benidorm
21/08
ITV1
(REPEAT) The sun is shining in Benidorm again and although Pauline is now more or less permanently drunk, everyone is looking forward to Eighties Night with special guests Bananarama.
Comment
Rather than comment just search for Benidorm in our search box at the top of the page - nuff said.
Trans-clown character - so what's new?
---
Benidorm
28/08
ITV1
Last in series. Some of Donald's clothes are found on the nudist beach - and he has left Jacqueline a note. The Garveys gear up for Madge's bar opening. Pauline hits the bottle.
Comment
More Les/Lesley shenannigans and now I am just 'meh' about Tim Healy in a frock for cash!
---
Lorraine
29/08
itv1
Kate Garraway presents the morning show with a topical mix of entertainment, discussion and showbiz glamour, as well as featuring the latest fashion, food and celebrity gossip. X Factor finalist Gareth Gates and Britain's Got Talent winner Jai McDowall talk about their forthcoming joint tour.
Comment
This was a tad disppointing from Ross King. The US showbiz reporter for the show was invited to do some stand-up at the Laugh Fsactory on Sunset Boull'vrd.
He only had a 5 minute set and on of the jokes was as follows.
Ross King - I said what could be worse than being your husband? She said it (being your husband) was me before the operation.
This is an attempt at a transgender gag by wrapping it in a Gay envelope (Of course Stonewall now means all Trans are Gay so not helpful). But using the tern 'operation' suggests that she was a man before surgery. This is not the case. If this is the logic then you can only extrapolate that he assumes those that have not had GRS are not really women? And that is not a good thing to be saying on national television for laughs!
smug: Ross (Image: itv)
Still its only a laugh eh?
---
See yah next time!
Sam
If you want to know more about what I do and why click here
http://blog.transgenderzone.com/?p=1896
or here
http://blog.transgenderzone.com/?p=1896