So here we go again!
What is broadcast in the UK reflects on you as a transperson. Every month it is a case of spot the positives. Almost all television featuring anything remotely associated with transpeople is negative, comical or are negative stereotypes. So if we do not list them they go unchallenged as evidence is needed to effect change! Or even give awards.
It is a thankless and time-consuming task - as you can imagine especially when a trans character is introduced ...say in Hollyoaks as that eats into even more of our time. Nevertheless rest assured someone is watching if you can't.
High Points
Luke Anderson on Big Brother's Bit on the Side - Effortless! And still likeable! Lauren Harries and Paris Lees getting paid for a job.
Low points
Jerry Springer
=========================================
HOLLYOAKS
WEEKDAYS - THE FULL BLOG!
Hollyoaks is now establishing itself with the controversial trans character 'Blessing Chambers'.
However rather than have every single daily episode listed here I will simply direct you to the main blog thread that includes the daily storyline and photos so you can catch up!
viewtopic.php?f=48&t=4273
So I have deliberately not included this in this Log for practical reasons and length.
=========================================
So let's begin.
---
Stardust (2007)
01/06
E4
Lavish fantasy adventure about a wide-eyed English country boy who rescues a beautiful princess in the form of a shooting star and tries to restore her safely to her kingdom.
Comment
Interesting one this as on the one hand we have Robert De Niro prancing about in his captain's cabin with a wardrobe of stolen booty (I guess), mostly dresses and clearly enjoys wearing them.
However when exposed to the crew by the kings men who jump on the ship, it turns out his men knew all along anyway and accept his 'hobby'.
So ummm I guess this is actually positive.
Good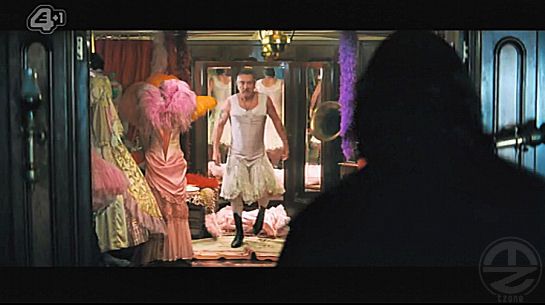 E4
---
Jerry Springer
02/06
Pick
More revelations and confrontations hosted by the legendary Jerry Springer. Contains adult themes not suitable for children. [S]
SO WHY IS IT ON PICK TV IN THE EARLY AFTERNOONS THEN?
Comment
This was made in 2011 - so not that old!
Look I know these are repeats. But the trans world has moved on and some of what is now being said and shown is actually inappropriate - especially for a UK audience. It also continues the theme that transpeople, as long as they are saying they were born men, will get their heads kicked in!
This is nonsense, they were assigned male at birth that's not the same at all! And even Jerry's 'final thoughts' see a later episode were bordering on transphobia!
It is shocking. And the zeal of the audience as a transwoman is being punched in the face (open hand so the cops ain't called) by a man on television is nothing short of sick! This gives an acceptable face to violence against trans women (in particular) and young people who may never have seen JS first time around have now seen it and will likely get caught up in the views it promotes, and the adrenaline it gives the viewer who may well copycat the idea. later tonight!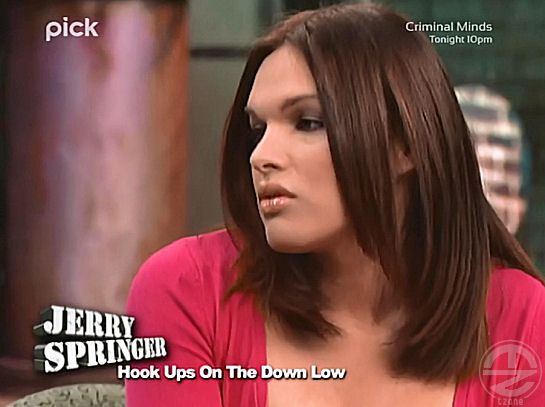 Pick
"I have got something to tell yah - I was born a dude!"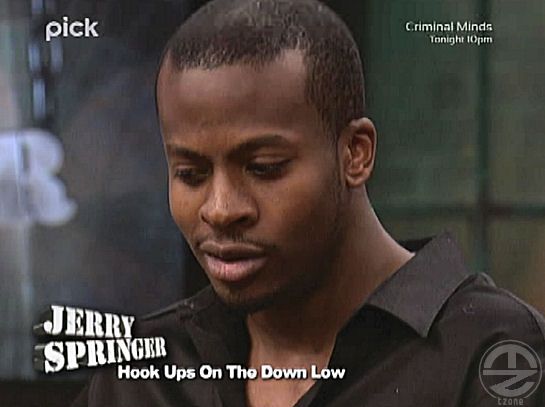 Pick
Remember this type of expression may well be the last face you will likely see if said in private!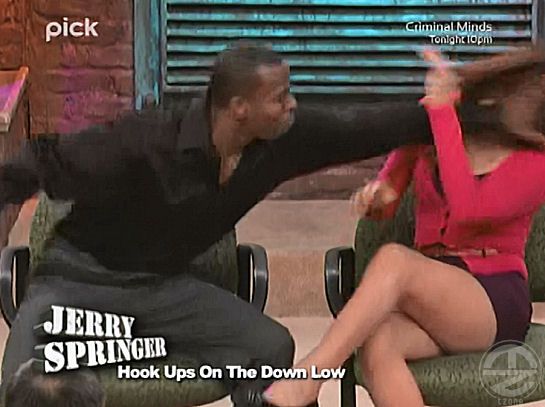 Pick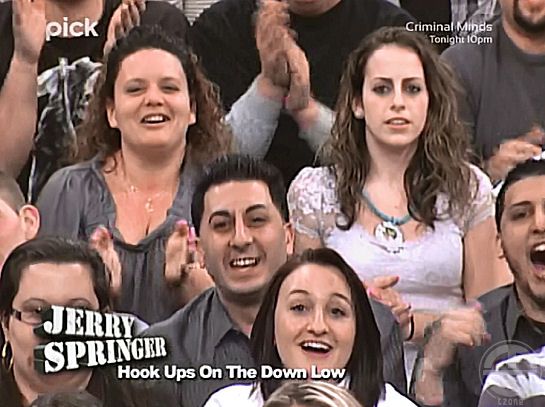 Pick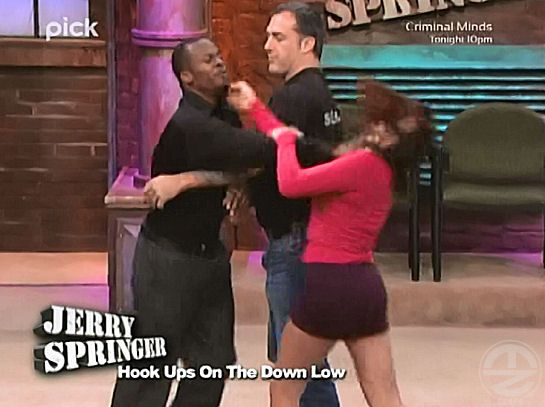 Pick
In a week where there is a trans murder spree in the US
http://baltimore.cbslocal.com/2014/06/0 ... -in-field/
and one trans woman was found running down a high way after escaping captors.
http://www.thenewsstar.com/article/2014 ... ck_check=1
The projection of society onto trans people forces the community, that is most vulnerable, to 'act out' the projection. If you call somebody worthless enough, and they do not stand-up to it, they become worthless, and many end their lives annually for this exact reason - television is in part responsible for this, so it must be balanced - it is not at the moment, not by a country mile!
---
Secret Diary Of a She-Male 4
02/06
Television X
Alekssandra goes out on the streets of Whitechapel and meets the ghosts of two Victorian street girls, Pamela and Starr. The former's a lovely ladyboy, making for some interesting three-way fun.
Comment
Again no problem with the channel or its content they can do what they want, and a trans girl has gotta eat (no pun intended but a good one!) However, it being included in public listings on Freeview us unacceptable. If we want to know where young people find these labels to describe trans people here is one contender!
There should be a URL instead of a description here to their website.
I am sure there are black women only porn films but would they publicly use the n-word to get custom? Even if the black women themselves use it and say it is OK? Of course not - just do the same! A little respect eh?
---
JAG
'Retrial'
03/06
CBS Drama
Legal drama series about a navy lawyer who travels around the world investigating military cases. Harm defends a seaman who was wrongly convicted of murdering a transvestite hooker 22 years earlier, and Mac strives to prosecute an officer for bigamy.
The show opens with this shot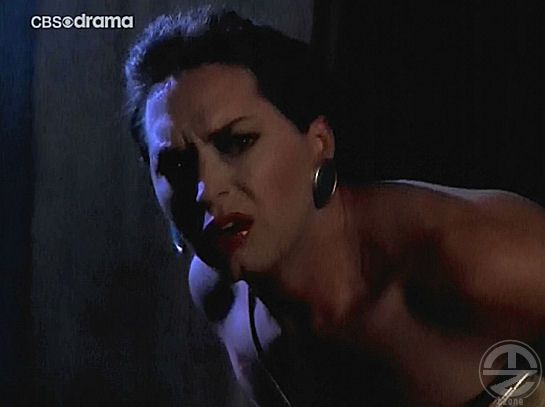 CBS Drama
CBS Drama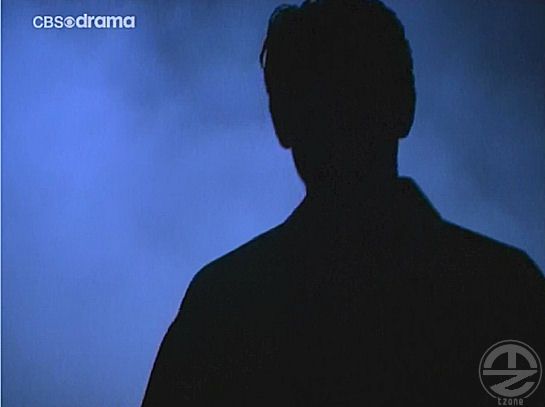 CBS Drama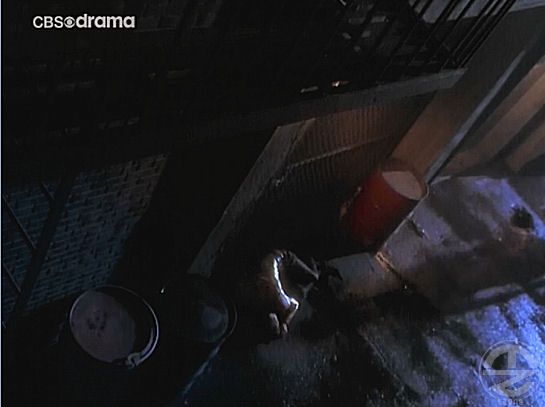 CBS Drama
"Help me! What are you doing Please..... Get away from me c'mon man Please No!"
Dead!
Comment
The problem here is yet another transperson is killed for entertainment. That's all transpeople seem to be. Fodder to shoot at for the enjoyment of others whilst being beaten for laughs.
---
Loose Women
03/06
ITV1
Kaye Adams hosts the show alongside Nadia Sawalha, Jamelia and Linda Robson to discuss the topics of the day.
Comment
This was interesting as they discuss synthetic vs Bio-identical hormones with two experts!
Of course this was not for transgender people but it is applicable. We discussed it further in this vlog here.
https://www.youtube.com/watch?v=QC_bmTi ... e=youtu.be
Yup Loose Women sometimes do speak about useful stuff
Dr Marion Gluck who is a pioneer of Bio-Identical Hormone Therapy and has a book out about this gives the argument that HRT at the moment is substituting synthetic hormones with our own when in actual fact you can get tailor-made indvidualised hormone therapy. Bio-Identical Hormone Therapy is it is available on the NHS but it does not absorb well through skin. But a fascinating subject I will make more enquirers about and report on it.
---
The Wright Stuff
04/06
Channel 5
Comment
Not much really but in a moment Matthew consciously is inclusive with a comment and that was nice.
Well deserving of his best presenter award in our
http://www.TransgenderTelevisionAwards.com/
They were speaking about ALL-Women shortlists for Parliament and he argued that, "why not include ethnic minorities and what about Transgender people being included?"
Anne responded - "If there is a candidate from those communities we should see them."
They were being serious, this is not something he was joking about.
Yeah positive and appropriate - good stuff! The Wright Stuff is the only ray of sunshine in an otherwise terrible week for trans on telly! As you will see later.
---
Ladyboys
05/06
Pick
The Men Who Love Ladyboys
Following on from the acclaimed documentary exploring the world of Thailand's ladyboys, this thought-provoking series offers further insight into a sector of Thai society that makes up one per cent of the country's population.
Comment
The Katoi (their actual name but Ladyboys as a label was created for sex tourists) here for once were filmed very fairly and this is a very good series. They speak for themselves, we see the positives and the negative in balance. We hear their hopes and dreams and the many who have monogamous relationships once they settle down.
Worth watching and a programme title that is for once in context as much as I personally feel is unfortunate. I would love the Thai trans people reclaim Katoi and us learn to use their words rather than ours that are very 'loaded'. They are not BOYS anything, the vast majority are women. Held back by this westernised promotional term and as we saw in this series on the BBC abused for it!
viewtopic.php?f=16&t=4135&p=38449
---
Mrs Brown's Boys The Movie
Ad Breaks
Now we are bombarded with that damn awful 'Mrs Brown's Boys Film'. It don't get much worse than this.
If we want to see just how far society has not come since the 1970s, or if you would like to know what television was like back then, look no further - this is just dire! Again if it was Mr Brown the show wouldn't work, so again "trans-currency" and a frock is carrying the act! If it isn't then why cross-dress at all? Because it lowers his social status (to that of a women) so it is misogynistic too. But the public cannot see it.
The comments section of the video on Youtube do not think these things through they think it is harmless 'fun' but there is a far greater message behind all this and it is far more sinister!
'The funny man in a dress' when they are not being assaulted are being mocked! Great eh? It also suggests this is something that's done for fun and not something that is who you are. 'A lifestyle choice' that in the wrong hands could have funding pulled from the NHS tomorrow! Brendan can remove his frock and forget about it when he returns to his male privilege and luxury Florida home. There is a good reason why there are not many women comics on television - this is part of the reason. Because sexism is rife. Employing a few women around you to justify it is like employing a black person to mock - see Cardinal Burns (Channel 4) or Chris Lilley (BBC Three). Both also cross-dress and use the same methods. Why hire black people when you can black-up yourself and save the money? This is actually returning too - watch Cardinal Burns on Channel 4 and you will see it has come back including 'yellow-face' (Oriental racial stereotyping).
Still if you are a fan of people feasting from your trans-currency (
http://blog.transgenderzone.com/?p=1043
) then you will love this I guess.
I personally hope it flops!
[youtube]http://www.youtube.com/watch?v=9yEy1zPEhyc[/youtube]
---
Jerry Springer
05/06
Pick
More revelations and confrontations hosted by the legendary Jerry Springer. Contains adult themes not suitable for children. [S]
Comment
This is the most recent series from the 'Sleaze master General' Springer. Who at the end of each show says, "Take Care of yourself and Each other." Whilst basically physical assaults take place all around him every episode. Some I feel seem almost to be along the lines of 'Lizard Lick Towing' and orchestrated wrestlers. However a few seem to be genuine and for them this is actually painful to watch. The irony is how orchestrated this all is how they stop fighting out of breath for an interview with Jerry. I sometimes wonder how Jerry would feel having a punch in the face every episode by the guests and how soon he would pack it in if that were the case.
The use of 'tranny' this and 'Tranny' that in the lower third titles set the community back to the gutter. The transpeople who do take part demonstrate to the wider world that transpeople are quite frankly a sideshow in some tent. Their behaviour is base. It is undignified rabble worthy of some flea-pit dive bar or crack den.
Jerry needs a pay packet. But at times I just wonder what he truly thinks of all this? And the audience are no better, asking for 'Jerry Beads' - this is some rope of tatty beads audience members are given if they flash their breasts. Pixelated of course.
This is again very upsetting to watch. One could say, "well why do these women go on television to say these things(?)" - maybe it is because there is security to protect them when they do so and they would rather live in a world where transphobia and 'transpanic' hate-crime didn't happen.
However, here we go again, and in this one we hear '
Jerry's Final Thought
.
"Do not try to be something you are not!"
So inflammatory to say the least. This week the World Health Organisation states that genitals do not determine gender! This is HUGE! (no pun intended) It basically suggests that you not longer have to be 'sterilized across the world to be seen as the 'acquired gender' so when Jerry says, "don't pretend to be something you are not," he is now showing just how hateful this is! Ironically he is Jewish and once spoke of his family fleeing the Nazis with a tear in his eye and how they kept a gassed up vehicle with provisions in even in the USA because they were still worried they might have to flee. Why did they have to flee. Sound familliar because trans are being treated the same way. Run out of town etc...
Times change thank goodness so I personally think some of his shows should either now be shelved or edited accordingly!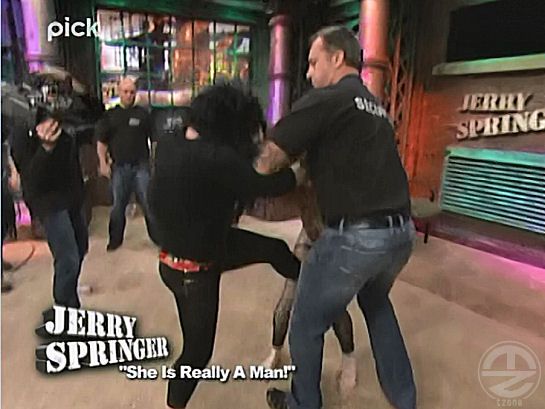 Pick
"Your a fake-ass breasts"
Jerry - "He has the right to know if you are a man or a woman!"
Final Thought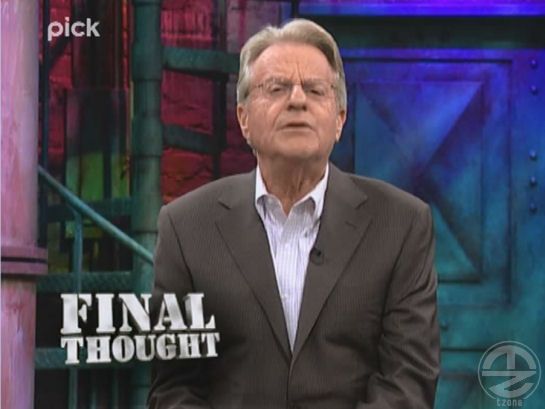 Pick
"If you want him to love you surely you want him to love the real you - not someone you are pretending to be..."
I know what he means that before you get intimate you should explain. But do women on a date sit at a table and list all their lovers and any STDs they have had in their life before making out? Does a man before he kisses a woman in a bar state he has slept with 13 hookers in his life? Should your blind date explain that he has a criminal record before you kiss him? It maybe relevant after all - especially if you are a lawyer or a cop.
Or that the flash car he has? Well what if that's a rental - and not his at all!
Or the house he takes you to is his mate's and he lives in a bedsit? No chance they want to get laid! And will tell you anything you want to hear!
This seems to only apply to transwomen. And what if the transwoman has a vagina. Then what? Do women designated female at birth (cisgender) have to explain they cannot get pregnant because they have had a hysterectomy on the first date? Or does a man have to state he 'shoots blanks' and is infertile before he goes to bed with his partner? This again is transphobic as it only ever seems to be an issue for transpeople. Yet the WORLD HEALTH ORGANIZATION states this is an irrelevant fact now! Maybe Jerry should read this?
http://www.gaystarnews.com/article/worl ... ople020614
You do the math!
It is always about protecting men's egos never the trans women from harm. The women are often treated like princesses yet one moment later they become punchable commodities and fair game! They are still the same build look the same and behave the same - nothing has in fact changed at all. Only percepoptions taught by a transphobic media to the world at large. The new people to hate and oppress! And it be socially acceptable!
Jerry himself is no stranger to hiring hookers the scandal back in the day was big news but only added to his ringmaster of the 'freaks' cache.
"Springer was elected to the Cincinnati city council in 1971. He resigned in 1974 after admitting to hiring a prostitute." (Wikipedia)
Maybe this is his way to get even with the world and demonstrate hes not a bad guy at all?
But as these three quotes summarise
"Dangerous ideas require dangerous evidence." Khalid Masood,
"A wounded lover is more dangerous than a coward army." M.F. Moonzajer,
"The most dangerous irony is, people are angry with others because of their own incompetence." Amit Kalantri
So true so why blame the trans community?
---
TV OD
05/06
ITV2
Matt Edmondson hosts this topical new series which takes a humorous look at the most talked about shows on TV, including a review of viewer tweets, online comments and complaints. In this opening programme, former Westlife member and current King of the Jungle Kian Egan reveals his TV guilty pleasure and Celebrity Big Brother-winning Geordie Shore regular Charlotte Crosby faces viewer comments about her role in the outrageous Tyneside-set show.
Comment
This is trying to be a cross between 'Googlebox' and 'Harry Hill's TV Burp' but without the laughs. He just isn't funny. They have tried to include social media to somehow make it more current, but it just doesn't work as the show has to be prerecorded then the tweets are vetted and scripted and graphic'd in then the spontaneity and 'now-ness' of Social networks is lost. Pointless! Their sister show 'Viral Tap' has a similar problem. Begging people to send in 'funny videos' when we can just watch Youtube is laughable really. They only get cr*ppy ones as the viral ones that are really good earn more on Youtube than the poxy fees they pay. So as a result they get some guy gooning into an iphone in vertical format (why do they not shoot in horizontal (fools!)) with cr*ppy sound, something akin to a many making bunny ears behind a news presenter then the panel try to oversell it as 'hilarious!' to justify their 5 minutes. Unimaginative waste of time!
Matt
"Earlier this week there was a shocking revelation on Holyoaks!"
Cuts to Blessing (the transgender character) saying, "Tony, I am not a vacuum cleaner..." This is out of context of course as these shows do. However then they flashed up twitter posts to lift music about the scene. That read:
Tweet 1
"If you can relate to this weeks Hollyoaks please ring this number........"
Tweet 2
"Hello yeah I am also sh*t at acting..."
Tweet 1 was clearly mocking the "If you have been affected by any issues in this show please see our help page for more info..." So belittling that and as a result belittling transgender people who need help and this being a carefully in advance scripted 'joke' then I dunno just feel its like some non-entity reading out twitter on a bus at the back. Who would sit by them? Exactly!
The truth is Television is struggling to avoid the inevitable. That the social world, Youtube and Netflix and digital broadcasting has democratised media - blimey we even we have our own TV show now!
And we have live chat in it and we are live as well! And we have a on demand version afterwards. We comment on the media but are specialists on trans issues.
And by contrast what is this exactly?
---
Secrets of Sex - Normal
07/06
Community
Documentary presenting the real life stories of male, female and transgender migrants working in the sex industry in Albania, Italy and the UK.
Comment
Transgender people speak to camera with other cis people about working as prostitutes.
Um are transpeople anything else? Seems not.
---
Coronation Street
07/06
itv2
Deirdre - "I'll put the immersion heater on - there is a documentary about Grayson Perry on 9 O Clock!"(PREGNANT PAUSE) "He makes pottery!"
Comment
As abstract comments go in Corrie this is a blinder! LOL
---
Mrs Brown's Boys
07/06
BBC ONE
5/6. Mammy of the Groom: Comedy about a brash Irish matriarch. Dermot suffers prenuptial jitters. Agnes tries to find out who in her family is gay. Contains some strong language. Also in HD. [S]
Comment
Why?
---
Big Brother
07/06
Channel 5
OK so not the best start for this series however they did have Luke and Lauren on their aftershow. Nevertheless this is what we do not want.
It is a story I have heard men say in my own youth at bars. It never seems to get old, it is often a lie. It is transphobic as the way it is said objectifies the person. And lastly there is 'transpanic' that the transperson is in someway not female and they escape. It is told for a laugh at the expense of the absent person.
Swap race for the same context and it would be outrageous!
"I didn't realise 'it' was [enter race here] Asian/Irish/Black/Jewish so ran away?"
This of course is an abstract and used advisidly and in the context of this comment to demonstrate the problem. But seen like this Suddenly it is terrible!
So here is the Transcript.
viewtopic.php?f=16&t=4317&p=40023#p40023
Channel 5/Endemol
---
The Money Pit (1986)
08/06
Channel 5
Next in our 80s movie marathon, a comedy starring Tom Hanks and Shelley Long. A lawyer and his girlfriend plan to renovate a big, decrepit house in the New York suburbs. (1986) [S]
Comment
A 'classic' 80s movie with the unstoppable Tom Hanks.
It's relevance to Cross-dressing?
Well the movie mocks a group of Cross-dressers who used an apartment that he has to give back.
In theory this sounds like a good thing - and inclusive.
However the producers fall into the trap as they still do now of ensuring the viewer KNOWS they 'really are men!'
The only way to do that is to have them unshaven, behave in obnoxious ways and have ridiculously deep voices.
This is a comedy standard, and sadly has been well applied to that person who won Eurovision. The Jokes were rife.
Forgotten the name already? There you go!
But countless ads have used this method. It is almost as if they are worried you may think there is a large masculine woman in shot. So what?
So what if that is what people may think. However to go to this much trouble demonstrates that they have gone 'that extra mile' that does the 'damage'.
Most MTF cross-dressers and transpeople I know and in what? 18 years on the front-line I can promise you that is a LOT! Not many (if any) were happy to be seen in public as unshaven males in dresses. Conchita/Tom's effort as this image below shows really is old hat! Been done move on! What I find more upsetting is this was 28 years ago! And I can show you a still/clip from and advertisement this year that is exactly the same from UK television ads - still using the same exploitation of transpeople for laughs.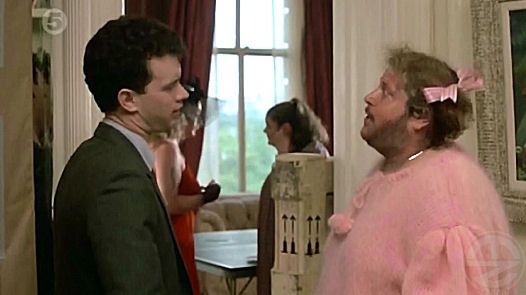 Image Five: Belching, deep voices and unshaven.
---
The Greatest 80s Movies
08/06
Channel 5
Countdown show looking at the cinematic triumphs of the 1980s, from ET to Ghostbusters to Ferris Bueller's Day Off. Contributors include Corey Feldman, Christopher Lloyd and Judd Nelson. Narration is from Ronni Ancona.
Comment
Crocodile Dundee was Chosen as one of them - here is why it shouldn't be.
viewtopic.php?f=16&t=4130
Getting a laugh out of sexually assaulting a transwoman in a bar... people to this day still forget that is there, kinda like the end of Ace Ventura Pet Detective that has a ritual rape build up for laughs as he unceremoniously with cops vomiting tears clothes of a woman. Only to show he tucked penis bulge. Thats just sick writing! And for children to enjoy too! The mind boggles? What next Mickey Mouse in a 3-way?
And then Trading Places (1983) was mentioned...
Part of the problem with this movie was the abuse around the alleged intersex Jamie Lee Curtis. And sadly rather than talk about the film the 'talking heads' and minor celebs they invite to comment on these programmes said the following:
Voice Over - "But it certainly wasn't Curtis' legs that everyone was talking about!""In one of the movie's most eye-popping scenes." [Yeah she takes her top off big wow! IM]
Minor celebrity 1 - "There were these amazing breasts! Boom!"
Minor celebrity 2 - "There was a rumour that she was an hermaphrodite, that she was actually born a man!""And the fact she took off her top and you went, 'NOPE they're real!"
This need not have been said. Talk about the film!
---
Jerry Springer
09/06
Pick
More revelations and confrontations hosted by the legendary Jerry Springer. Contains adult themes not suitable for children. [S]
Comment
This is on at noon! So This is misplaced. Second the way the participants are goaded into violence for the entertainment of a baying audience is actually sickening! The terminology Jerry uses to describe transwomen is inflammatory, and sadly many of those that take part for whatever reason I feel are unaware of what they are getting themselves into or the damage it deos to the wider community.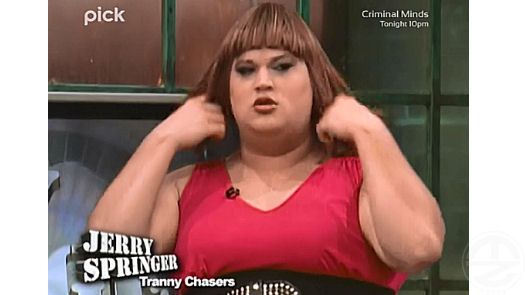 Audiance laughs at this person.
It almost encourages and justifies assault live on stage - If this happened in the UK I think the police would be called and the video footage seized. Jerry Springer did try a UK version and I have that in our archives and it was really Kilroy with laughs. He just could not go the way he wanted here and thank goodness. However, this is broadcast to a UK audience, during lunchtime UK. Many Ne'er-do-wells and unemployed will be watching this and witnessing how to deal with a transwoman.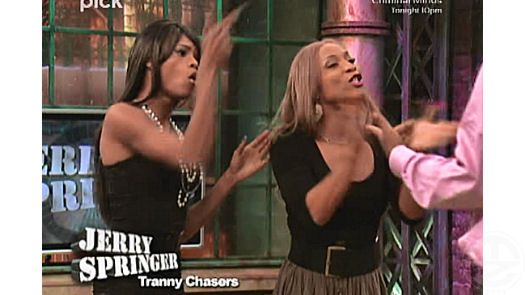 Pick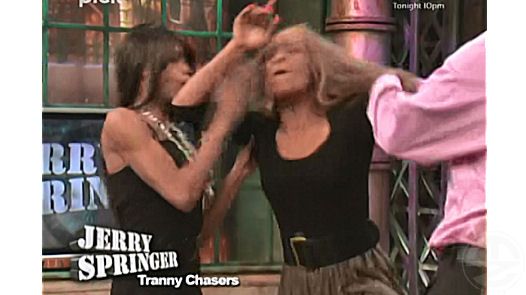 Pick
First off the violence is out of control, the bell ringing from a boxing match. the audience screaming JERRY! JERRY! As hair is ripped from scalps. He, the RingMaster, steps back to what is almost routine violence and smiles.
Here are a few examples.
Here we see the Title of the Show, "Tranny Chasers" Objectifying women as this is unacceptable.
Then we see another male hug his girlfriend they are loving. This is normal. Then of course 'maybe for her own protection' she has gone onto the show to tell him the truth. I feel many of these people may be destitute or had a poor education. Some maybe sex workers, some may well be wrestlers thrown into the mix to spice it up. But some are genuine I think and these are peppered throughout. What is sad is the reaction to transwomen especially (although there are transmen in this series described as Lesbians). Just look at this scene.
Before
After
Wallop! Take that for existing!
Transwoman - "I was born a man."
Male - "You was born a what?!"
Jerry - "Didn't it dawn on you "it" might be a guy - I mean don't they have any lighting in the coffee shop? Before you have any kind of intimacy you gotta tell him ahead of time."
This of course is a problem, as most transwomen identify as female from birth and are corralled into being boys by the state and social expectations and compliance! Inside they are women, they have transitioned, the dress, act, speak and behave as women, many have surgery. Yet because of a pencil mark made by a doctor when they were born for the rest of their lives they have to basically where a pink triangle badge or maybe a tattoo on their forearm? Just so people KNOW what they are? I remember something like that in the 1930s happening?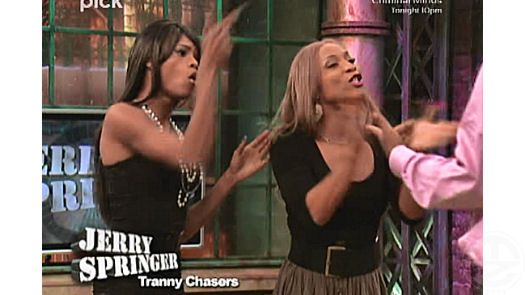 Pick
This will forever be a problem, whilst society humiliates transpeople, this show adds to the problem. It makes dating a transwoman disgusting! And the audience applaud the male for attacking the transwoman for not mentioning this. Even if they are in a bar drunk and had a kiss. Nope still not good enough she needs to wear a T-shirt with I AM TRANSGENDER emblazoned on it so all can see so all will know to avoid them?!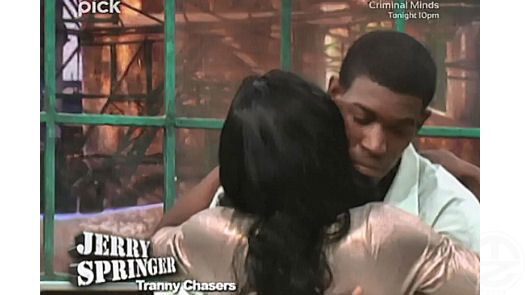 Pick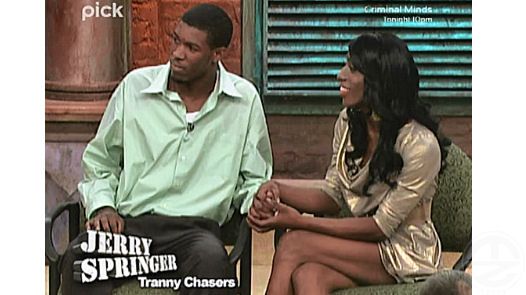 Pick
Then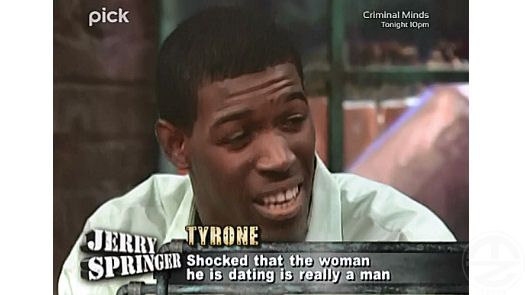 Pick
Jerry - "He probably likes lots of guys as a person, but her doesn't want to kiss guys!"
Transwoman - "But I am not a guy!"
Jerry - I am not disrespecting people who are transgender - god bless yah its your business..."
---
Star Trek
'Turnabout Intruder'
09/06
CBS Action
The crew's loyalty to Kirk dwindles when he returns in an unusually petulant mood from a mission involving an old flame. However, the reaction of the officers seems unnecessarily harsh and the prospect of mutiny looms.
Comment
His ex gets him down to the planet where she renders him unconscious and puts him in a machine with her where they swap bodies for the rest of the show.
Kirk minces about filing his nails for the remainder of the episode. Misogynistic nonsense. Nevertheless if only it were that simple I am sure a few FTM and MTF transpeople could hook up and do this
CBS Action
---
Jerry Springer
09/06
Pick
More revelations and confrontations hosted by the legendary Jerry Springer. Contains adult themes not suitable for children. [S]
Comment
Now it is transmen - "I was born a woman."
Yup no degrading stuff here only trans man is in the "LESBIAN SEXCAPADES!" Sounds like an 'Dancing on Ice' Show!
As they said in The Simspons - you can kinda see the moment her heart breaks here!
BISH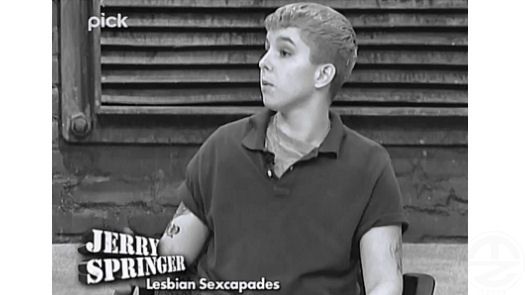 Pick
BASH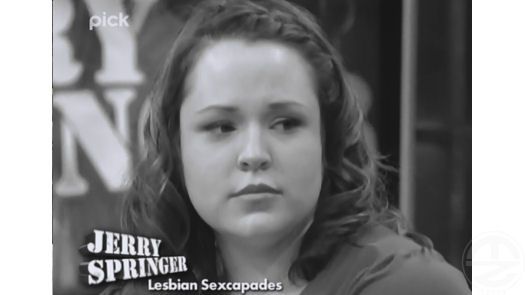 Pick
BOSH!
Pick
Seems to be a slightly different feel with the audience when they treat him as female.
I think they call that social conditioning - never hit a lady yet men are fair game! However we all know that men suffer terribly in these situations and female on male domestic violence is often unreported.
---
Big Brother's Bit On The Side
11/06
Channel 5
A round-up of Big Brother-related news and debate, with special guests, exclusive footage and behind the scenes treats.
Comment
Lauren Harries makes an appearance with a little fanfare
Its fun and they are very good to Lauren and treat her well.
I suppose with a house that is a little bit of a disappointment this year, Lauren spiced it up, not that this is just a no trans issue. But it just feels soulless somehow. I find myself for the first time in 10 years not actually caring about any of them and have kinda written off this summer a little for the Celebrity one in the late summer. One thing is clear that transgender people have won Big Brother so many times (Alex, Luke, Nadia plus all the runners up like Rodrigo/Rebekah and others) and been so popular for good reason because trans add magic to the concept. Without these flavours and without 'characters' like Pete or Victor or Marco or Nikki Grahame its just flat - like watching the water fountain conversation at Models One. They have made the mistake of wanting to 'sex it up' and instead have wallpaper. If they want to sex it up just put it on midnight on Channel X and hire 12 porn stars. Otherwise bring back the good old days when we enjoyed it.
More
viewtopic.php?f=16&t=4317&p=39998#p39998
---
Mrs Brown's Boys
12/06
BBC ONE
2/6. Mammy's Inflation: Agnes is disappointed when Cathy decides to undergo surgery to impress her boyfriend. Contains adult humour and strong language. Also in HD. [S]
Comment
When will this 1970s laugh at a man in a dress ever end! :\
People are taught to laugh at cross-dressers with nonsense like this and until it stops they may laugh at you too!