Obviously HollyOaks although not employing a transgender actor (not happy bout that) is doing what it is
doing and we have to wait n see, but that said it will hopefully be positive after all the abuse excuse
is out of the way and its going to come thick and fast, i mean is there ever a genelt transition - many
have them, but i know already this is going to be full of angst and screaming and depression ...
Mock The week
one joke about a Mr Thomas asking patients whose penis this was - bit too close for comfort when Thomas is one of the two leading SRS Surgeons in the UK
Mock The week
Book about transsexual (joke) with a lisp - Mr or Myth
Mock The Week
Ladyboys breasts joke
Cleveland Show
Ladies' Night
"I am going to be judged by what my brother does"
(cut away to to men standing on a street corner one wearing a matrix shirt)
"So you got a vagina?"
"No that's my brother!"
Joke on Life and Times of Tim 'The Girl Scout Incident'
Transhooker (what else would a transperson be?) central park approaches Tim and the kids and says "theres
a mat in the bushes with your name on it - dont move he says they wont attack then (thinking of bears)
sits provocatively near the kids and raises leg and talks about hir 'JUNK' I like the show and Tim as a
character but its better when its about his own neurosis really
the dont move gag was also used by Family Guy with a hooker in a motel when lois and he had to stay there
one night and there was a prostitute on a bed in the room they were staying in so crossded over there)
Family Guy
Being caught tucking
Tired Silence of the lambs gag that has done no end of damage
the serial killer ritualistically putting makeup on
'dressed to kill' was a similar story as was Psycho the crossdresser psycho murderer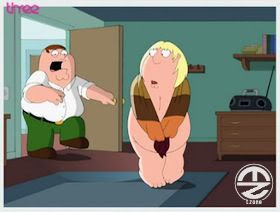 in this instance this playful spoof alienated the entire school from chris
As FG must reset the start each show as nothing happened and Chris had become really cool they had to
find the one thing that would destroy any ounce of popularity and credibility and surprise surprise they
choose crossdressing
Funny Girls appeared on Great British Holidays when Blackpool went for the Super Casino Bid.
The term Transvestite Show Bar i feel is a bit in question, as its mainly gay men who turn up and drag, i
think transvestism is something that is a way of life and termed as a psychiatric condition, but thats my
opinion, as the term 'Transvestite Show' again tends to milk the community and assume its all a 'bit of
fun' when clearly it aint. knit picking maybe be gay men have railroaded this loophole a lot. If they leave in a frock then maybe if they don't then change it to drag show at least. As the term being used in this way allows further abuse of it and its not long before the term tranny and trans related humour is allowed to rear its ugly head on stage. I mean what makes me laugh is if they dressed as Nazis and did the Hitler Salute there would be outrage unless its a jewish produced 'The Producers' Show. The owner is Gay not trans, the cast are mainly Gay men - i dont see any relationship at all. But perhaps you know better? Put the term "transvestite show" into google and play spot the 'actual transvestite (almost always gay men) thus the link we all hate that transvestism/cd is made and that all trans are gay - arent they?
One of my favourite shows - "Goodnight Sweetheart" i have the box set - is rerunning on ITV3 atm and of
course this makes it current again so as far as i am aware the two episodes have been broadcast that
ridicule trans recently
"Episode where Ron is in the cells and a Transvestite is put in with him - leading to screams, later referred to the "MAD TRANSVESTITE HOOKER"
Rge the policeman find Gary's wallet and see the new modern day banknotes in it
"who is this then?" "Oh the germans are trying to convince everyone that King George is a transsexual"
Huge belly laughs ensue
obviously the recent lauren harries joke made on big brothers little brother (see other thread)
viewtopic.php?f=16&t=415
Family Guy "Quagmire's Dad" Transsexual episode (see other thread)
viewtopic.php?f=16&t=388
'Mongrels' Transgender Bird Bath joke
On the buses is rerunning on ITV 3 atm - there was a few episodes bear in mind this was the 1970s - one gag was about hormones and one gag about Stan buying beauty products to look better for a bus model photo model shoot, "you aint turning funny are you?!"
The term kinky, funny, weird, pervert, "ohhhh hello sailor" and many more are still in use today
recent episode of Misfits C4 (originally broadcast on E4 archived from that time) "some men dressup in
womens clothes!" "Yeah well they are just sick perverts!!!"
Of course last month we had an episode of Doctors and most of the episode was a man trying to jump off
the balcony and kill himself - i say him cos they didnt hire an actual transperson - AGAIN!
i dont see very many positive trends tbh in any of this if we throw in XXY which was on BBCIplayer (see other thread) it is no better really. The only light is probably Hollyoaks but like i said at the beginning it doesnt look like thats going to be a barrel of laughs either
Casting someone so you can rip them to shreds and hiring a member of the community to oversee it doesnt
really help and thats what will happen. The hiring of an ftm advisor is i fear just tokenistic to give license to what is yet to come - i have seen it all before ...
lets just wait and see if i am right
That said they are always looking for an excuse for partial crossdresser Kris to do something n the show and he is at a bit of a loose end so naturally he will likely come to the rescue.