So here we go doesn't time fly!
So here we go again, what is broadcast in the UK reflects on you as a transperson. Every month it is a case of spot the positives. Almost all television featuring anything remotely associated with transpeople is negative, comical or are negative stereotypes.
High Points
'Y Byd Ar Bedwar' with Rona Rees - what else?
Low points
Ja'mie- Private School Girl BBC THREE and Jimmy Carr Channel 4 - why is it always those two channels? They never learn!
---
The Simpsons
01/03
Channel 4
When Bart ends up in court on joyriding charges, a stern judge rules that Homer and Bart must be tethered together. With the guest voice of Jane Kaczmarek.
Comment
Female Judge says - "I was like that (Bart) when I was a boy."
Snake replies - "Did she just say she used to be a dude?!"
---
Ladyboy Training 3
04/03
Television X
Damien has no idea that stunning ladyboy Holly has a secret weapon in her love arsenal. But he's up for anything, especially when Keisha Kane joins in the porno fun.
Comment
Same old repeats and although scrambled in the public TV Guide.
Who watches this? And pays for it? Save your money Google Xhamster it is for you
The moment all the Luddites learn to use Ipads this is over! LOL
---
Mrs Brown's Boys
05/03
BBC ONE
6/6. New Mammy: Comedy series. There is bickering aplenty, but Agnes's attempts to build bridges come to a halt when Maria goes into labour. Contains some strong language. Also in HD. [S]
Comment
Any chance this could be scrapped along with BBC Three?
Time for a 'Father Ted' Reference (the Irish can make good comedy) "Oh, Go on, go on, go on, go on father... Scrap this show!" Send it back to 70s where it belongs!
---
And on BBC THREE at the same time guess what?
The fetal verion of this show is shown...
New - Ja'mie- Private School Girl
05/03
BBC THREE
5/6. Australian comedy series. Ja'mie returns with a new image but discovers that her reputation has been damaged by a video. Contains adult humour and very strong language. Also in HD. [AD,S]
Comment
The video being a sex video this 40 year old has made with a young black male (this is important as the character can make racial jibes) - this is supposed to be a teenage schoolgirl.
And the only person they could find in Australia to play this part was a 40 year old bloke?
Well he wrote the role for himself so this is gonna happen in the same way Brendan O'Caroll writes his own parts too!
And the BBC wonder why they seem to have problems with public confidence!
This is like Kyptonite for transpeople. Many in the world believe transpeple are gay or 'pedos', especially the Russians (see Channel 4's 'Hunted') so putting a middle-aged man in a school girl uniform and cosying up to young people pretending to be a teenage girl hugging and talking about sex is quite worrying tbh. Look I am more than aware that the cast are probably in their early 20s. And there is NO impropriety going on. But that doesn't change how this is viewed by people looking for any excuse to connect the dots to Operation YewTree.
If you had a teenage daughter and she was online with another teenage girl and they were talking about sex and you discovered that the other girl was actually a 40 year old man. What would you think? Would you say - "Ah go on he is making you happy! Or would you think WTF?!!!
Just Stop!
BBC Hire a trans teenage girl (train one up if you have to! Spend some licence fee searching for somebody trans who can act nationwide!!!) and bolt that girl or boy onto a series like 'Some Girls' - Now that is appealing. But the BBC are stupid and all they understand is
LITTLE BWRIITAN MAKE PEOPO LAFF!!! GET MORE MEN IN DWRESSES!!! UGH! FEED MAN! GIVE MONEY - ME GO DRINK FIRE WATER WIV COMMISSIONING EDITOR! BEAT CHEST GET PAY RISE!
And the licence fee is paying for it!
I give up!
---
Are You Being Served
07/03
BBC TWO
1/7. Goodbye Mrs Slocombe: Mrs Slocombe is made redundant. When she is replaced by an annoying woman her colleagues decide to get her back, no matter what it takes. [S]
Comment
1970s nonsense and very popular at the time!
Looking at it now it is very dated.
From Mrs Slocombe's p*ssy (yeah a running joke about her cat) tickling the prudish BBC at the time, to the Late John Inman camping about. Akin to 'Camp Clarence' of Dick Emery fame - well that's how Gay men were supposed to be in the 70s. Alan Carr has clearly seen a market for this reemergence and stereotyping - well done to him. Plus Alan cross-dresses for laughs and uses the hate-crime label 'tranny' too!
My issue? Minor, but cross-dressing for laughs of course. Just as all homosexuals walked with a limp wrist 40 years ago and minced and wore their mums clothes and spoke in an effeminate way. It was naturally John who went on later to become a pantomime dame for the rest of his life. Well what else could he do for a public that bolted him down into this?
Was 'Are you being Served' a good thing for his career? Well it made his name. But Like 'Steptoe and Son' that destroyed the credibility of Harry H Corbett (a very talented mainstream Shakespearean actor of his day). I think John's Career owes the same to AYBS - he was a talented character actor as was demonstrated later where few acting opportunities demonstrated he could have been so much more, but this potential was never really realised and that was a shame - the cross-dressing in this instance didn't help either.
TBH when I saw this repeat it kinda turned my stomach as this is still today very damaging to the trans community - even if the opposers who make a good living (obviously) from it naturally do not like it. It just suggests that all trans are gay, or MTF's are gay men unable to mentally function properly. It should stay in the 70s where it was loved.
And take Bredan O'Carroll (Mrs Brown's Boys, BBC) with you!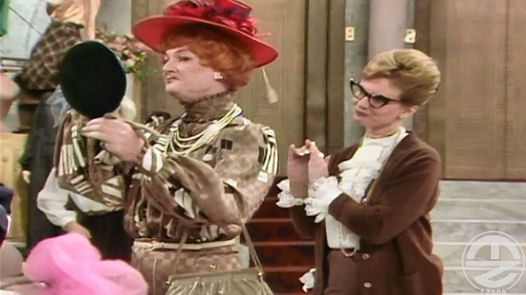 bbc
---
Gogglebox
07/03
Channel 4
Television review comedy series in which TV fanatics open up their living rooms to reveal their reactions to popular and topical TV shows. In this episode the households debate the results of programmes including The Oscars, The Voice, The Taste and Saturday Night Takeaway.
Comment
They sing along with 'Summer Nights' from the Film 'Grease'. However, when a lad says to his dad, "Why am I always better at the girlie bits? The father looks at him in horror!
Minor? But chip, chip, chip away. These subliminal messages add up. Why not smile and pat him on the back? "What is wrong with sounding like a girl son?" The Beegees did well out of it
These are social messages that need challenging if we are to move forward.
---
Milk
08/03
BBC TWO
Biopic about the rise and tragic fall of California's first openly gay official. Harvey Milk struggles against conservative colleagues in 70s America. Contains strong language. [2008] [AD,S]
Comment
AT LAST something the BBC should be proud of showing!
Moving. And made me cry!
Oscars galore for this film. But deep down I think the Oscars are kinda for Harvey Milk himself.
If you are an activist in GLBTIQ rights then this film is a must see. It shows the real world in all its 'glory' and you know when people speak about Luther King, it is held up in high esteem across the world but maybe it is Harvey's name sounding like a cartoon character or something? But Harvey Milk lives in that same heroic space! And sadly suffered the same fate.
His killer got 5 years - yeah really! When he was released he killed himself. But showed just how little disregard the judicial system had for glbtiq people at that time.
History repeats itself it has already begun in Africa and Russia! So stay vigilant as it could be coming here next - the decline in television and how trans are depicted poisively is just the first step in the segregation and objectification of a miority!
RIP
Superb!
---
Pointless
07/03
BBC
Transwoman appears on this daily game show.
Comment
Sadly a twitter storm of abuse followed!
http://www.pinknews.co.uk/2014/03/07/bb ... -get-life/
---
The Last Leg
07/03
Channel 4
"You are a man that likes gadgets?"
Richard Ayoade - "I don't know that I am a man?!!"
(Audiance and hosts laugh).
Comment
This is kinda Richard Ayoade's downbeat style - however the laughter at the idea he may not be male was over the top.
This is a show that is the flagship Channel 4 minority disability comedy show that just needs to look at the whole issue of gender dysphoria as more than something to ridicule as to be honest I know a lot of transpeople that would swap a limb for this condition that makes life hell from childhood - having the wrong body is a disability! And some! And the solution for many is sterility! So any laughter will be hurtful unless the person there is a trans athlete for example?
So while Richard got a laugh - he was not laughing personally - everyone assumed he was joking - just a thought - what if he wasn't? Is it still funny?!
The irony is they were all over the homophobia in Russia and flag waving, but transissues and 'all that' well a laughing stock as always.
---
The Voice UK
08/03
BBC ONE
Gender Fluid participant James gets saved for the knockouts,
---
The Rocky Horror Picture Show
09/03
Film4
(1975) Raunchy rock musical. A transvestite scientist (Tim Curry) aims to create a perfect man. Can two stranded teens (Barry Bostwick and Susan Sarandon) avoid his clutches? Sexual scenes. [S]
Comment
The once cutting edge musical shocker now a kitsch retirement home doily.
I cannot add much more than I have said before.
Richard O'Brien's pension scheme is topped up by Channel 4 once more.
Channel 4 - this tired old nonsense is not a substitute for transgender drama!
End of comment!
---
Big Mommas - Like Father, Like Son
09/03
Channel 5
Comedy sequel starring Martin Lawrence and Brandon T Jackson. FBI agent Malcolm once again goes undercover as Big Momma and drags his son into his latest escapade. (2011) [S]
Comment
Hmmmm... This Franchise was ludicrous - maybe that was the point. The premise is undercover as a woman - basically.
OK it is obvious we are never going to stop cross-dressing for laughs in the cinema - well not for now anyway. So when it does happen there needs to be a positive spin on it at least so transpeople are seen in a better light - even if trans issues are nothing to do with it.
However, at least in this film the cross-dressing led to a sensitive and quite 'nice' storyline. The son in this played by Brandon T. Jackson was quite lovely as a girl actually. The prosthetics were top notch and he passed pretty well. What I found interesting in this as opposed to the 'Big Momma-Heavy' episodes (no pun intended) was that the limelight was off the lead (Martin Lawrence) who by now looks like some sweaty bloated waxwork horror about to melt at any moment and would convince nobody! A quite respectable performance by young Brandon T.
In this instance the son's role as undercover college student - unlike 'Ja'ime - teenage schoolgirl' on BBC Three - Brandon was the same age as his fellow students (sorry but that matters in our society when we are in the grips of 'pedo panic' and mixing that with crossdressing and internet grooming fears is just not the way to go atm BBC!) Brandon plays Trent Pierce / Charmaine Pierce a son who witnesses a murder when he tags along with his FBI father (Malcolm Turner / Big Momma) after he refuses to sign a form to allow him to sign with a music label as a rapper instead of going to university (he later does go as a result of living as a woman - interesting!). At no point was there any inclination that he was doing this for any other mason than to source a stolen USB PEN FLASH drive with vital terrorist info on it hidden in a musical box in the College.
However Trent falls for a girl at the college (who is also a musician) and has to do the old switcheroo back to male to go on a date after Charmaine set erm 'himself' up(?) with her own cousin - him you following all this? Good!
He learns from living with the girls that as a guy he was an assh*ole and improves having understood the femme side of things.
So it was like a 'journey'. And you know maybe this should be something all men (National Trans Service eh?) should have to do for a few months and maybe women would be better treated
In this instance a transperson in the role would make no sense. So a rare cross-dressing film that had more than laughing at a 'man in a frock' as the effort involved meant he looked pretty good!
Channel 5
(Brandon passed as female quite well - far right)
If we have got to accept this then this was OK as there was some respect and a learning curve involved that made the actor likeable as a result.
http://www.imdb.com/title/tt1464174/
Of course going undercover as female takes us back to 'Some Like it Hot' and 'Mrs Doubtfire' and 'Tootsie' Even.
But those rare hits are also plagued by the mass vomiting over a trans woman in 'Ace Ventura - Pet Detective' which is gross!
So very important how this is played. In none of the above apart from Ace were the cross-dressing actors stating they were women or transwomen - so get away with it. The moment someone says they are female or are trans when they clearly are a fella is where the abuse often begins. It is a common trait - you will see it across the board - and these boards!
This is in part why there was a backlash with Jared Leto and Dallas Buyer's Club because in that he WAS playing a transwoman - and one who actually existed. And therefore this was a role a transperson should have played. It sounds complicated but it is not
Well not really
x
---
8 out of 10 cats
10/03
Channel 4
They are speaking about past lives -
Kym Marsh - "Apparently I was a Wh*re, who was hung."
Jimmy Carr - "You were a Wh*re who was hung? What, like a transsexual?"
[LAUGHTER AND APPLAUSE]
Full Review
viewtopic.php?f=16&t=4223
---
Catfish - The TV Show
11/03
Viva
Reality documentary series following Nev Schulman as he travels America investigating the online profiles of couples who have never met in real life, to establish whether the people are really who they say they are, or whether they are so-called 'catfish'. After Kya fell in love online with Alyx, she confessed that she had been using a fake name and pictures when communicating with him. Alyx forgave and accepted her without hesitation.
Comment
Try to watch this series if you can it is on a constant loop on Viva.
In this episode the girl discovers the man she fell in love with was a transmale teen who is just starting to transition and take Testosterone.
Sweet story and a lovely outcome too!
---
Free Speech
12/03
BBC three
Paris Lees appears as a pundit on this studio debate.
Full Review
viewtopic.php?f=16&t=4221
---
Waterloo Road
12/03
BBC ONE
Not reported on this for a while as it kinda got like chewing gum from the beginning of the trans-currency where they went through basically a carbon copy of the Jason from Hollyoaks FTM teen storyline - you can read that here.
viewtopic.php?f=16&t=3573
Last time I looked 'Kacie' was an FTM lad and seemed a reasonable effort but as time has gone on there has been a visible decline in the desire to appear male which has let trans teen boys down a bit. As it is like the fad wears off!
Kacey's transgender plot ~
well from those, "I am a male mum!" upsets and, "get a grip!" Or "I want to wear trousers," etc, early scripts. We see it has all fizzled down to the character now being a boxer and accepted. This week gets injured by another pupil - not trans-related.
Now, The big problem here, as is always the case with this sort of thing, is that the actress is a female not a male (yes I mean a trans teenage boy ftm they are males with 'female bodies' for now at least). This actress has a life beyond this 'Waterloo Road' Soap so at the end of the filming day needs to return to a being a girl again. So this means certain elements of her appearance have to be modified.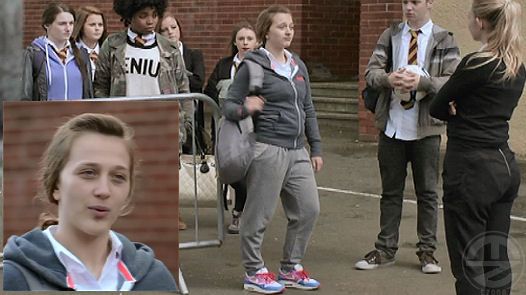 bbc
Pretty in Pink all the girls are in black, but Kacie stands eyebrows plucked and long hair tied back with a scrunchy, breasts unbound, no packer, girlie stance. Yup like every FTM I have seen.
Contrast this with an actual teen trans ftm lad aged 14 from the late 90s here who appeared in a documentary.
http://blog.transgenderzone.com/wp-cont ... dotcom.jpg
Nuff said - this is an actual young trans teenage boy (a role model of his time). And this is where the BBC are going wrong. (from the transgenderzone.com media archives)
However, by contrast Kacey has long hair she has her eyebrows shaped and behaves like a girl. she is not a trans teen boy - just a girl pretending.
Best person to play the role would be a trans FTM teen - can't find any? - you are not looking hard enough BBC! This makes the character of Kacey Barry a fraud (as much as if they were blacked up and pretending to be African) and as such has no impact as a character to me.
Maybe other people will buy into it. But just imagine that this person was a young Luke Anderson who could act - the role would be dynamite! And something the BBC could shout from the highest MOUNTAIN! But nah book a boyish female and tie her hair back wipe off the make up - that'll do - oh yeah boys do boxing don't they? I think they must have been watching 'Million Dollar Baby' or something?
In any case this has been done by Victoria Atkin already in Hollyoaks - so what's the point?!!!
viewforum.php?f=48
and they to be fair E4 did a better job than the BBC and years before they tried it (of course soap fans will know Degrassi beat them to it before that! Waterloo Road is a bit pointless by comparison. Again if they want to be fresh and new they GOTTA FIND YOUNG TRANS ACTORS - GET WITH THE PROGRAM FFS!
---
New- Ja'mie - Private School Girl
12/03
BBC THREE
6/6. Ja'mie steals the Presentation Day spotlight as her years at Hillford come to an end. Contains adult humour and strong language. Also in HD. [AD,S]
Comment
The final episode of this lack luster effort from Chris Lilley. I do not know where to begin with this throwback to what is in effect a John Belushi Frat House Party but swap him for Chris Lilley and the Frat House for some mythical high school in Australia for teenage girls???
Sleazy, and at times seriously questionable(!), considering all the issues the BBC have face with operation Yewtree and the late Jimmy Saville. To have a 40 year old bloke dressed as a school girl and then making out with young men and stripping off in front of an auditorium - even if they are fake prosthetic breasts was a very risky thing for the BBC to be doing.
It is harmless as all those 'teens' were probably in their 20s. And It was all consensual and I am not for a moment suggesting any wrong doing. But that does not change the way this is perceived!
I know the idea, it was to make a 'Mrs Browns Boys' Meets 'St. Trinians', with a bit of the 'Keeping up with the Kardashians'. Its, "YEAH RIGHT STICK IT TO OLDER PEOPLE WE ARE YOUNG and this is what we do!"
No this is a middle-aged man. You are deluded!
But it was just terrible timing when most of the 1970/80s BBC Radio 1 Djs were in court for sexual accusations with young women. Then this arrives.
This is not a teenage girl, so the idea this is cutting edge teen comedy is nonsense, in the same way their BBC 'Mrs Browns Boys' is challenging the BBC Glass-Ceiling for older women - they are middle aged blokes 'taking YUR JOBS!' (to quote a 'South Park' Gag!).
If J'aime was an obnoxious actual trans teenage girl, and that was funny, it may have worked. But this just is very poor telly.
So that doesn't work. But let us imagine for a moment that she was a teenage girl is this still right?
I was actually a little concerned about even uploading this image to an image server lest Scotland Yard come knocking - it is actually taken from the episode aired on BBC Three so knock there first! As they showed the lot! As he is 40 then it is OK? So have hosted this locally as it is in context and this is an adult pretending, plus I have blocked the chest area.
This is me thinking like this - I dread to think what parents and television watchdogs must be thinking - this really is rock bottom for the BBC!
Nevertheless if you tried this in the UK this is what would happen!
http://www.mirror.co.uk/news/uk-news/cr ... ing-748046
bbc (fair use).
More
viewtopic.php?f=16&t=4146
---
8 Out of 10 Cats
15/03
Channel 4
Full Review
viewtopic.php?f=16&t=4223
---
The Alan Titchmarsh Show
14/03
ITV1
Singing legend Englebert Humperdinck joins Alan for a feast cooked by Nadia Sawalha, with drinks served by wine expert Helen McGinn.
Comment
Englebert Humperdinck recounts the funny story about how he took his wife's passport by accident to the airport...
Alan - "Do you look anything like one another?!!!"
Englebert - ..."Are you a cross-dresser?!!!"
Alan doubles back in his chair and laughs so loud he rattled the lights...
An overreaction or just plain ridiculing transpeople you decide?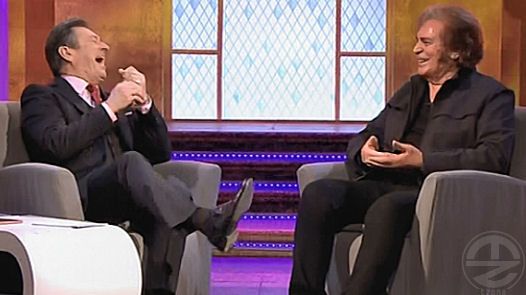 itv
Alan over-egging the pudding - are cross-dressers this funny Alan? Seriously?!!!
---
The Voice UK
16/03
BBC ONE
The Knockouts: Emma Willis and Marvin Humes present the second of the knockout rounds, as the seven artists on each team are whittled down to just three. Also in HD. [S]
Comment
James gets knocked out - the only person who had some gender fluid appearance in the show.
---
Woman's Hour
17/03
BBC Radio 4
Nikki Sinclaire MEP
West Midlands - "we demand a referendum party..."
Comment
Basically flogging her book. 1m 22sec before she was asked about being a boy. Trans-currency.
http://blog.transgenderzone.com/?p=1043
Although this is a story that is important to her it is the same story always. Every transperson tells the same tale.
The currency to sell the book could be fatal in so far as her political work goes. As you write a book when you are done usually - memoirs.
So writing it now could be a mistake?
She spoke of her love for football and Liverpool FC. Caroline Cossey was the first time she heard that changing her gender (I think body is better) was possible. I can relate to that.
At 16 she told her GP as her father was quite transphobic when he read the Cossey article.
The GP said she would grow out of it and its just a puberty phase. And said she would end up as a drug addict on the streets as a sex worker - sounds a bit harsh? 80s New Romantics allowed her to cross-dress.
She doesn't understand why Transvestities and Transsexuals are linked. She stated she had a medical condition. She had to wait till 21 as she asked Charing Cross when she could transition. She was relieved when she first attended the clinic but she was warned that this would not be easy.
She burst into tears at 38m 04secs as talking about all this discussion brought back the memories.
"We demand a referendum now party" - They move on. She wants a national debate about the European Union. The name of the party whilst clear does sound a bit convoluted. And if it has little weight (say compared to Ukip) then she could end up losing her seat. But we will see. I wish her well.
Nothing I have not heard before elsewhere. I suppose the proof will be her reelection.
But perhaps this new social engagement with the press and media is just in case she finds she is out of work. Nothing wrong with that. He autobiography and coming out and doing the circuit talking about herself worries me a little. Her job is about others not about herself - if that makes sense. There is always a risk that she becomes bigger than the job she has. Then its all over usually. Just ask Lembit Opik. My advice would be to keep your head down and work twice as hard for her constituents she has - harder than she ever has before.
Listen here
http://www.bbc.co.uk/programmes/b03y0f04
28mins in
You can see what I said here on her first major interview.
viewtopic.php?f=16&t=4067
or here on youtube
http://www.youtube.com/watch?v=CYqdQqoDPzU
---
Celebrity Juice
20/03
ITV2
Keith Lemon continues the brand new series of the anarchic showbiz quiz as teams led by Radio 1 DJ Fearne Cotton and TV presenter Holly Willoughby see who knows the most about this week's celebrity news. Among those joining the panel in this episode are singers Paloma Faith and Ronan Keating.
Comment
Leigh Francis (AKA KL) who has mocked transpeople for his entire career now uses transphobia by proxy of Fearne Cotton - calling her a male and joking about her genitals being male and so on allows him consensually to make trans genital jokes. its the same - its just 'TBP'. Or transphobia by proxy. Read below about what this is and why it is important that you understand what it means!
http://library.transgenderzone.com/?page_id=3000
---
The Last Leg
21/03
Channel 4
Not that serious merely an observation - when Adam Hills Cuts a penis-shaped cake the cutting off of a penis (so to speak) and the laughter it brings to all concerned.
So tenuous link but still it has merit to be mentioned here as part of the whole audience psyche. It also explains why human males who run the trans medical service think like men rather than women who have a growth. Thats they flinch and women cheer was interesting to see.
---
Not Going Out
22/03
Dave ja vu
Examination: Comedy. With Lucy working on a government initiative to encourage men to check themselves for lumps, Lee's eagerness to please leads to an unexpected discovery (S5, Ep5). [S]
TRANSCRIPT
But let's establish some ground rules before we do this.
Lee - Ground Rules?! You are not at a pre-op transsexual lap dancing club!
(LAUGHTER)
Oh Yeah I forgot about that! I must add that to the things Lee's made me do against my wishes list!
(LAUGHTER)
Lee - I was drunk I thought that sign said chicks with dykes!
I got more than I bargained for when I tucked a tenner into her knickers!
(LAUGHTER)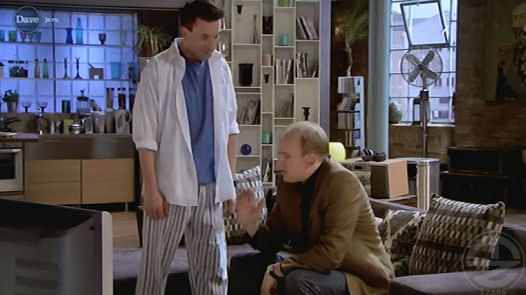 (Image Avalon/BBC)
Comment
Lee Mack has a regular thing with transphobic jokes he is to the BBC what Jimmy Carr is to Channel 4. This is a BBC production, the BBC are being paid for this to be aired, and we are paying for the BBC. The BBC does not represent transpeople apart from throwing some transperson a bone a couple of times a year until their trans-currency runs out.
This is really quite a serious problem, it is openly mocking transpeople at every opportunity. When was the last time you heard a transperson tell a gag about Lee Mack on the BBC?
Nah same old same old - cross-dressing for laughs with Mrs Brown and This junk! Lee is a very good writer. He just needs to reign the transphbia in a bit or be smart with it and hire a transperson as a character in a scene. This would not be tolerated if it were Islamophobia or racism - try the N-word for laughs Lee see how you get on!
---
Ladyboy Training 2
24/03
Television X
Having passed her audition, tasty 18+ girl Holly gets it on with Keisha Kane and the handsome Paolo, who swings more ways than a Robbie Williams party album!
Comment
The Title is unfortunate - but at least the description is better for Freeview listings. I feel for this Holly they certainly get their money's worth with her
That Won't last.
---
Y Byd Ar Bedwar
'Life Changing'
25/03
S4C
Transgender people are more likely to suffer hate crime and consider suicide than any other group in society, but the number of people having surgery to change their sex is on the rise in Wales. On the programme this week we follow one person's transformation from man to woman in a unique look at the transgender community in Wales.
Comment
A very good programme that had a solid opinion. It was nothing I have not seen before, but what made this special was that it was educating Welsh Speakers (with Eng subtitles on catch-up). And we know that Wales has been developing in the last few years some very good networks. This will no doubt help some areas of Wales especially the traditional communities.
Unfortunate advert in the break showing an unshaven crossdressed man in a car insurance ad.
This was a bit cynical of the broadcasters.
Other than that a pretty good job.
FULL REVIEW AND VIDEO
viewtopic.php?f=16&t=4234
Decide for yourself.
Watch Now
http://www.s4c.co.uk/bydarbedwar/?p=1888&lang=en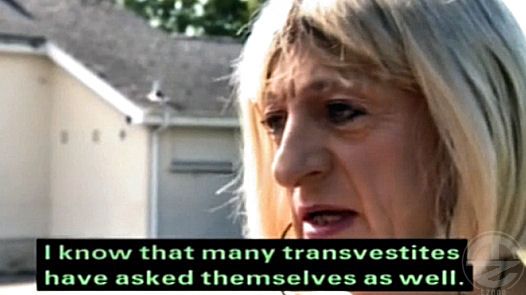 s4c
---
An Idiot Abroad
28/2014
Pick
Swim With Dolphins:
Factual entertainment series as Ricky Gervais and Stephen Merchant again send their friend Karl Pilkington to destinations you must see before you die. Karl is sent to Australia to swim with dolphins, but Ricky and Stephen have planned a surprise stopover in Thailand first, where a ladyboy makeover and a lesson in blindfold kickboxing awaits.
Comment
We have already reviewed this obviously. Take a look here!
viewtopic.php?f=16&t=3578
sky
---
Britain's Got Talent Promo
29/03
itv1
Comment
This is an unfortunate use or stooge (see "trans-stooge" here
viewtopic.php?f=16&t=3292
In nutshell 'Trans-stooge' Definition = Definition - Trans stooge or trans-stooging is where a comic uses the transgender community for comedy effect even if it is well-meaning and apparently unoffensive to the broadcaster. One who allows oneself to be used for another's profit or advantage (advertising and cross-dressing, for example? Bounty Kitchen Roll Ads).
And this is exactly that!
In this instance They suggest Simon's Baby is in the Cot. And David is one of his nursery nurses, the baby throws a rattle in his face and Simon say, "That's my boy!"
In this instance cross-dressing is equated to being pied as a clown. The cross-dressing is a clown-suit!
This has been carefully worked out by writers, David Walliams and Simon Cowell. This has been agreed, costumed, and scripted!
At no point did they think - lets not laugh at the cross-dressing anymore let's do something else for a joke eh?
If David wears a dress as a Judge for the entire series I will happily change my view. But this is not the case, so just using our community's trans-currency (
http://blog.transgenderzone.com/?p=1043
) to profit himself. It also suggests that they have a certain view and opinion about the value of a cross-dressed person - basically something to point and laugh at! Or even assault!
Again people may well say, "oh lighten up!" But it is the sheer amount of these 'little things' that I list here that bundled are abuse.
Peter Kay's 'Geraldine' search this site for more on him
http://www.transgenderzone.com/results. ... 8j406004j9
- owes a lot to Simon Cowell's formatted shows as well and has since made a transperson breaking through that little bit more difficult as comparisons are made!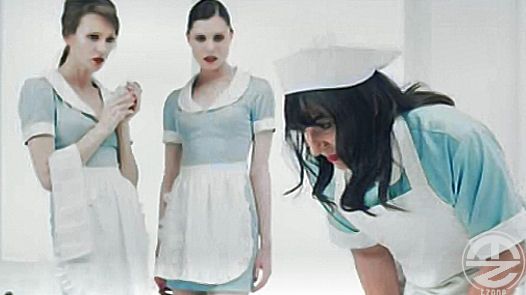 itv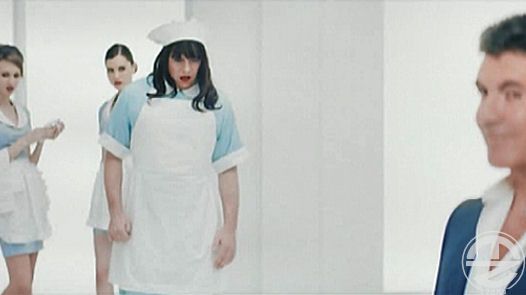 itv
---
Our Gay Wedding - The Musical
31/03
Channel 4
Celebrating one of the first same-sex marriages in the UK. This one-of-a-kind musical ceremony has been organised by grooms Benjamin Till and Nathan Taylor, featuring duets and ensembles from the whole congregation as well as appearances from Boy George, Jon Snow, Paul O'Grady and Olivia Newton John.
Comment
Self-indulgent nonsense that reminded me of a telethon like Comic Relief rather than a wedding. As more and more famous faces rammed their heads into shot to show they are not homophobic.
Irony here, Julie Hesmondhalgh I guess who has a link to all this down to her character on Coronation Street (as the now deceased Hayley Cropper) and as a result being tenuously linked to the gay community, Granada Studios are in Manchester, a lot of Gay people live there I understand
but in rl she is a cicgender woman with kids and now Hayley is dead what does she have to do with transeople? She wouldn't even take a selfie with her Trans Television Award - yet she will take selfies pulling faces in the car? Perhaps she is glad to be rid.
Julie stands up in the audience and sings for a bit. Some of the singing during this spectacle by guests was awful - I will never laugh again at the X factor preliminaries after seeing this lot.
Jon Snow from Channel 4 News was so bad I wanted to throw my TV out the window - she would not have liked that
JOKE!
Don't get me wrong some parts like the video montage showing the progress of Gay rights was good and important - and somewhat moving - but at least they have rights trans are like a desert by comparison.
A good idea on paper that was like watching a car crash in slow motion in actuality. I just could not stop watching!
Every Gay man and woman with fame had a cameo and every person who relies on the Pink Pound as well - Kylie stuck her head in of course - there is money in them thar Gays!
Hayley was there as that's the link I suppose - all trans are Gay eh? Or was she there as Julie? Had she never played Hayley would she have even been invited? This confused me somewhat or is she just a famous face who wanted to help out and show she can sing? Well she gotta do something else now - West End Maybe?
I think this Hayley Honeymoon period will soon fade - still has a lot of trans-currency though eh? Until then it will haunt her a little. If she wants to move on this was probably a mistake.
The only thing that is obvious is that a trans actress in the same role could not 'walk away' from her own identity whereas actors can!
An interesting concept that went just a bit silly... And in places I was laughing at them. I am not sure this was meant to happen? Maybe it was? Confused.
---
Coronation Street Omnibus
22/03
ITV2
This week Roy collected Hayley's Ashes from the funeral director.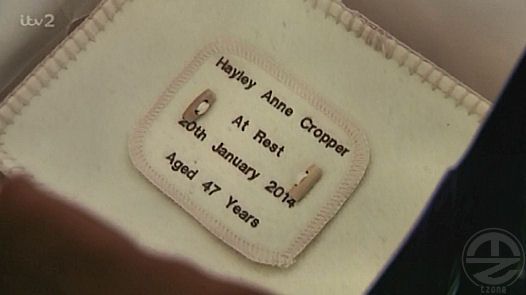 itv2
I think it was done very well - having been there with my own late mother, it is a surreal and upsetting situation as how can somebody you loved all your life be in what is essentialy a 'take-away' bag!
This is the only light moment really (you gotta laugh as she is not dead really
) as something was screaming: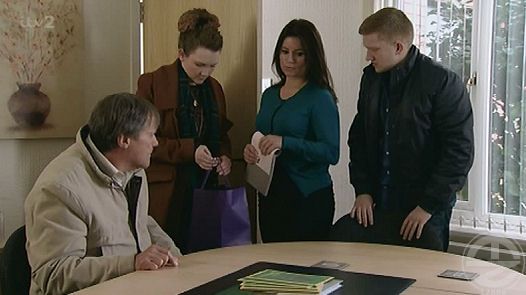 itv2
"One Hayley with rice and one sweet and sour?"
---
The Simpsons
'Homie the Clown'
22/03
Channel 4
Comment
Nuff said.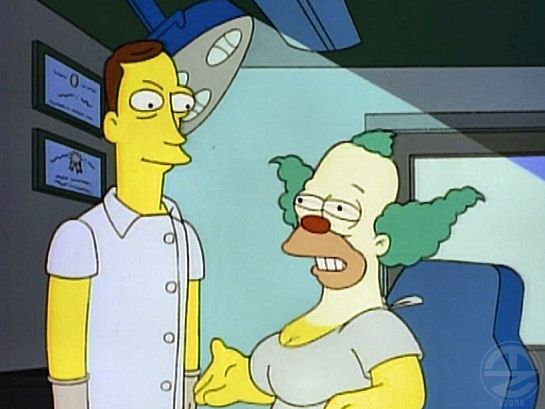 Channel 4
---
Ant & Dec's Saturday Night Takeaway
22/03
ITV1
Comment
It is interesting that I just watched Eric and Ernie stand on stage with nothing, no flashing lights, no manic music or stunts, and he even said 'I'll smash yer face in!' Something Dec has tried to shoe-horn into this act of late - Eric and then Bernie Winters already did it move on, and Dec you don't wanna be seen as standing on the right - um oh that's Ernie Wise's spot? Their similarity is clear to see.
In any case I compared the two and remember the big Christmas Shows Morecambe and Wise put on, often repeated even today in the festive season. Ant and Dec are a direct copy of them there is little doubt of that, from the way they interact to the way they stand. Ant just needs some spectacles and the job is complete.
But unlike Eric, Ant just is not funny, they rely on others to be funny and they adjudicate it. Be that hidden cameras with 'celebrities' to laughing at someone vomiting up Witchetty grubs in the jungle. They are good presenters. But they, like so many other acts, have reached for the frock a lot more this series for laughs. This is not a good sign!
Best advice, stop trying to take other double acts catchphrases, it makes you look like you have not got a fresh idea in your heads, and as a result it cheapens the act. And stop cross-dressing for laughs - that really is the last resort for any act imo.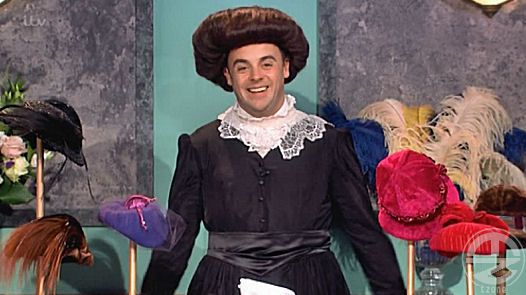 itv
Watch 'Morecambe and Wise Live 1973' here and see just how spartan their stage show was - it was like who forgot the set?!!! I wonder what they would have made of smoke, pyrotechnics and abseiling to get ratings? Ironically they were the first to embrace the celebrity guest making a fool of themselves.
I have a video clip of Dec face-planting in a motor bike stunt in the past, first time I ever saw Ant panic (I think it dawned on him that the show literally may have been over at that point). And let us not forget the catastrophe that occurred in the Late Late Breakfast show where the BBC winched an audience member up in a box on a crane - yes this really did happen, and Noel Edmonds watched helplessly as the cable snapped and the person died
http://en.wikipedia.org/wiki/The_Late,_ ... kfast_Show
. The Show was taken off the air and took a long time to recover.
Just be careful as these show clips demonstrate sooner or later something bad will happen! -
http://www.youtube.com/watch?v=TeQs2fpU1eI
And the presenters try to smile it off whilst live on air...
But when you watch M and W it is just calm and safe. That is nice comfy low stress pillow to rest your head on sometimes.
http://www.channel5.com/shows/morecambe ... r-25-years
---
Rude Rio 2
31/03
Television X
Komilla is a lovely she-male with a stunning leggy figure. Black and beautiful Jasmine is all woman, but happy to join Komilla for some fun in a sunny Rio setting.
Comment
Komilla is a She-male...
Jasmine is """all woman"""
So what Komilla is not? She is a bloke?
Seriously this is offensive! And this is a public listings! The channel is scrambled but this published listing is not. Anyone any age can see this on Freeview or published listings!
---
See you next time with hopefully a shorter list eh? We can only dream of one entry one day!
I am the architect of my own destruction, in that I want nothing to post here at all!!!
Ice
Check out my mega-selfie video here
viewtopic.php?f=44&t=30